Meet Sean and James, who turned their tenement wet room into a luxurious space worthy of the best hotel
Written by Olivia Simpson
WHO: James McNaught, Faculty Head of Science at a Glasgow Secondary School, and Sean Horsburgh, Graphic Designer
WHERE: Dennistoun, Glasgow
PROJECT SPEC: A total revamp of the only bathroom in a tenement flat, taking it from a functional disabled-access wet room to a relaxing and chic space the couple could be proud of
COST: £18,500
TRADESPEOPLE: ESG Installations
When they bought their Dennistoun flat, Sean and James immediate thought was that updating the wet room to a bathroom would be top priority. However, practicality won out and they decided that the kitchen was a more pressing issue.
"The kitchen needed a lot of basic work," shares James. "We put in a new boiler and a new oven, which became a priority after we attempted to make Christmas dinner in the diminutive old oven!"
In fact, the bathroom was the last room to be renovated by the couple, and the most highly anticipated. "We found ourselves apologising for it when people came over," remembers Sean.
"The rest of the flat was renovated and looking great, but the bathroom was really letting the place down."
~ B E F O R E ~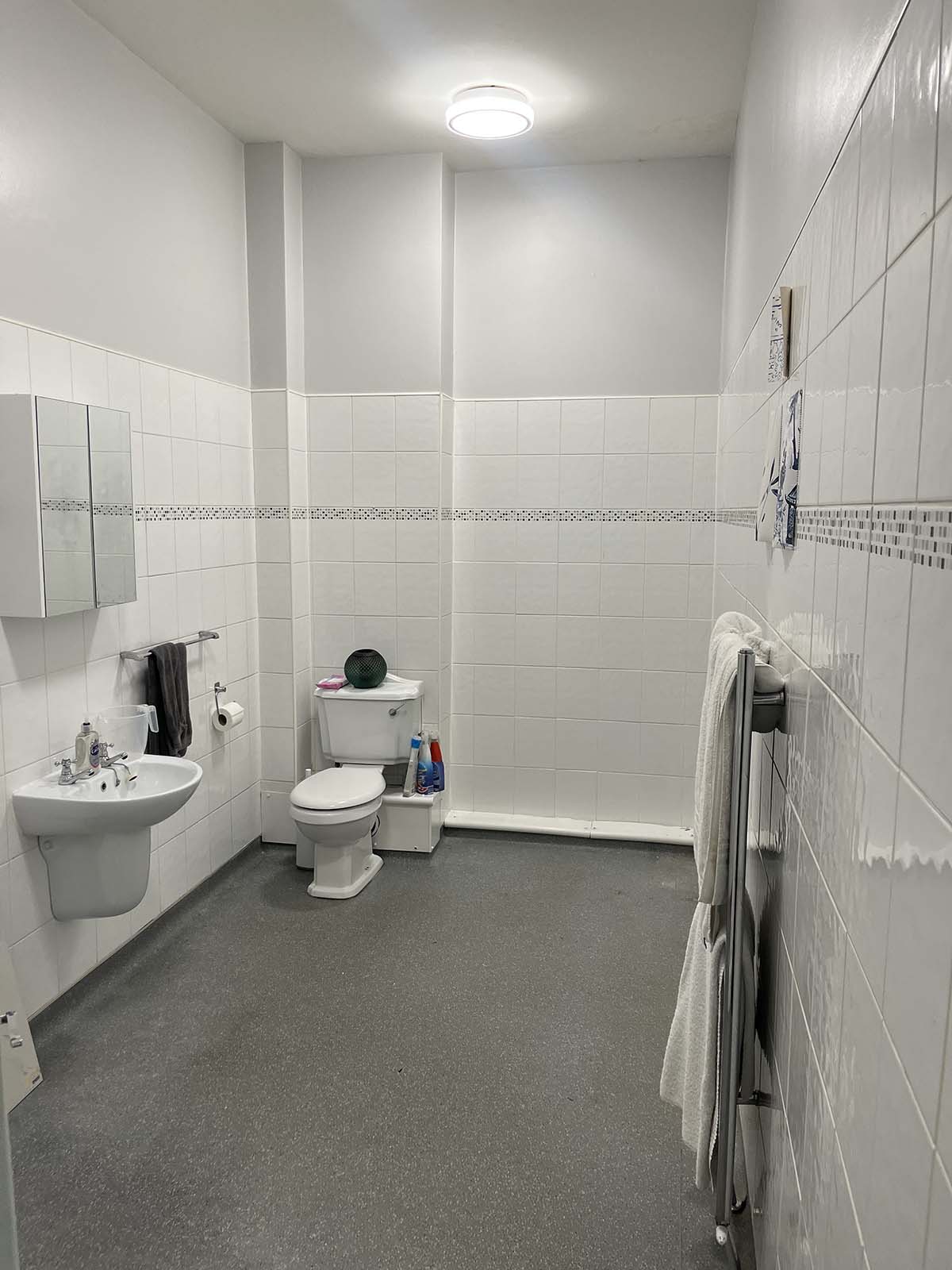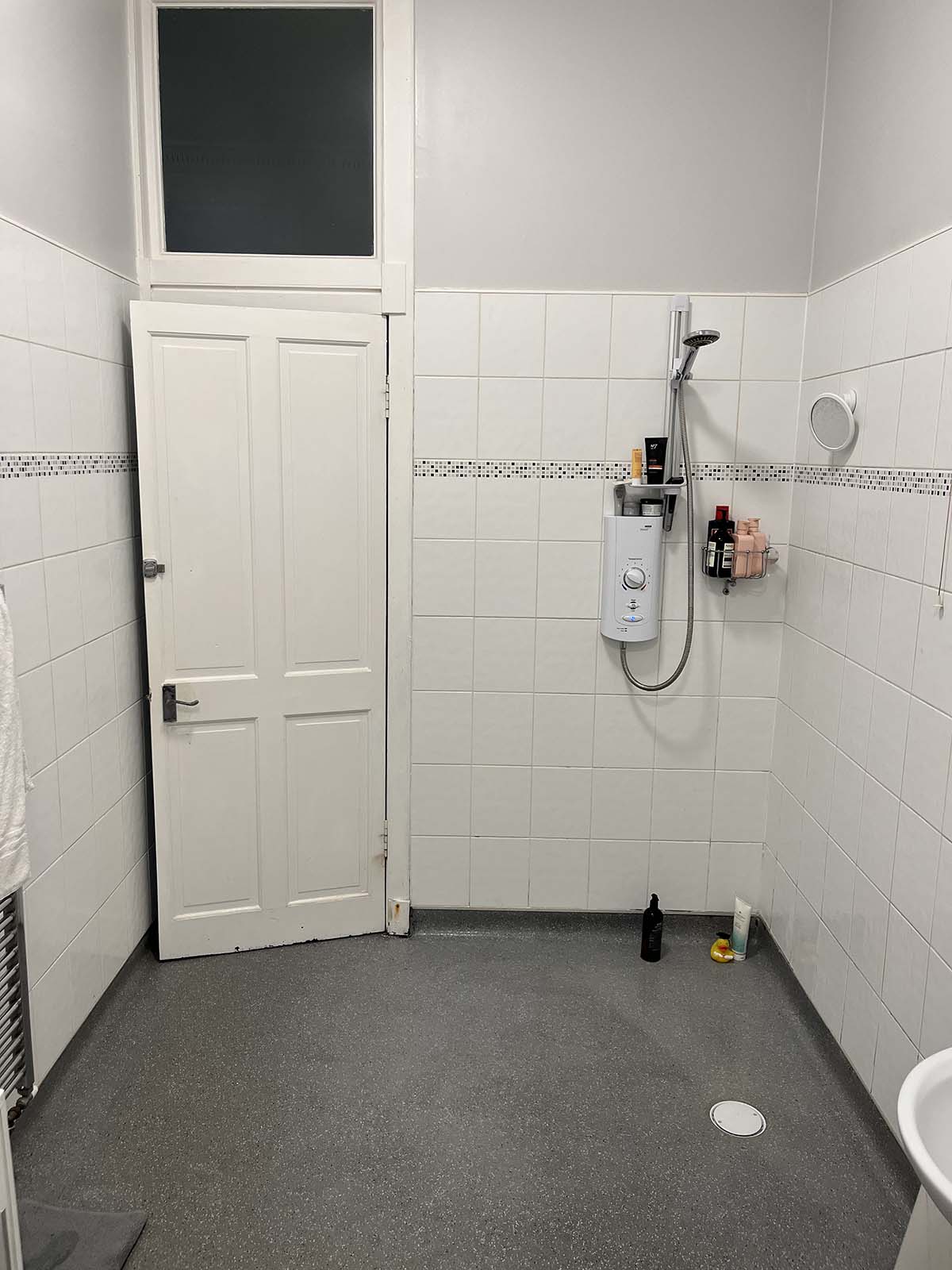 The previous owner had suffered severe injuries in the 2013 Clutha bar helicopter crash, and an accessible wet room style bathroom had been installed by the council to meet her needs.
"It looked like a hospital and just didn't feel welcoming or relaxing," says Sean.
Five-star feeling
Their ideal bathroom was tranquil and indulgent, drawing inspiration from the couples' stays in glamorous hotels, as James explains: "It's always such a luxury to have a double sink in a hotel, and we decided we wanted that at home too."
Their other bathroom non-negotiables included a spacious, powerful shower, a bath and underfloor heating. "Good lighting was also really important to the hotel vibe, especially since our bathroom has no windows," says James.
To get the luxe look they wanted, Sean and James were initially quoted £22,000 by showrooms.
"We realised if we went down this route, we would have to purchase everything from the showroom suppliers," Sean recalls.
"We decided it was important to us to maintain some flexibility with these purchases."
~ A F T E R ~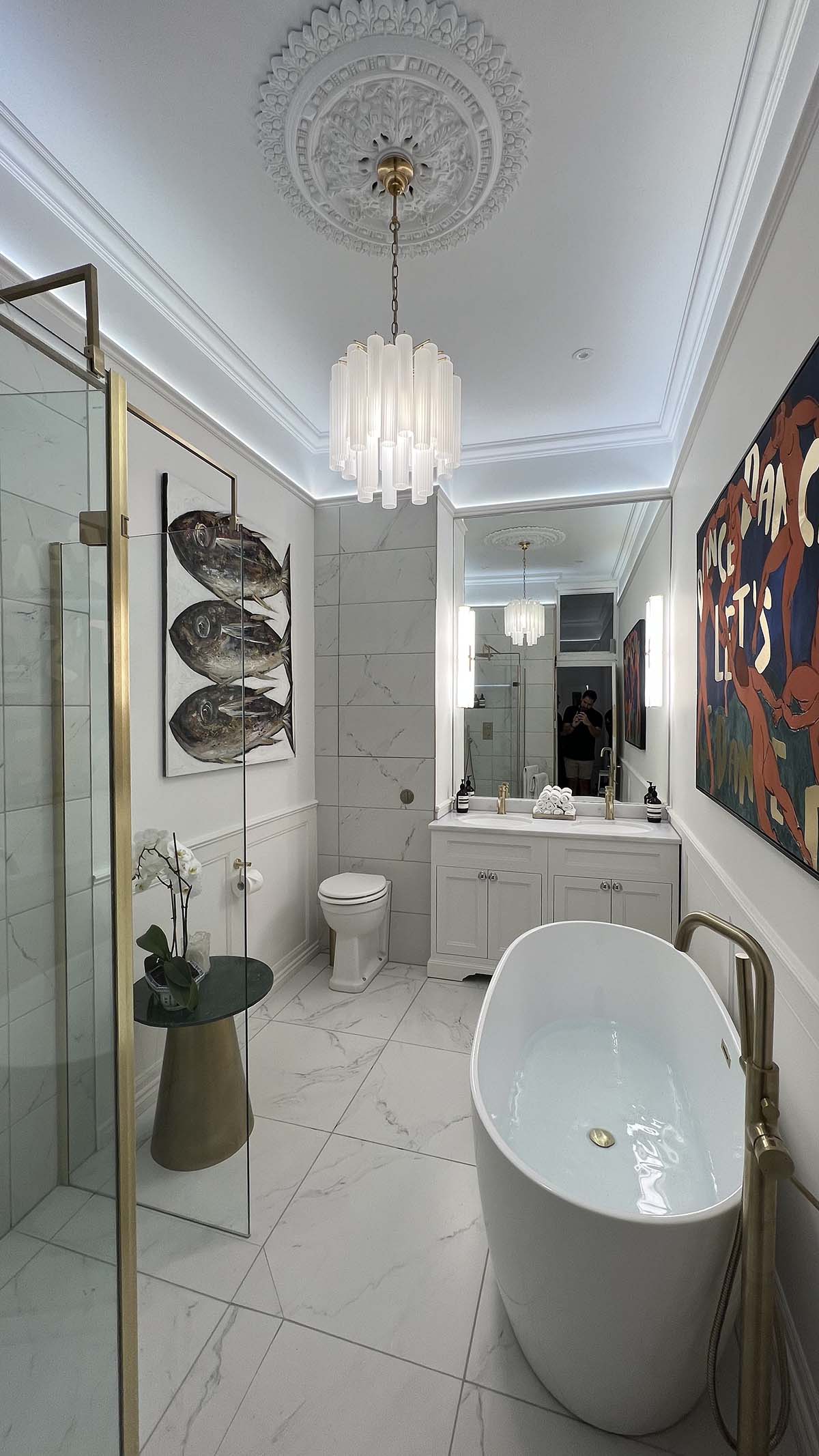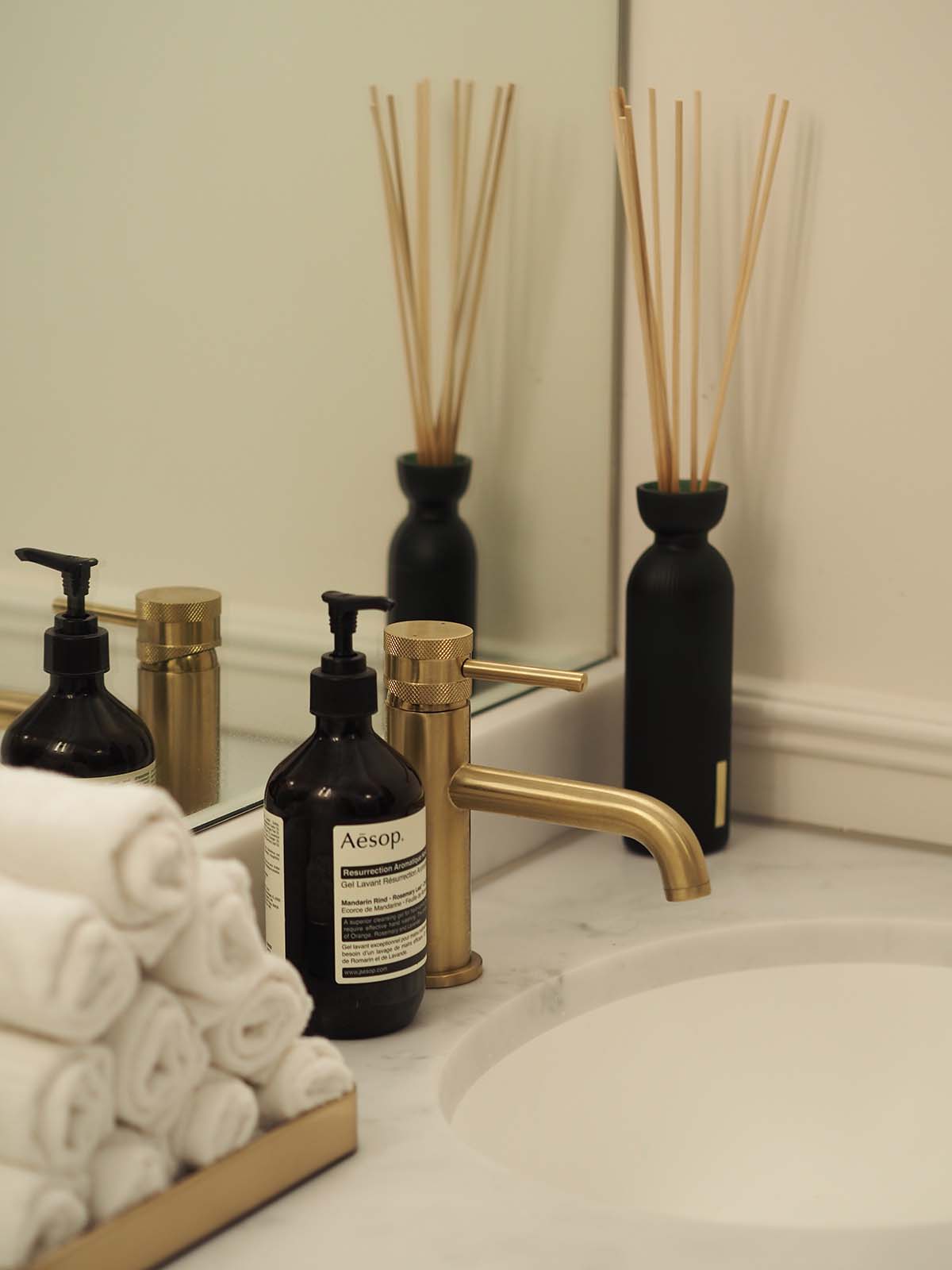 In the end, they opted to work with ESG Installations on the project, after the company was recommended by some neighbours.
Arron and Adam, the owners of ESG Installations, had already worked on an impressive 27 bathrooms in Dennistoun, and this wealth of experience working on similar homes reassured Sean and James that they were the team for the job.
At £15,000, Arron and Adam's quote was significantly lower than the showrooms had been, and included all the specific fittings the couple wanted.
The renovation ended up costing £18,500, which included some additional work needed on pipes and lots of little upgrades, like remote controlled and dimmable lighting.
"We really appreciated that there were no additional costs with Arron and Adam. We had a really transparent relationship with them and felt we could trust them," reflects Sean.
"In fact, we got on so well that we're planning on meeting up for a Christmas drink!"
Ready, set, go!
Conveniently, Sean and James did not need to apply for any permissions to complete the work on their bathroom since they were not making any structural changes to their property.
Their flat is on the ground floor and has a private entrance, so their neighbours wouldn't be disturbed by tradespeople coming and going, nor would a skip cause an obstruction in the street, since waste could be left in Sean and James' private garden until the tradespeople were able to collect it.
"We still let the neighbours know that we'd be starting work on the flat, out of courtesy," notes Sean.
"It seemed the right thing to do, even though we knew there wouldn't be a problem."
Top tips for starting a renovation: "Look in local area Facebook groups for recommendations of tradespeople. That way, you know the company has experience working in similar buildings, which is always reassuring!"
Next time: Victorian-era plumbing causes problems, and Sean and James share an ingenious trick for planning the layout of your space