As the first project of both its original architect and the one who would reshape it 150 years later, this little coach house on Loch Long, Argyll has been on quite a journey
words
Chae Strathie |
photography
Dapple
Good things come to those who wait. That's a phrase that'll be familiar to fans of a certain well-known Irish stout, but it could just as easily be the motto of James and Charlotte McLean, who own Seymour Lodge, a beautiful coach house designed by Alexander 'Greek' Thomson on the banks of Loch Long.
That's because in 2007 they embarked on a project to convert the gig house, or coach house, in the grounds of their home – but it wasn't until 2018, after no fewer than three
planning applications had been submitted, that it was finally completed.
The McLeans' patience paid off in the end. The old building, also designed by the great Glasgow architect to house a carriage, horses and a very small groom, is now a warm and tranquil space for James, Charlotte and their two children to enjoy.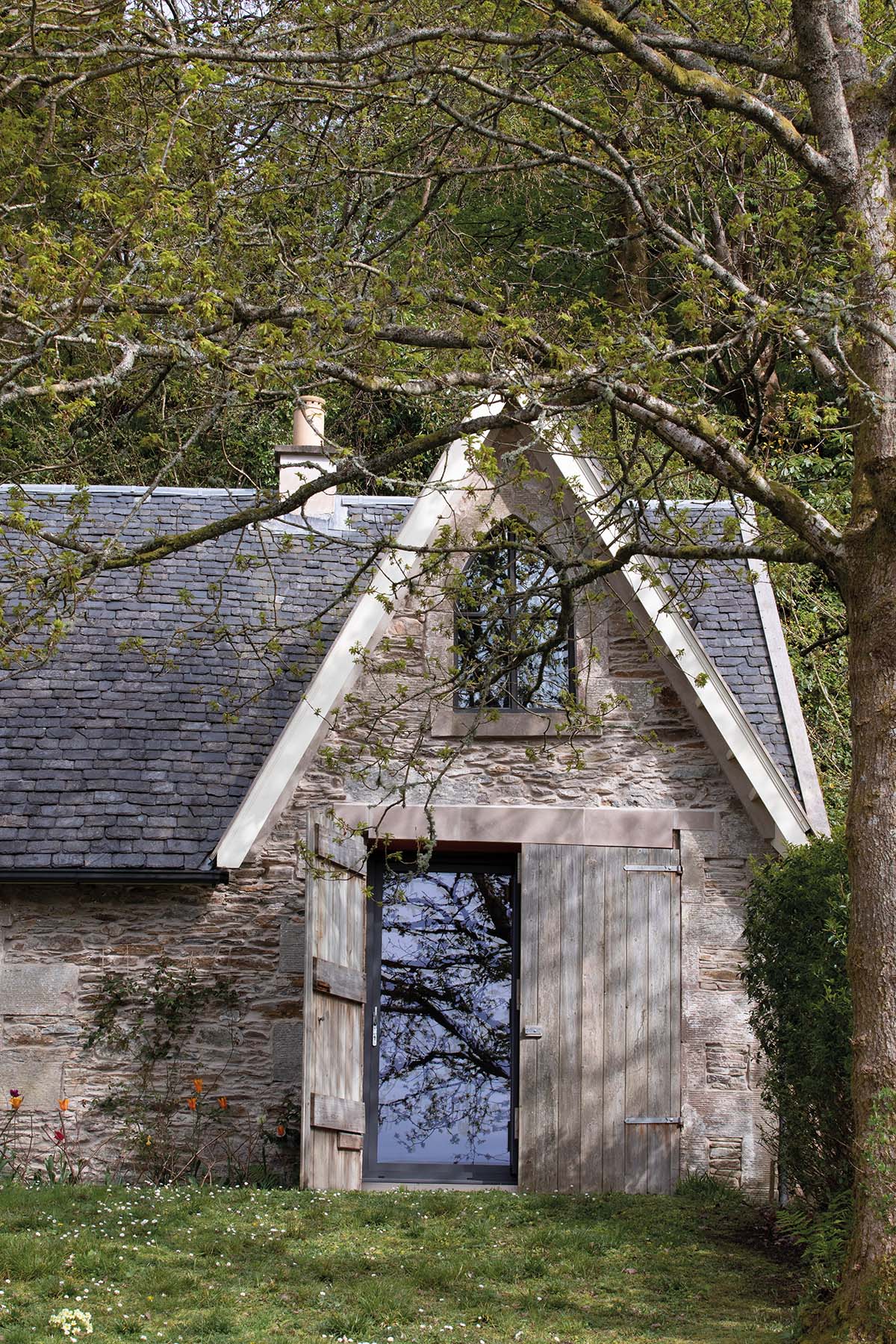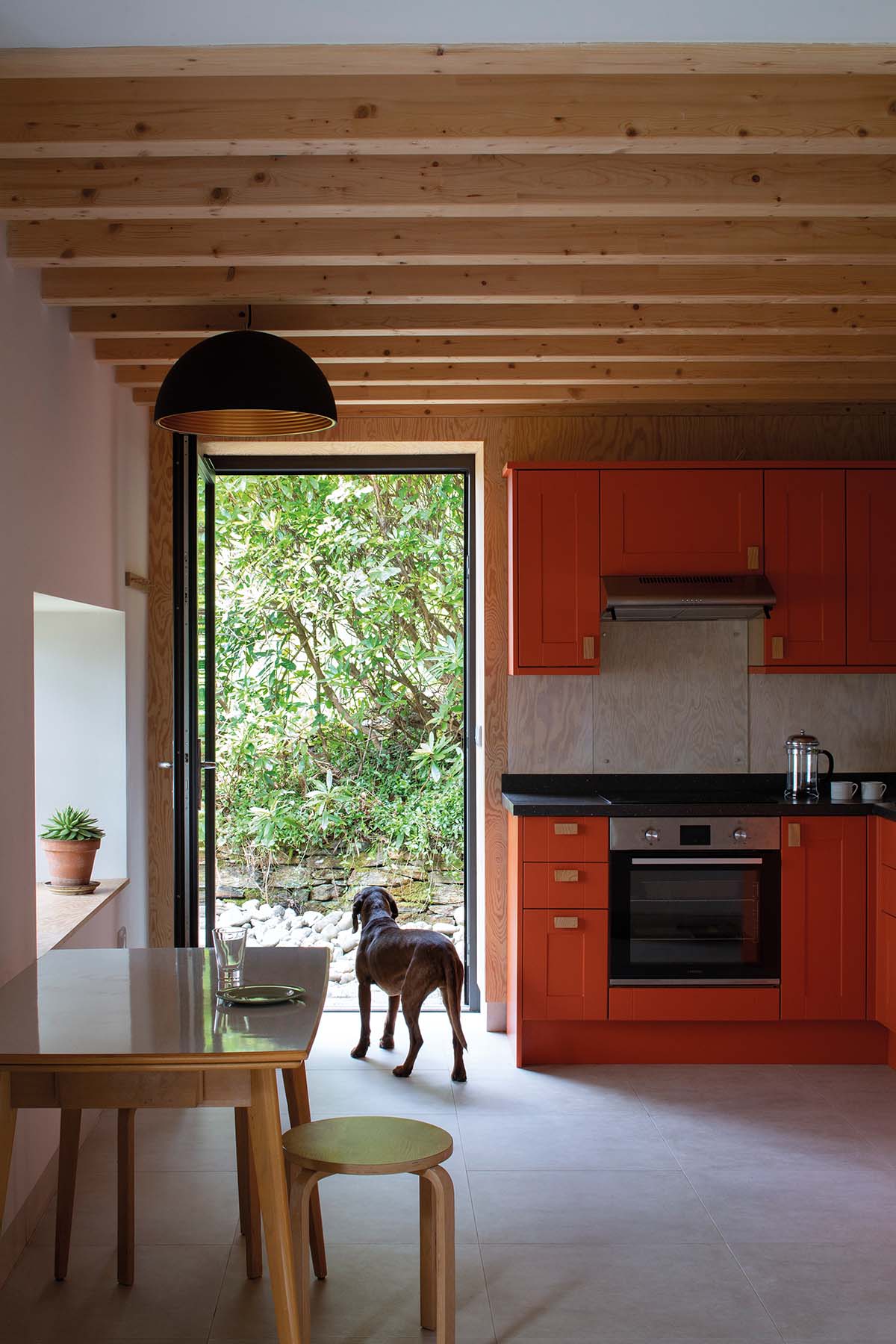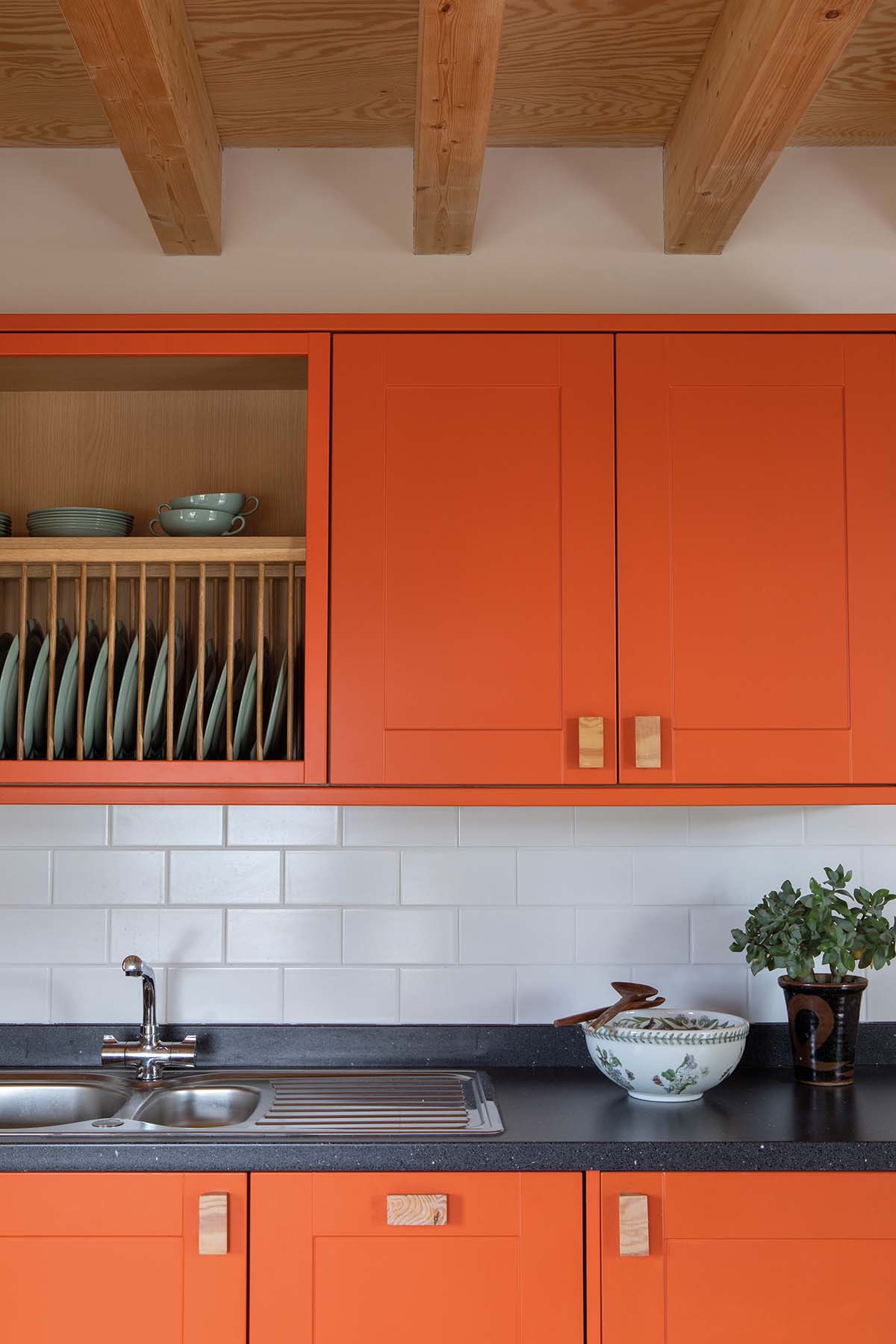 COMPLETE RENOVATION
When the couple bought Seymour Lodge in 2002 the gig house was being used as a shed. "You couldn't even get up into the first floor because the hayloft had such a thin, fragile wooden floor," recalls Charlotte, a landscape architect.
"We found loads of interesting things here, though – tennis court posts, the original gates (which we've had copied), the old bell system for the house, and a little bed for the groom boy – he must have been tiny!"
While they had the renovation of the main house to think about, the couple also saw the potential in this small building, and in 2007 they started planning the project.
But if you're assuming that James and Charlotte engaged an experienced, time-served architect to take on the redesign, think again.
In a radical break from convention, they turned to a 20-year-old Edinburgh University architecture student with no jobs under his belt. It helped that George Woodrow was Charlotte's cousin, but still, it was quite a leap of faith.
Luckily, George's budding talent as an architect (he went on to win The Lighthouse Award for Best Architecture Undergraduate in Scotland in 2007, presented by the RIAS) was underpinned by the technical expertise of James, who is a structural engineer."
"George did the architecture and then we project-managed and I did the certifications for the local authority," he says.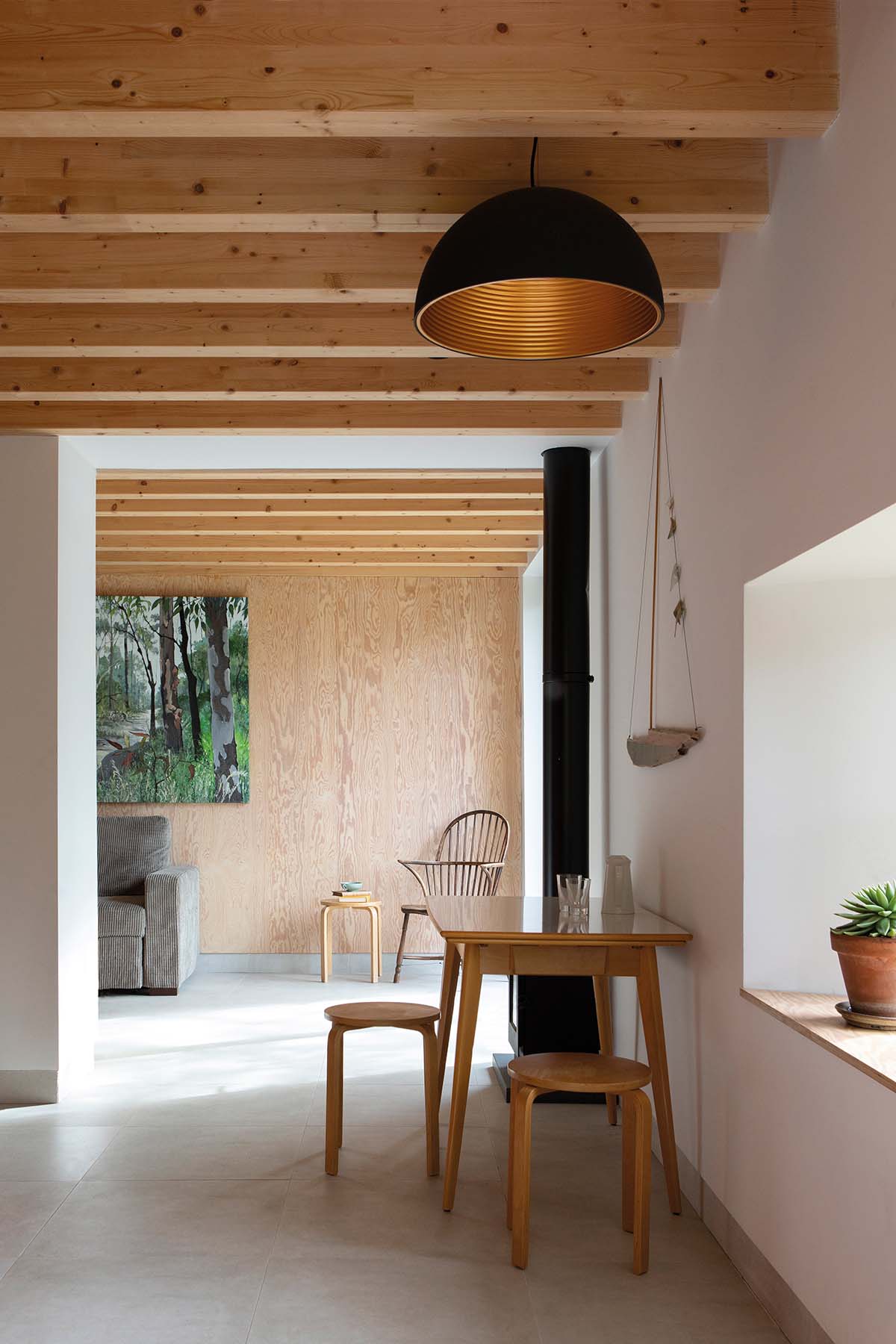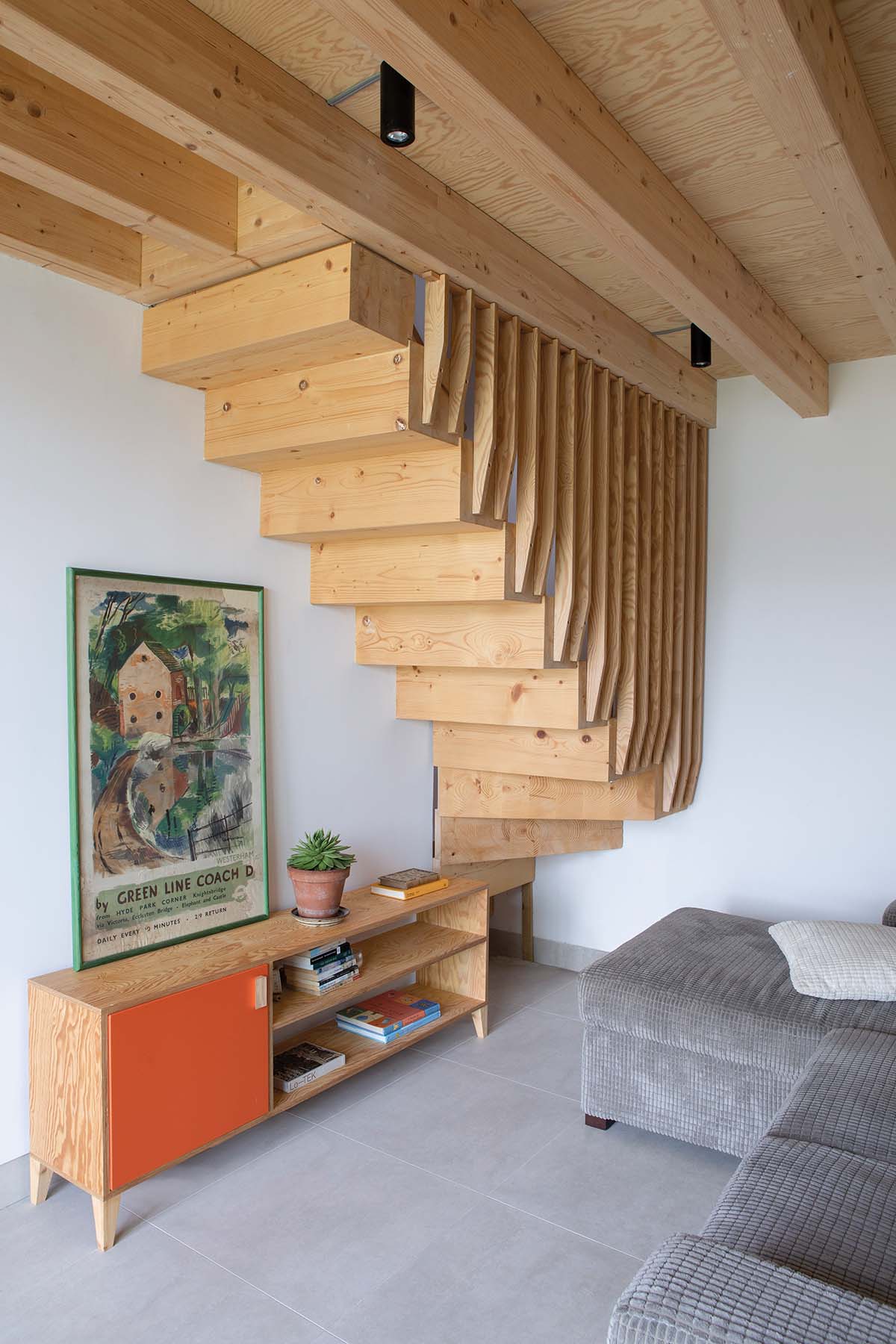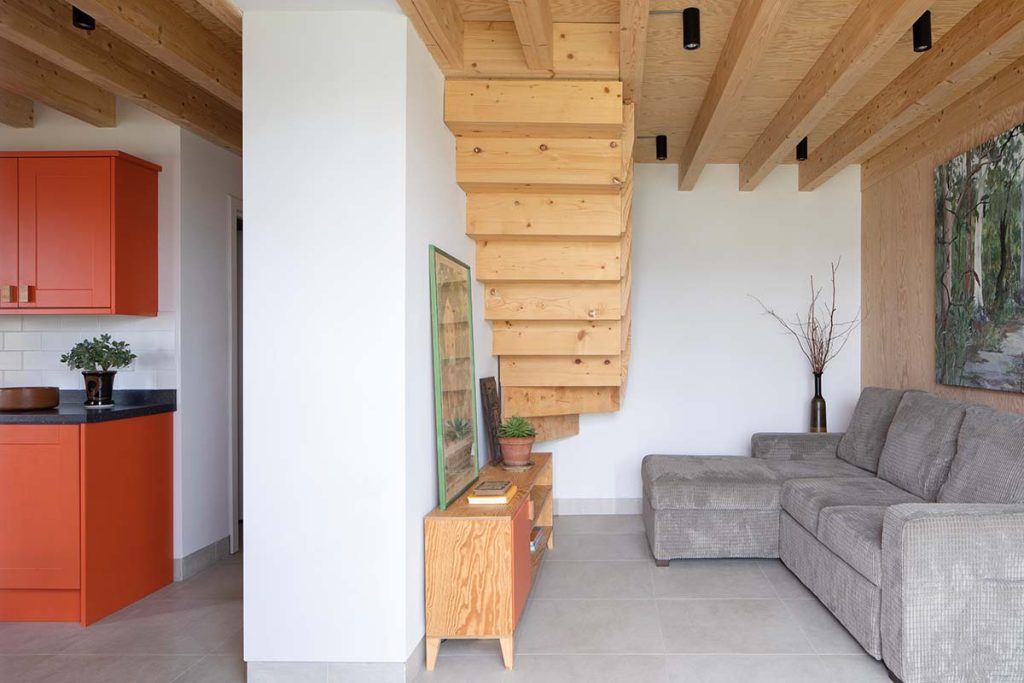 George's initial concept was imaginative and ambitious, involving a continuous wrap of timber that ribboned through the space, both downstairs and upstairs.
"He came up with this scheme that was good but kind of student-like," smiles Charlotte. "It was a bit over-ambitious for what we had in mind."
George, who today runs his own practice in London, concedes that he was a little wet behind the ears.
"My flatmate, a fellow architecture student, and I came at it very much as Part One students. In some ways we were quite naïve and unaware of real build details, but we were able to explore quite a fun concept initially."
"As time went on between coming up with the initial concept and then ten years later, actually doing it, the realities of it were revealed."
BEST LAID PLANS
The first planning application was submitted in 2007 but lapsed after the family moved to Australia for a few years. It was resubmitted in 2013, but life and circumstances conspired against them and it lapsed again until they applied once more in 2017. This time there were to be no further delays.
"At first we had a really hard time finding the right people to take on the project," recalls James. "And then we found the wonderful Laszlo Besenyei, a Hungarian builder who lives in Helensburgh."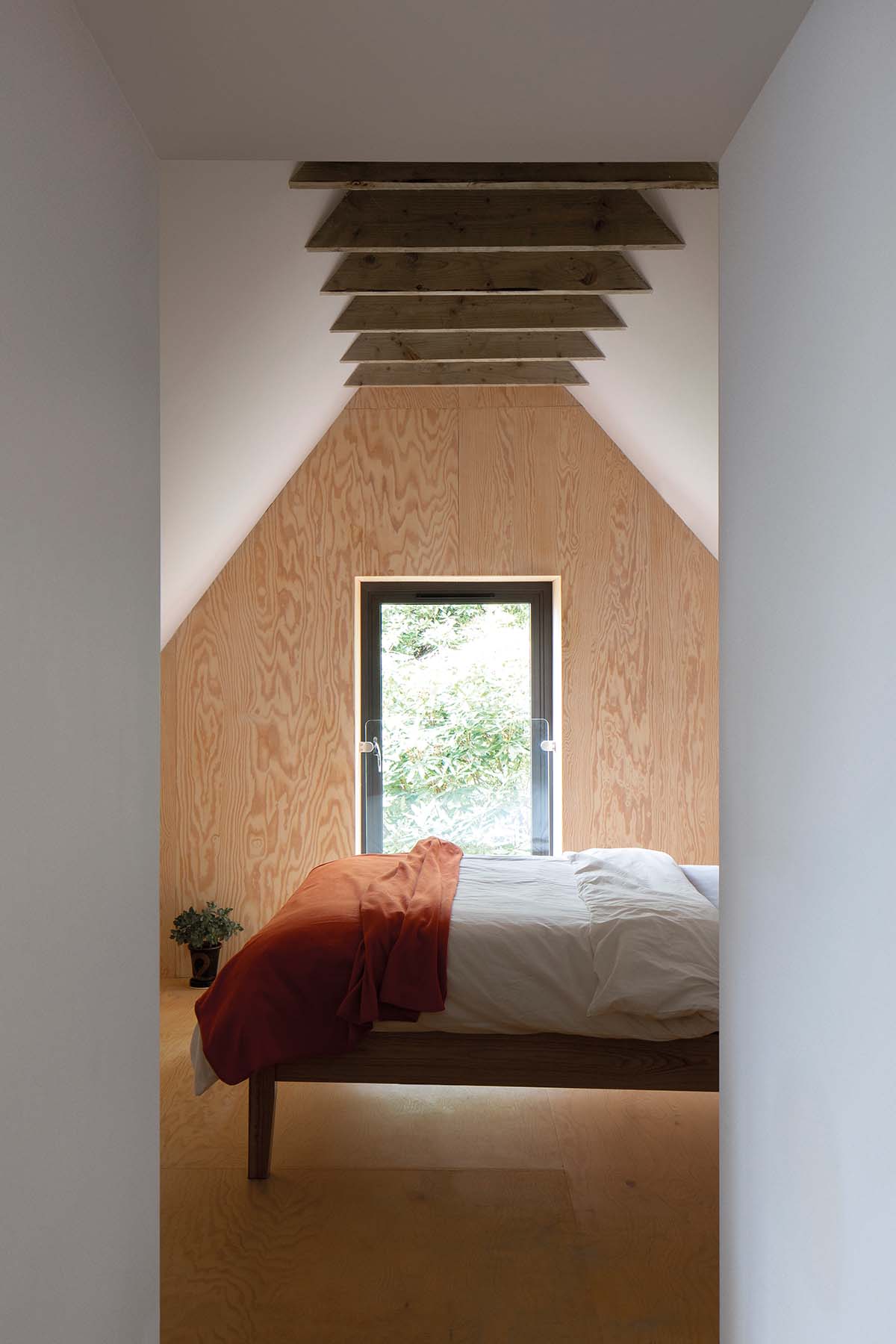 "He completed the job in just ten weeks. The budget was no more than £100,000, and we're pretty much there."
There were several key elements that James and Charlotte, in collaboration with George and Laszlo, were focused on: sustainability, warmth and a lean quality to the interior.
"We kept what we could – the stone walls were in good condition, for instance," says James. "The roof had quite a lot of woodworm in the sarking [the boards that are attached to the rafters of a pitched roof so we replaced it and then reused the slates. Everything was stripped out internally, and the spine wall, which contained the chimney, had to have some alterations."
"We did a new slab with a damp-proof membrane and hydronic underfloor heating sitting on top of that. And then stud walls all the way round, which the new glulam beams sit
on to form the first floor."
"The beams are exposed from below, as is the ply floor above. The first-floor level was generous below to accommodate the horse and gig but quite tight up top, so we pulled it down a bit to even up the spaces. We insulated the building very well, essentially creating a continuous warm shell."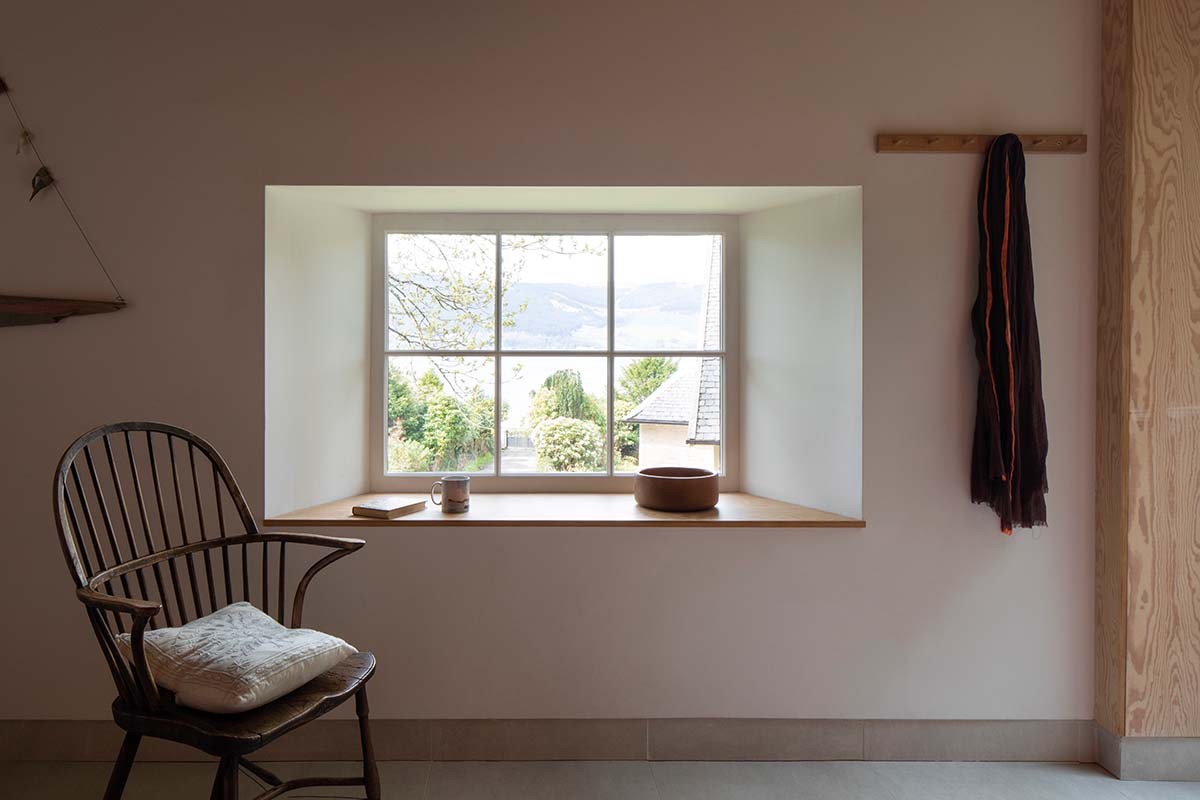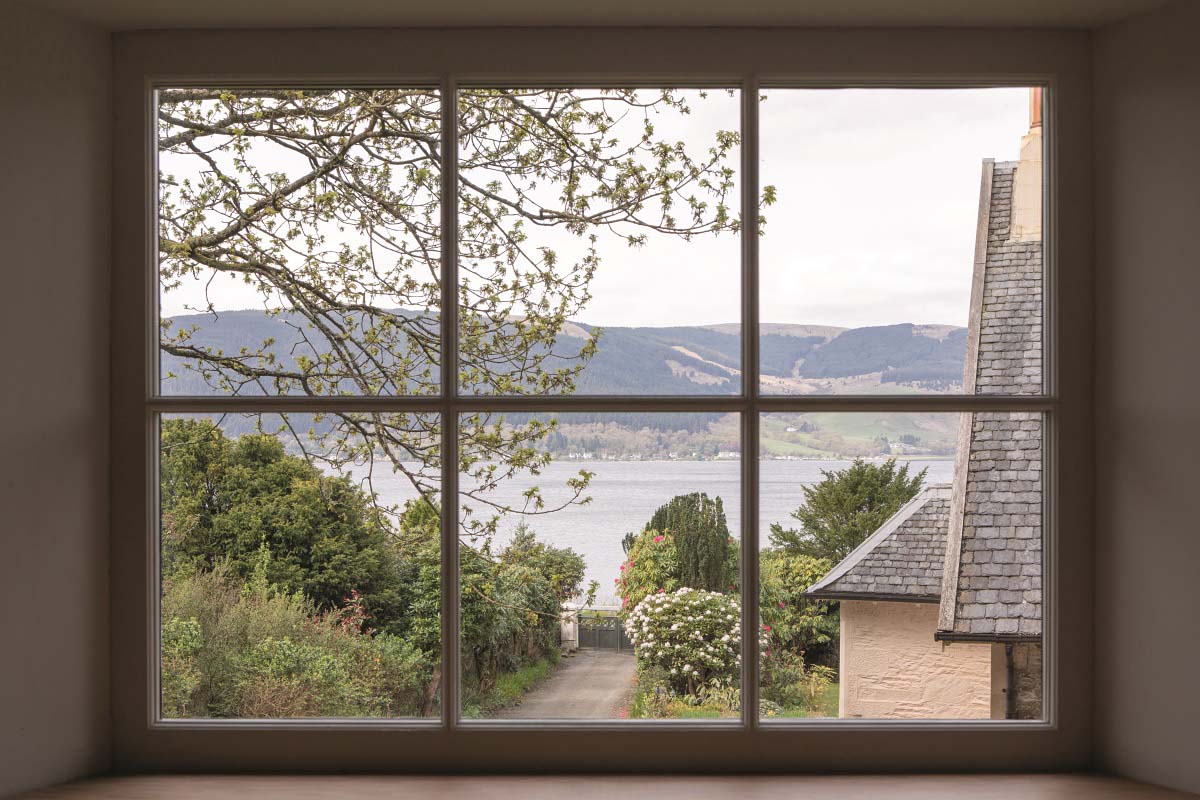 "Instead of George's original concept for the timber ribbon, we took decorative ply and wrapped it around the end walls with plasterboard on the other two sides. Upstairs the floor is treated with Osmo hard wax oil.
"The flooring downstairs is porcelain tiles. We wanted polished concrete, but Laszlo explained that it would be impossible to get the finish we wanted in such a small space."
One of the most eye-catching features is the stunning wooden staircase, which uses a technique most often seen in older stone staircases whereby each tread supports the tread
above it, whilst simultaneously using the tread below for its own support.
"We've done a 'tortionally restrained' stair using thick blocks of glulam," says James proudly.
"The Georgians used to do it a lot with stone in tenement buildings in Scotland."
When it comes to renewables, James and Charlotte made sure the building is as efficient as possible.
"There's an air-source heat pump for the underfloor heating, and a solar thermal panel on the roof to do the hot water," explains James.
"The long-term plan is to get some solar panels and maybe a modest wind turbine."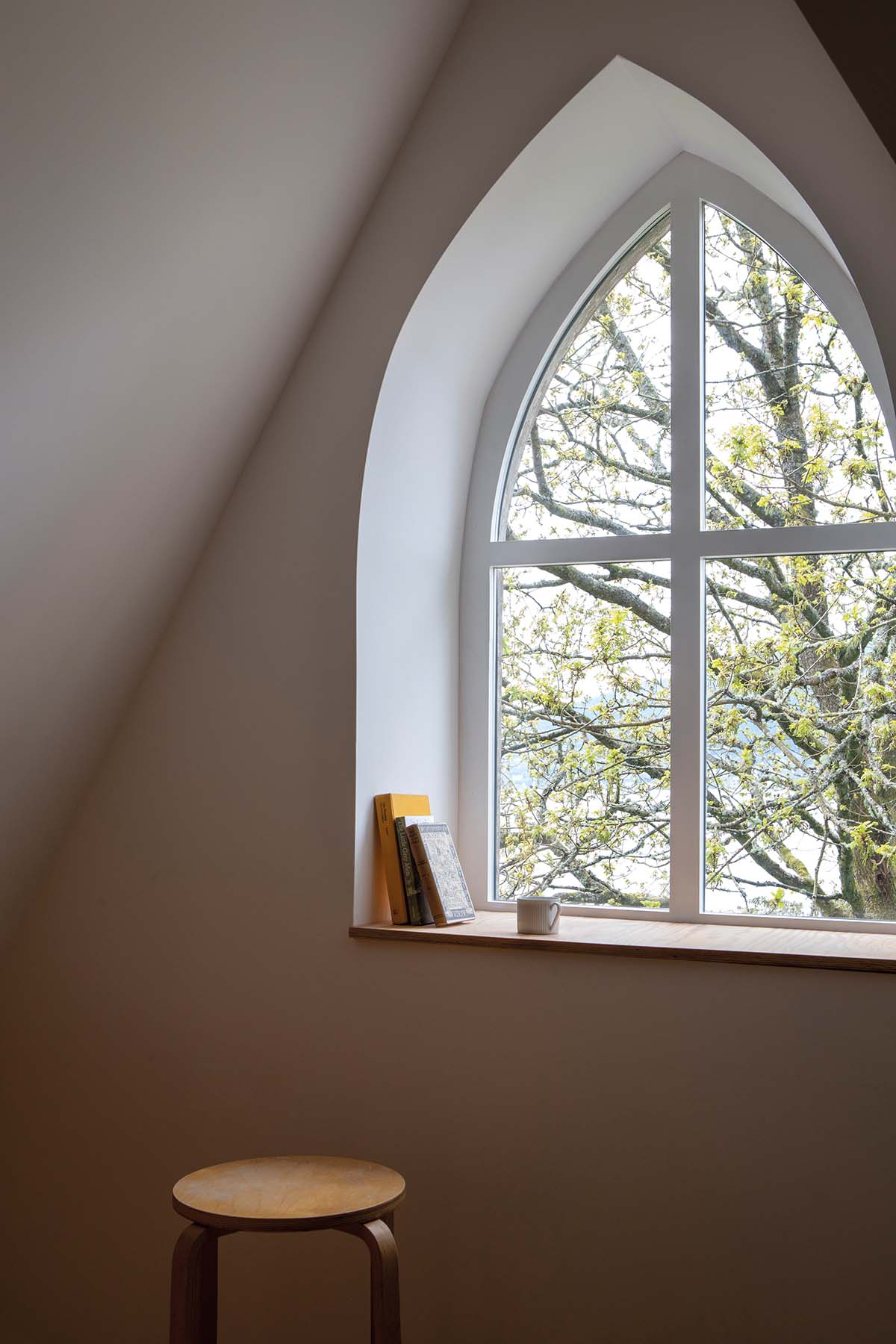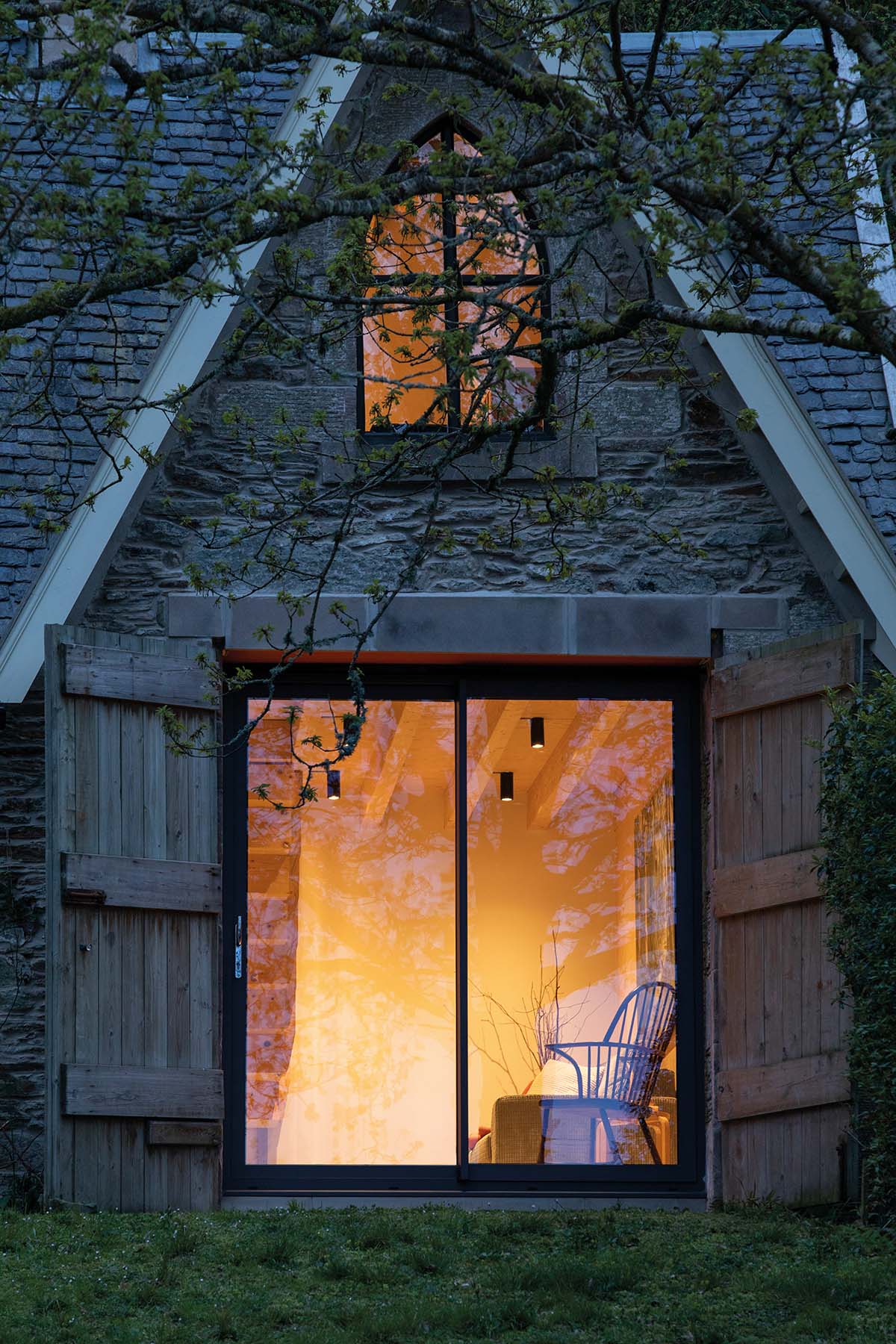 For George, the project was a chance to work on the kind of job he could only have dreamt of back in his student days.
He has gone on to be a highly regarded architect, with his London-based practice, Woodrow Vizor, working on designs across the UK, but he's still immensely proud to have worked on an Alexander 'Greek' Thomson building as his first commission.
"There's a nice resonance in that it's believed Seymour Lodge and the gig house were Thomson's first project in private practice, and it was my first project in the same site 150 years later."
"The most challenging aspect was cramming stuff in as it's such a small building – there's the kitchen, the dining space, the living area, a shower room behind the kitchen, the staircase, a bunk room-cum-office and the main bedroom."
"We had to work out how to make it functional while trying to keep it feeling as spacious as possible."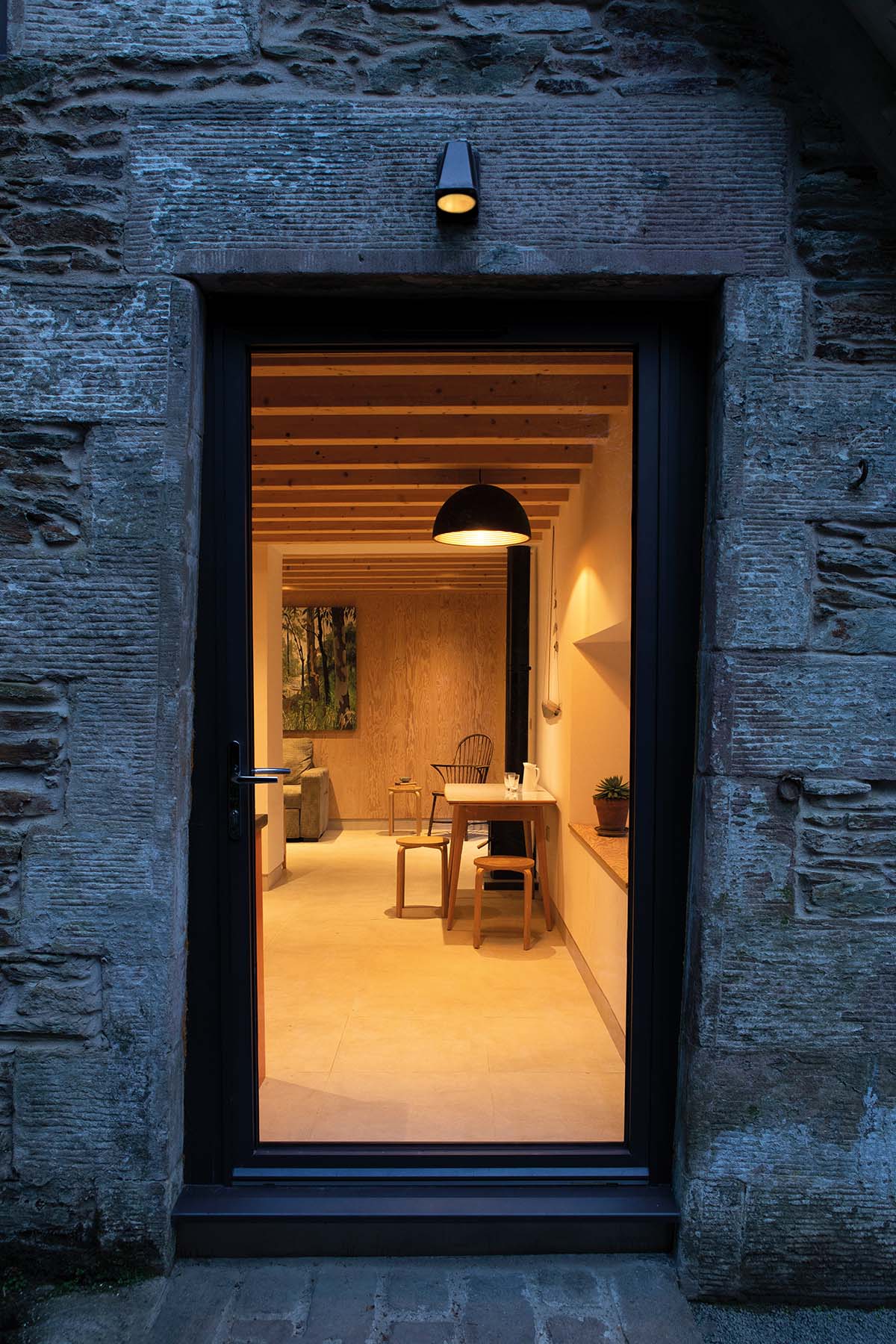 Judging by the finished building, George, James and Charlotte more than met that challenge.
"This is the only project, apart from my own house, I've had the opportunity to spend significant time in," reflects the architect. "I've loved just sitting in a chair looking out at the loch. Being able to experience it properly has been great. "
James and Charlotte are in absolute agreement about just how special the gig house is. While they live in the main house, the smaller building is a wonderful place to find peace and quiet to work and relax.
It's often used by family and friends when they come to stay and the couple's children sometimes have friends there for sleepovers.
"We're hugely proud of it," says Charlotte. "It's warm and peaceful and you feel like you're getting away from it all when you go up there. We're very privileged to have it."