Not just dab hands at moulding clay, Jono Smart and Emily Stephen have shaped a pretty idyllic life for themselves
words Natasha Radmehr | photography Laura Tiliman
In 2014, as the embers of the festive period cooled and the promise of a new year gathered on the horizon, an architect in Glasgow and a potter from Devon began writing to one another on Guardian Soulmates.
They chatted non-stop for 48 hours and got on so well that the potter, Jono, jumped on a flight to Glasgow to spend the first few days of 2015 with his new favourite person, Emily.
You know when Harry tells Sally that once you realise you want to spend the rest of your life with somebody, you want the rest of your life to start as soon as possible?
It was kind of like that. Except this pair were far too cool to have said anything of the sort.
MEANT TO BE
They did discuss their individual aspirations for the future, though, as they strolled through Kelvingrove Park. Their hopes were uncannily aligned. "We chatted about what our perfect place to live would look like.
For both of us it was a horseshoe-shaped white steading where we'd live and work on a few crafts," says Emily, sitting at the kitchen table of the whitewashed farmhouse she and Jono moved to in 2020.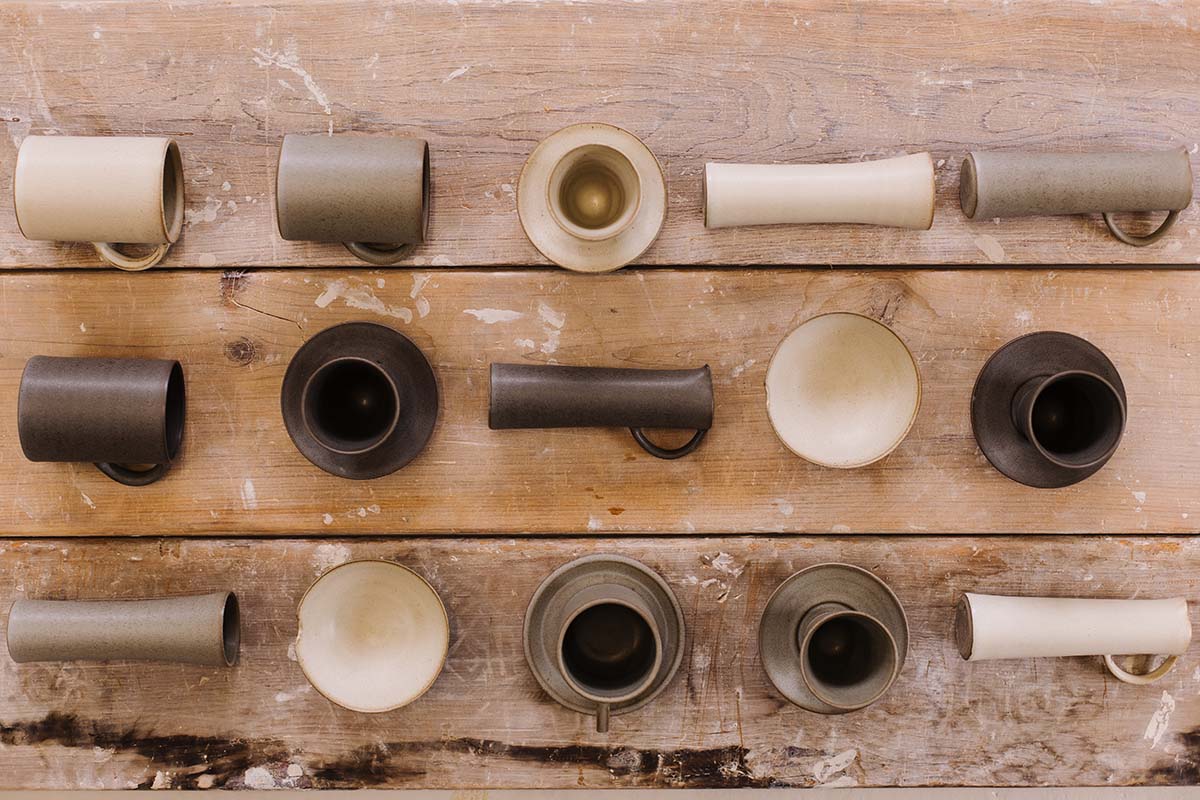 "When we came up to view this place for the first time," continues Jono, "we were like, 'Hang on, is this the place we talked about?'" Gen Z would hold this up as an example of manifestation in action, but it was hard graft rather than positive affirmations that granted this couple their dream existence.
Since their first exchange nine years ago, Jono has moved country, Emily has switched profession to work with her partner as a potter and wood-turner, the pair have built a successful business together and they have made the transition from city to rural life, swapping Glasgow for Angus and undertaking a hefty renovation in the process.
They also, last April, became parents to their adorable wee boy, Finley. "It has been a very exciting and tumultuous few years of change," laughs Jono.
Perhaps you are already familiar with their journey. In the pottery world, the couple are well known and hugely respected for their craft.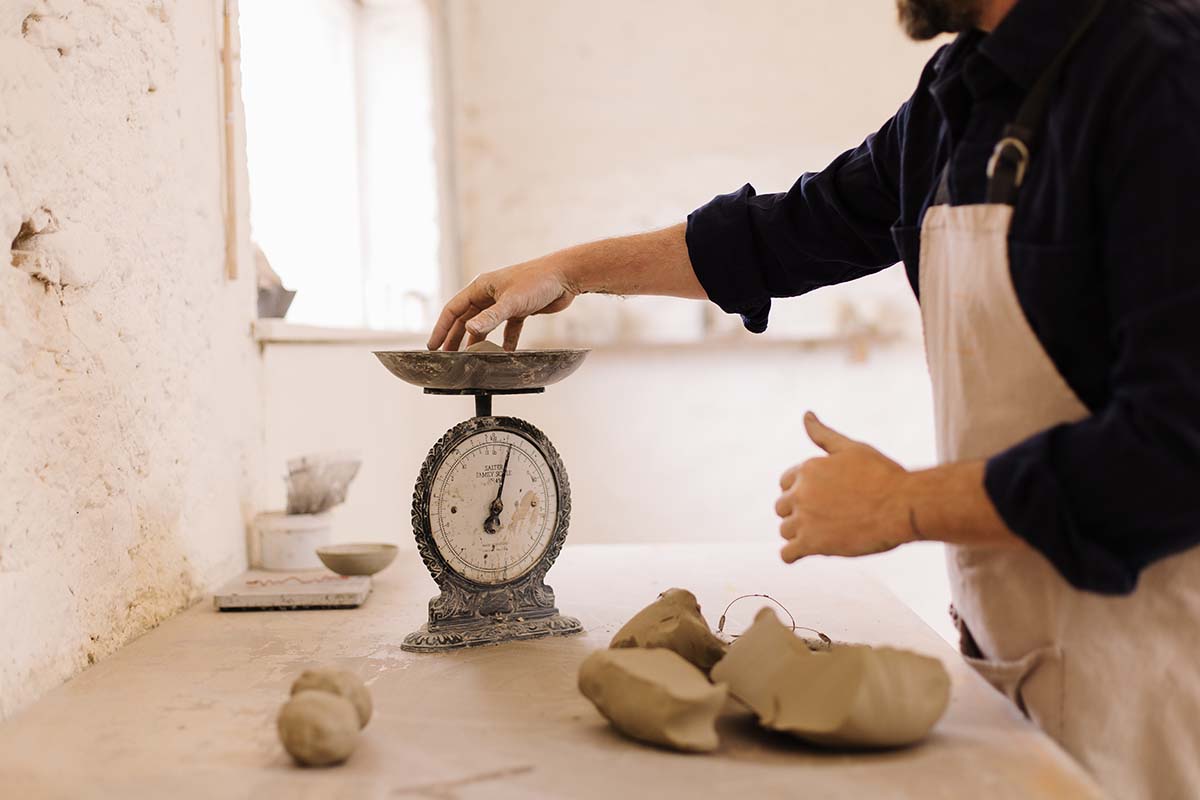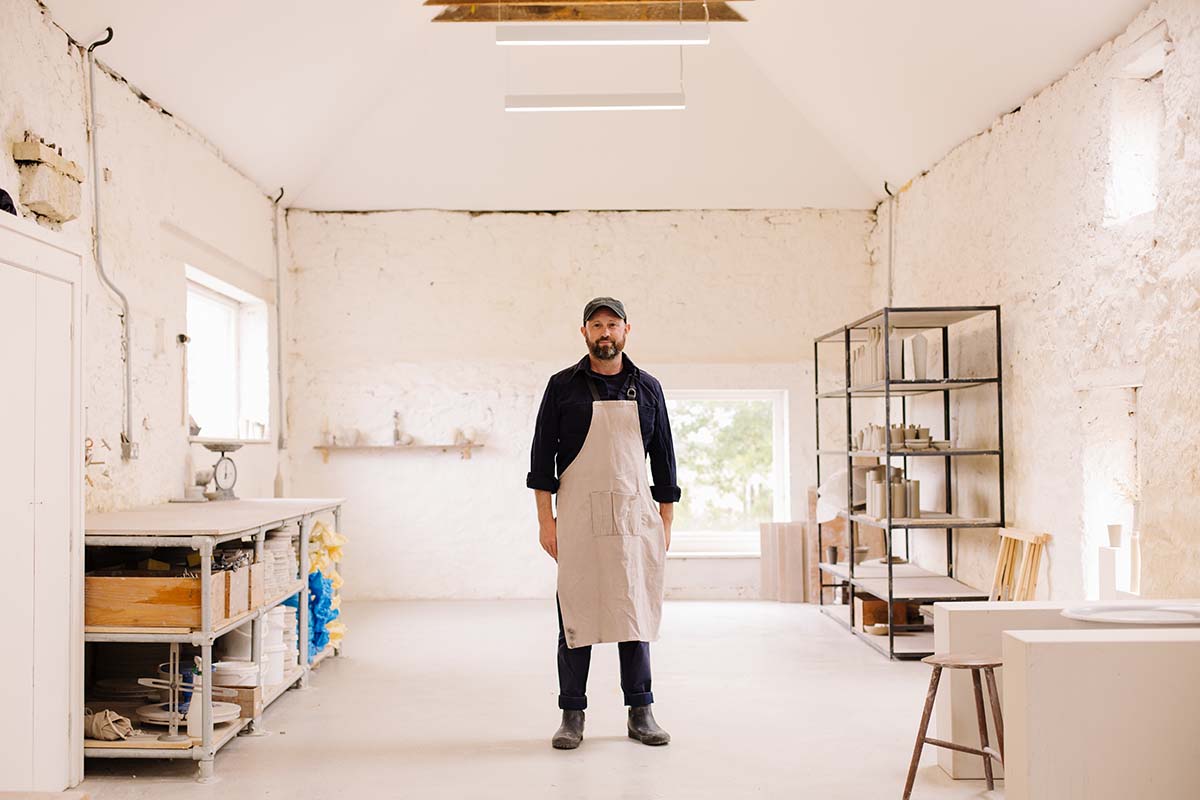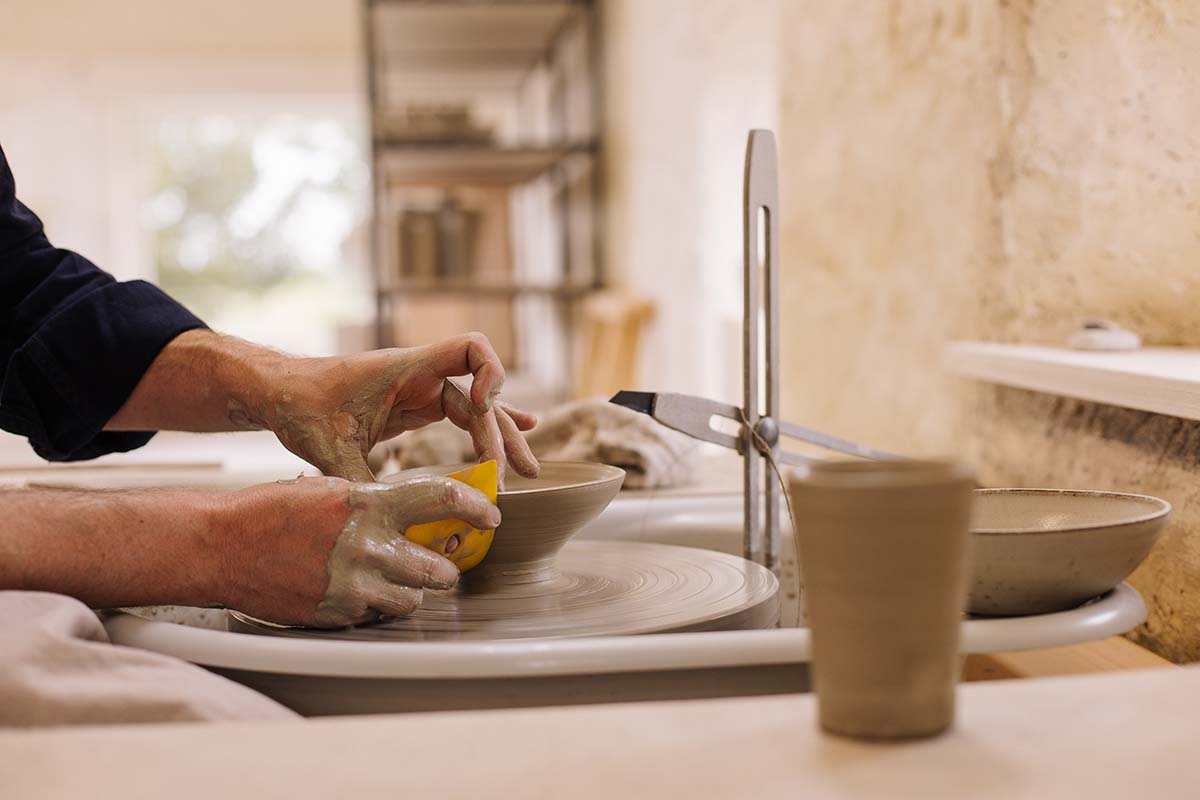 Success cannot be measured in social media metrics, but it bears mentioning that they have a combined Instagram following of 138,000. Jono puts his popularity down to the fact that there weren't many potters using the platform when he started out almost a decade ago, making it easy to stand out. But he's being modest.
Even amid a sea of makers, his and Emily's artisanal objects would capture the attention of any aesthete.
CLAY THERAPY
Yet what got them hooked wasn't so much the gratification that comes from making beautiful things; it was more the meditative, tactile process of working with clay. "It is incredibly calming," says Jono, who started out as a hobbyist potter while working for the acclaimed garden designer Luciano Giubbilei.
After attending a six-week course at the open-access ceramics studio Turning Earth in London, it was all he wanted to do.
"It's a rare thing in modern life to have to sit still and concentrate quietly on something for hours at a time," he muses. "At the end of the day I could see a shelf of my work and say those are my hours, that was my effort. It was a very satisfying thing to see."
He had only been throwing pots for just shy of two years when he moved to Glasgow to be with Emily, but he already had a rapidly growing customer base after creating an online shop.
At first, Emily juggled her career as an architect with helping Jono to glaze. She also started making wood-turned objects, initially as a hobby, and requests soon flooded in for her handsome bowls.
Before long, the couple were working together seven days a week in their Glasgow studio and had woven themselves tightly into the fabric of the creative scene in the Southside.
"It became a little world of lots of people in the city doing interesting things. We'd all go for long walks in the park, talking about business," says Emily. "We worked incredibly hard, sometimes all through the night. It was tiring, but fun."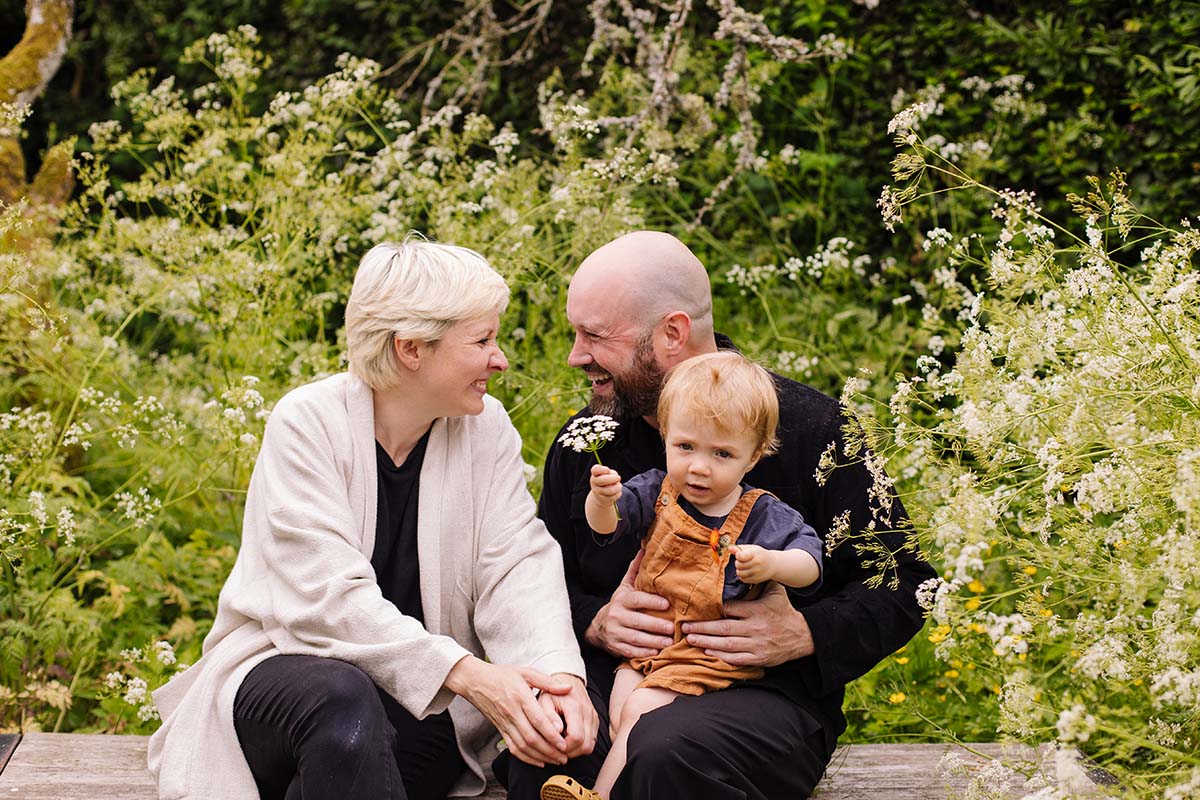 They never lost sight of that whitewashed steading, though. When a farmhouse with a clutch of outbuildings came up for sale in the heart of the Angus countryside, it felt like kismet. It was rundown, but liveable enough to move into – or so they thought.
"We spent the first two weeks there crying," says Jono, recalling the 24-page to-do list he compiled.
The stress triggered a depressive episode of his bipolar disorder, and he ended up bedridden and living with his parents in Devon for a few months while Emily got cracking with the renovation.
"I had made the mistake of not taking my medication for six months because I thought the bipolar had gone," he explains. "But it's never gone; you are in a cycle, it'll come back again and it's just about managing it. Medication helps, and pottery has been a balm to the illness."
THAT COUNTRY LIFE
Country living has helped too. They are surrounded by open land and mountain views. Their cottage, now decorated to suit their style, blends warmth with a streamlined, thoughtful aesthetic.
Outside is a U-shaped stone steading, home to separate pottery and wood-turning studios. Liberated from the distractions of the city, they have settled into a gentler way of life that has greatly benefited their wellbeing and their craft.
"In Glasgow I felt like an architect helping in a potter's studio," says Emily. "Here, I feel like a potter." The couple do three or four 'shops' (or collections) a year comprising a vast array of objects: cups, carafes, bowls, candle holders.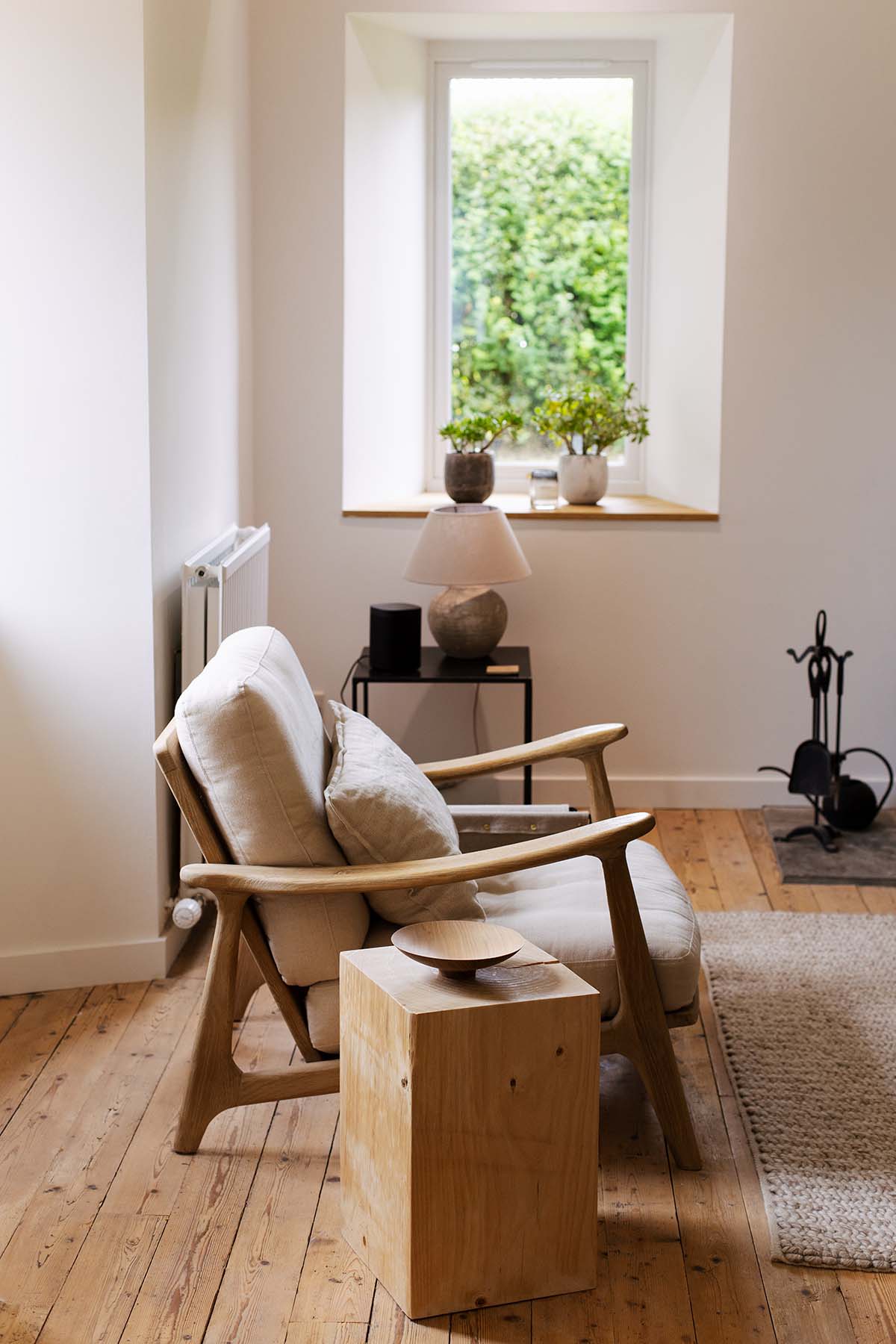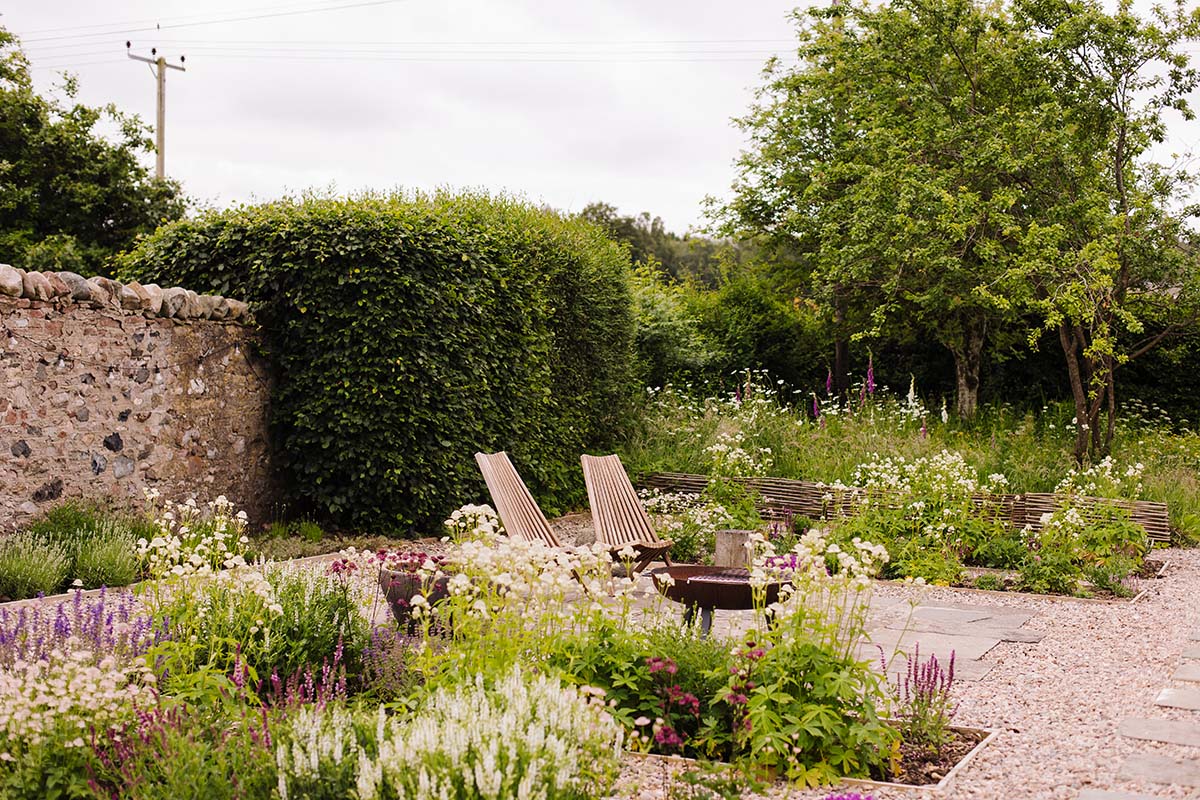 Occasionally, they undertake special projects. If you've dined in Timberyard in Edinburgh or Inver in Argyll, you've likely eaten from one of their plates. But even when working across different collections and commissions, their aesthetic doesn't waver. It is architectural in its precision, naturally muted in palette.
"When we started out, we worked like designers, thinking of a concept first and then trying to make it," says Jono. "But now we approach it like craftspeople. We understand clay and what it wants to do, and we are guided by the material."
Pottery has its own inherent rhythm that must be yielded to, and the couple have developed their own working rhythm too. For each shop, Jono spends four weeks throwing the vessels, then Emily waxes and dips on Mondays and Tuesdays, cleaning and fettling on Thursdays and Fridays to remove marks from the glaze before firing over the weekend.
Weekends look very different now to the Glasgow days, when they'd work all hours and collapse with a takeaway. They are resolute about taking that time off to enjoy being a family, fixing a picnic and taking Finley for a paddle in the river or visiting Emily's parents in the East Neuk.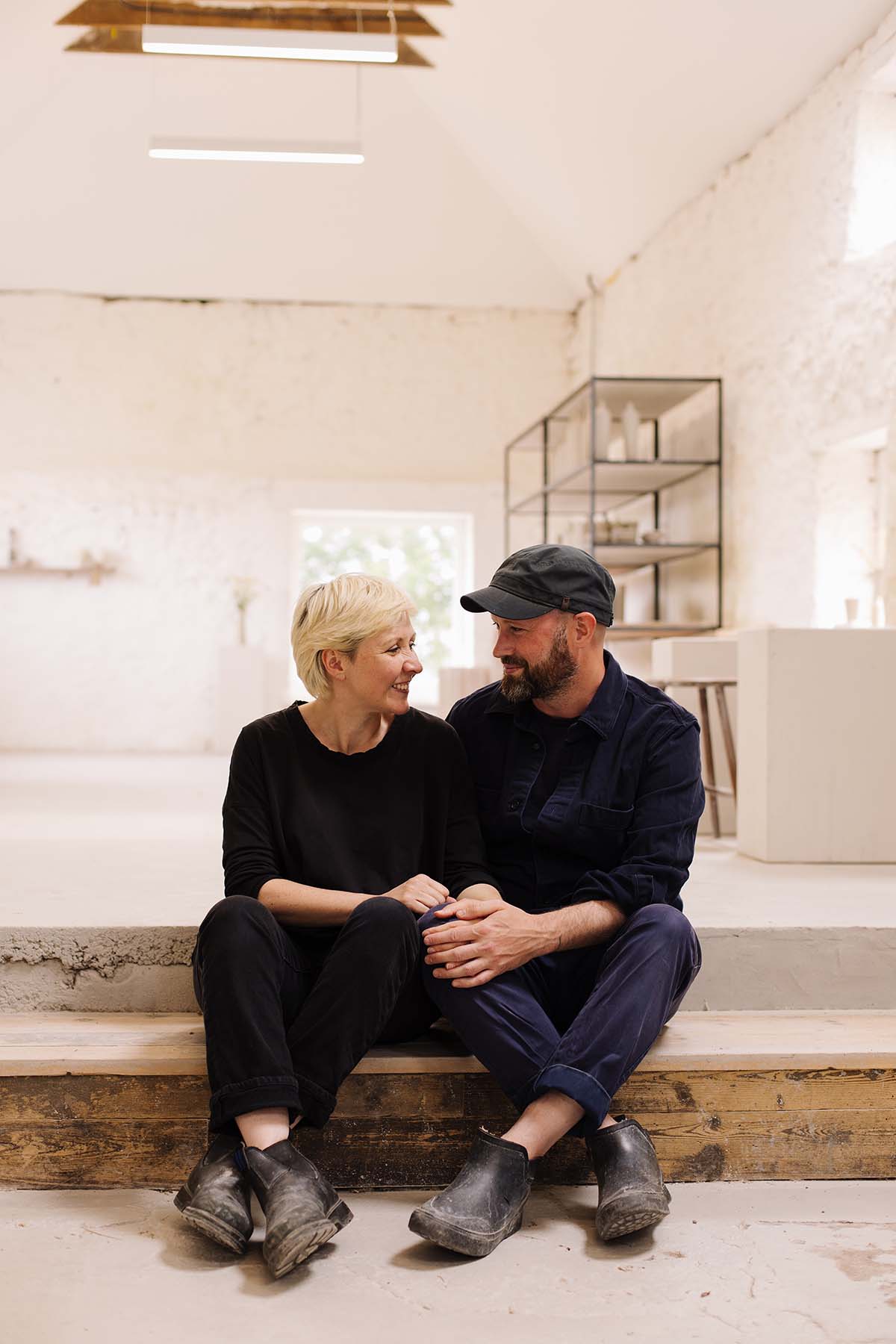 "We have done more things and visited more places since having Finley than we ever did previously," says Jono. "Parenthood has been so rebalancing."
In the first few months after their son was born, they admit it was a struggle to picture how work and family life could slot together. "But then, slowly, you do see," says Emily.
She recently made a return to the lathe after taking a maternity break from wood-turning, and the couple also have plans to create bigger, more sculptural pottery pieces over the coming year.
A new equilibrium has been found. "We've been so deep-down content as a family," says Jono. "And the thing about mental illness is that it's nothing to do with happiness – this life could not be happier.
These periods of time where my mind is my own and I know how happy I am? That's all I need."