A couple of years ago, this gilded, glamorous apartment was a plain white box. Then Wesley Moon got his hands on it…
words Catherine Coyle | photography Pernille Loof
It has taken him a couple of decades to get here, but Wesley Moon has made it to Park Avenue at last.
The designer had dreamt of owning an apartment on the Upper East Side ever since he was a child, and he can't hide his delight that he now has what he always wanted. What he has created here in New York City's most prestigious residential neighbourhood is a dramatic art-filled, gilt-edged home that some might suggest only he could live in.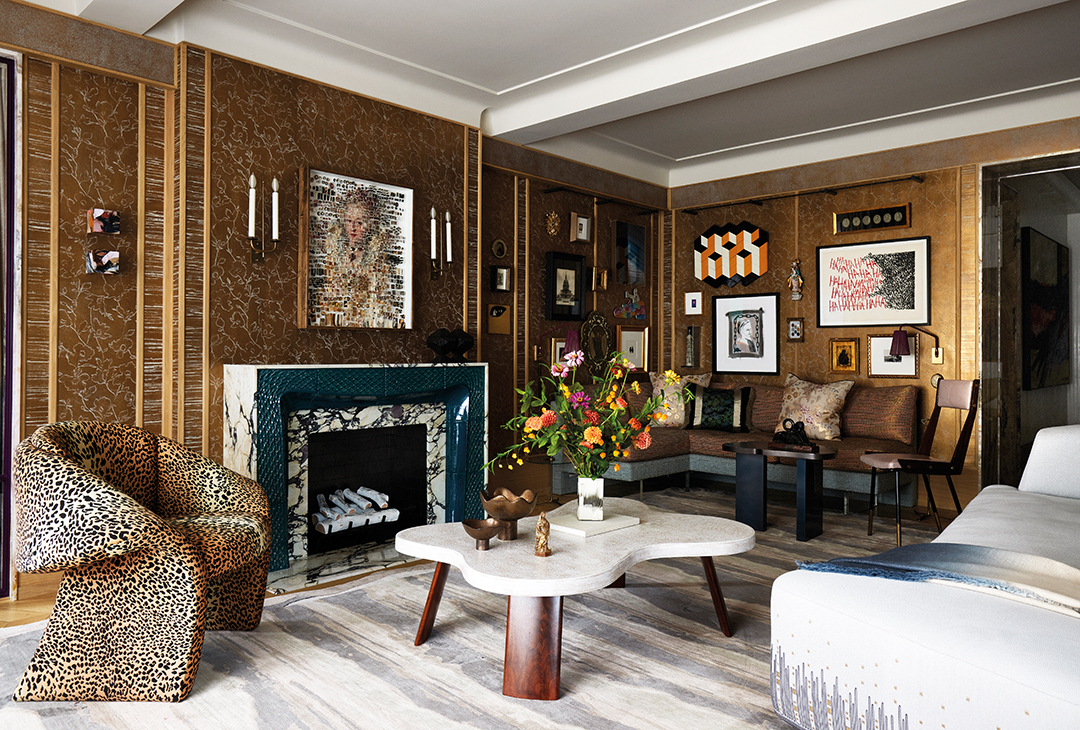 "It's a very personal space," he agrees with a smile. "I know it might not be for everyone, but I designed it for me. I appreciate all design styles."
The 45-year-old Georgia-born designer, who started out as an architect and then studied interior design, relishes every moment he spends in his new home. It was a trial getting here so he really values the singular, spectacular abode he has created.
MARBLE KITCHEN TOP
"I viewed so many places before this one came up," he says of the hunt to find the right property.
"This was back in February 2019, and, with approvals and permissions taking almost a year, I couldn't start working on it until January 2020 – right before everything got locked down in March. Even when things opened up again in July, there were lots of limitations, so it took a long time – two years and four months – to complete the project."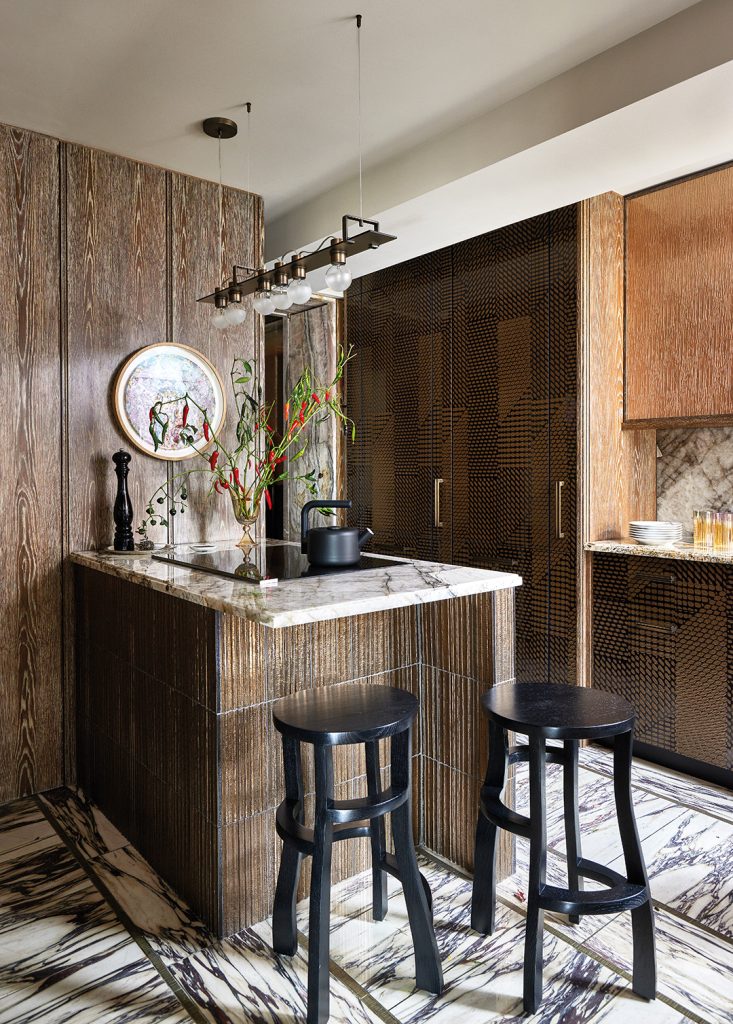 ART MODERNE
Moon has been living in the two-bedroom apartment for a year now and all of those delays and obstacles feel like a distant memory. "I'd owned a couple of places in New York in the past before I found this one, so I'd figured out how I live and really distilled what I wanted from a home. I think the main goal for me was to make sure that every room has a purpose and every space is used."
The tenth-floor apartment, in an Art Moderne building that dates from 1939, is in Carnegie Hill, a location that oozes glamour. It's actually the only building on this stretch of Park Avenue that stands on its own, without its neighbours touching it, so it enjoys the kind of natural light you'd expect to find in a country pile. The flat itself, though, was lacking in character; many of the period features that made the building so attractive had been ripped out by a previous occupant.
Moon was confident he could take this 'white box' that hadn't been touched since the 1970s and transform it into an atmospheric, characterful home. Using his skills as an architect and an interior designer, he set about redrawing the layout to better suit his lifestyle, collaborating with specialists to reinstate key elements, and at the same time making a place for his art collection.
"You've got to love it," he says of what motivates him to buy a particular piece. "You shouldn't think about art from a design perspective or if it will match with your interior scheme. You should just buy what you love."
ART DECO INFLUENCE
He has done exactly that, not just with the paintings and tchotchkes that he has amassed over the years that all work seamlessly in his new home, but in the way that he has approached the interior. It's a visual representation of all of Moon's great loves: travel, art, history, family and identity. He has combined them here with such aplomb that the result is utterly unique. You couldn't replicate it. It would be like trying to use his passport.
For all that this is a confluence of baroque, regency, Art Deco, mid-century and renaissance styles, it is a home that could only exist in the 21st century. Moon has allowed himself the freedom to pick and choose opulent elements from each era. Take his use of marble to line the doorways of each room (a trick he discovered on a visit to the Vatican): "If you look at the door casings, which I've done in a beautiful Byzantine pink onyx, and the radiator covers in a Ondulare Rosso marble, the scale and the colour allows me to mix textures in the same way that you would with fabrics or wallpapers."
To achieve the luxe spec and individuality he was after, he collaborated with a number of artists and craftspeople to produce one-of-a-kind pieces. He researched Belle Époque mantelpieces for his living room, merging historical shapes with contemporary teal tones and, together with the artist Benjamin Weiner, owner of Cocobolo Design Gallery, made the striking ceramic fire surround. Hand-painted wallpaper specialist de Gournay was called upon to realise Moon's vision for the dining room.
"The wall was curved and I wanted to put a mural on it to make it look like a panorama," he explains. "I outlined what I wanted – a Sicilian scene on a gilded background – and I was sent line drawings and colourways to decide on. Then the design was created in de Gournay's studio."
Likewise, in the master bedroom, decorative painter Jane Henry was commissioned to customise the headboard, adding contemporary gold flourishes to an 18th-century tapestry, creating a new work of art in the process.
18TH CENTURY TAPESTRY
MAXIMALIST INTERIORS
Wesley Moon's commitment to art both old and new unifies this home. He champions the work of aspiring makers just as furiously as he collects pieces from the past. Taking pride of place above that handmade fireplace is a work that combines ancient and modern – a portrait of Elizabeth I that he commissioned from Michael Mapes.
It's a deconstructed version of an original Dutch Master painting of the queen, put together in a shadow box that includes hundreds of different images, among them a picture of Moon's own grandmother, Elizabeth, and a shot of him dressed as the monarch one Halloween, pulled together to create something completely new.
Another of his heroes, Dolly Parton, is immortalised (this time in Lego) in a work by artist Samuel Hatmaker. That piece is in the library, itself a spectacular room: "The south-east corner of it overlooks Park Avenue all the way to the Chrysler Building and has incredible open sky views."
This is maximalism personified, both inside and out. "It's the kind of apartment that comes alive at night," says the designer. "The glow from the gilded surfaces creates a moody winter atmosphere where the textures and tones envelop us like a cocoon."