SPECIAL OFFER
Subscribe for £30 and receive twelve issues and a luxury gift*
CHOOSE FROM
A Starry Night scented candle Nutmeg Embers (RRP £25)
OR A Starry Night reed diffuser Nutmeg Embers (RRP £25)
The Starry Night Collection by ARRAN – Sense of Scotland draws inspiration from the coming season.
"On a crisp winter's night, Arran lies beneath a sky embellished with
glistening stars, an unspoiled space filled with possibility"
The packaging takes inspiration from the unspoiled landscapes of Arran; gradients of colour found in the night sky and the textures of the surroundings.
ARRAN – Sense of Scotland would like to present a beautiful Starry Night scented candle or a Starry Night reed diffuser to subscribers of Homes & Interiors Scotland magazine. To claim your free gift simply call into an ARRAN – Sense of Scotland store on the Isle of Arran, in Glasgow's Buchanan Galleries, Glasgow's Silverburn, Edinburgh's George Street or the Gretna Outlet Village.
Starry Night is available in stores now and online at www.arran.com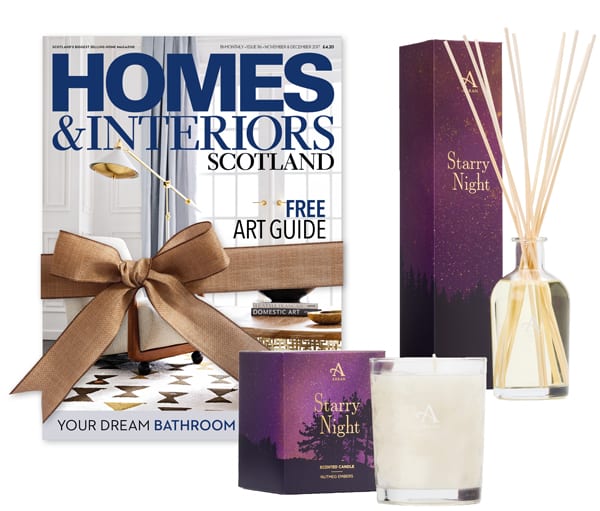 TERMS & CONDITIONS: *You will receive a voucher from Peebles Media to redeem at any ARRAN – Sense of Scotland participating store listed above. Promotion applies to a two-year print subscription only and entitles the recipient of the voucher to either 1 x 38cl Starry Night candle – Nutmeg Embers Fragrance or, one 200ml Starry Night reed diffuser – Nutmeg Embers fragrance, whilst stocks last. Should stock have sold out by the time of redemption a comparative alternative will be offered. This offer is valid until 17th December 2017. By purchasing this subscription you agree for Peebles Media Group to share your details with ARRAN – Sense of Scotland and for ARRAN – Sense of Scotland to contact you.
SUBSCRIBE TO SCOTLAND'S LEADING DESIGN AND LIFESTYLE MAGAZINE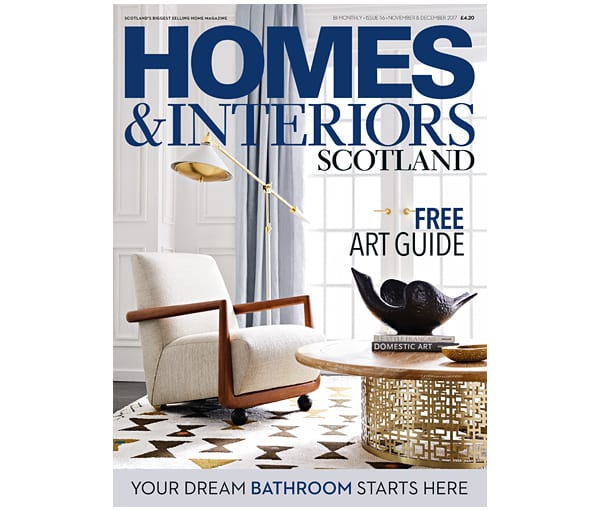 PRINT
One year (six issues) | £18 | SAVE 25%* + FREE UK DELIVERY
Two years (twelve issues) | £34 | SAVE 33% £30 | SAVE 40%* + FREE UK DELIVERY
FREE supplements
FREE card for every gift subscription
Published in January, March, May, July, September and November
Or call our subscription hotline, Tuesday, Wednesday and Thursday, 9am to 5pm
+44 (0)141 567 6064
If you have an enquiry about existing or overseas subscriptions, please get in touch get in touch.
Annual subscription rate £18 – UK and ROI addresses only. Overseas mail: Europe £49, rest of the world £62. *Saving compared to retail cover price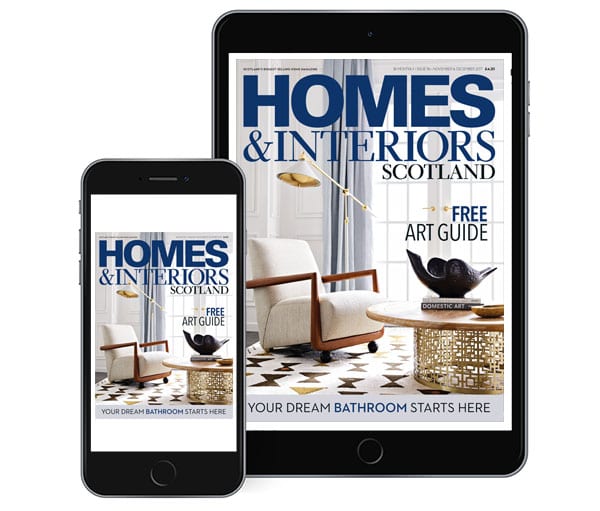 DIGITAL
Buy now, read it straight away
Discounted price for digital editions
Single issue or subscriptions available
Save clippings to your personal digital scrapbook
FREE supplements
Taster features from recent issues
Homes & Interiors Scotland is available to purchase at all good newsagents, price £4.20