The creative force behind the Mairi Helena label combines a love of landscape and nature
with vivid colour to bring life to her very personal printed textiles and wallpapers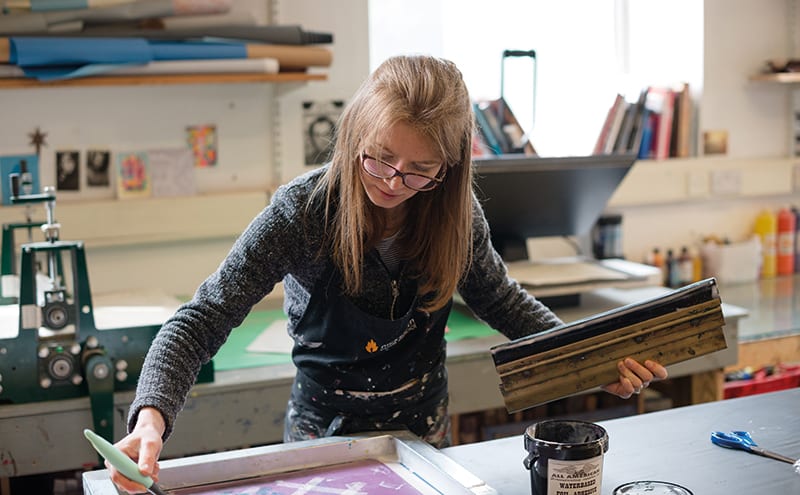 DETAILS
Photography supplied by Mairi Helena
Words Catherine Coyle
Mairi Wilks was just five years old when she chose her future career path. Raised in the Borders village of Melrose, she grew up surrounded by wild-life, wide open spaces and the inimitable light of this part of the country. "I just remember being outdoors all the time, living in my wellies," she smiles. "It's where I was happiest." That she would become a vet was no great surprise; she'd spent her childhood riding horses and running around with her friends on farms, knee-deep in mud, and walking for miles along the shoreline with the family dog, Kirrie.
After training in vet medicine in Edinburgh, she got a job in Birmingham where, between shifts, she spent her free time with her camera. It was completely different from her day job – so much so that she would get lost in it. "Work was intense, and I found that when I was looking through the lens, I could escape," she says.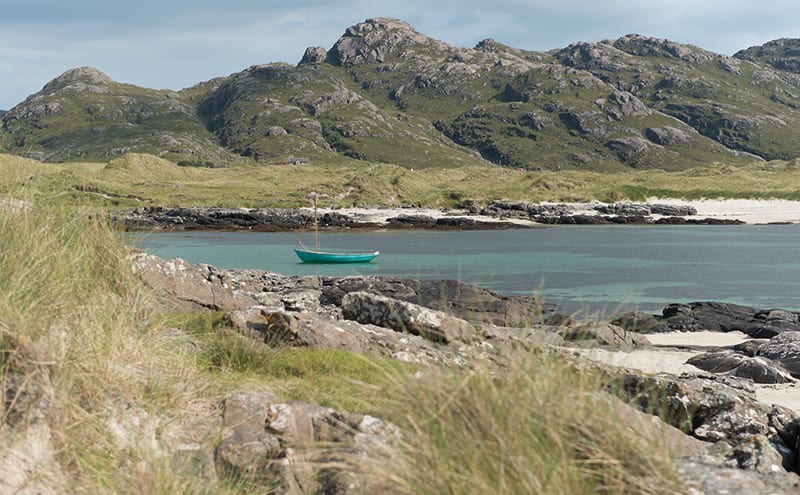 Soon, what had started out as a hobby that erased the stresses of the day started to reveal its potential as a career in itself. "I wanted to learn more," she says. "I was really keen to take photography to the next stage, so I signed up to a course in the Lake District."
It was here, says Mairi, that she was encouraged look at the business side of her pastime. Encouraged to get the most out of her images, the course didn't just hone the technical aspects of photography that she hadn't focused on as an amateur, it also opened up the possibility of it becoming a bona fide career. "The other people on the course were really inspiring," she recalls, "and it was their entrepreneurial spirit that made me look at what I was doing to try to discover what my niche was."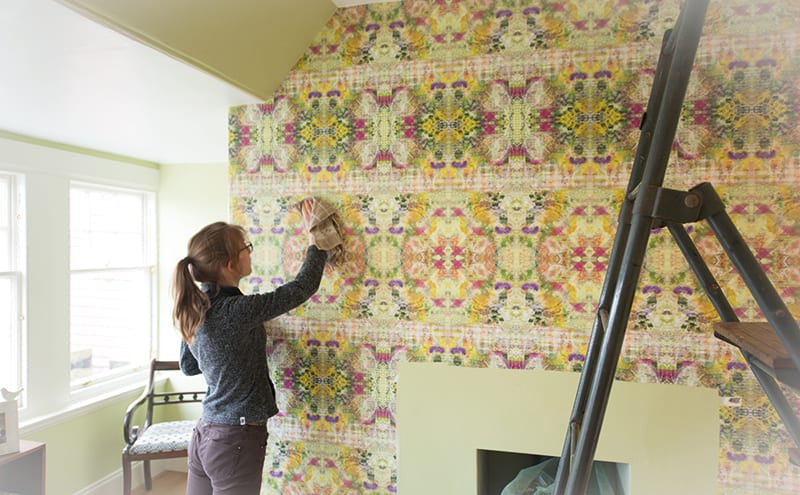 Comfortable in allowing the camera to open up new avenues, she nevertheless knew that she felt most creative when combining her passions. She found herself working on animal and pet portraiture, landscape photography and, increasingly, interiors and fashion photography.
Hailing from a part of the world where textile design, manufacture and production is ingrained in the local Borders heritage, Mairi's creativity seems to be both 'nature and nurture' in origin. Her parents were both textiles designers, her grandparents were architects and her aunt was a full-time painter. "It was something that was all around me when I was growing up," she smiles. "I was really interested in art at school too, and even though I did sciences I really loved drawing and painting and making."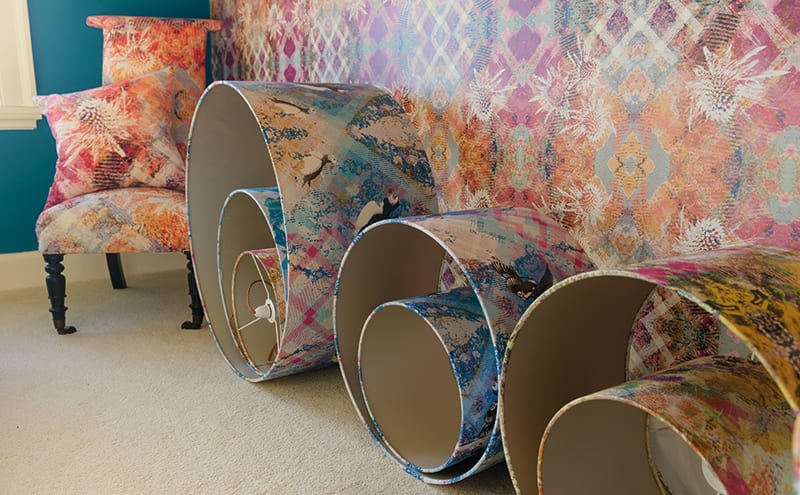 Moving to Fife with her husband and childhood sweetheart Richard and taking up a job as a locum vet, Mairi was able to indulge all of her passions and devote time to each. Through her commercial photography, she naturally gravitated towards photographing textiles, fashion and interiors, which, in turn, led her to develop her practice even further. "I remember as a child going to the west coast on holiday, heading to Arisaig in particular," she recounts. "Even now, my time is spent walking and camping and just heading out with my camera to take photographs of the landscape."
That landscape could be the brilliant lavender fields of France, or rusted pillars on the seafront back in Fife; Mairi has an eye for colour and composition that is lucid and highly structured. Recognising a theme, she began organising her work by colour, arranging her images in folders that gave way to her latest venture: creating her own collections of digitally printed wallpaper and fabrics. "I taught myself to create digital images through my photography," she explains. "Using parts of those images, I would experiment with layering, creating patterns."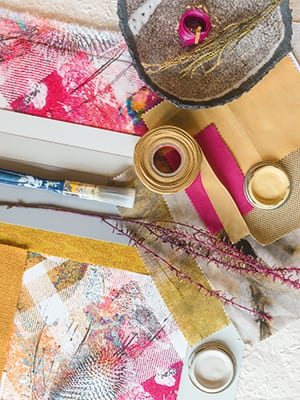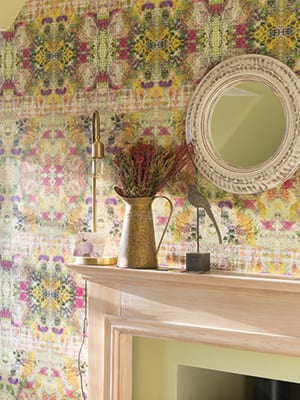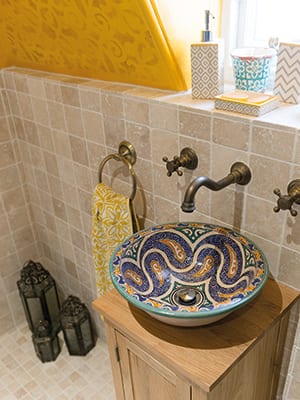 Scottish Flora, her first collection under the label Mairi Helena, was a range of 12 designs in fabric and wallpaper, launched in 2016. It managed to take all of Mairi's influences – her undeniable connection with animals and nature, her background in the textiles heartland of Scotland, and her love affair with the drama of the Scottish coastlines and landscapes – and bind them together into patterns that have become a signature look for this fledgling designer.
Following a successful launch and motivated by the appetite for her work, she put together a second collection, Homelands, which was launched earlier this year. "The two collections are quite different, but I think you can see my style. The first became known for the thistle design I did – it had a graphic element and a play on tartan. The new range is much more abstract, I think, but it has the same fascination with colour."
Both Scottish Flora and Homelands read like a visual journey through the landscapes of Mairi's beloved Scotland, from the heathery tones and brooding skies of the south, to the golden autumnal shades found in the kingdom of Fife. The kaleidoscopic patterns hint at the digital techniques used to manipulate her images which, coupled with the richness of her colours, gives the prints their signature look. It's a personal mix of science and art that is quite unique.
All over the home she shares with Richard, a pilot, are nooks and corners featuring her distinctive designs. The pair moved from Fife to the outskirts of Edinburgh in 2015 and have been redecorating their quirky apartment to reflect their travels and their passion for colour. The flat would originally have been the servants' quarters of a grand blond-sandstone villa. It has an unusual layout, with a chimney breast separating the lounge and dining room.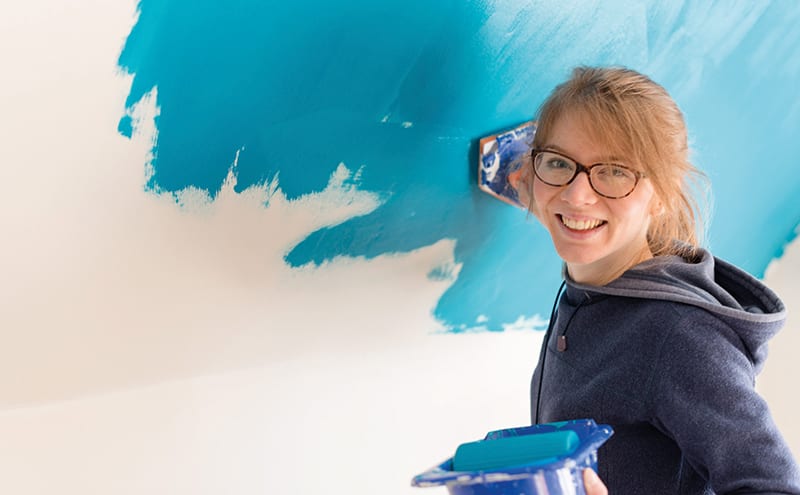 With lots of combed ceilings and low walls to contend with, Mairi has made a feature out of what must have been difficult areas to decorate. Her studio space, although small, is painted in an inky blue that manages to create a calming effect while clients flick through her sample books. In the kitchen – a traditional, Shaker-style arrangement – her Bronze Flush Thistle wallpaper makes a strong statement on the sunny yellow window seat. 
"I love experimenting with something bold and recognisable," says the designer. "Plants and animals always inspire me, but I think there will be more pastel colours coming through in my new work. Nature often shows me which tones work well together."
With field trips already lined up to the Trossachs and North and South Uist, Mairi is camera-ready and looking forward to adventure.
Both she and Richard are big foodies, and one of the attractions of relocating to Edinburgh was the vibrant food and drink scene. "Richard is a really good cook," says Mairi. "He loves to experiment, and I love to eat!" At the weekend, you're likely to find them strolling through their favourite Stockbridge farmers' market. El Cartel on Thistle Street is a causal Mexican diner they keep coming back to, but for special occasions, Tom Kitchin is one chef they both love.
"I really enjoy running in the Pentlands or visiting the Gallery of Modern Art. Walking my family dog Kirrie in Ardna-murchan is hard to beat too. I'm still trying to persuade Richard that we need to get our own dog!"