A talent for upcycling combined with a good eye for a vintage find have helped the cashmere entrepreneur to create a wonderfully unique home in the Highlands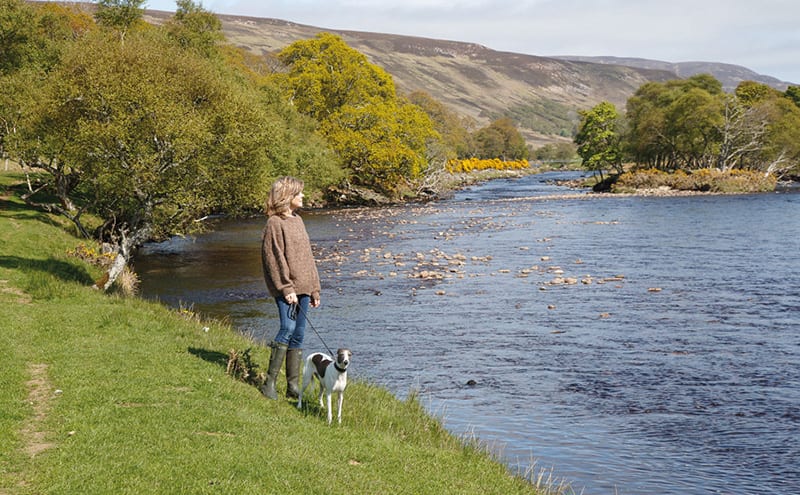 Before the exhortation 'Make Do and Mend' was commandeered by clever designers who emblazoned it on everything from tea towels to T-shirts, it was the motto of necessity to those who lived through the war effort. The concept of rationing, of saving odds and ends for reuse, repurposing them and giving them new jobs, were all skills crucial to minimising the impact of the Second World War on everyday life in Britain – and they've proved to be lessons that many still hold dear today. 'Upcycling' might be 21st-century terminology for an Insta-friendly generation, but the art of taking something old and giving it new life is an enduring concept.
Jeanetta Rowan Hamilton has always had a knack for it. And having those skills was what really swung it for her when it came to deciding whether or not to keep the tin-roofed fishing lodge that has been in her family for generations. It was in poor condition; harsh Highland weather had long battered the quaint abode, and decades of benign neglect meant there had been little internal upgrading over the years. It would have been quite understandable if Jeanetta had decided to sell it on, convinced that the restoration job was just too big for her to tackle single-handedly.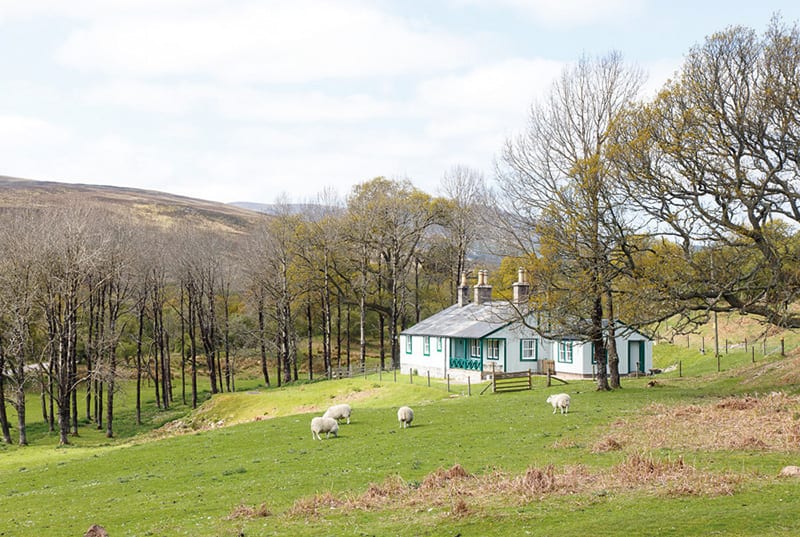 But that's not really her nature; her business, Nettles Cashmere, is built on the concept of creating new pieces from second-hand textiles. Visiting antiques shops, second-hand emporiums and flea markets both at home and abroad, she buys up good-quality used cashmere and adds new decorations, sewing on vintages beads, buttons and bows and incorporating appliqué, for instance, and giving the pieces new life. To date, she has made more than three thousand jerseys and cardigans, each of them with their own unique decorative features. Mary Berry wore one of her designs on an episode of Bake Off a few years ago, and the popularity of her creations has soared ever since.
"I either hand-sew the edges with vintage silks and threads or I machine-edge with 'modern' threads," explains Jeanetta. "All the buttons and lace and beaded appliqués are vintage finds too, so when I'm not making, I'm indulging my other passion, which is trawling vintage markets, fairs and shops to find interesting and beautiful things. The jerseys are all one-offs."
Much like the family lodge, Nettles Cashmere has been built on hard graft and individuality, using craftsmanship and old techniques that are dwindling in contemporary times as digital technologies take over. These are the skills that Jeanetta homed in on to help her restore her beloved cottage. Tucked away in the remote Highlands, it had a wonderfully idyllic setting. "My grandfather was stationed in Edinburgh during the war, waiting for an attack to be launched up north," she says.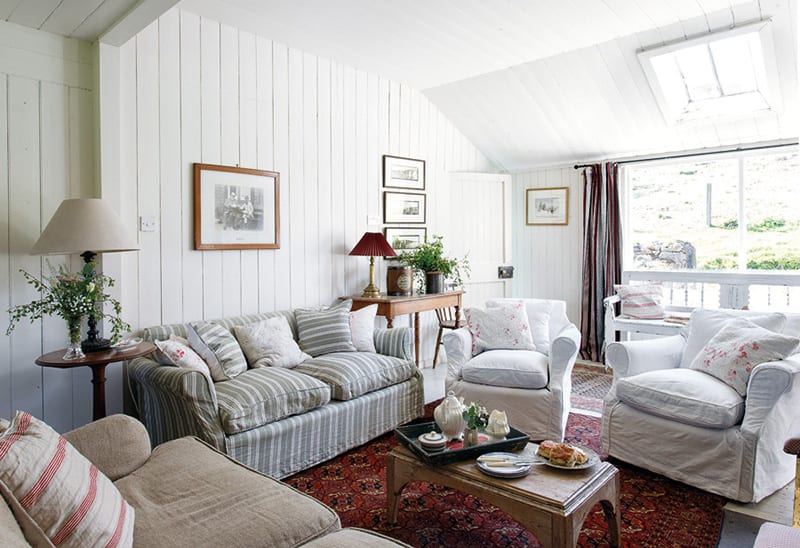 "He knew a few of the people who owned a salmon river in Sutherland and was invited to stay and fish. He fell hook, line and sinker for the area and, in due course, bought the little tin house from a local policeman, complete with all of its contents."
Jeanetta divides her time between her home in London and her Scottish getaway, which was gifted to her by her mother. "I was brought up in Scotland," she says. "My father was in the Black Watch and we moved around a lot but settled in Perthshire. I went to school in Kent and in London and later studied in Paris. When I got divorced, I brought my two children to live in Perthshire and, at weekends, we would pile into the car and drive north to Sutherland.
"At that time, the cottage was very run-down – there were holes in the floor and moss growing on the inside of the windows, and it was very sparsely furnished. But we had so much fun. There was no telephone and no TV, just games, collecting wood for the fire, and outdoor fun."
Jeanetta worked with local tradesmen (builders William and Douglas Henry and woodworker and antiques dealer Rowland Chamberlain) to kick off what would be an ongoing programme of restoration. In addition to the house itself, there is a bothy and stables that have been given renewed life in the form of a workroom and a guesthouse.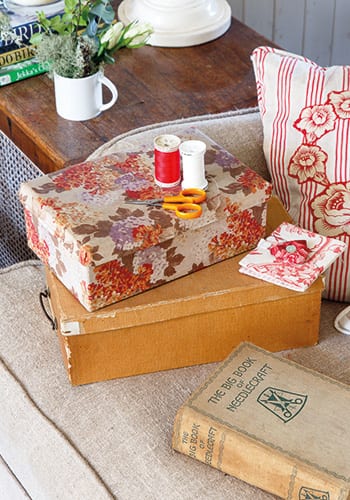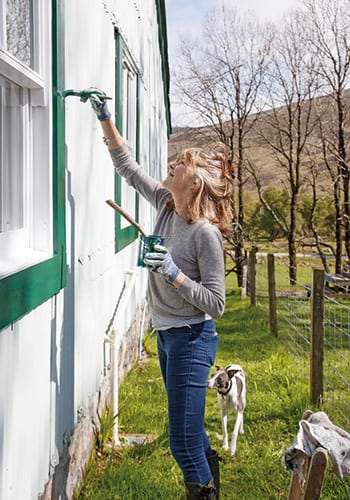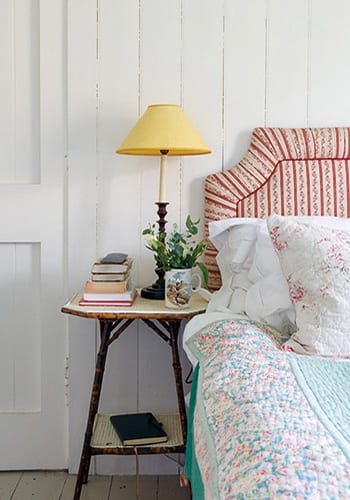 "We combined the larder and a single bedroom to create the kitchen," she recalls. "Then a dividing wall was removed to give us one large sitting room. A couple of years ago, we added a dining room to the kitchen." There are four bedrooms and, just last year, she was able to replace all the windows.
"We had a large home around the time I got divorced, so it wasn't difficult to refurnish this place with beds, sofas and armchairs. Most other things have been bought on the road up north – I like to stop in every second-hand shop on the A9 and pick up treasures here and there. Nothing beats being in a shop and spotting something special."
One of the sofas was given to her by a friend, and the mismatched dining chairs came from her sister. The beds were originally hospitals beds, and the oversized table was once a worktop in a school biology lab. Shelving has been fashioned from fish boxes and old Lincolnshire cotton reels. She is a stickler for authenticity – many of the finds were sourced from an antiques dealer nearby, at a converted station house. "All the fabrics were bought at fairs," she adds. "I have nothing branded."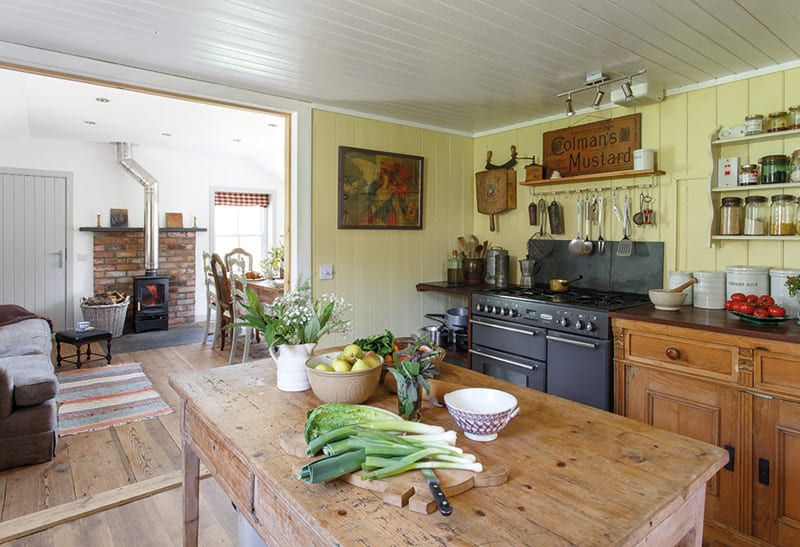 Time away from her London apartment is mostly spent here in Sutherland with her whippet Ruby, where Jeanetta can indulge in her passion for foraging – whether that's for wild food or unexpected treats at a brocante fair. Making nettle soups, blackberry-and-apple crumble, baking bread and picking chanterelles and raspberries ("hedgerow cooking!" she laughs) all take her away from creating new pieces for Nettles Cashmere. But she always returns to the pattern-cutting and dress-design foundations she was taught at school in Paris, sewing and knitting just as she has done since she was a child, as well as making collage photo albums and pottering about the lodge where there's always some painting or needlework to keep her occupied
"Scotland means everything to me," she acknowledges. "Even if I haven't always lived here full time, my heart is here. It is heaven in every way. It's home, whether I'm on my own with Ruby the whippet, or entertaining a crowd of friends and family. I couldn't be happier." 
DETAILS
Photography Douglas Gibb
Words Catherine Coyle