Tying the design and fabric of a building to its landscape has created something rare and precious in a corner of North Ayrshire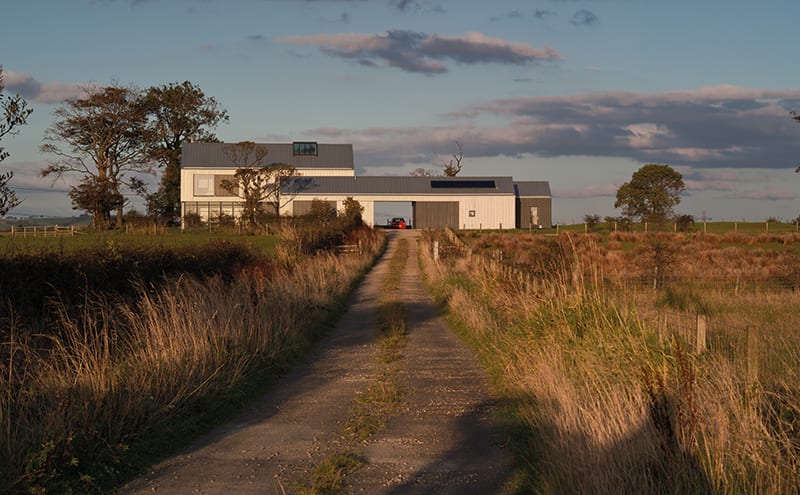 Designed as a modern reflection of the area's industrial and agricultural traditions, this contemporary farmhouse, set on an elevated patch of North Ayrshire land, is a multi-faceted, flexible living space, and has already won several architecture awards, including the GIA's top prize.
Yet it almost didn't get off the ground at all. When its owners, Mike and Sally Law, saw the site for the first time, they were not impressed. It did nothing to inspire the dream home they had in mind: "We went to view the plot of land on a grey November afternoon and I found it an extremely gloomy place," admits Mike. "It was starting to get dark and I found it a bit scary, with all the bare trees around. So it went on the back burner."
The couple, who were living in a neighbouring town where Mike was the local GP and Sally worked as a pharmacist, kept on searching. They investigated several other plots and options but nothing felt right for the house they wanted to build. Eventually, the first plot came on to the market again and the Laws were offered a second chance to buy it – only this time with the proviso that they had only a week in which to make a decision. Perhaps the pressure of a deadline helped: "We took a deep breath and, without having secured planning permission, submitted a bid," says Mike. "Our offer was accepted."
It was a bold, potentially reckless move, but working in their favour was the region's forward-thinking 'Single House in the Countryside' planning policy, which insists that new-build homes must be designed to a high standard and relate to North Ayrshire. "Often the planners' default position is that you can't build a house in a rural part of the country like this," explains Mike. "But under this policy you can do it, so long as the house contributes to the appearance of the area. High-quality bespoke design is what they're promoting."
And high-quality bespoke design was exactly what he and Sally were looking for. It led them to Ann Nisbet Studio, a young practice based in Glasgow which set about creating a house that would eventually become one of the first to be built under the 'Single House in the Countryside' policy. "I carried out a lot of research, looking at old maps of the area, and studying local industrial and agricultural traditions," says Ann Nisbet, who had worked with the award-winning Dualchas Architects before setting up her own practice four years ago.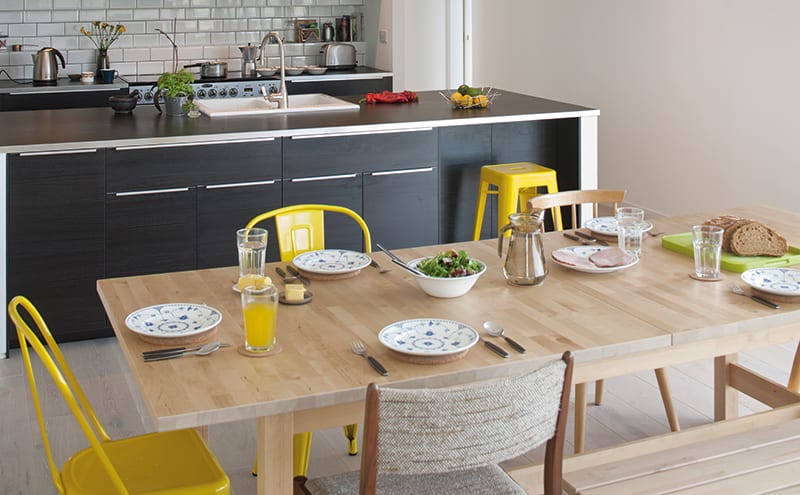 "I was keen to come up with a building whose identity would relate to North Ayrshire specifically, not just to rural architecture in general. There are building types that are quite particular to this area, such as a combination of one and two-storey farm buildings set within a three-sided courtyard. I've referenced this in the design. The zinc cladding also references the agricultural and industrial history, which includes a tradition of metal foundries, of the surrounding Garnock valley."
Following a fairly lengthy period of pre-planning work and discussions, a process Nisbet welcomed as the planners were very much onside, Newhouse of Auchengree finally emerged. Arranged as a cluster of three elements, formed around a courtyard and sheltered terrace, the house is approached via a long access road, through a pend and into the courtyard, creating a 'pause space' between the house and the wider landscape.
"The arrival into the courtyard was so important to the design," explains Nisbet. "I love Japanese architecture, and this element is inspired by the idea of framing the landscape in different ways – I wanted to frame the views externally as well as internally. That little entrance space is also a bit of a microclimate. It's a very windy site, and it also rains a lot in this part of the country. This is about offering an outdoor space to shelter in. It can be open or you can pull the shutters over and make it private."
These black spruce protective rainscreen doors also provide a strong visual contrast to the zinc cladding, which was chosen as much for its durability as for its site-sympathetic appearance. Large areas of glazing frame the 360-degree vistas across the Ayrshire farmland (as far as Arran on a clear day), as well as helping to maximise solar gain; this is a very energy-efficient house, which also has a ground-source heat pump, MVHR system and solar panels.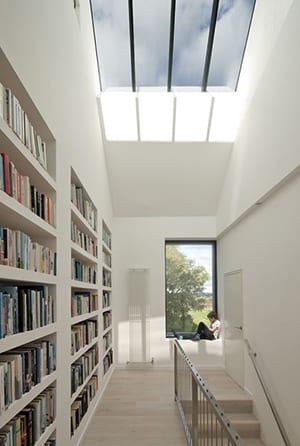 The main living accommodation – including a master bedroom block accessed from the living area through an internal 'sun space' – is arranged over the ground level of the main building. This meets the Laws' brief for all the principal functions of the house to be on the ground floor, so they'd be able to live in the house should they have any mobility issues in the future. "Older people trapped in unsuitable accommodation was something I saw a lot of as a GP," explains Mike. "Our previous house was an upside-down living arrangement with quite a steep stair. We were looking for a house that we could live in during our retirement, so it was important that a large part of it would be over one level."
As a result, the house feels intimate and homely for the couple. With four grown-up children and several grandchildren visiting frequently, however, it was essential that there was enough space for the entire family to feel comfortable when they came to stay. To that end, additional sleeping spaces have been created on the upper level of the main house, and a two-bedroom annex building across the courtyard can be used as guest accommodation when there's a crowd staying.
Prior to the build, Mike and Sally were very hands-on, with Mike taking care of preparatory works such as appointing a local contractor to dig the ditches and channels for the water and electricity. "There were a few problems with the ground works," recalls Nisbet. "It was very wet at the beginning and there's a lot of clay, so we had to bring in extra rock to improve the ground conditions."
During the 14-month construction the couple also managed and sourced the key fixtures, finishes and furnishings. Indeed, Newhouse of Auchengree became something of a full-time occupation for the pair, but that also meant they got exactly what they were looking for.
"I wanted a kitchen that wouldn't get too much direct sunlight – I don't like being cooked while I'm cooking," says Sally. She also chose the dark paint (Farrow & Ball's Downpipe) on the master bedroom walls, rather than the white that is used throughout the house.
A few changes were made along the way, including to the upstairs balustrade. This was originally going to have a simple plasterboard finish but Mike was keen to make the area as open as possible. In conjunction with the architect and builder, a bespoke metallic balustrade was installed, which allows direct light from the rooflight above to filter down the stairs to the ground floor.
And the all-important surrounding panorama can be enjoyed from every part of the house. "We were always looking for views when we were searching for our plot, and the ones we get upstairs are spectacular," says Sally, who is currently working her way around the garden to complete the landscaping.
"Place-making is central to my work, and I think the house feels appropriate for North Ayrshire," concludes Nisbet. "It's bold but gentle. Even though the zinc is striking, it's not showy. It's respectful to the landscape."
DETAILS
What A new-build five-bedroom home
Where North Ayrshire
Architect Ann Nisbet Studio
Structural engineer Adam Hemming at Peter Brett Associates
Photography David Barbour
Words Caroline Ednie