Outright winner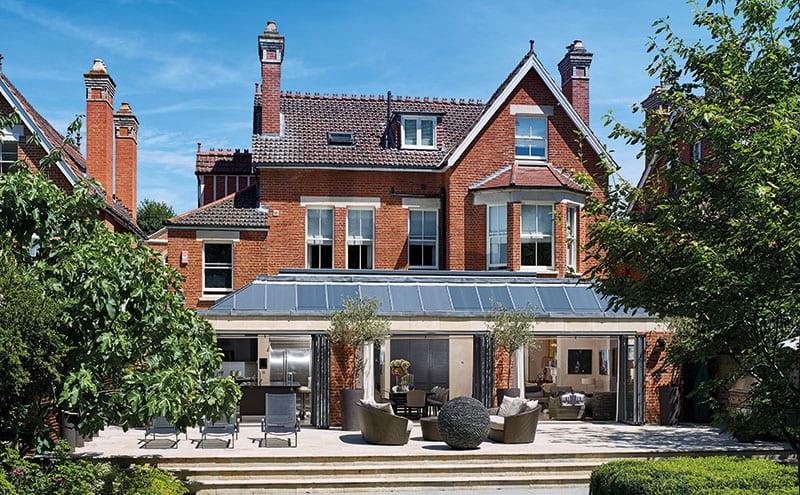 Adding an extension to this Edwardian villa gave its owners new space inside – and more space outside
When Jim and Henrietta Simpson of Glasgow-based Designworks were approached by a long-standing client to design an extension to their handsome Edwardian three-storey red-brick house in Richmond Hill, it became apparent from the outset that sensitivity to this venerable, verdant London suburb would be key.
"Initially we were commissioned to refurbish and renovate the master bedroom suite, along with the rest of the bedrooms and en-suite facilities, and to hard-landscape the front garden and off-street parking area," says Jim. "Thereafter, we were asked to design a contemporary extension to the rear, incorporating a new open-plan kitchen, family dining area and snug. We were also asked to put forward proposals for the landscaping (both hard and sculptural features) to the rear of the building to link the new extension with the garden."
As the house lies within the Richmond Hill conservation area, full planning permission and conservation consent was required. Following a pre-application meeting with the planners, it became apparent to the architecture and interior design firm that if the extension was to get the go-ahead, it would have to be as low and as unobtrusive as possible, addressing the outlook of the neighbouring properties on either side.
However, keeping it as low as possible would create a problem for its designers: given that the ground floor was slightly higher than the level of the garden, how would they be able to achieve the seamless flow from the original parts of the house through to the new extension and exterior patio space that the owners had charged them to create? The solution they came up with lay in the roof form.
"We worked closely with the planners to go as low as we could while still giving the clients the spatial feel they wanted," recalls Jim Simpson. "In order to visually create the low-level roofline required by planning, a glazed mansard-style panelled roof was formed to the extension to reflect natural light via the use of reflective glass." This glass served a second purpose, namely preventing the neighbouring flats seeing into the building. Light was also introduced to the interior via a large rooflight in a flat section of the roof and the creation of two new traditional sash-and-case windows in the gable of the original lounge.
The extension's steel frame has beams cranked in three directions to take the shape of the mansard. A break front has been formed to the garden façade using three folding doors, faced with London red bricks, with open access to the wide rear patio and the garden beyond. The new kitchen, dining and lounge area that has been created in the extension runs the full width of the house. The old kitchen, in the existing house, now serves as a corridor connecting the extension to the rest of the rooms. This corridor is lined with panels that conceal a study, a store room and an existing utility room.
DETAILS
Photography David Gadsby
Words Caroline Ednie
What A three-storey detached Edwardian home with five bedrooms
Where Richmond, London
Interior designer and Architect Henrietta and Jim Simpson, Designworks
Contractor Green County Developments