The painter and printmaker escapes every weekend to the seaside, finding inspiration for her work in a beach hut filled with colour and vintage finds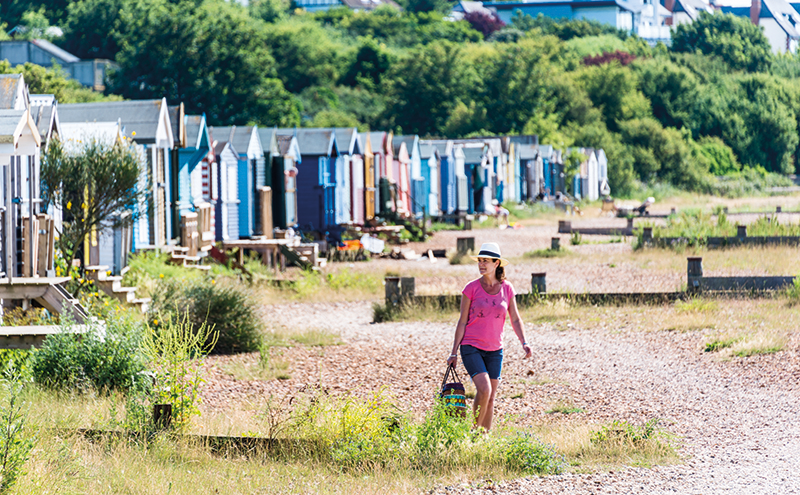 Beach huts are a much-loved part of the British seaside, as traditional as fish and chips on the pier or deckchairs on the sand. You'll find them dotted along Scottish shores at the likes of Elie and Coldingham Bay, but they're particularly popular in the English resorts of Bournemouth, Brighton and the south coast. So sought-after are they, in fact, that some have been known to change hands for tens of thousands of pounds.
Jo Oakley, a painter and printmaker, has owned her beach hut in Whitstable for twenty years and nothing would persuade her part with it. "I bought it for £250 when my daughters Hannah and Daisy were very young. As soon as they were home from school on a Friday, we'd jump in the car and head out of the city to the seaside. When it was warm, we'd all bed down on the deck and star-watch until we fell asleep. It made every weekend special – in fact, it still does."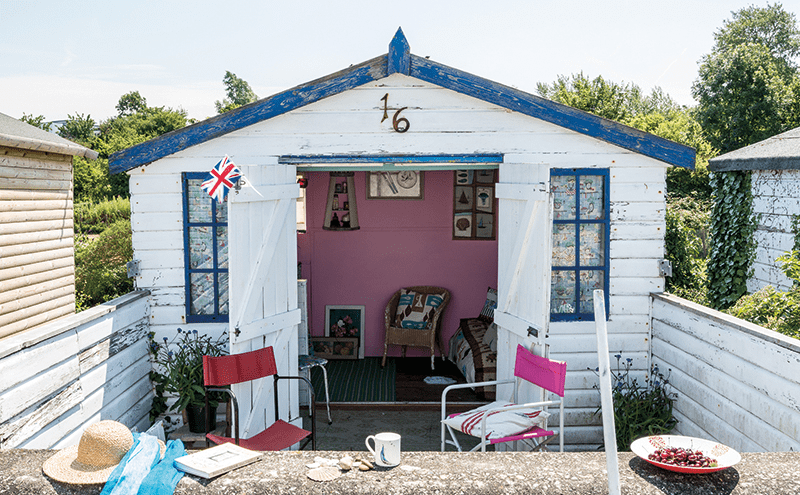 Over the years Jo has seen Whitstable evolve from a forgotten backwater fishing port on the Thames estuary into a thriving weekend destination thronged with visitors during the summer months. "It has so much to offer, but it's on a small, simple scale – apart from the beach, which is endless," she says. "Old-timers might complain that it has changed, but I think most of those changes – such as being able to get a great cup of coffee in the morning – have been for the better.
[sociallocker id=19803]"With two or three exceptions, the businesses that have opened in recent years, such as the deli, the bookshop, the cafés, the clothes shops and galleries, are individually owned, so the place still has character but it's not overly commercial. I've been coming here for so long that I get treated like a local. When I'm buying fresh fish in the harbour, they'll often pop an extra one in the bag for nothing, which is lovely way to keep you coming back for more!
"In fact, food is quite a big part of why I'm here," she laughs, as she licks the crumbs of a creamy custard tart off her fingers. "Every morning I take a walk into town and have coffee at David Brown's café in Harbour Street and buy a traditional Portuguese pasteis to enjoy later as a reward for when I've done some work."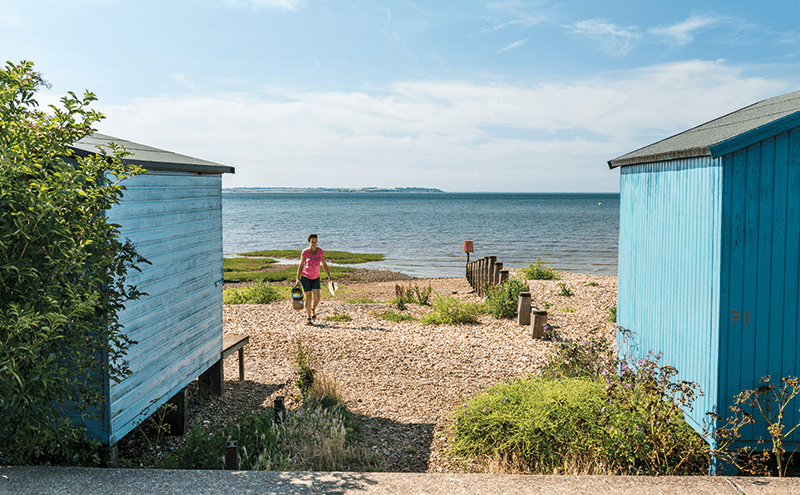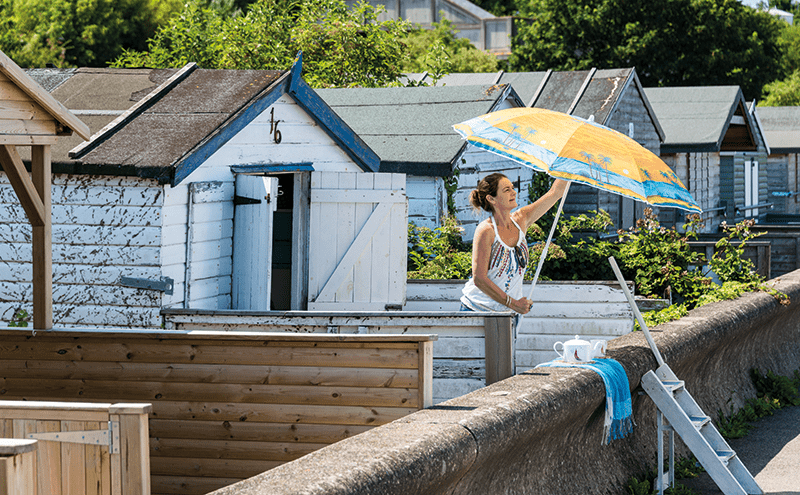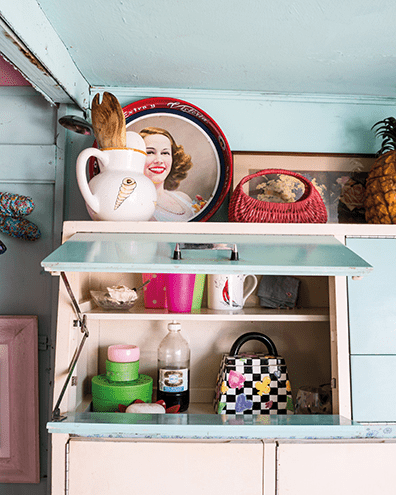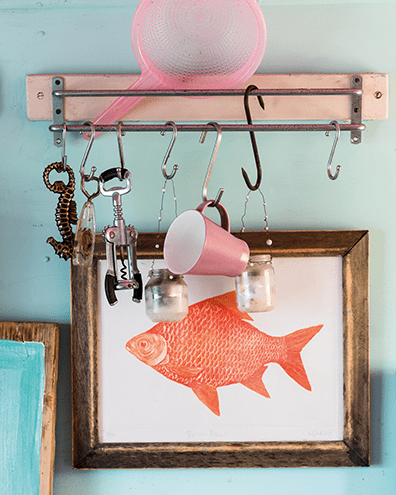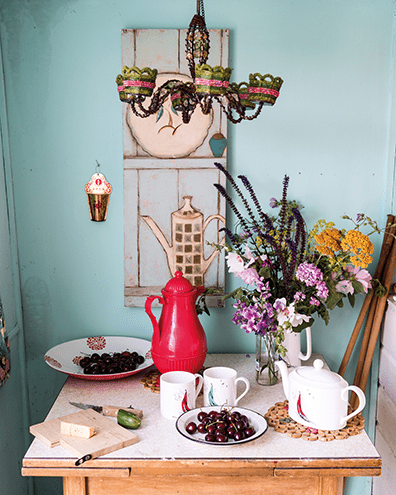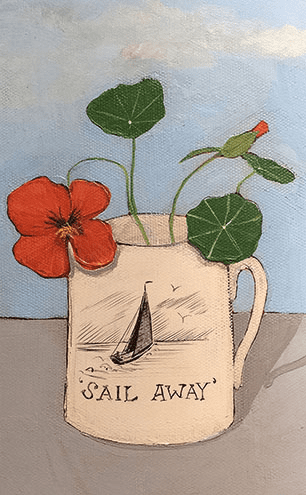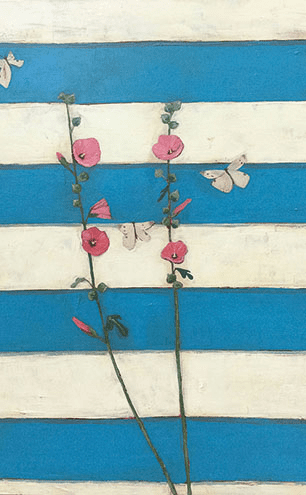 For Jo, the idea of fitting out her beach hut with new furniture had no attraction. Her home in the city is filled with vintage pieces, and the hut is similar in that virtually everything in it has had a previous life elsewhere. "The beaded chandelier was a present from my Nana, the vintage curtains came from a beach hut that was being updated, and I used leftover pink and blue paint on the walls. Collecting vintage china has been a passion ever since I went to my first jumble sale as a little girl and came home with a jug, which I still have. These pieces mean a lot to me, and indeed some feature in paintings again and again. The family who owned the hut before me left behind bits and pieces of furniture as well as a set of 1950s crockery which features a leaf detail that is a recurrent motif in my paintings."
Jo grew up in south-east London in a house over­looking the Thames. "That's probably why boats and water continually feature in my work," she remarks.
After leaving art college, she initially concentrated on printmaking but in recent years painting has taken up most of her time. "I teach printmaking once a week so I do keep my hand in, but I prefer the creative process of painting. I branch out into other media too from time to time. I've done designs for textiles, and I recently designed a range of china in – not surprisingly – a vintage nautical style."
Jo's work is very much about her relationship with her surroundings, and Whitstable has played a significant role, providing both subject matter and the simple 'back to nature' lifestyle that she finds conducive to creativity. "Being here gives me time to think and not think. Life in a beach hut is very simple and very basic. Without electricity or running water, you become much more aware of the elements – the weather, the light, the view, the sound of wind and waves, the tide. And having a soothing little break every weekend means that I'm not that bothered about jetting off on exotic beach holidays. When it's a fabulous summer I count my blessings, thankful that I can drop everything and enjoy it with the sea literally on my doorstep."
Jo finds the Whitstable skies a constant source of amazement, and often photographs the cloud formations and the sunsets. There will frequently be boats and beach huts in the image as well. "While I don't paint from photographs, details become imprinted on my mind and will surface later in paintings," she says. "The old traditional Thames barges, with their oxblood-coloured sails, are a frequent sight off the coast and they appear alone or in a group in many of my paintings. I always have a sketchbook in my bag and often use the drawings as reference material – it's a visual diary of seaside life."
"Life in a beach hut is very simple and basic. Without electricity or running water, you become much more aware of the elements"
The first thing Jo does when she arrives is throw open the doors and windows to air the place, before fetching fresh water from the stand-pipe. "Once I've made a pot of tea and can stretch out in my deckchair, all is well with the world!" Loos are a short walk away in a communal block for the use of beach-hut owners, but Jo has a solar-heated shower which hangs on the side of the hut and is useful for rinsing off after a swim. "Swimming is one of my great pleasures, as are kayaking, running and cycling. I'll go for a swim if it's warm and the tide is in, otherwise it's a bike ride along the shore to Seasalter. I kayak when my partner Ed is here for the weekend. We knew each other as teenagers but met again about ten years ago here – he had a hut along the beach. Later on, we might head to the Old Neptune pub for a sundowner on the shingle followed by a barbie on the beach or maybe a meal out in one of Whitstable's many restaurants."
One of Jo's favourite haunts where she can indulge her passion for seafood is Wheelers Oyster Parlour. "It's tiny, so you have to book, but the fish is delicious and you can take your own wine, which helps keep it affordable. On balmy summer evenings, they'll prepare a platter of shellfish for us which we take back to enjoy on the deck outside the hut. Then we'll curl up on the cushions and star-watch – that's one aspect of Whitstable that will never change."
[/sociallocker]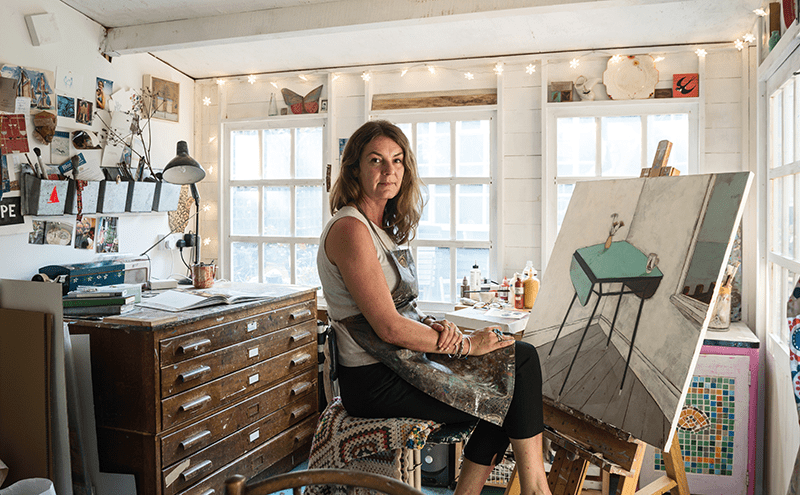 DETAILS
Words Amanda Harling
Photography Andreas von Einsiedel