Here is our curated round-up of events happening around Scotland this November, from photography exhibitions to a festival bringing together the biggest names in fashion
Photo 1: The Black Cullin © Alex Boyd
When: 1st November, 6-7.30pm
Where: Stills: Centre for Photography, 23 Cockburn Street, Edinburgh
Join Stills in Edinburgh for the launch of photographer Alex Boyd's new book, 'The Point of the Deliverance' (published by Kozu Books), which depicts the Atlantic coastline of Ireland and Scotland using a striking Victorian photographic technique.
On the evening Alex will deliver a presentation on the work, followed by a Q&A with Anne Daffertshofer, co-host and co-producer of Looking North, a series of conversations that bring together the worlds of visual art, literature, natural science and ecological conservation.
The event is free and open to all.
When: 4th-5th November
Where: Spry Wines, 1 Haddington Place, Edinburgh
Beloved 'big hot sandwich' makers Alby's in Leith, Edinburgh are joining forces with Spry Wines as they celebrate Spry's fourth birthday.
Expect food served by Alby's, live DJ sets, delicious cocktails and sore feet from all of the dancing.
Tickets cost £10 each and can be purchased here.
Photo 3: Created and performed by Sarah Hopfinger; Music and Sound Design by Alicia Jane Turner; Dramaturgy and Movement Direction by Laura Bradshaw; Lighting Design by Michaella Fee; BSL Interpretation by Rachel Amey. Photo by Brian Hartley.
When and where: 8th-9th November, The Tramway, Glasgow; 11th November, Universal Hall, Findhorn
'Over the past four years I have been exploring how to turn towards my pain differently, using dance and performance to creatively collaborate with my pain,' shares Glasgow-based performance artist Sarah Hopfinger. The result is Pain and I, which uses dance, audio texts and an original classical music composition by Alicia Jane Turner to explore Hopfinger's experience of living with chronic and neurological pain.
The performance returns to Scotland following its world premiere at Summerhall during the Edinburgh Festival Fringe in 2022, and its London transfer to The Place in Spring 2023.
Tickets for the performances in Glasgow can be purchased here, and tickets for the Findhorn performance can be purchased here.
Photo 4: Instagram/TheWilderKitchen
When: 9th November, 6.30-9.30pm
Where: Guardswell Farm, Perthshire
Guardswell Farm in Perthshire has been running its Locavore supper clubs since 2018, bringing together chefs who want to showcase the best of the local area's produce. November's dinner promises to be a feast for all that's great about autumn, as William Hamer of Wilder Kitchen and Wild Kabn Kitchen takes control of the evening.
"I can't wait to cook with Guardswell's brilliant ingredients," he says. "Pumpkins are going to be in full swing and I have some very exciting plans to make use of them. There's going to be plenty of char and smoke!"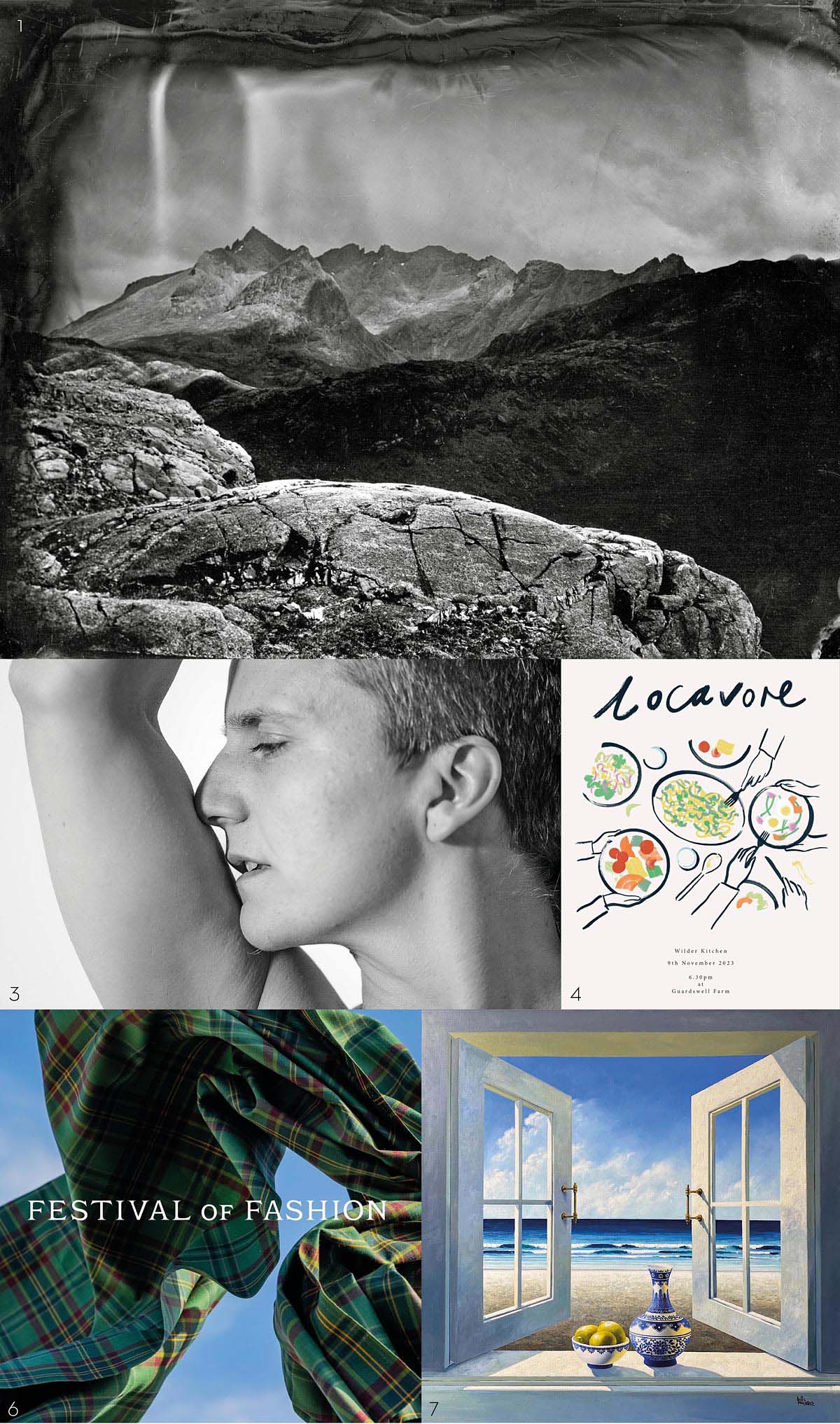 When: Closing 12th November
Where: The National Gallery, The Mound, Edinburgh
This comprehensive exhibition, which encompasses more than eighty works, has been developed in close collaboration with the artist and Victoria Miro gallery and covers the major themes of Perry's provocative art: masculinity, sexuality, class, religion, politics and identity.
The pieces, including subversive pots, intricate prints, elaborate sculptures, and huge tapestries, are all imbued with Perry's distinctive point of view and sense of humour. For its final weekend, the show's opening hours have been extended until 9pm.
Tickets range from £19–£5 and can be purchased here. Friends of the National Galleries of Scotland go free.
Photo 6: The Fife Arms' Festival of Fashion brings together iconic names like Giles Deacon and Simone Rocha for intimate talks and workshops
When: 17th-19th November
Where: The Fife Arms, Braemar
Pillars of the global fashion community will come together in the remote countryside of Scotland at The Fife Arms as the five-star hotel plays host to its first Festival of Fashion.
Bringing together names such as Giles Deacon, fashion journalist Tim Blanks, designer Simone Rocha and fashion editor Bethan Holt, festival goers will be treated to dynamic talks, workshops and interactive installations, learning about the fine craft of couture and role of artist collaboration to the future of fashion and the meaning of the clothes we wear.
The package includes:
– Access to all Festival talks and events
– Welcome drinks reception
– Friday evening dinner
– Exclusive preview of Giles Deacon's bespoke collection for The Fife Arms
– Meet with Araminta Campbell, designer of the Fife Arms house tartan and tweed
– Saturday Festival of Fashion dinner with wine pairing
– À la carte breakfast on Saturday and Sunday
– Complimentary Festival of Fashion tote bag
Photo 7: Luis Fuentes – 'Summer View with Lemons' – Original Oil on Canvas – Courtesy of Diverso Gallery, Peru
When: 17th-19th November
Where: O2 Academy Edinburgh, New Market Road
Since its inauguration in 2005, EAF has brought together established artists, emerging talents and art lovers in an effort to prove that art is for everyone.
This year, galleries from ten countries across three continents will be represented and pieces will range in price from £100 to £100,000, allowing visitors to acquire original artwork that matches their personal tastes and budgets. Attendees will find a range of refreshments at the fair's licensed bars, coffee bars, and food stands and young visitors are encouraged to get creative with the Kid's Art Group.
Tickets cost £7.50/concessions £5. These can be purchased on the door or on the website. Children aged 16 and under go free when accompanied by an adult. Doors open 11am – 6pm (5pm on Sunday).
When: 26th November
Where: Pratis Barns, Leven, Fife
Spruce up your entryway this Christmas with a festive wreath made by yours truly. Pratis Barns' in-house florist Lorna will guide you through the process of making a festive door wreath with fresh seasonal foliage. You will have the choice of making a half wreath on a willow ring or a full wreath on a copper ring with moss.
Prioritising sustainability, there'll be lots of natural decorations to choose from, including cinnamon sticks, orange slices, pine cones, ribbon and some wooden decorations.
Tickets cost £55 and can be booked here.
When: 30th November
Where: Mharsanta, 26 Bell Street, Glasgow
Celebrate St Andrews Day with a suitably Scottish knees-up at Mharsanta. Kicking things off as you mean to go on, you'll be welcomed by their piper and a sip of a 12-year-old Aberfeldy dram before settling down for your meal.
On the menu is a roasted parsnip and carrot soup, a cosy hug in a bowl, served with crusty bread or vegan butter. The main course is a dance of tradition and taste, featuring (what else) haggis, neeps and tatties with whisky cream sauce, alongside modern delights like pan-fried sea bass with zesty lemon sauce.
And to end things on a high note, the desserts on offer will be a traditional cranachan or homemade chocolate whisky brownie with Drambuie cream. Delish.
Tickets cost £40pp and can be purchased here.
When: 30th November
Where: Topping & Company Booksellers of Edinburgh, 2 Blenheim Place
Celebrate St Andrews Day a little differently this year by learning more about the water of life. Enjoy a dram and a talk by Mike Billett, author of Peat and Whisky: The Unbreakable Bond, which details the ties between the Scottish landscape and the whisky it produces.
Doors open at 7.10pm for a 7.30pm start, and tickets can be purchased here.