Swapping grand belle époque styling for an altogether simpler look, this bathroom nevertheless subtly embraces its Paris roots
words Miriam Methuen-Jones | photography Francis Armiand
The classic interiors of the Haussmann boulevards – elaborate plasterwork, parquet floors, wrought-iron detailing – is a style to aspire to. But not everyone in the City of Light is enamoured with it.
When the owners of this apartment in Paris's 8th arrondissement brought in architect and interior designer Fabrice Juan to refurbish the place, they asked for Mediterranean-inspired warmth and colour. To that end, the hall has been drenched in terracotta, the lounge has strong hits of lemon, and there are sunny statement walls dressed in timber and stripes.
The main bathroom, though, has more of a retro feel.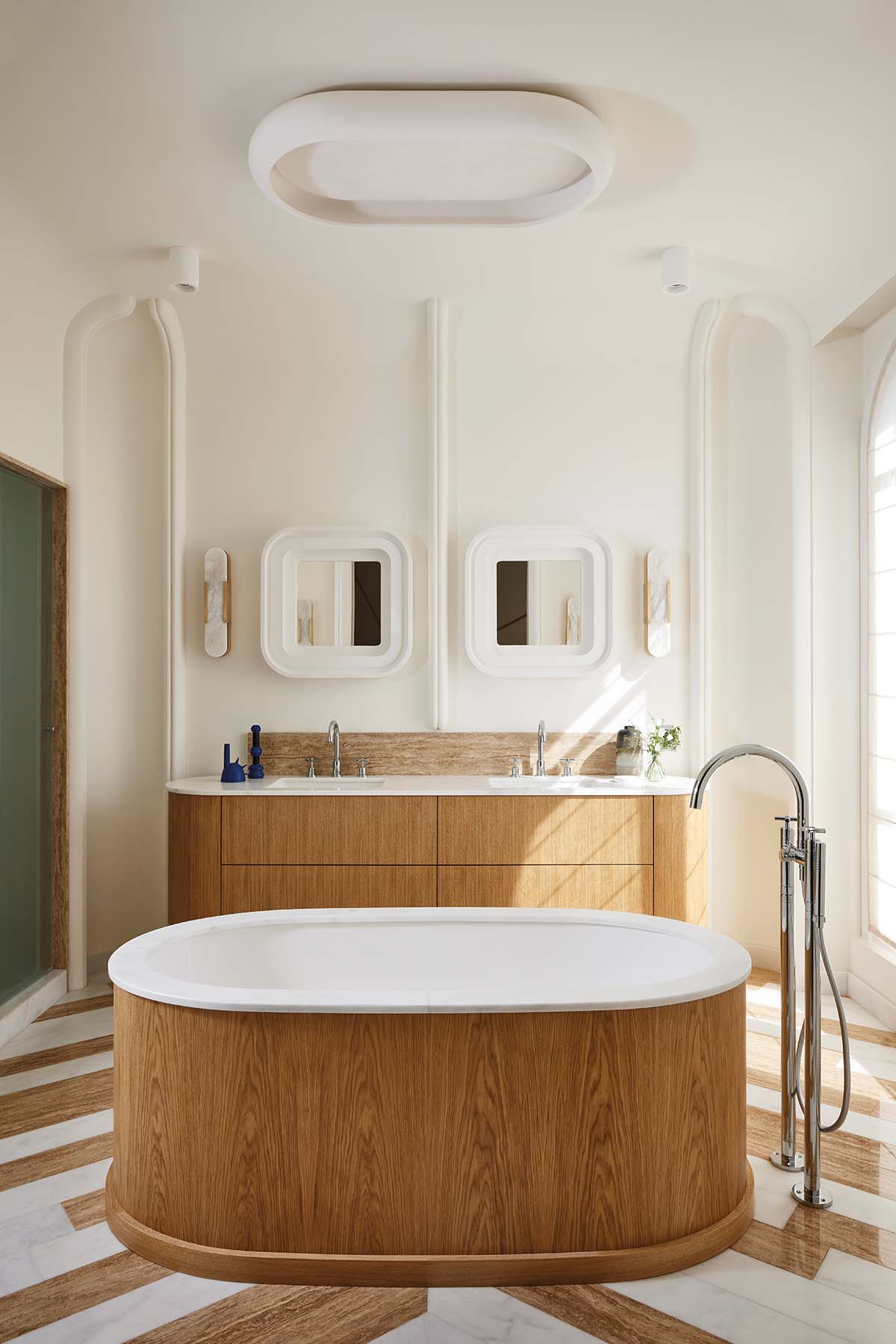 "It takes its design cues from the 1970s," agrees Fabrice. "It is inspired by Pierre Paulin and features a plaster mural that adds to the ambience." Paulin, one of the most important French designers of the 20th century, is famous for the sensuous curves of his sofas and chairs.
The plaster installations act as bookends for the main vanity unit and are replicated in the bespoke mirrors. "Decorating the walls in this way enclosed the room like a cosy, artful box. It adds charm and intimacy to the space."
On the ceiling, more plasterwork creates a focal point. "Apart from the ceiling and cornice in the living room, the flat didn't actually have many period features. Previous renovations had distorted the history of the place, so the possibility of creating décor was open to me."
In other words, there was no need to care-fully restore historical features here; the architect could install his curvaceous, anachronistic murals guilt-free.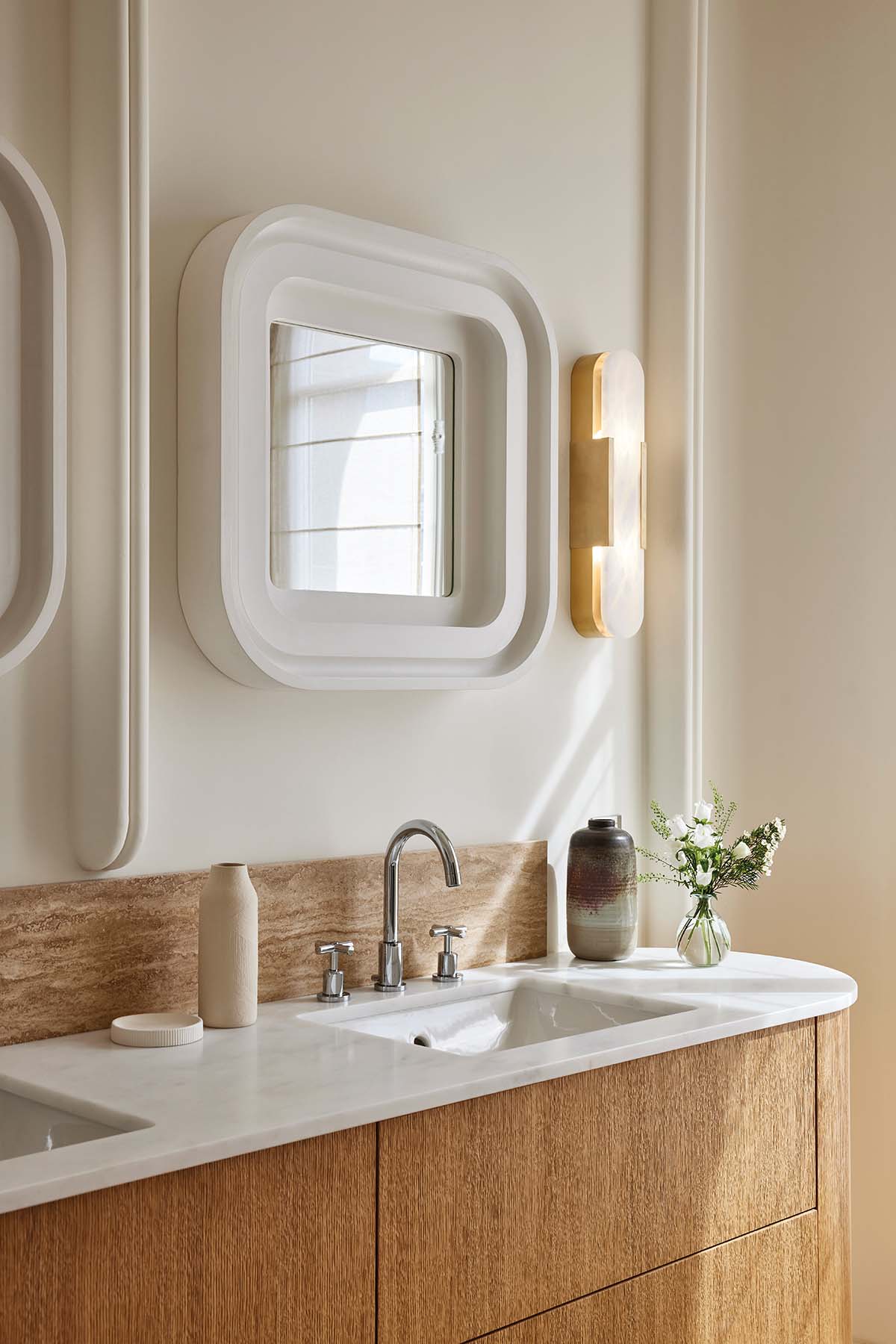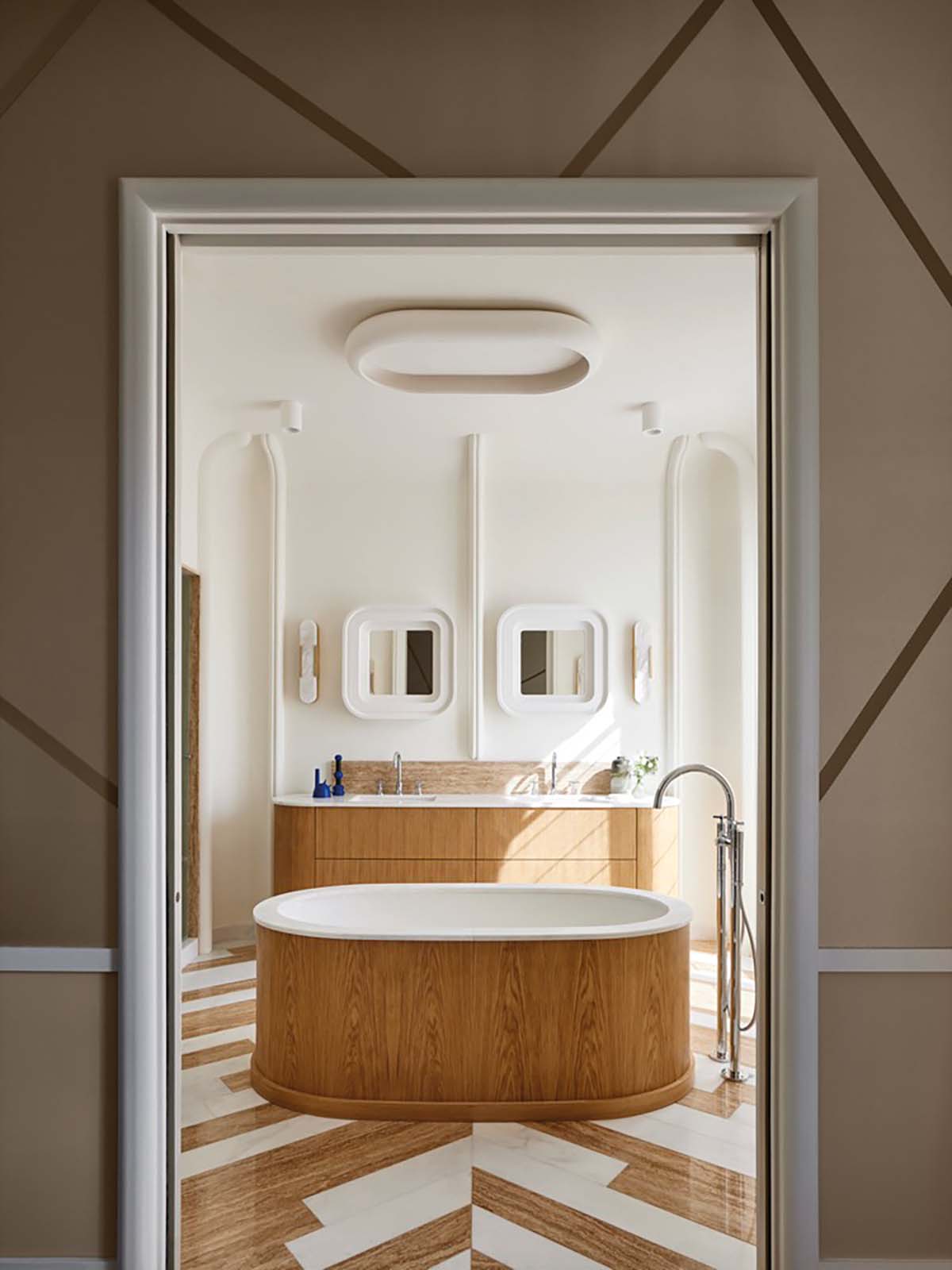 The central tub ("A regal throne," laughs the designer) immediately draws the eye. It's from French company Espace Aubade and is clad in oak. "This was a proposal enthusiastically accepted by the clients," says Fabrice. "It adds a touch of opulence and sophistication to the design."
The floor is a love letter to Paris. "The idea was to recreate a typical Parisian pattern for the bathroom floor," he says. "We took the traditional chevron parquet, typical of a Haussmann apartment, and enlarged it to play with the scale."
The pattern is made by alternating travertine and white Macael marble.
The vanity on the back wall is topped with the same Macael marble and the cabinet itself is finished in oak to match the bath. Kelly Wearstler's Melange elongated pill sconces are mounted on either side of the mirror. The basin taps are from the Executive collection by Cristina Ondyna.
The resulting room is a retreat from some of the livelier spaces in this home, but it's certainly not without personality of its own.
Minimal accessories pull together the oak and white accents, while tall windows flood the space with light. Magnifique.