Getting Studio Dean involved from the outset was a game changer in this large-scale project
Words Malcolm Jack | Photography Susie Lowe
At what stage in a major house renovation should you bring in an interior designer? The husband and wife who own this calming coastal retreat in Northumberland began consulting with Cathy Dean of Studio Dean before they'd even purchased the property, and continued collaborating with her throughout every stage of the project, whether knocking through walls or selecting cushions.
Now that they're settled into The Dunes – following two years of hard work beset with problems – they can fully appreciate how having a designer onboard from start to finish was key to achieving their dream home.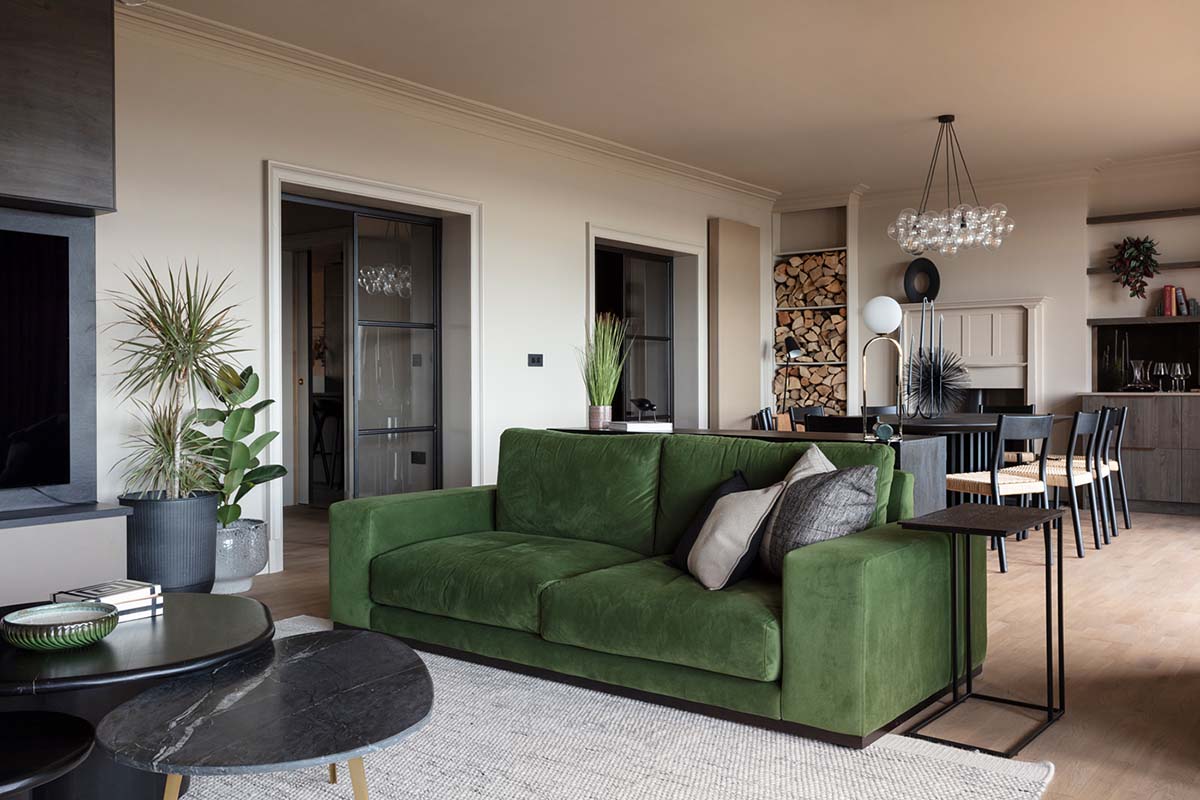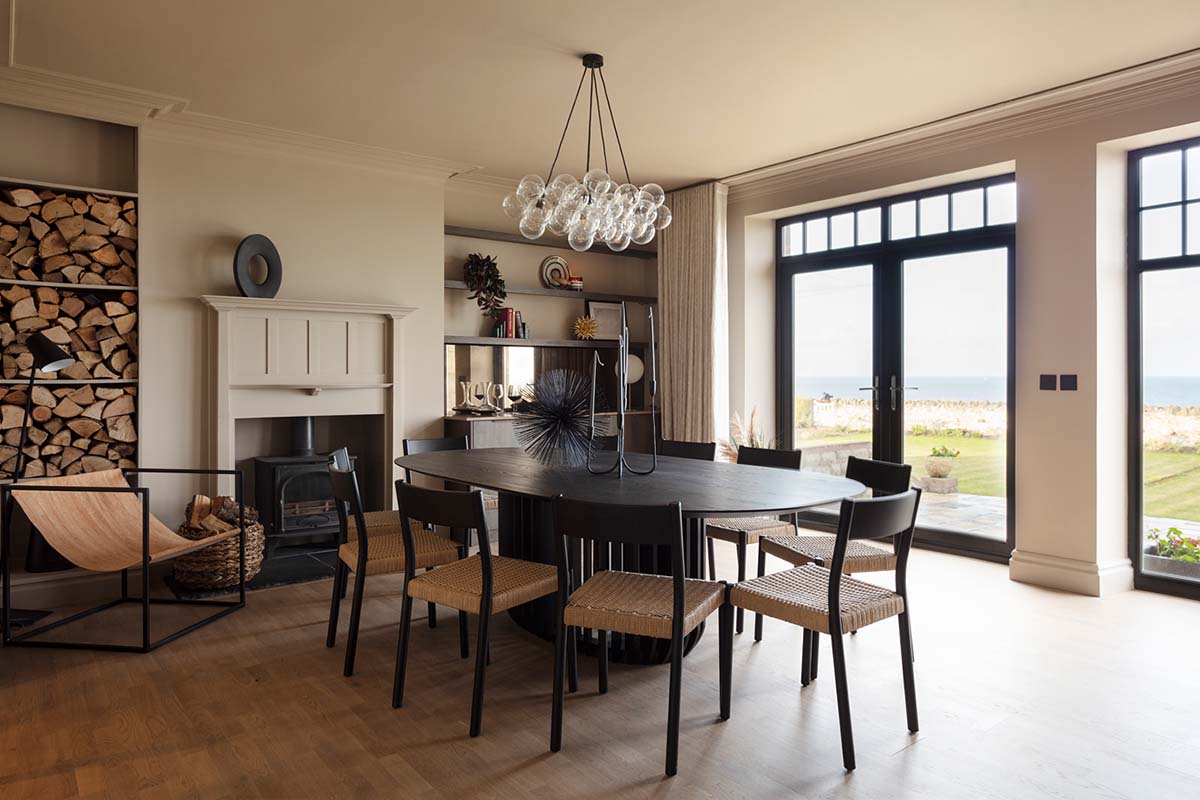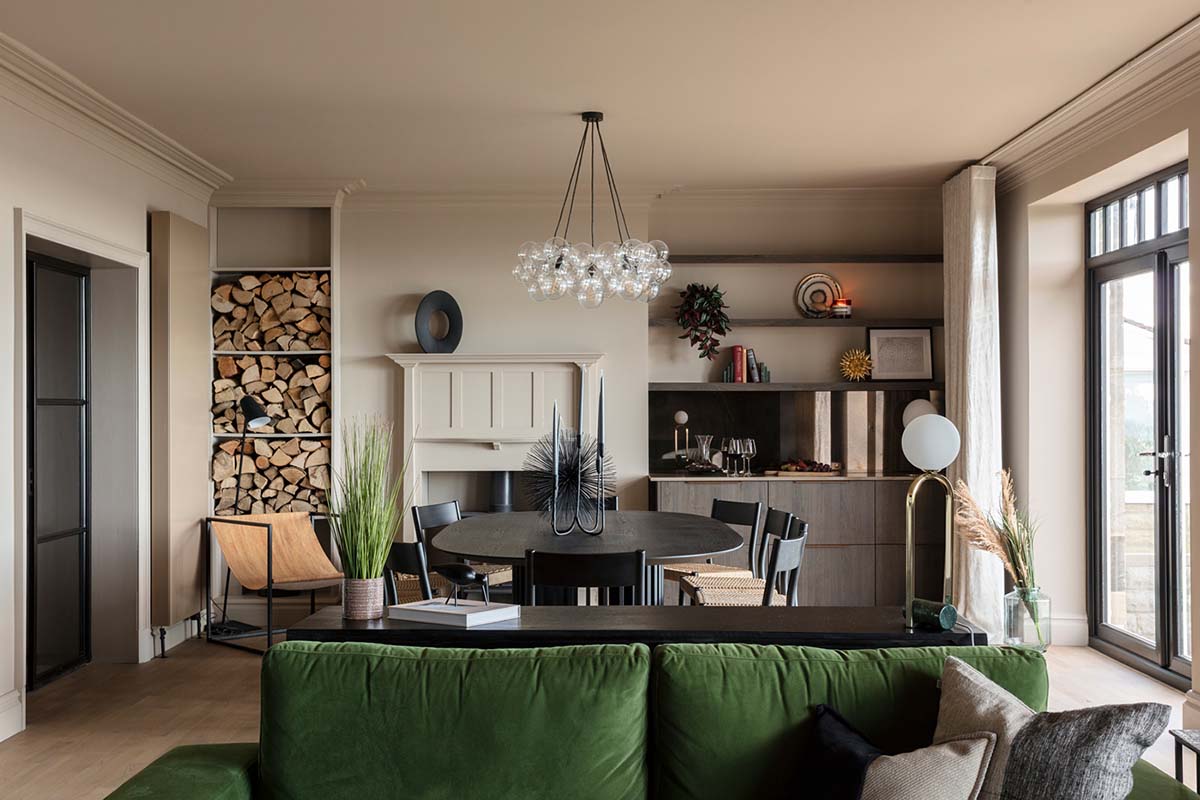 One of the owners remembers an early phone conversation with Cathy. "When would you get involved?" he recalls asking. "Would it be towards the latter stages, picking the curtains and soft furnishings and things?"
But the Studio Dean way of working is entirely the opposite.
"She said no, she wanted to be involved from the very beginning to look at the whole thing strategically. We hadn't appreciated how important that would be, but now we realise it was absolutely essential."
The daughter of an architect and a property developer, Cathy established her interior design studio in 2016 with a view to "dispelling the myth that functional cannot be beautiful".
LEADING FROM THE FRONT
This project presented a golden opportunity: it was a rare chance to literally get in with the bricks on a job, fundamentally sculpting and shaping a home in a way that enhances its inhabitants' day-to-day lives, not just aesthetically but practically too.
"With all of our clients, before we even consider a paint chip or a colour, we get to know them. We speak to them," says Cathy.
"What do their lives look like? How many kids do they have? Do they have 14 dogs, a cat and a hamster? Are they entering retirement? Whatever it is, our goal is to make the home work for them."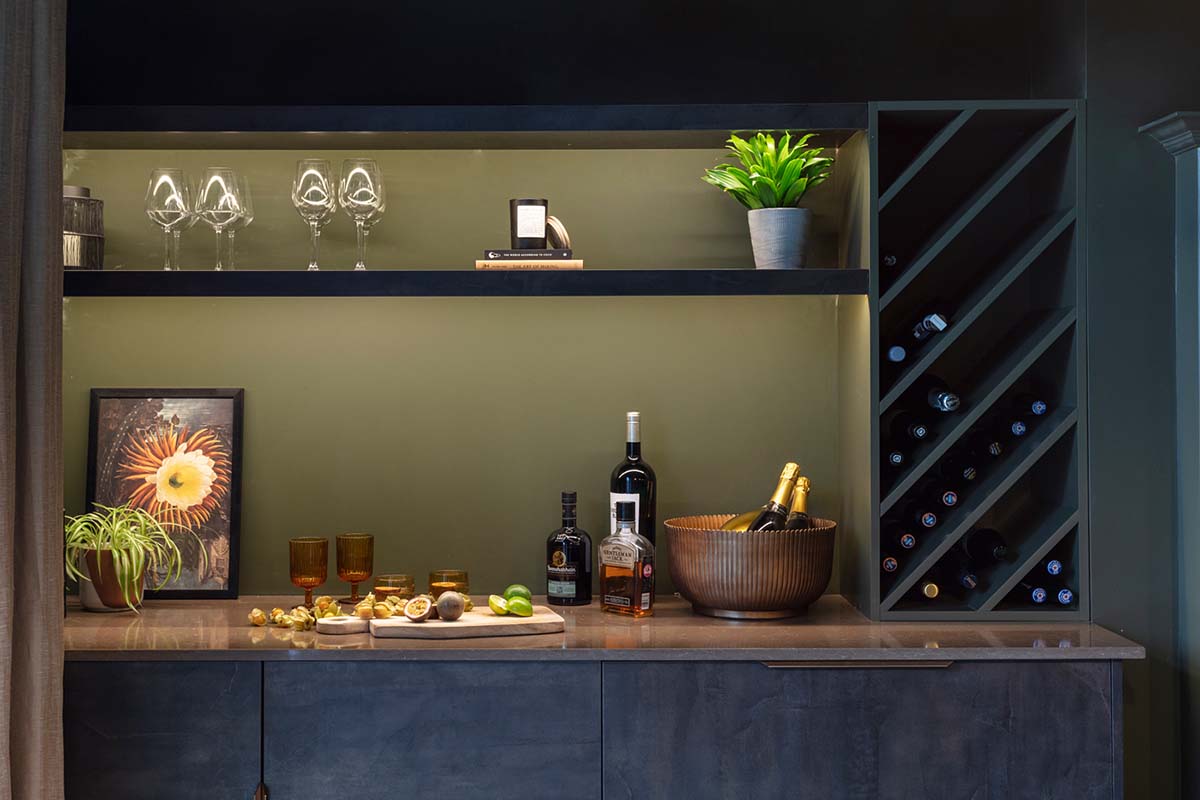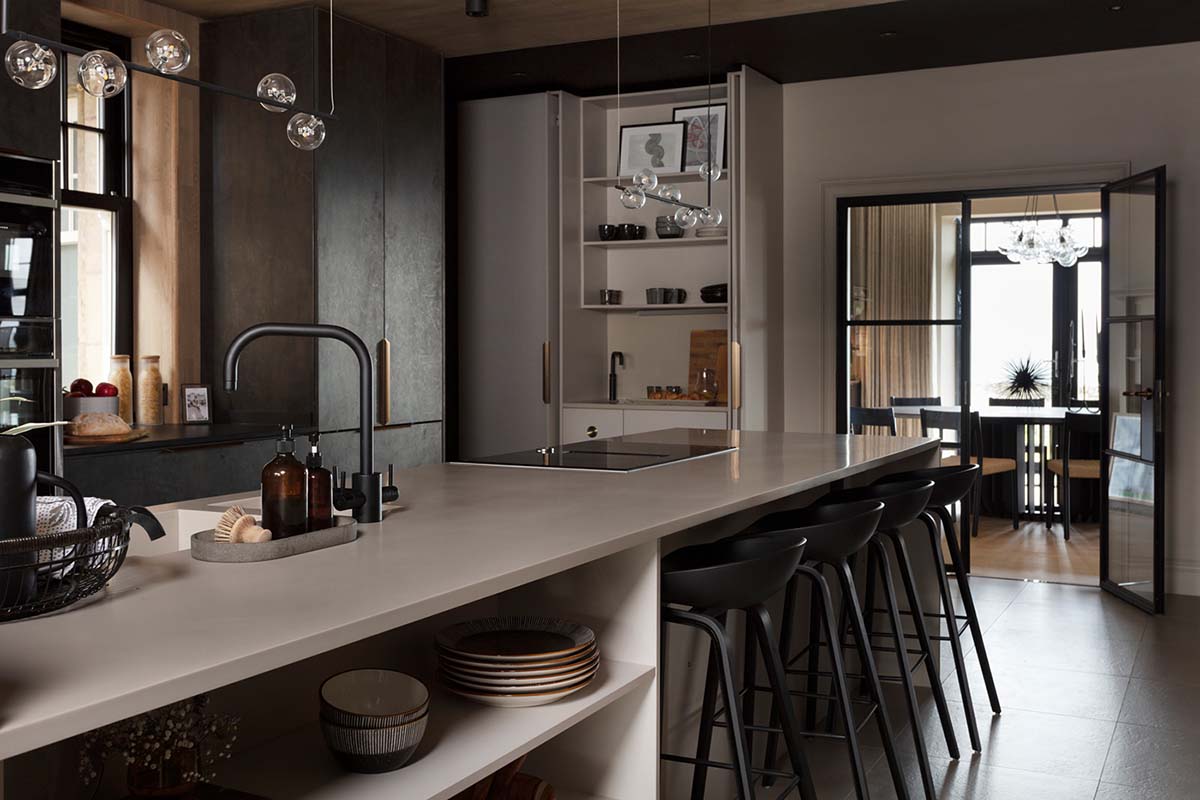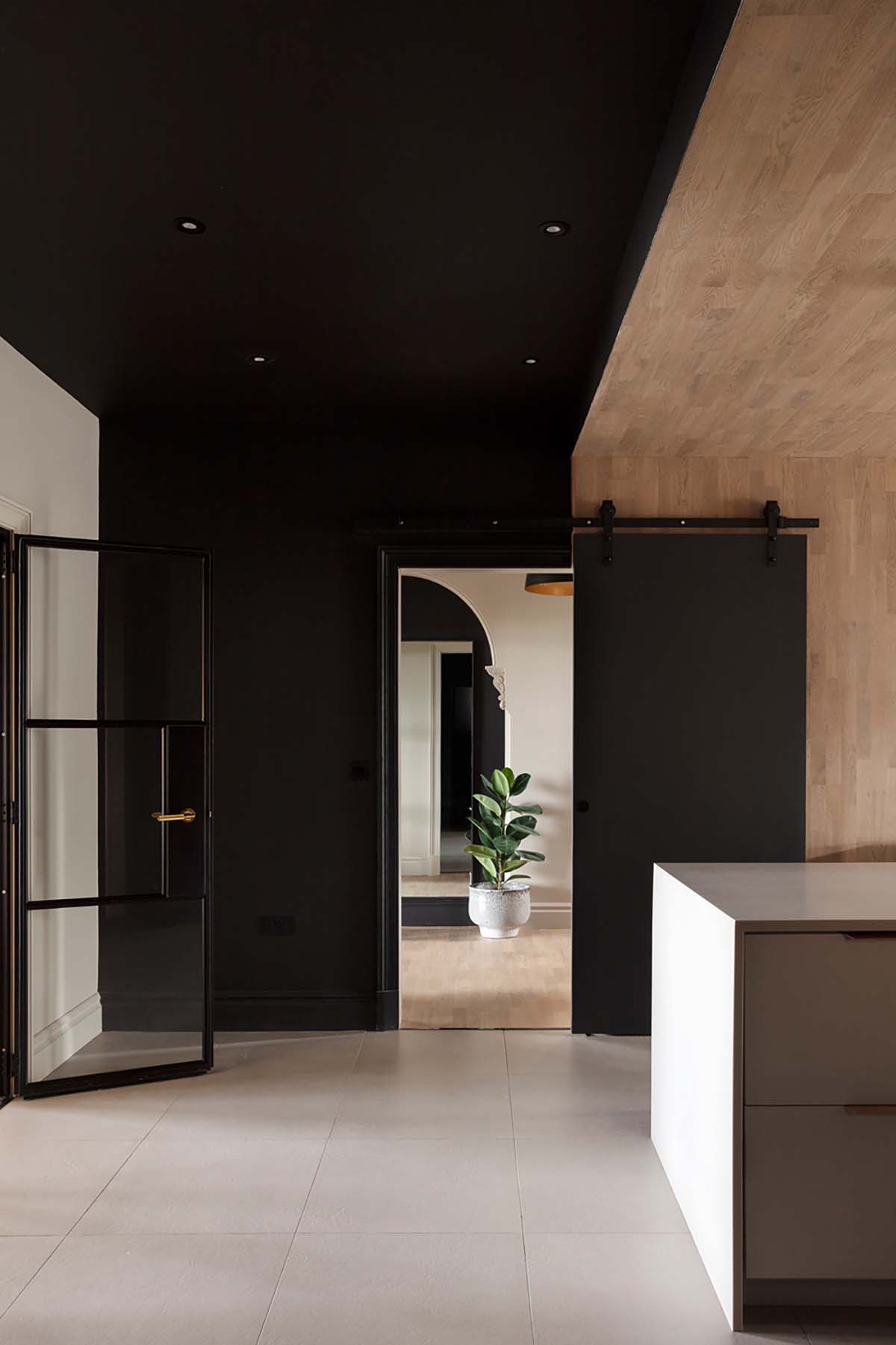 Her clients in this case were a pair of medical professionals coming towards the end of their working lives, looking for a peaceful rural haven.
It would be somewhere mostly just for them, but with room for their twenty-something daughter to continue to live with them on and off, and for their two grown-up sons to visit and stay over.
Initially in search of a turn-key property, they viewed dozens of places without any joy, before in early 2020 eventually discovering a rundown section of a former seaside hotel which in the 1980s had been subdivided into several large terraced houses.
It was in a dilapidated condition, but it lay immediately by a sandy beach, with unspoilt North Sea views towards the Farne Islands. It was an irresistible prospect.
After discovering Studio Dean's work online, the couple asked Cathy to scout out the house and see if something might be done with it.
Where they envisioned a mostly cosmetic upgrade, she saw something much more involved.
"Her main impact, really," says the owner, "was to say: let's open it right up. From the back garden, you can now see all the way through the property, and get views of the sea to the front. That required taking down quite a few internal walls, and opening up smallish windows into big patio doors, and allowing a lot more natural light to flow through."
PROBLEMS SOLVED
With the coronavirus already starting to cast its shadow, they were able to buy the place for below the asking price.
The cost of the renovation was initially estimated at around half of that amount. But they ended up shelling out roughly as much as they'd paid for the house, as forces far beyond their control conspired to produce budget problems and delays galore – not only the myriad complications of working through the pandemic, but also the sudden, extreme hike in materials costs brought about by Brexit.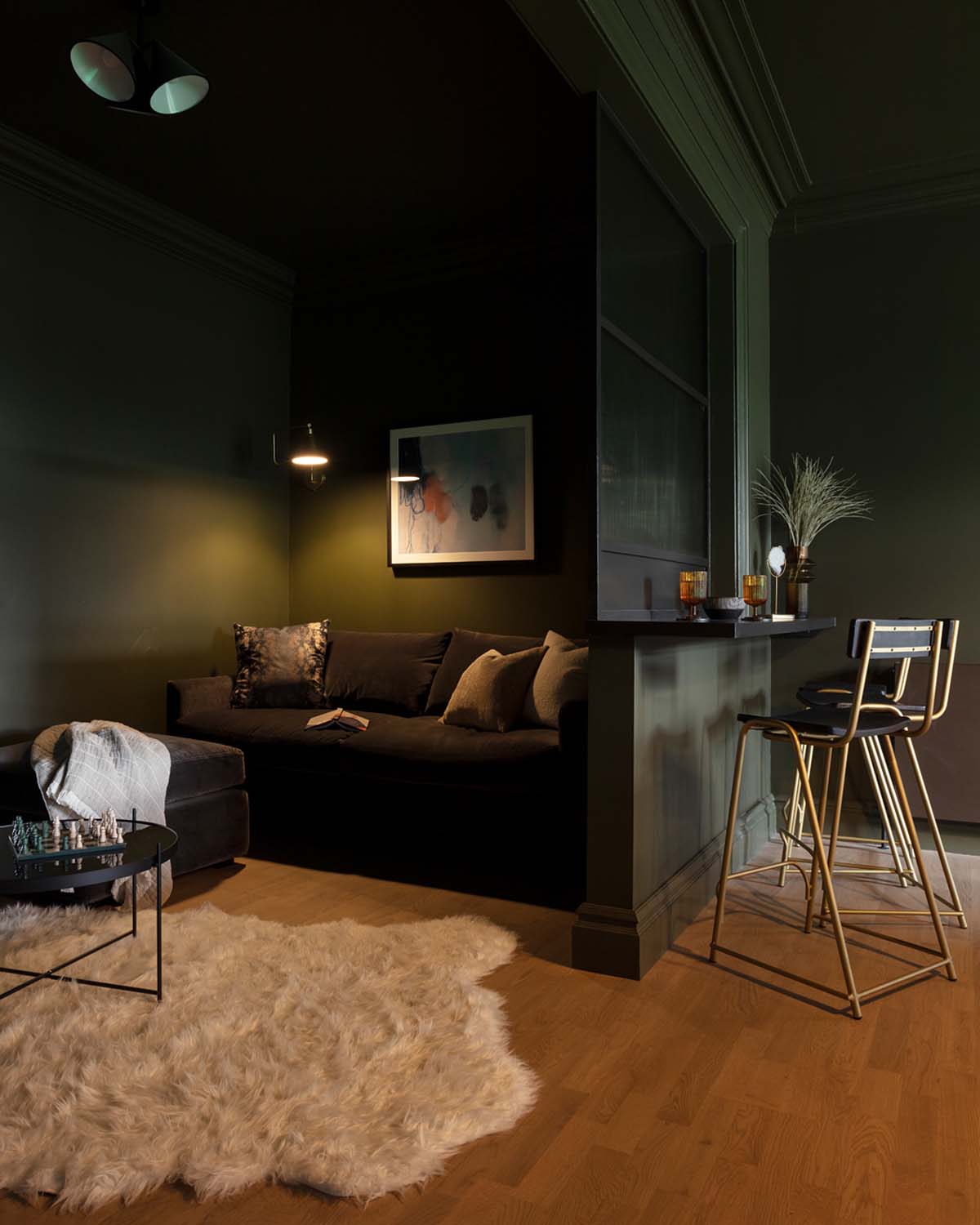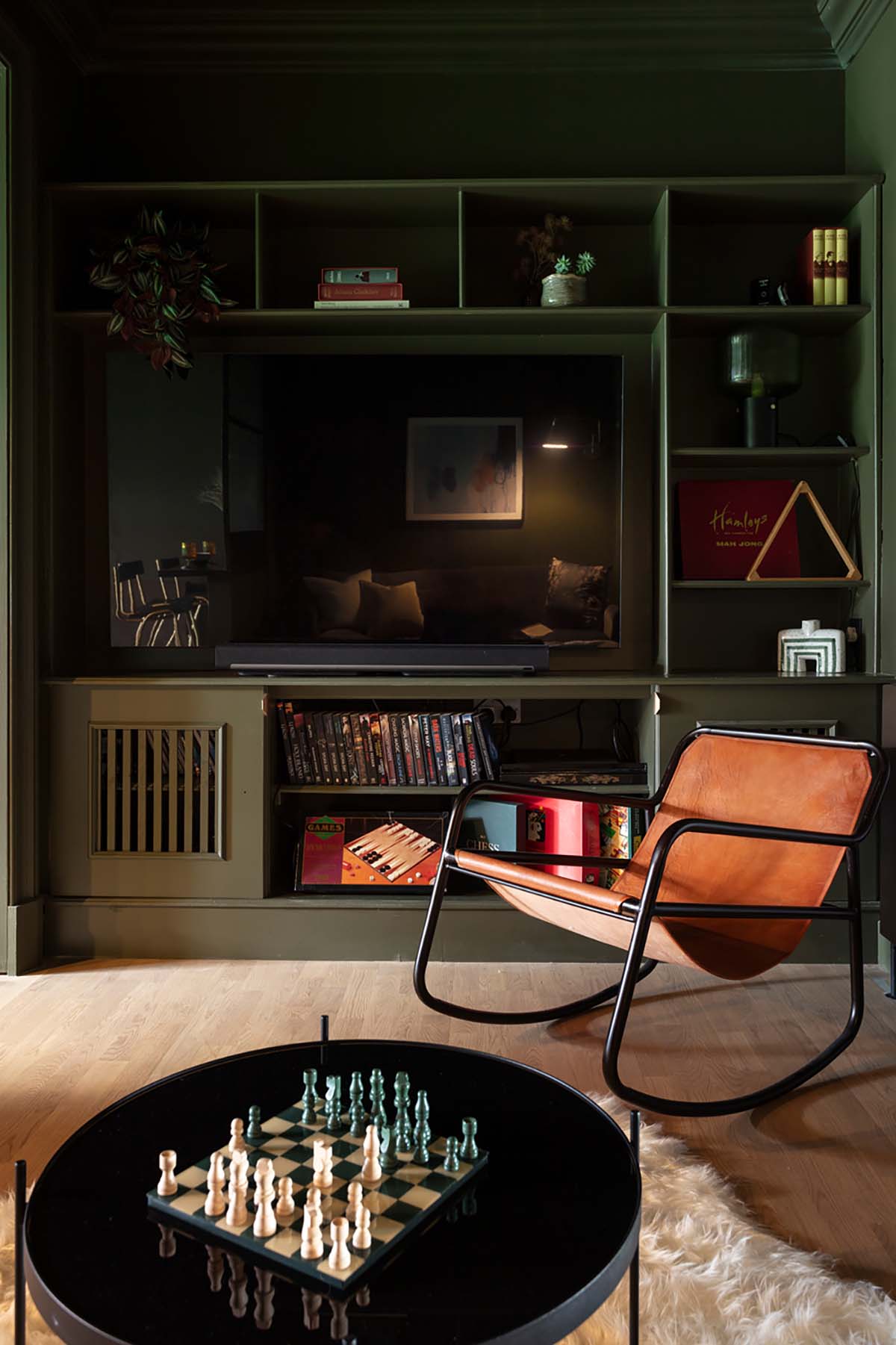 Even the Suez Canal being blocked for six days in March 2021 by a run-aground container ship had knock-on effects. A plasterer's initial quotation of £10,000 quadrupled mid-job. Half a dozen crucial pieces of furniture ended up stranded for over a month on the wrong side of the Gulf of Suez.
"At one point we started to say it was like the baby that kept crying," jokes Cathy. "No matter how much we shushed it and how much we rocked it and how much we gave it a lovely bottle, it was like 'I'm crying about something else now'."
But she credits her clients as being "the most resilient, positive people I think I've ever met" (they essentially project-managed the whole renovation themselves). By April 2022 they were finally able to move in, following a holiday in the Outer Hebrides that gave Cathy time to apply the finishing touches.
WORTH THE WAIT
"We just couldn't believe it," says the owner, remembering walking in and suddenly seeing the place anew. "It was beautiful, elegant, magnificent. Everywhere you looked you'd find things that you'd not spotted before. It suddenly all made sense."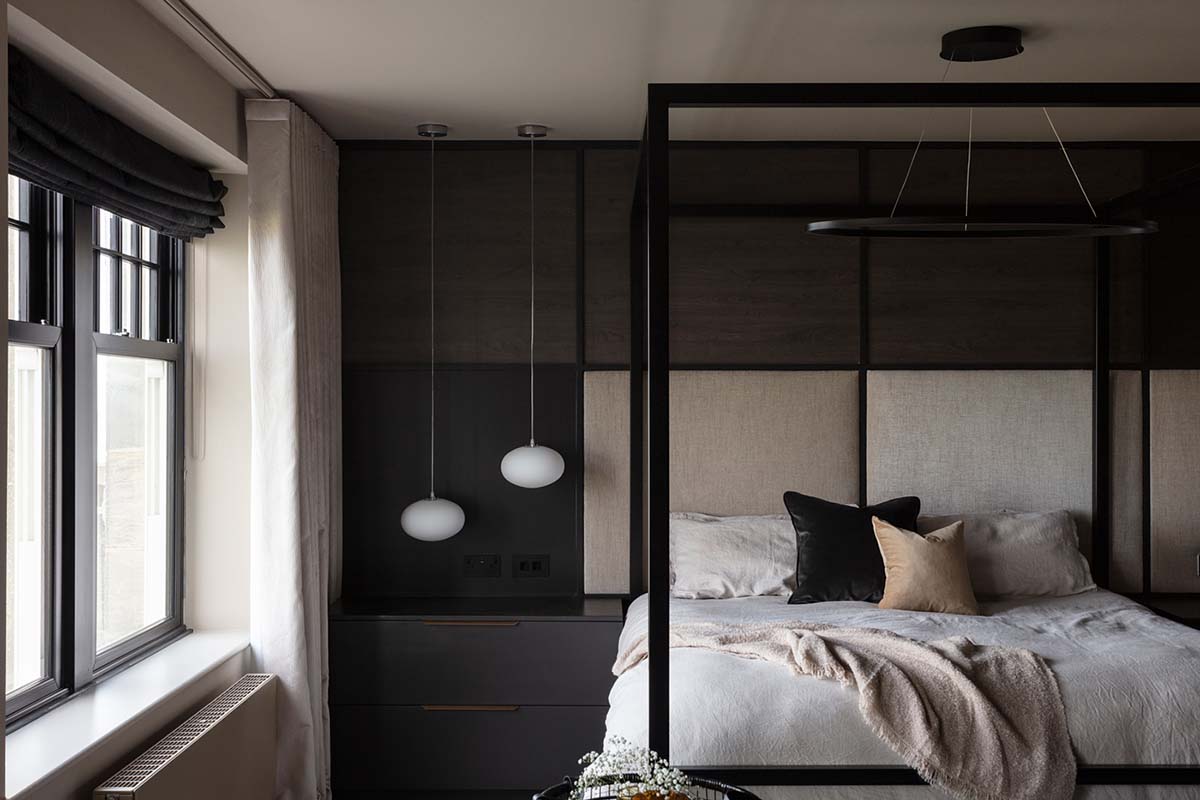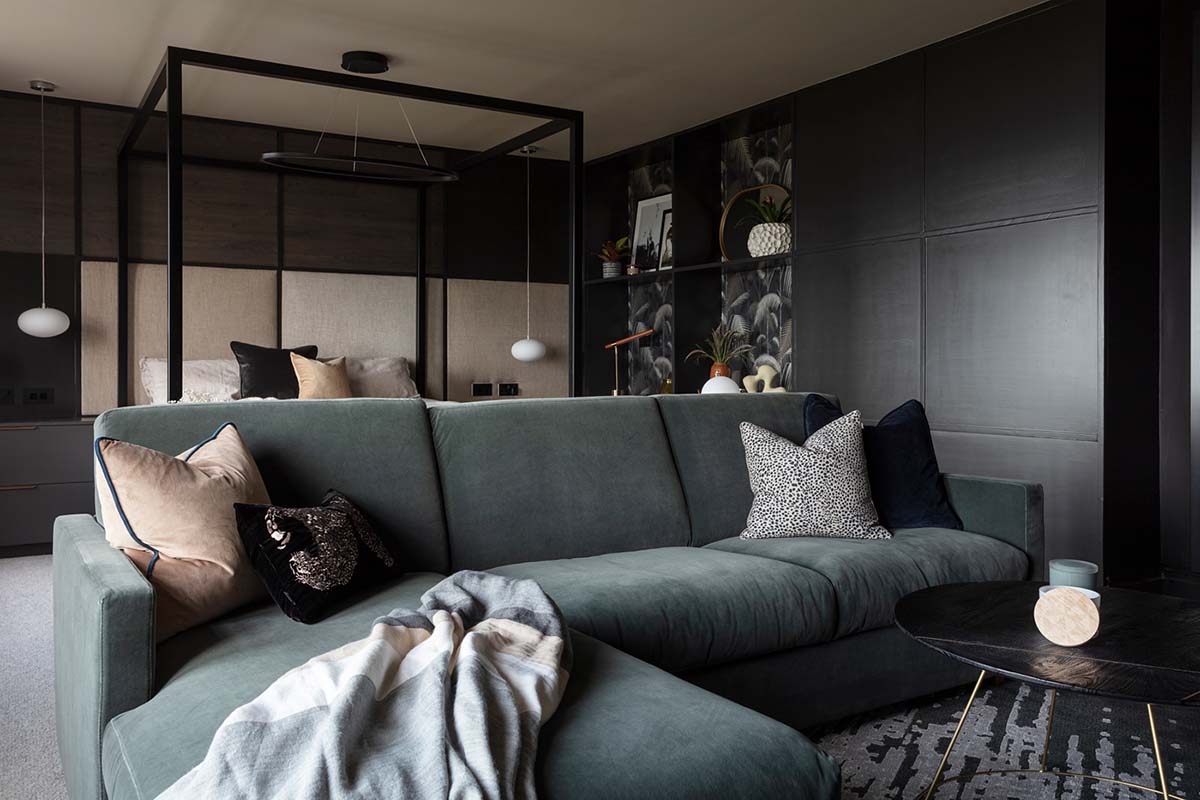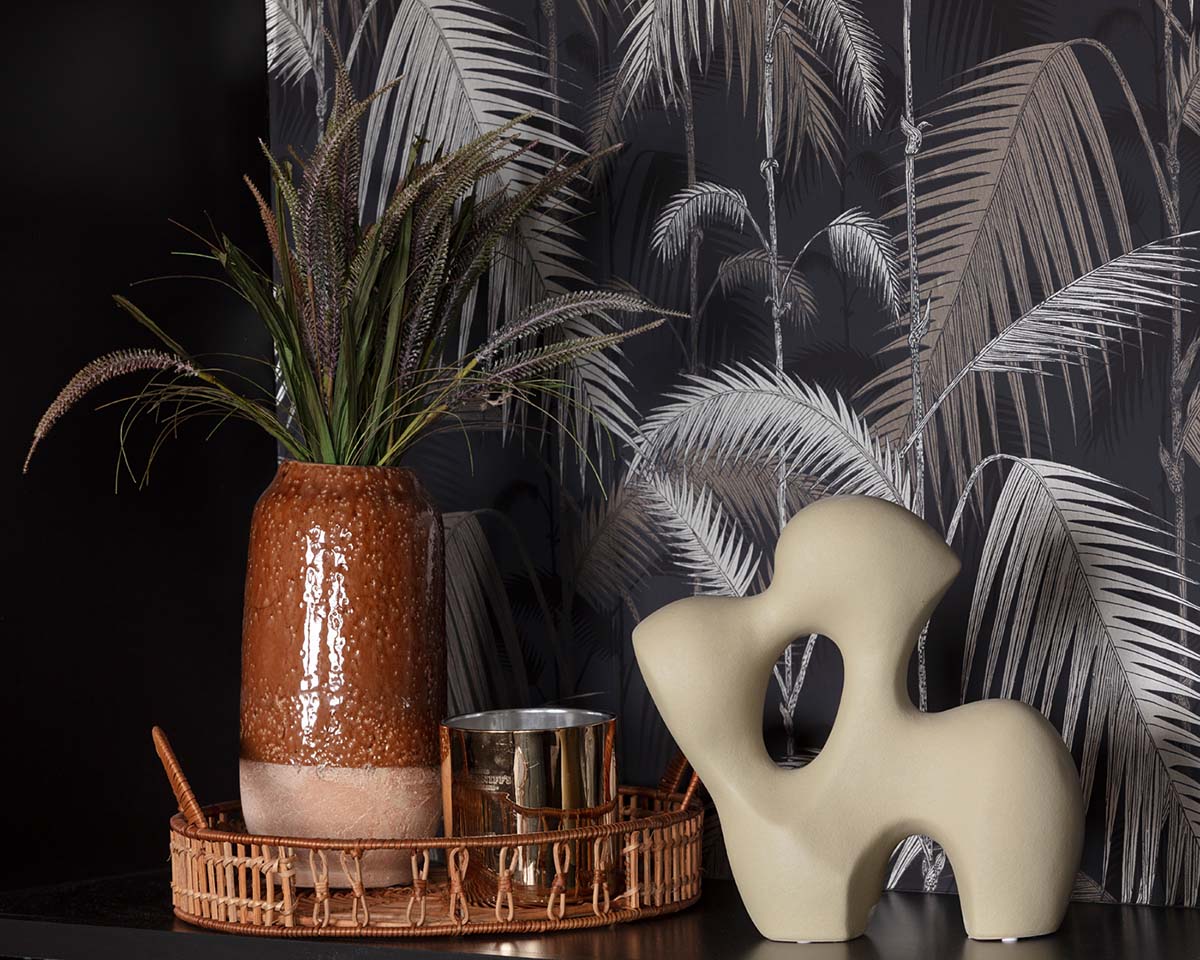 In the intensive process of getting to know her clients and what they needed most out of their home, Cathy had focused on two things in particular.
One was creating a deluxe master bedroom suite, formed by knocking together three pokey little rooms on the upper floor at the front of the house, to create a luxurious self-contained suite with sea views.
"I wanted to give them a bedroom, a dressing room, an en-suite and a living room," says the designer, "because I know one half of the couple loves to watch television at night – it's one of her guilty pleasures. No judgement from us; if you want to watch game shows at night, I say watch game shows at night. That's what our job is, to get that to be beautiful for you."
We just couldn't believe it when we walked in and saw the place anew. It was beautiful, elegant, magnificent. Everywhere you looked you'd find things that you'd not spotted before. It suddenly all made sense.
Downstairs, painted in a speakeasy-moody shade of olive green, is what Cathy calls the "games room", but what the other half of the couple proudly refers to as his "man cave".
"It's got a snooker table," he says, "it's got a big high-definition sports TV, Sonos surround sound, and a bar full of beer and stuff for making cocktails. It's phenomenal."
STYLE + FUNCTION
The owners aren't big on bright colours, so most of the palette throughout is earthy, natural, neutral.
But Cathy has kept it interesting by layering subtle variations of tone and texture side by side – in the kitchen, for example, where a broad belt of wood panelling runs up the walls and across the dropped ceiling.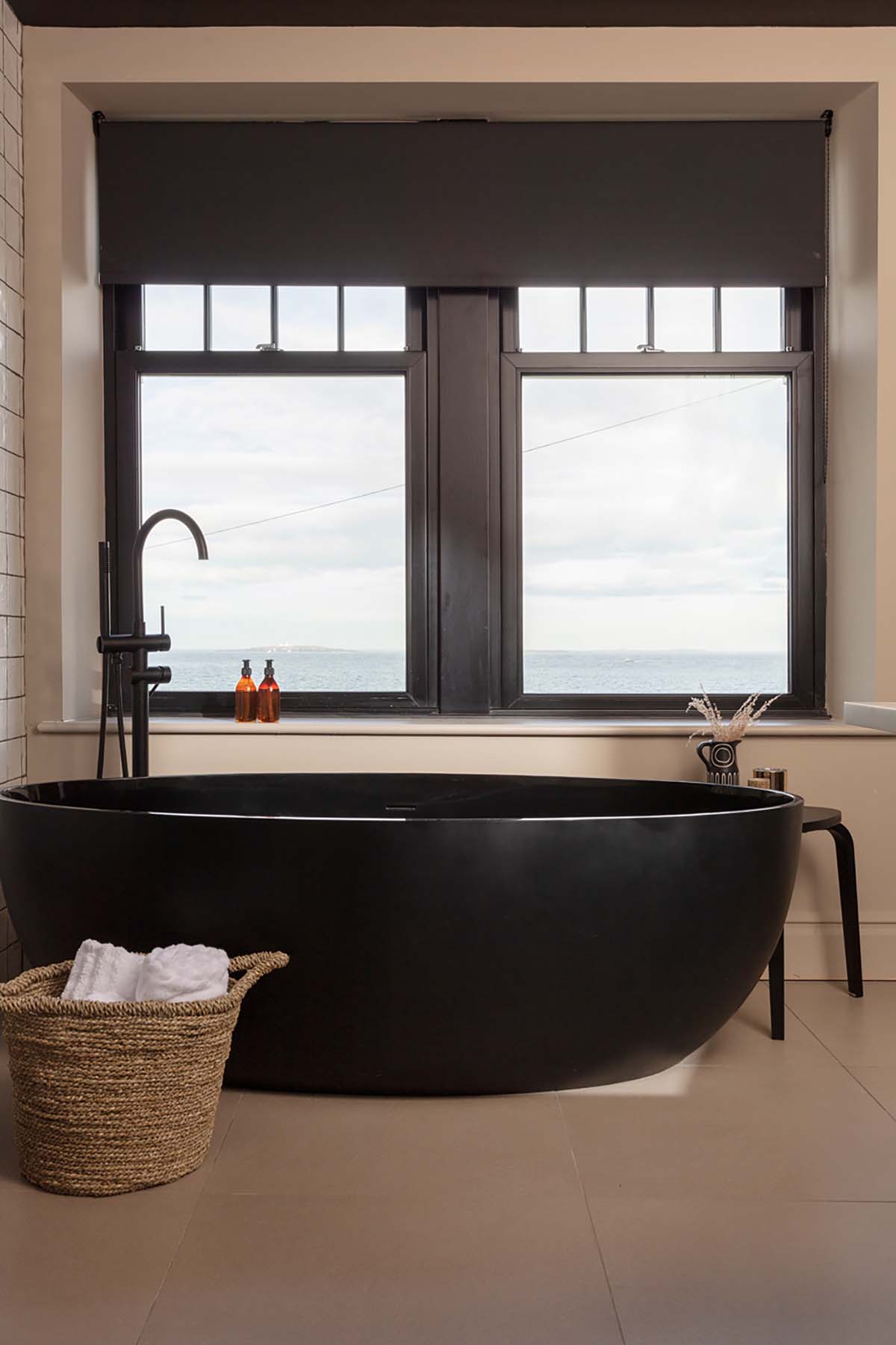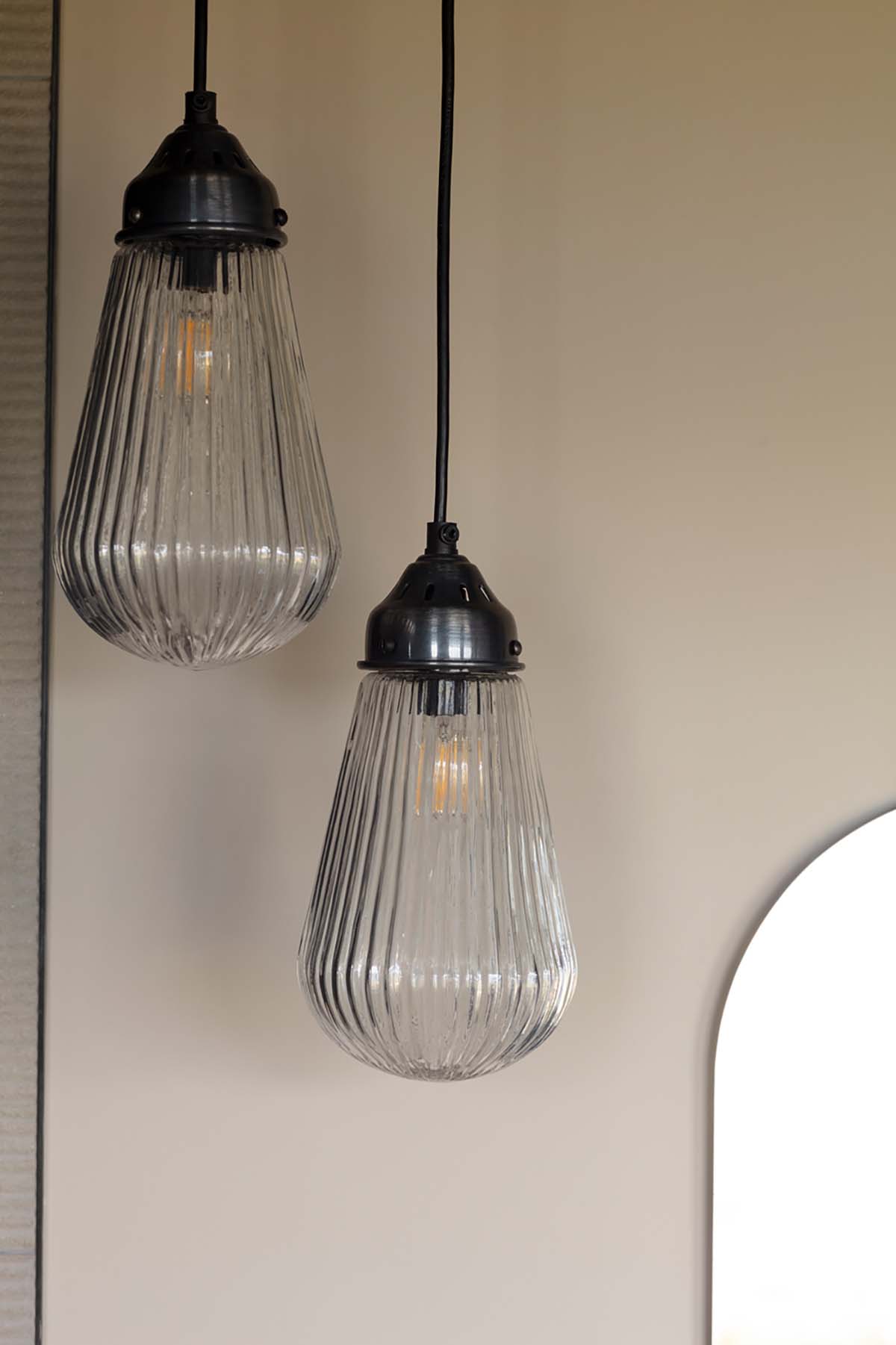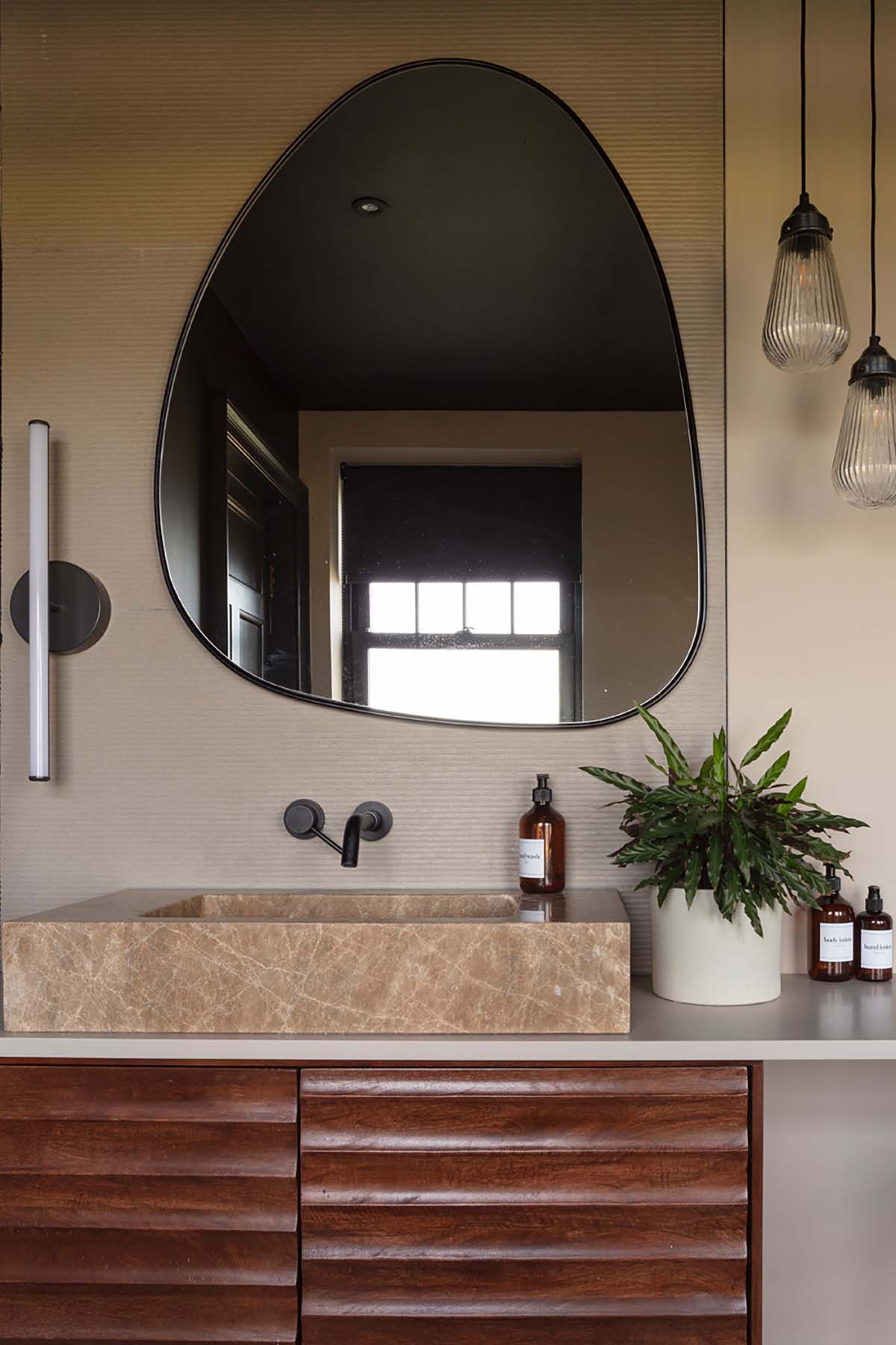 This is not just functional (it conceals pipes and cables) but it gives the black sliding doors to the hall and the mottled brown kitchen cabinetry something to react against. "The impact of the darkness will be lost unless it's got a happy partner," Cathy points out.
Her finest touch are two pairs of steel-framed, glass-panelled Crittall-style doors that divide the formal lounge, with its wide open north-easterly views, from the hallway and the kitchen.
They close off the space when desired, yet without ever preventing the light that pours in over the North Sea from flooding right through the interior.
"We've had a year now of all the different seasons," says the owner, "watching the sun come up at different parts of the Farne Islands, watching it drop down different sides of Bamburgh Castle. It is a once-in-a-lifetime opportunity to live in a property like this."
"We're very happy here."