The renowned interior designer Faye Toogood has refreshed the Mulberry showroom on Edinburgh's Multrees Walk
Words Adrianne Webster
The newly refurbished Mulberry Edinburgh showroom has been unveiled, with the design concept being led by multidisciplinary interior designer Faye Toogood.
The Multrees Walk location follows a similar aesthetic as the flagship store on London's Regent Street, with Faye having taken inspiration from the painterly qualities of British landscapes, utilising a palette of mossy greens and sunset pink, yellow and orange; the perfect fit for the heritage brand, which was founded in Somerset in 1971.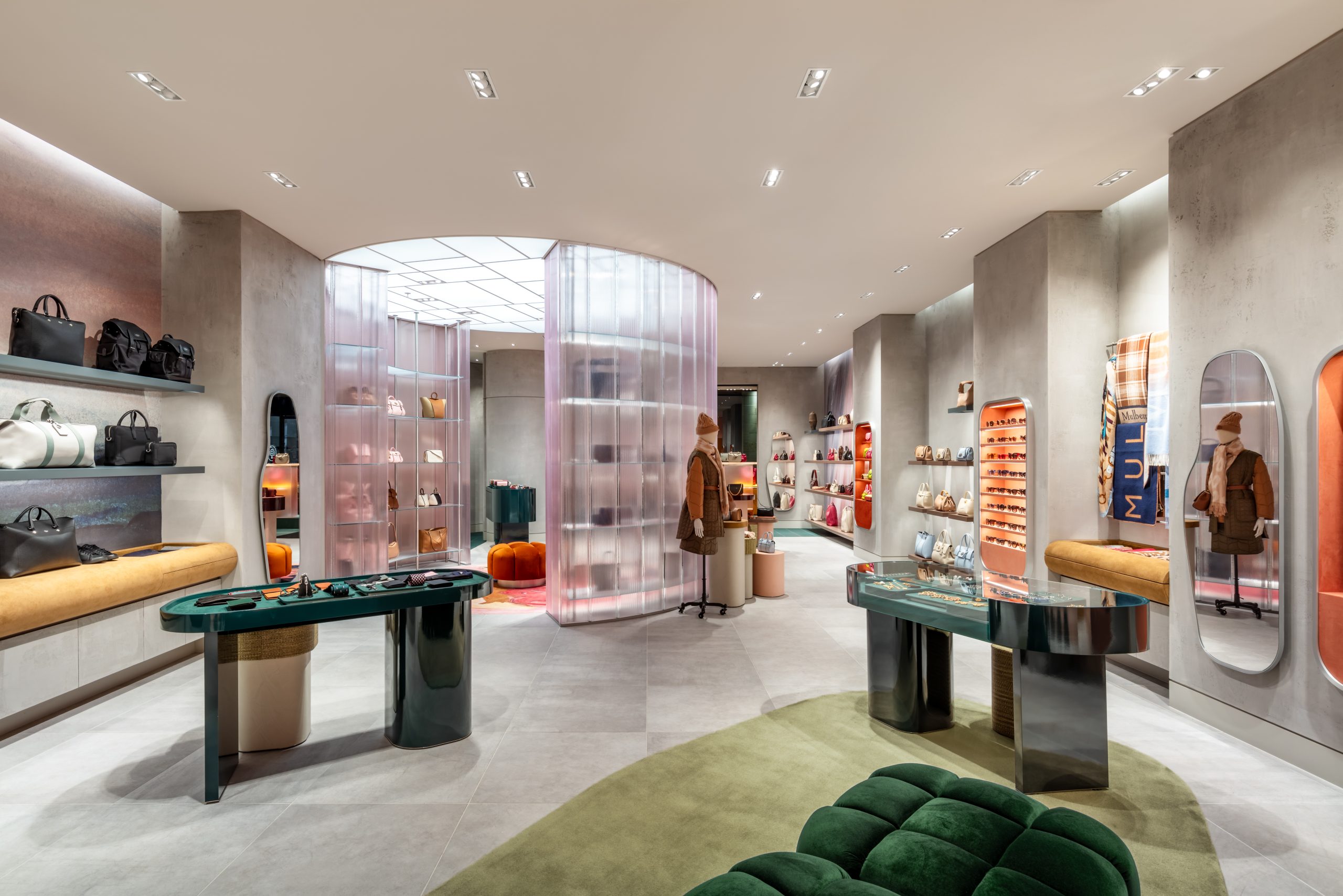 The soft hues are contrasted against Brutalist-inspired concrete walls and geometric forms. The result? It's cool, contemporary and polished, while the soft lighting and cosy seating helps you feel comfortable enough to while away an afternoon trying on Mulberry's collections of jewellery, sunglasses, scarves, travel luggage and, of course, their timeless bags.
Products are housed in sleek drawers and shelving units that encourage shoppers to feel and pick up what's on offer. Speaking to Architectural Digest, Faye says this was deliberate: "One of the things that was very important to us was to inspire an element of discovery in the space.
"So rather than this feeling like an overt retail environment, we wanted to create a sense of the domestic, the familiar, though with moments of the unexpected: like walking into an atelier and pulling out drawers, not quite knowing what kinds of surprises you might find next."
The refurbished Mulberry Multrees Walk showroom is open to the public now — just in time for Mulberry celebrating 20 years of their iconic Bayswater bag.