Here's our curated round-up of some events happening in Scotland this October, from festivals to foodie adventures
When: until 19 November 2023
Where: Dundee Contemporary Arts (DCA), Dundee
Hair and Body is New York-based artist Rachel Eulena Williams' first major solo exhibition in a UK public institution, showcasing her interdisciplinary practice spanning painting, sculpture and installation. In Gallery 1, visitors will find Williams' canvas-based works which blur the lines between painting and sculpture; in Gallery 2, they will find an interactive sculpture.
When: 1.45 – 7.15pm, 2 October
Where: University of Edinburgh
This event considers the role of colour in architecture from pedagogical, historical and practice-focused perspectives. Guest speakers include artist and designer Adam Nathaniel Furman and Peter Wood, founder of Royce Wood Studio, which specialises in handmade tiles and ceramic wall art.
When: 5 – 8 October
Where: venues across Portobello, Edinburgh
Founded by a group of local book enthusiasts, this festival attracts big names, including celebrated Scottish crime writer, Val McDermid. The programme includes panel discussions, interviews and writing workshops, with topics ranging from wild swimming to the Scottish theatre-making landscape. Events are free but ticketed.
When: Friday 6 – Sunday 16 October 2023
Where: Festival Square, Edinburgh, and across the city
Edinburgh Cocktail Week returns for its fifth edition this October. Purchase of a wristband will gain you access to the Cocktail Village and its 22 pop-up bars, as well as allowing you to sample £5 signature cocktails at 100 of the capital's best bars. For an elevated experience, sample the Prestige Cocktails from some of the city's top mixologists at selected bars, including Hey Palu, Harrods Champagne Bar and Waldorf Astoria Edinburgh.
When: Saturday 7 Oct 2023 – Sunday 3 Mar 2024
Where: National Galleries of Scotland: Portrait, Edinburgh
This free exhibition at the Scottish National Portrait Gallery examines the ways in which architecture impacts people's lives, tackling themes including inequality, displacement and sustainability. The exhibition spans from the 1840s to the present day, and highlights include Chris Leslie's images of the demolition of Glasgow's Red Road Flats.
When: 7 – 8.30pm, 11 October
Where: Gordon Aikman Lecture Theatre, Edinburgh
The Metzstein Architecture Discourse, organised by The Royal Scottish Academy of Art and Architecture, will be presented by Xaveer De Geyter. After working for OMA/Rem Koolhaas early in his career, he founded Xaveer De Geyter Architects (XDGA), an award-winning Brussels and Paris-based office practicing architecture, urbanism and landscape design.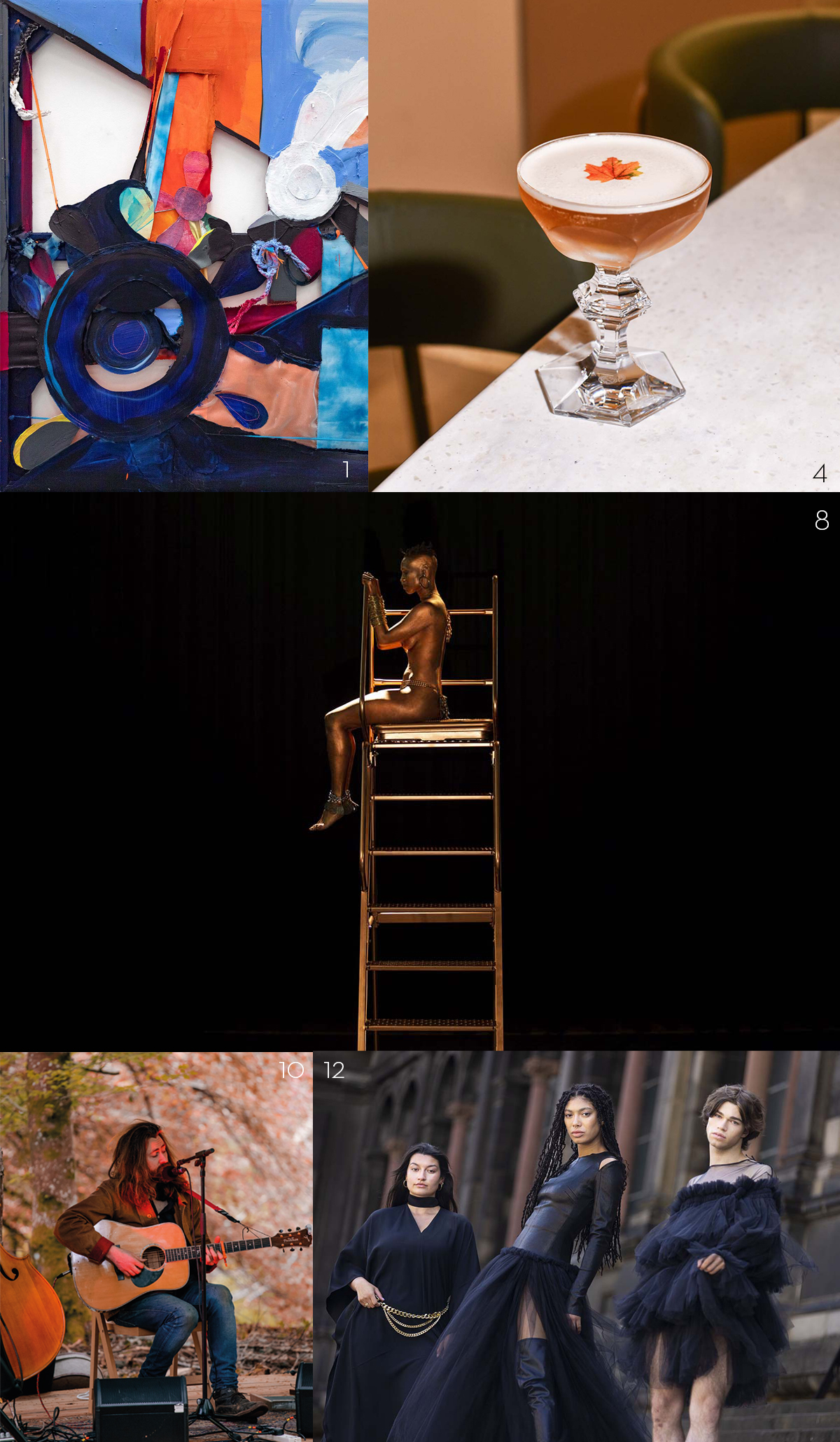 When: 6pm – 8pm, 12 October
Where: Jeffreys Interiors, Stockbridge, Edinburgh
Jeffreys Interiors are hosting an evening of fizz and shopping at their Stockbridge headquarters, where guests will have the opportunity to meet designer Susi Bellamy, whose patterns have been incorporated into many of the new pieces on display, and see the latest showroom designs.
Photo 8: Mamela Nyamza presents BLACK PRIVILEGE at Tramway as part of Take Me Somewhere Festival
Credit Chris De Beer
When: 13 – 28 October
Where: venues across Glasgow
Returning in-person for the first time since 2019, this international, biennial festival presents a programme of cutting-edge contemporary performance. Performances range from a solo-scent opera to a one-on-one immersive audio piece held in the Mitchell Library. This edition of the festival also features a strand of programming centring artists from South Africa, in partnership with the British Council.
When: 14 Oct 2023 – 28 Apr 2024
Where: Gallery of Modern Art (GoMA), Glasgow
This major exhibition of newly commissioned work from Glasgow-based artist duo Beagles & Ramsay (John Beagles and Graham Ramsay) will see the space transformed through sculpture and video, becoming a flagship store for three new NHOTB & RAD fashion lines and exploring the politics and tensions within consumerism and the contemporary workplace.
When: 5.30 pm, Saturday 21st October
Where: Glen Dye, Aberdeenshire
This event featuring autumnal food and folk music promises to celebrate the very best of the season. Join chef Tim Maddams for a fire cooking demo before enjoying a seasonal menu featuring Moray Firth crab, Glen Dye venison and more (with options for vegetarians too) in Glen Dye's newly configured pop-up restaurant, The Woodshed. Following dinner, guests will be treated to a performance by folksinger Robin Adams and his band.
When: selected dates throughout October
Where: in and around Galloway Forest Park
Autumn is the best time to go wild mushroom picking in Scotland, but if you're a newcomer to foraging, it's a good idea to seek expert advice. Foraging Scotland, based in Dumfries and Galloway, offers guided fungi walks, allowing you to discover delicious Scottish wild mushrooms safely.
When: until 29 October
Where: National Museum of Scotland, Edinburgh
Covering a century of fashion history, this exhibition invites visitors to reconsider this wardrobe staple, showing how its constant reinterpretation has both reflected and challenged our understanding of race, gender and sexuality.
The exhibition features over 60 garments from designers including Chanel, Dior, Gareth Pugh and Comme des Garçons, as well as highlighting Black British designers.