The book, called Born On A Rainy Day after Billy Connolly's art collection, is published by Castle Fine Art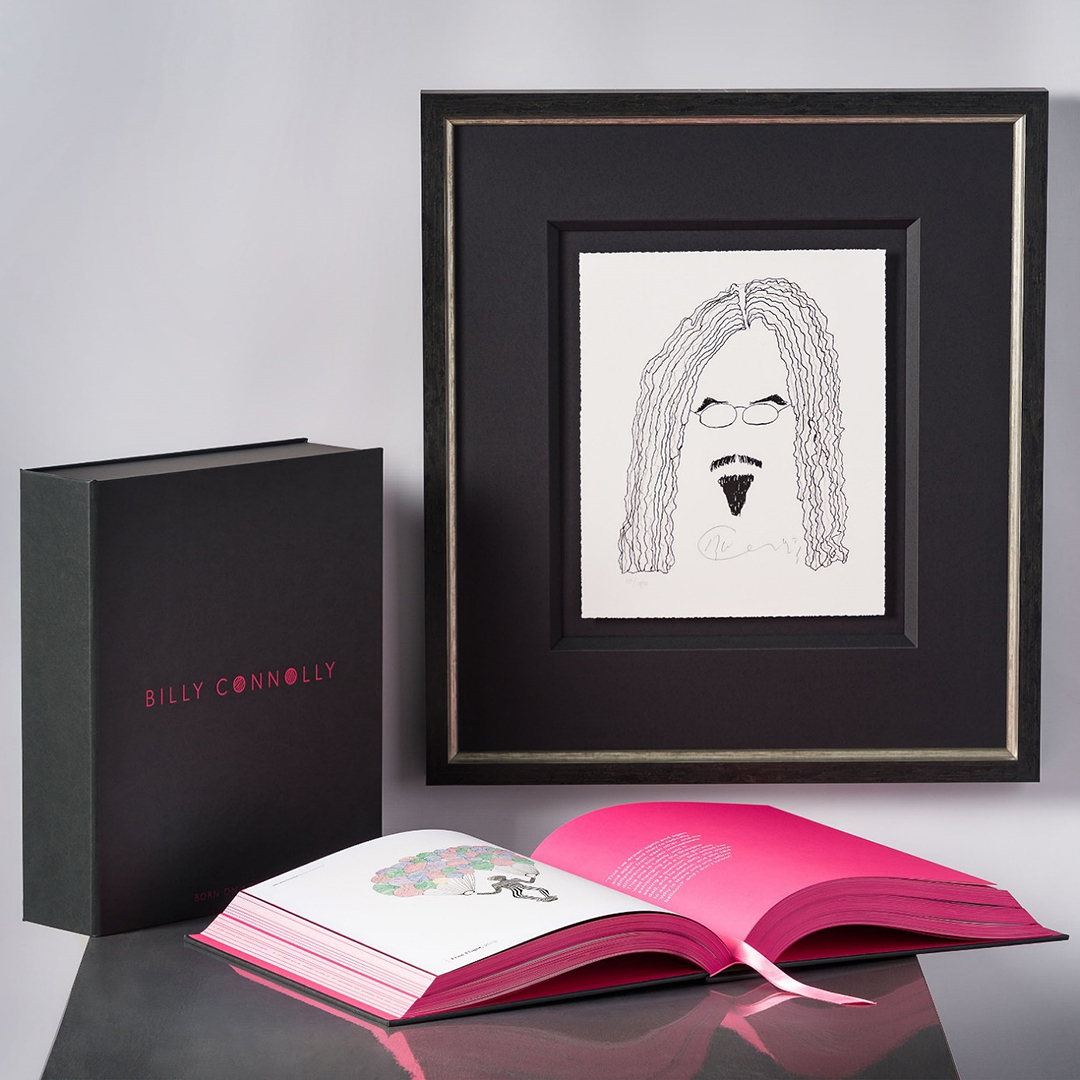 After much anticipation, Castle Fine Art has revealed Sir Billy Connolly is publishing his debut deluxe coffee table book, Born On A Rainy Day.
A must for art collectors and Billy Connolly fans alike, the 496-page book features witty anecdotes from The Big Yin alongside his incredible portfolio of graphics, including original and never-seen-before titles.
Each book also comes with a hand-signed limited-edition graphic of Billy's self-portrait. You could have a wee print of The Big Yin for your home.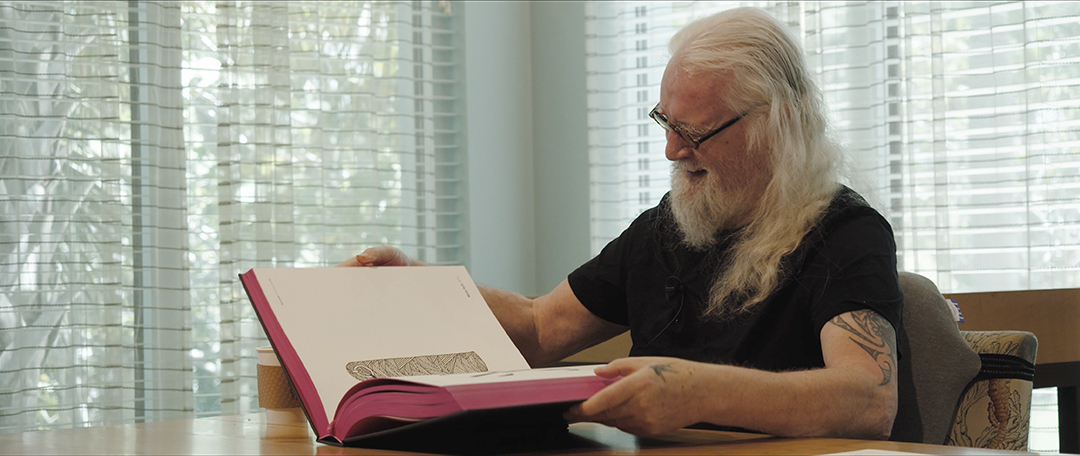 B"I didn't know there were so many pieces. I thought I must have 12 or 20. I don't know how many, but there are over 300 in the book. 300! That's ridiculous. It's lovely," says Billy.
"Some of them are quite virginal and purist and they go for the good side of life. And others are quite dodgy and a bit bad taste, which pleases me greatly. They're of a world of their own.
"There's no similarity whatsoever in writing a book and drawing; drawing, it oozes from you. It takes hold of part of what's in your head and makes you do it on paper. Whereas with a written book, you have to prepare it in your head and then sit down and do it. It doesn't respond to ad lib. It's very similar to my comedy."
Billy's career as an artist began on a wet day whilst he was on tour in Canada. Bored, he picked up paper and pens in a Montreal art store after he'd tired of looking at the animals in the window of a local pet shop.
"I'd never drawn in my life until this point, but I just started drawing weird islands and carried on drawing," he says. "I asked my wife to tell me if they were getting better and she said 'definitely'."
His manager went on to send Billy's drawings, in his now trademark style of stripey elements drawn with a fine black pen, to Castle Fine Art.  Then came his hugely popular Born On A Rainy Day collection in 2012, and the rest is history.
His initial black-and-white drawings have now developed into a witty, vibrant and colourful collection of limited edition artworks, from giclées to sculptures, to a massive sculpture of his work showing a Glasgow welder at work, dubbed 'And on Monday, God Made the World'.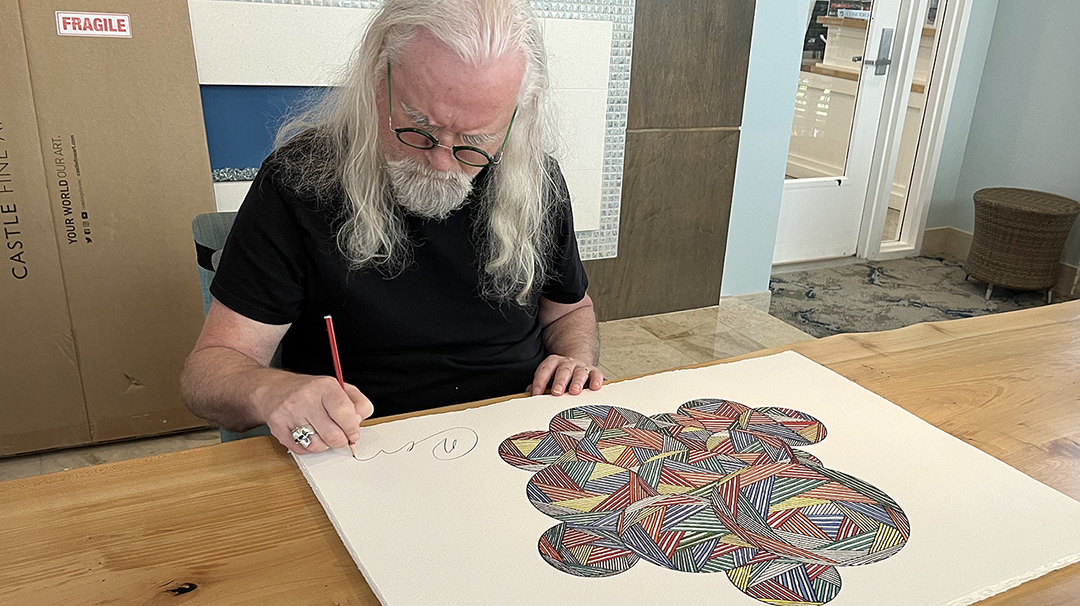 The Big Yin is still delighted at the response to his work. "The fact that other people like it and want to live with it in their homes blows me sideways. To have somebody who wants a part of your mind in their life – I thought my wife had been the only one to fall for that, but it turns out that she's not alone," he says.
Born On A Rainy Day is hard-bound in black faux leather, and comes in a black clamshell presentation case. The pages are edged with neon pink, one of Billy's favourite colours, which reflects the incredible vibrancy of his work. The large-edition publication weighs 7.1kg, and contains images of all the drawings and sculptures which Billy has produced for Castle Fine Art, plus a foreword by Billy's wife, Dr Pamela Stephenson Connolly.
The limited edition is at £1,250 with a framed, signed copy of Billy's 'Self Portrait', or £995 with an unframed piece. There is a discount of £100 for anyone who signs up for the Castle Fine Art Billy Connolly mailing list and pre-orders the book before 30th June 2023.
Born On A Rainy Day is available exclusively from Castle Fine Art's 37 galleries nationwide, or from their website.