This collection comes from illustrator Alice Shirley, who was initially intrigued by the 'spotty horse' and its Kyrgyz origins
words Caitlin Clements
THE HISTORY The design of the scarf is inspired by the felted wool rugs or shyrdaks created by the Kyrgyz nomads of the Tian Shan mountains.
THE FINISH The scarves capture the essence of the original design and make a stunning luxury piece.
THE VERDICT The Hermès scarf is a beautiful and sympathetic interpretation of the shyrdak design.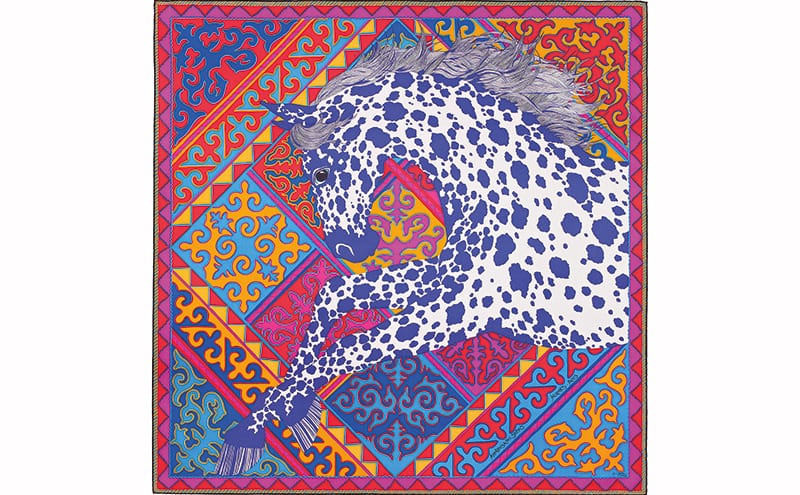 Hermes's famous silk scarves draw on history, design and the glories of the natural world, so it's no surprise to see this collection has been informed by elements of all three.
Called 'Appaloosa des Steppes', it is inspired both by the geometric patterns and beautiful colours of the felt carpets made by Kyrgyz nomads, guardians of the remote Tian Shan mountains in Central Asia, and by the spotted coat of the Appaloosa horse bred for centuries by Native Americans in the north-west of the United States – which some believe originated in what is now Kyrgyzstan.
Hermès is well known for its luxury leather goods, but its silk and cashmere scarves, with their intriguing designs and bold use of colour, are arguably what the French fashion house is most famous for.
This colourful collection comes from illustrator Alice Shirley, who was initially intrigued by the 'spotty horse' and its Kyrgyz origins.
This led her to the London studio of Felt, the first company to import the rugs directly from Kyrgyzstan to the United Kingdom, after Felt's Tim Moock set up a fair trade agreement with the makers.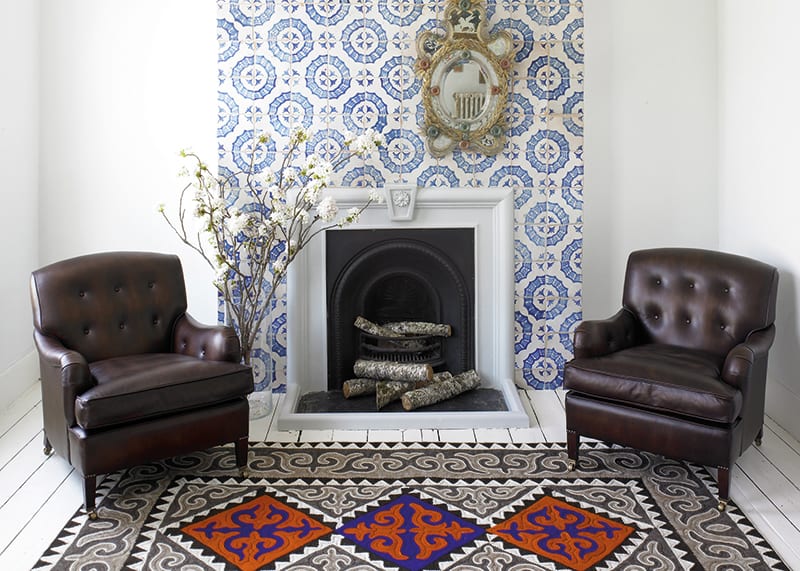 Here, Shirley found a collection of the rugs, called shyrdaks, both new and antique, and learned about the designs. The tribal rugs are made by Kyrgyz women according to ancestral techniques passed on from mother to daughter.
The shyrdaks, which are made outdoors in the same way as they have been for 2,500 years, each take a master cutter and her team up to 20 days to finish.
The rugs are made from raw wool, which has been flattened with boiling water, rolled up in a reed mat and then dragged behind a galloping horse to make it felted. The base is tough flattened felt, the surface of which is hand-sewn with the patterns in coloured felts.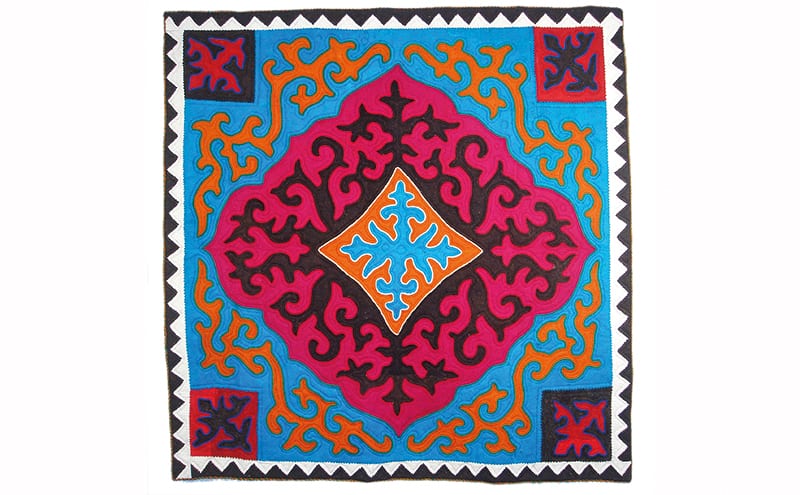 Traditionally, the rugs were used both to decorate and insulate the interior of the nomads' yurts, and the geometric shapes that adorn them are, in fact, an ancient language – bestowing blessings, recounting history and describing scenes and life in the mountains.
Each one tells a different story. Shirley learnt to interpret the symbolism of the designs, and they now form the backdrop of the scarf, with the mighty spotted horse at the forefront.