This Islay getaway ticks the golf and whisky boxes, but offers so much more sustenance for the soul beyond that
"I'll see you in the morning," says Sheena, one of the waitresses at the Machrie. Eh? I've just told her I'm away to the airport, heading home.
She sees my confusion: "The plane won't take off," she tells me. "If you look out of that window and you can't see the hill for mist, it won't go."
She's right. My flight is cancelled and I see her again at breakfast, her smile confirming that local wisdom trumps anything a mainlander might believe.
The island of Islay lies off the west coast and is just 25 minutes from Glasgow by air.
It's big on whisky (it's home to eight distilleries) and big on golf, both of which are in plentiful supply at the revived Machrie.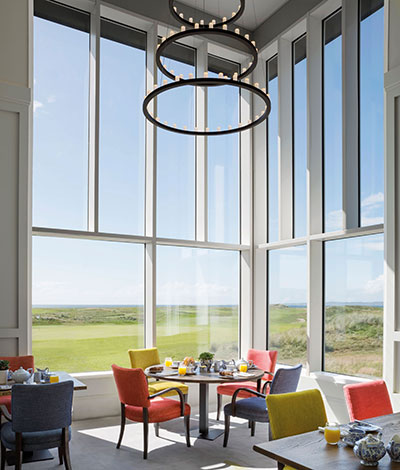 Impressive as it now looks, though, what sets the Machrie apart for me is the 'family' of staff who run it.
And it really does have a family feel – their laidback, easy approach makes you feel as if you've all come home at the end of a hard day and are converging round the kitchen table for a catch-up.
Their gentle informality with guests is refreshing – there's no fake pretentiousness here; no one will sigh if you turn up to dinner in jeans; no one will snigger if you can't pronounce the names of the many whiskies on the menu.
Americans on golfing holidays or Japanese aficionados on the distillery tour happily rub shoulders with locals taking afternoon tea and parties of bridesmaids making full use of the island's only spa. Every guest is equal.
The Machrie links have been played since 1891, and the golf course was one of the big attractions for the hotel's new owners.
Along with improvements to the main building undertaken by Hudson Architects, D.J. Russell – former European tour player and Ryder Cup vice-captain – was enlisted to upgrade the course.
It has been reconfigured to reduce the number of 'blind' shots and to direct the course back round towards the hotel, rather than away from it as previously.
The 18th hole can now be viewed from the hotel's Stag lounge and 18 Restaurant and bar. Beyond the greens, there is a secluded seven-mile stretch of beach, Laggan Bay, which guests can access via a private footpath.
Glasgow-born Gordon Campbell Gray, founder of the group which now runs the hotel, worked with interiors studio Peter Young Design on the 47 bedrooms, giving them an appealing hybrid of modern luxury and comfort, with a style that nods to both Scotland and Scandinavia.
The idea was to loosen the grip of tradition that once ruled here, hanging on to the more contemporary elements of Scotland's heritage, but combining them with something fresher and less staid. It has been achieved to great effect in the communal areas, where there is none of the uniformity of a chain hotel.
Instead, a mixture of fabrics and textures offers something more relaxed. Art plays a pivotal role in this: groupings of paintings, random objets d'art, framed vintage Hermès scarves (each, fittingly, with a golf theme) all combine to make guests feel at home – if home were only as grand and luxuriously bedecked as this.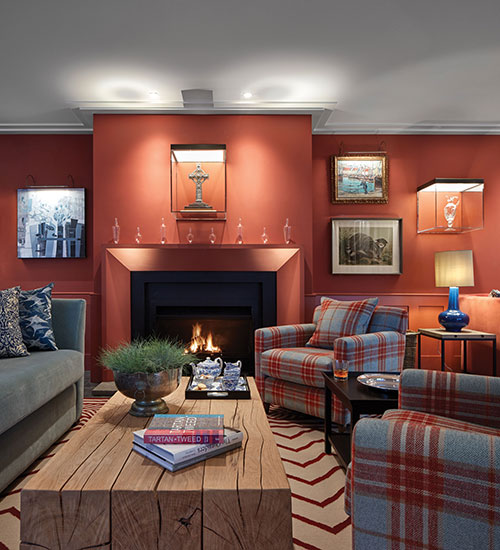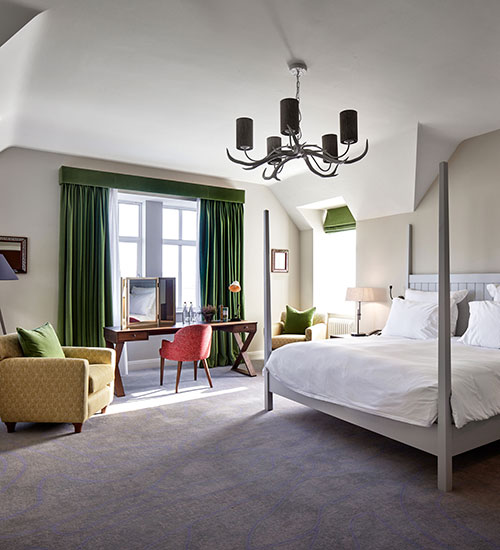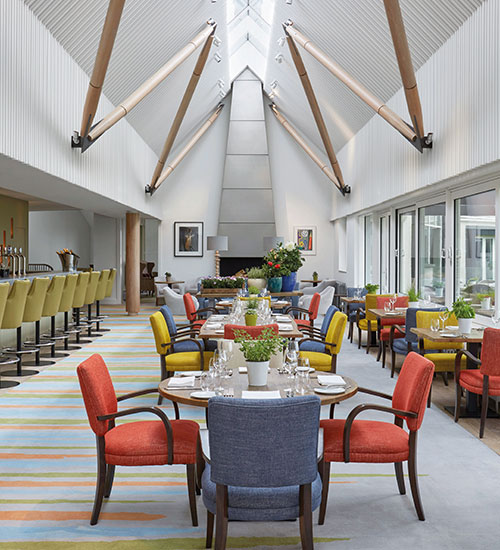 A similar approach has been taken in the kitchen, with head chef Gordon Wallace preferring to put together a daily menu that resonates with guests, rather than aiming for fine dining.
To that end, local, seasonal produce is fashioned into winners like pan-roasted sea bass, smoked salmon and pickled cucumber, the Club sirloin and the impressive three-course Sunday roast (£25.95 a head).
With the 2019 Open taking place in July across the Irish Sea in Portrush, expect savvy golfers to book up the Machrie well in advance; the County Antrim coastal town is a mere ten-minute hop away by helicopter.
Annual whisky and jazz festivals bring a steady flow of visitors to the island but it's the 'home from home' attitude that'll keep them coming back.
And if you can't see the hill before your flight, the good news is you'll get to stay a bit longer.