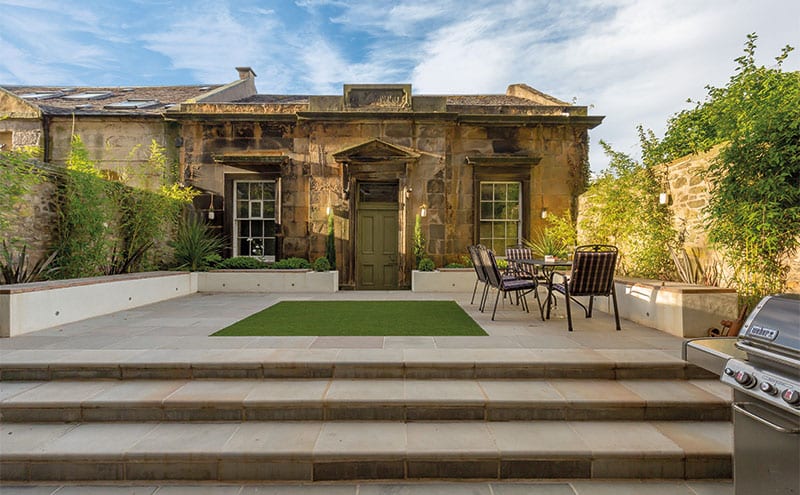 BRIEF To create a stylish, contemporary garden, something that would be easy to use and easy to maintain, and suitable for evening entertaining.
BIGGEST CHALLENGES Access to the garden was a huge problem. There were drainage issues too, and parts of the garden were in shadow for much of the day.
SUPPLIER Paul Church Gardens by Design Ltd www.paulchurchgardens.com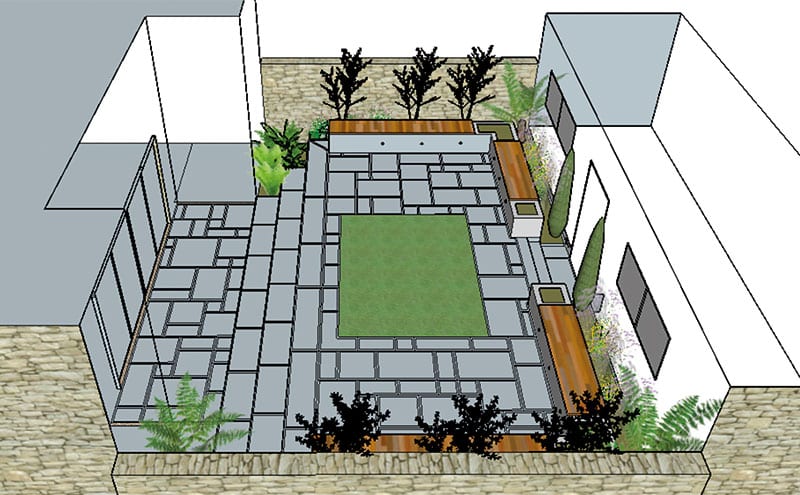 No bright bursts of colour, no flashy sculp­tures, no ponds, fountains or water features: this garden in Edinburgh's New Town is stunning in its simplicity. Its owners wanted to turn their unloved patch of back yard into a usable space that would feel stylish and contemporary; at the same time, they recognised that it would have to be sympathetic to the 18th-century stone façade of their home and that of the mews buildings at the other end of it. Paul Church Gardens by Design was given the job of trans­forming it – a task that was immediately complicated by access issues.
Like the vast majority of rear gardens in the city centre, this is an enclosed space, surrounded on all sides by walls and buildings. The owners could reach it through a lower basement flat, but this was not a practical route for taking out rubble, dead plants and all the other material that would need to be removed before work could properly begin, nor could it cope with the passage of paving slabs, muddy labourers and the tools and equipment required to create the new garden. The only feasible way in and out was via the mews. There was just one problem: it belonged to someone else.
This building, which forms such an elegant backdrop and provides such an appealing contrast to the now-finished contemporary garden, looked for a while as if it could scupper the entire project. However, in an incredibly generous gesture, the neighbour agreed that Paul Church and his team could transport everything through the building, during both the preparatory phase and the actual build itself.
The logistics were still tricky, but at least there was now a way forward. Good communication is always impor­tant, says Church, but here, with the very helpful mews owner, it was utterly crucial.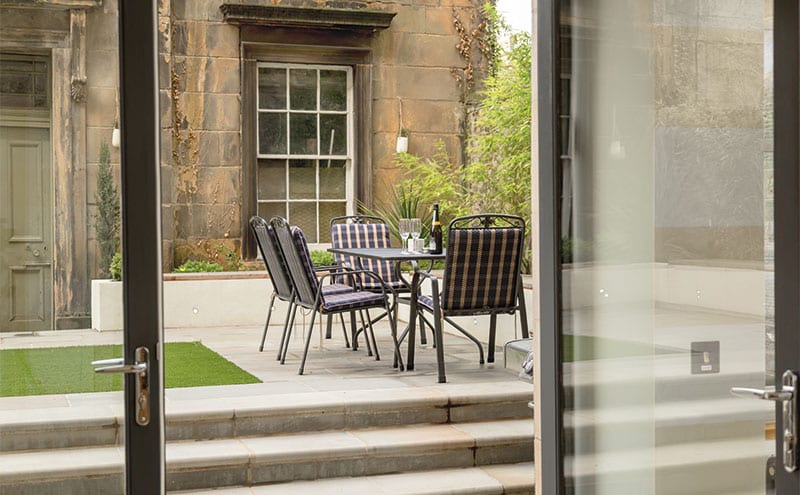 With access resolved, the focus could shift to other problem areas – drainage, in particular. "Making sure the levels worked and drainage was functional for any water run-off was pretty challenging," says the designer.
The team did get some breaks; despite them doing the job in winter, the weather was largely favourable and the work was completed in just six weeks.
Practicalities and logistics aside, the challenges posed by the setting resulted in arguably the garden's most aesthetically pleasing elements. It's a small space and is in the shade a lot of the time, so Church knew that making the most of the available light was critical. And ensuring the garden could be used in the evening led to the top purchase, according to the designer. "The best buy for the project was a remote-controlled lighting system," he says. "It has several different circuits, meaning one part of the garden can be illuminated while another is left dark. It makes it a very atmospheric place at night." The owners were delighted, having requested a functional garden that could be used for entertaining as part of their brief.
Compensating for the lack of daylight also dictated which kind of stone was chosen for the paving. Lighter-coloured sandstone slabs, with bull-nose paving on the steps for a high-end finish, keep things looking bright, as do low walls that have been finished in off-white render. These double as extra seating when needed, and some have built-in storage.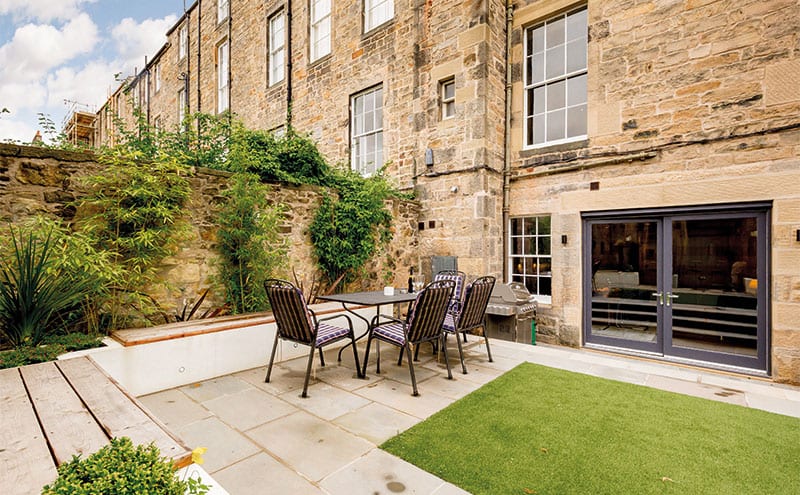 The brief had specified a low-maintenance finish, which Church has achieved by putting an artificial lawn in the centre and using plants that can cope with heavy shade (including bamboos, hellebores and ferns), keeping these largely within raised beds. His design has made the space look much bigger than its 70 square metres, thanks to his efforts to balance the proportions of the seating, planting, paved area and lawn.
With its clean lines, geometric forms and small square of green, the garden has the air of an art installation, and it is lit as such. Looking at the simple, fuss-free space now, it's easy to forget just how much work was required to create it. The process is what Church revels in, however: "Over the years, I have really enjoyed the challenge of trans­forming outdoor spaces into functional and beautiful gardens," he says. "The process of designing a garden on paper or on the screen and then seeing it take shape in real life is a fascinating and fulfilling one."
Paul Church's top tips for successful gardens
What do you want from your garden? Knowing its function will help to inform its layout.
What shape is the garden? Is it over more than one level? Use such features to add interest.
Don't rush out and buy plants. Take some time to consider the options carefully to see what will work – and thrive – in your space.
A successful garden is about more than plants. Lighting, feature plant pots, sculptures and other elements will all add life.
Avoid materials that will need lots of ongoing maintenance. You want to be able to relax.
To experience the garden and a luxury self-catering apartment visit www.thegardenflatedinburgh.co.uk