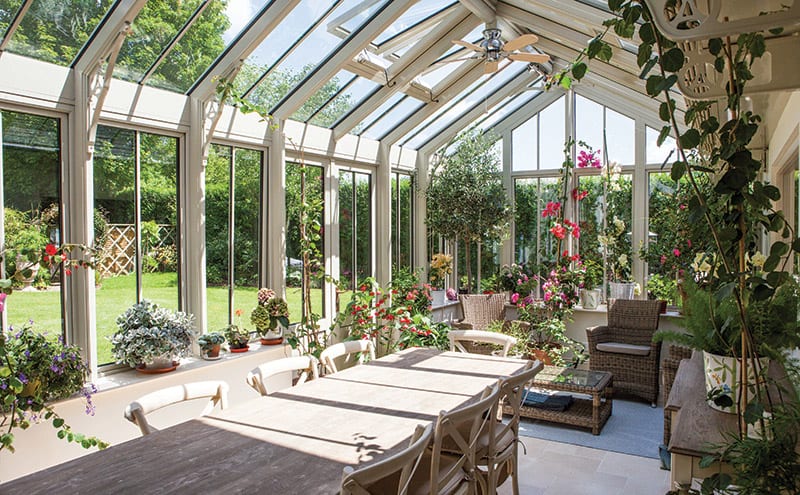 BRIEF The client already knew about Marston & Langinger, having had a large greenhouse built by its sister company Alitex 20 years before at a previous property. With a passion for cultivating plants under glass, the client wanted the ideal space and orientation (north-east) for a plant conservatory. It was to be in a traditional style, incorporating a dining area with lots of room for greenery.
BUDGET AND BREAKDOWN Aluminium structure (which comes with a lifetime guarantee), glass and installation: £60,000. As a general guide, the associated building works (which can also be supplied by the company) cost around £1,000 to £1,500 per square metre.
Building works: around £30,000 (including flooring, brickwork, base and carpentry).
Electrics: £5,000.
Overall: just under £100,000, as there was some additional painting and plastering work to be done.
DESIGNER Marston & Langinger marstonandlanginger.com
Words Gillian Welsh
Plants are powerful. For the owner of this home, they were one of the principal drivers in the design of an impressive new conservatory from Marston & Langinger. "Everything about the design was influenced by what the client told us about how she intended to use the new space," says the company's managing director, Nick Bashford, who was the project manager on the build. "That's our starting point – we always ask customers about their ideas and then incorporate these into the design."
The owner in this case wanted to celebrate the year-round colour of her plants in a structure big enough to take advantage of the panoramic view of the garden. She knew she wanted a traditional style, and liked the simple shapes of Marston & Langinger's structures. A classic-looking conservatory would enhance the existing style of her home and provide a seamless transition between the two.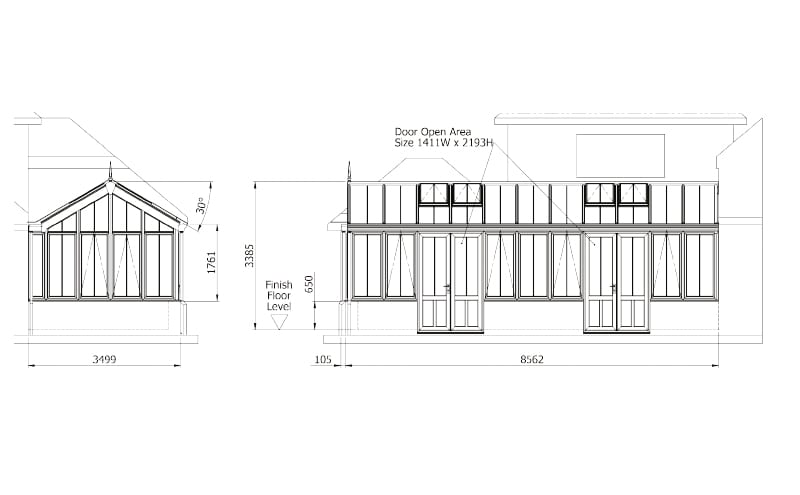 Most importantly, with the new addition being attached to the kitchen, she wanted it to have a dining zone that could comfortably accommodate up to 16 guests for family gatherings and dinner parties. The company's design team had to factor in sufficient room for a large table and chairs, an informal seating area and plenty of display areas for plants; and, after a meticulous inspection of the site by local structural engineers to confirm the requirements for foundations, they produced a design with a footprint of 3.5 metres by 8.5 metres.
For Bashford, a classic shape was the right choice here. "For an attached conservatory to be used in the traditional sense, it's important that it complements the look and heritage of your home," he says. "This is particularly important if you live in an older or listed property. We have a lot of experience in sensitively design-ing structures to complement different types of house."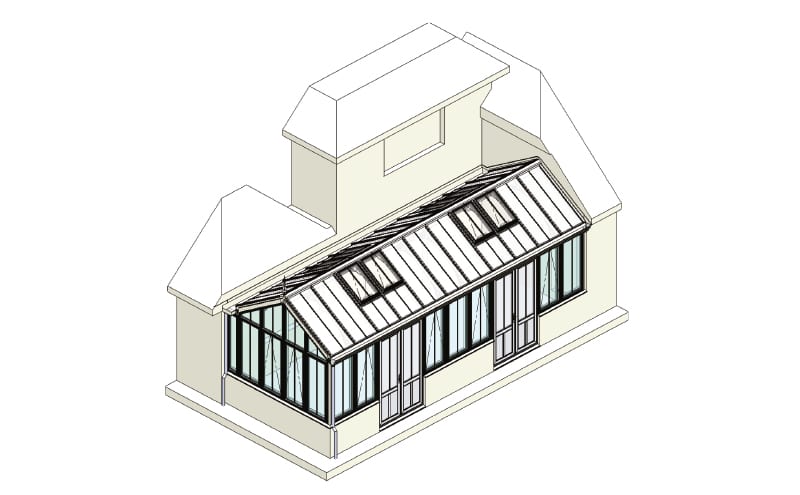 One major deviation from tradition is the fact that the structure is made from aluminium rather than timber. It looks as if it has a traditional painted finish, but the metal has been powder-coated in the client's chosen shade, a light yet warm colour called Woodsage.
"The main advantage of aluminium is that it maintains its initial weather integrity over the entire course of its lifetime, whereas timber won't – expansion and contraction causes warping in timber, affecting its weathertight quality in the long term," explains Bashford. "Powder-coated aluminium is also very low-maintenance – all you have to do is clean it at least once a year."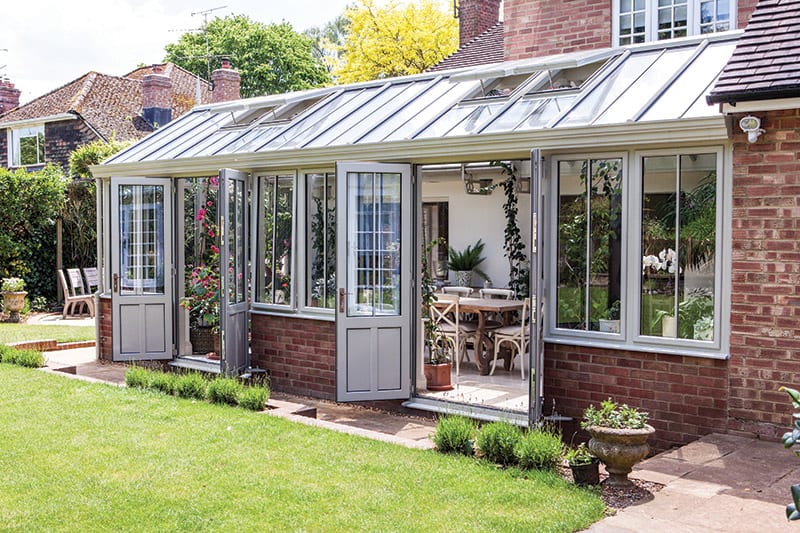 The solar gain from the double-glazing means it's comfortably warm inside. "With the right orientation, it's an extremely efficient way of heating the building on sunny days," says Bashford. Automatic rain-sensor roof vents ensure a temperate climate is maintained without the need to manually open and close the vents.
Leaving nothing to chance, the team erected the structure first at the factory, checking every single detail was perfect, before dismantling it, transporting it to the site and putting it up in position. "All these preparations are made in line with the client's agreed timeframe and any other associated contractors and builders involved in the project," says Bashford. "It means we deliver the best possible service to our client every time."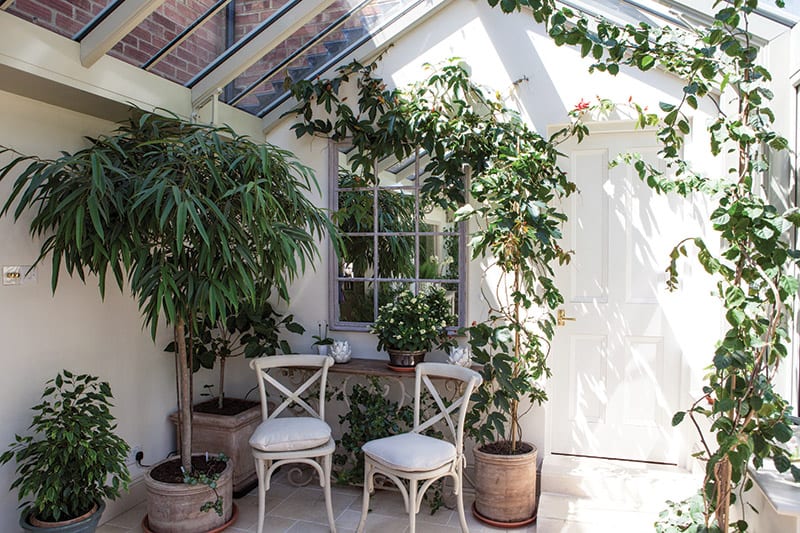 PLANNING PERMISSION
"A conservatory attached to the house is usually considered 'permitted development' not requiring planning permission. There are limitations and conditions, however, so we always recommend you seek advice. The website www.planningportal.co.uk has a lot of useful initial guidance.
If your planned garden room is over 30sqm
and/or open to the house (i.e. there are no doors between the house and the new structure), or if the garden room is on the first floor or over 4m high to the eaves, it will need to go through building regulations.
We have extensive experience in liaising with planning officers and working on listed properties, and can provide a full turnkey service including obtaining planning permission. We submit the application on behalf of our client, liaise with the planning officer and keep the client updated every step out of the way. It takes the stress out of the project for them, so they can focus on the more enjoyable aspects of the build."