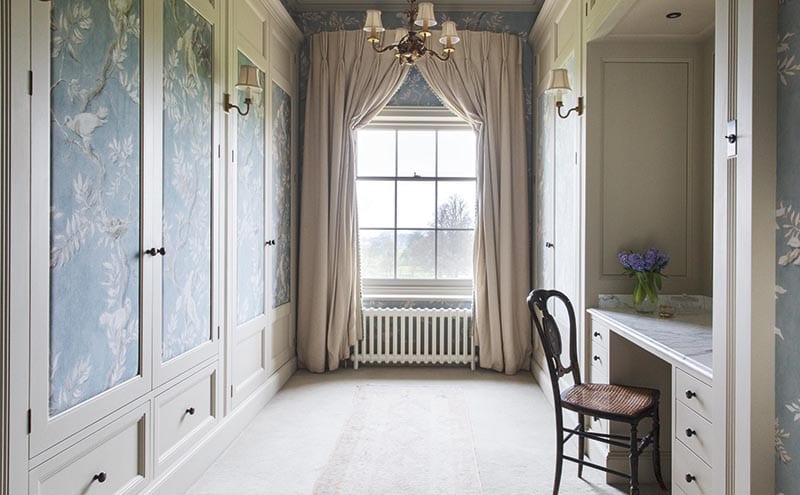 BRIEF To design a light, elegant dressing room for a Georgian country house
PRIMARY MATERIALS Painted hardwood, fabric, faux suede
BIGGEST CHALLENGE The design and construction of the new staircase
SUPPLIER Artichoke, www.artichoke.co.uk
Requirements for modern-day living have changed: a walk-in dressing room is what the future holds. Instead of being stored in the bedroom, clothes, shoes and the rest of the day-to-day necessities now have a place of their own – whether former boxrooms or guest rooms that weren't being used to their full potential, or spaces carved out of a hall or a spare room. Either way, you get head space as well as plenty of clear floor space.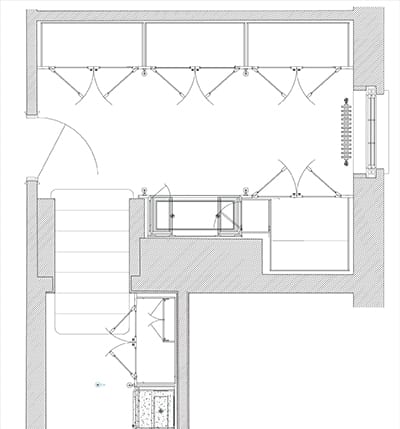 This dressing room, designed by Bruce Hodgson of Artichoke, belongs to a Georgian country house and was originally a lower bedroom in the extension.
It has been designed to reflect the understated formality of the period property. Maximising storage capacity was a key part of the brief; fortuitously, the room lent itself well the addition of floor-to-ceiling wardrobes (which also span its length), augmented by a built-in marble-topped vanity unit.
Working alongside the architect who was improving the flow of the house, Hodgson realised that accessing the dressing room directly from the master bedroom would need a flight of steps with an arched opening.
To achieve this, a coffered ceiling was built into the library on the floor below, which gave sufficient depth to run the flight at the correct angle, as well as the additional floor space essential for the new stairs.
It's no surprise that pulling this off was also the main challenge of the whole project. The effort has clearly been worth it, though: there is now both a physical connection and an atmospheric cohesiveness between the two zones.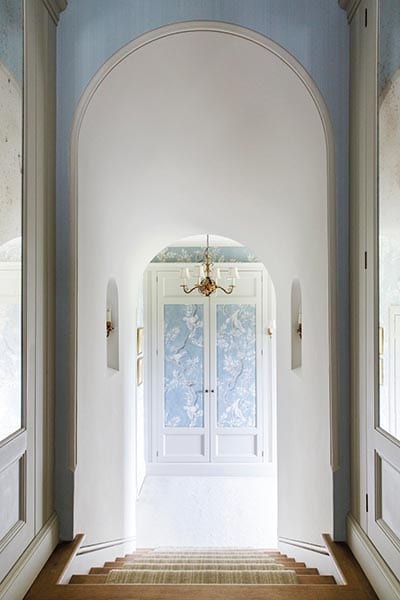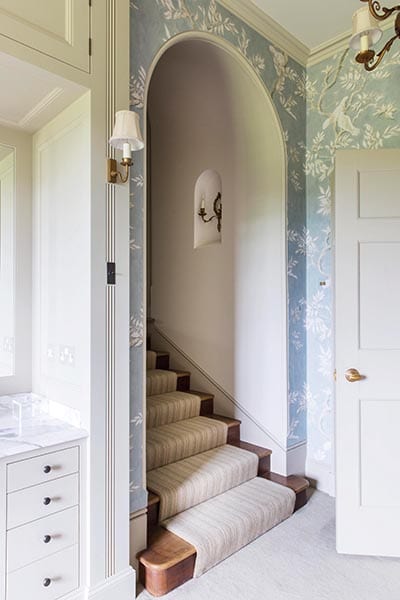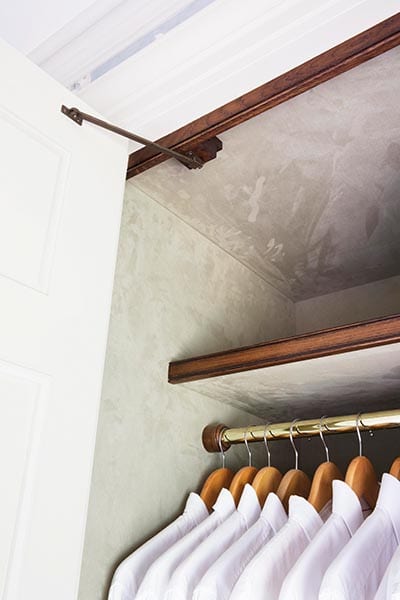 Sumptuous, tranquil notes are supplied by Lewis & Wood's Doves paper and fabric on walls and panelling, and hand-painted hard-wood doors. The luxurious touches extend to inside the wardrobes, which have been lined in faux suede. Handles are bespoke, made by Artichoke, with hinges by Simonswerk, while the finish, in dark bronze, highlights the room's exquisite detailing. 
Designer's notebook
Facts and figures
Room dimensions: 4.5m long by 3.7m wide

Surface of dressing table: 20mm-thick Carrara marble with a waterfall profile to the front edges

Door panels: padded with scrim and wrapped in fabric

Pilasters: the reeded detail is in keeping with the architectural joinery elsewhere in the house
Three things to think about:
When planning new wardrobes, start by working out how many metres of full and half-length hanging you need

Make space for laundry

Dressing rooms are good places to hide a safe
DETAILS
Photography Emma Lewis
Words Gillian Welsh