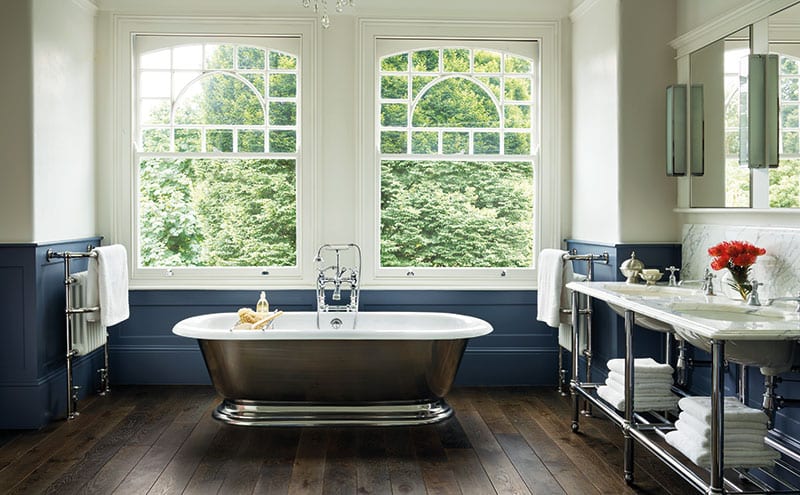 BRIEF To create a traditionally styled bathroom in a spacious room, featuring a bath, separate shower and a toilet with a high-level cistern.
WORKS REQUIRED The bathroom was to be created in a room that was being used as a bedroom, so all plumbing etc had to be created from scratch. The old bedroom had an en-suite, so access to water and drainage was already possible.
BIGGEST CHALLENGE Ensuring the fixtures were substantial enough not to be dwarfed by the room's proportions.
BUDGET Similar bathroom fixtures would cost around £18,000.
DESIGNER Lee Collins of Braco Designs in Dunblane, bracodesigns.co.uk, using bathroom pieces by Drummonds, drummonds-uk.com
Special homes deserve special bathrooms, and this exceptional house finally has a bathroom worthy of it. Part of the landmark estate designed by the visionary Victorian builder Alfred Heaver, whose red-brick terraces have been a sought-after address for more than a century, the house overlooks a leafy stretch of parkland. And it was this view that particularly impressed Lee Collins of Braco Designs when the owners asked him to come up with ideas for a new bathroom.
Boasting seven bedrooms, the house had plenty of space, but not all of it was being used as well as it might have been. This room, for example, was a guest bedroom – but it had the best views across the common. "The owners felt it was a shame that they didn't get to enjoy this amazing panorama on a daily basis," says Collins, "so they decided to turn this room into the master suite's bathroom, taking the remaining front bedroom as their own room."
With a floor area measuring almost 4m by 4m, there was plenty of space for Collins to meet the brief: a freestanding bath, separate shower and high-level cistern, all with a traditional look. "The clients and I worked very closely on layout and product choice," he says. "I sounded them out on their likes and dislikes and spent a lot of time coming up with the best layout and products to fulfil the brief. In the end, I proposed using Drummonds' sanitaryware as I knew it would give them the look they wanted – and the build quality is excellent."
Collins began with the windows: "They are such a beautiful architectural detail," he says. "When I first saw the room, I just loved the windows – I knew this would be the perfect position for the bath."
Drummonds' cast-iron Tay bath was chosen, com­plemented by freestanding taps. It's a double-ended roll-top with a skirt, which gives it a classic look, and placing it in front of the windows makes the most of the symmetry of the room. A large open shower was built in the opposite corner, all the elements coming from Drummonds' Chessleton range in chrome. Its minimal frame keeps it feeling light and airy, with subway tiles serving to delineate this area.
To balance the shower, Collins went for a double- basin vanity unit. Its distinctive chunky stand, chrome legs and marble top keeps the look cohesive. "The scale works perfectly with the proportions and architectural detailing of the room," notes the designer.
Warm timber flooring and striking blue paint com­plement the white and chrome scheme. "Right from the start, the clients had set their hearts on dark blue for the walls," says Collins. "It proved to be a great choice as it makes the bath and marble sink really stand out."
Indeed, with sunlight filtering through the trees opposite and filling the room with a beautiful golden glow, the colours really sing. The designer admits he enjoyed the project: "The clients were a joy to work with," he says. "As a result, we produced a lovely practi­cal space that will still look great in ten years' time."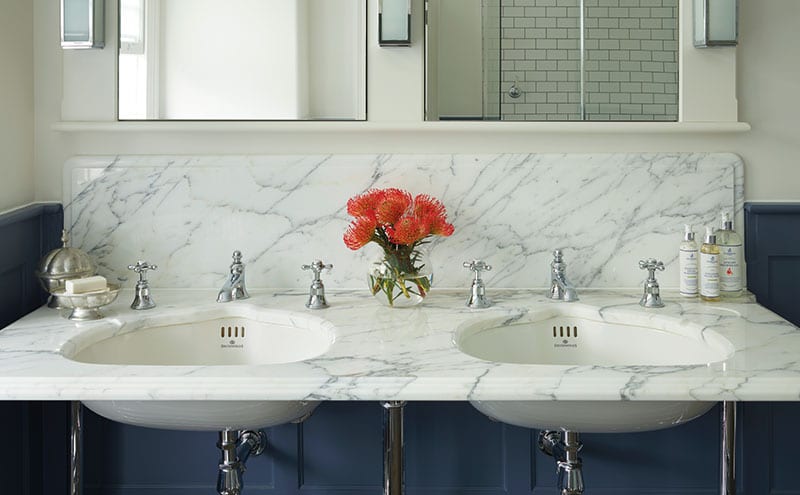 KEY FIXTURES
Tay bath, from £3,570

Bath and shower mixer with H stand in chrome, from £2,448

Crake double-basin vanity in marble and chrome, £8,940

Brora WC suite in chrome, from £2,904

Chessleton shower: controls, trims, rose etc, from £3,420
FLOORING
The flooring is Hatters oak, supplied by Broadleaf Timber. "We wanted to inject warmth into the design and also add character that would age well," says Lee Collins. "Broadleaf Timber helped us source the best wood for a bathroom environment, taking into account moisture and water spillage."
FINISHES
The panelling is painted in Zoffany's Reign Blue acrylic eggshell, £51 for 2.5 litres

The walls are painted in Little Greene's Slaked Lime intelligent matt emulsion, £45 for 2.5 litres