This generous, welcoming holiday home on the Isle of Arran was designed with friends and family at its heart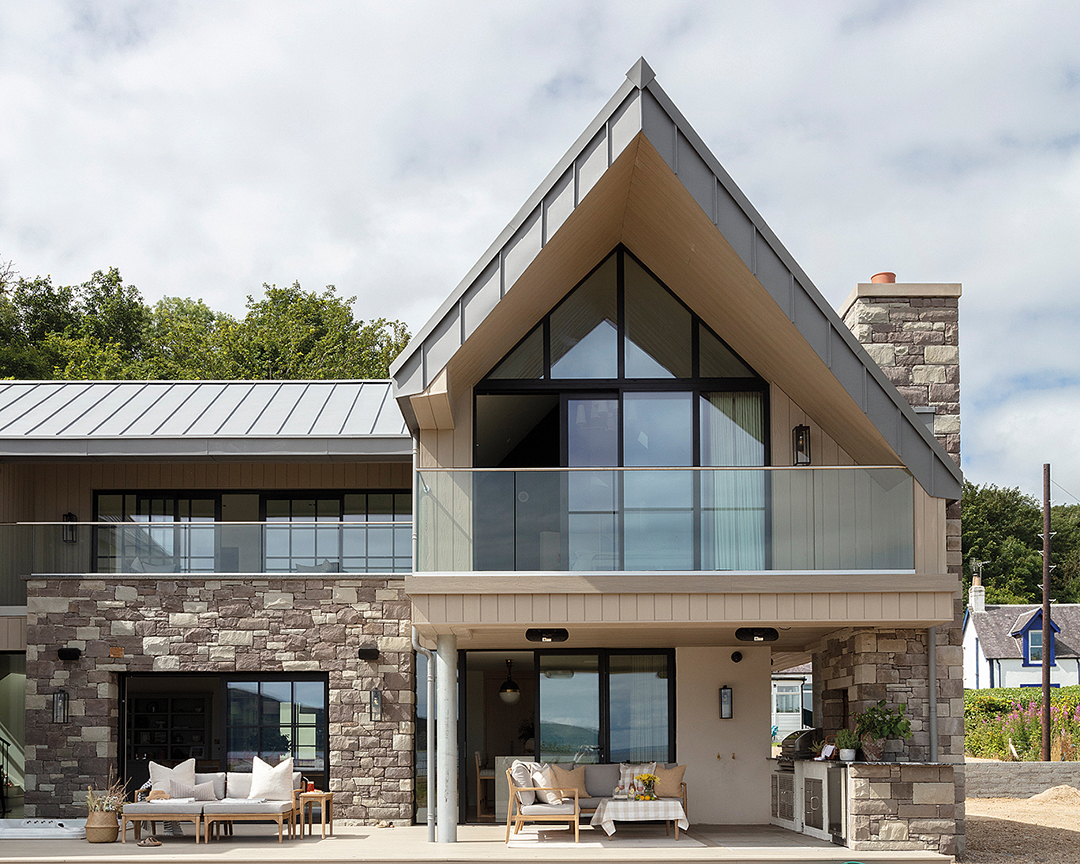 words Natasha Radmehr | photography Susie Lowe
On the ferry from Ardrossan to Arran, as the mainland dwindles to a speck and the island's palm trees wave a cheerful hello, Sarah Dalziel and her husband Stuart can feel their shoulders start to loosen. It's a journey they've made together countless times over the past 20 years, but the sense of relaxation it induces in them is as strong as ever.
"Before our children were born, we'd get on the boat, have a G&T and feel like we were going on holiday," says Sarah. "That feeling hasn't changed. In Arran, we can properly relax and enjoy downtime as a family. I love it."
So fond are they of the island that the couple, who live in Bothwell with their four children, bought a small holiday home in the port town of Brodick in 2004.
Every year they'd spend long summers doing seashore scrambles, gorge walking and lunching at the Little Rock Cafe. They began looking for a bigger place as the kids got older, but nowhere felt quite right. When, in 2018, they spotted a plot of land for sale a little further along the coast in Lamlash, they jumped at the chance to build an island getaway by the water's edge.
Fortuitously, the Dalziels already had the contacts to make the magic happen. Spacesix Architecture and interior designers Studio LBI had both worked on their Victorian villa in Bothwell, extending its footprint and modernising the decor. Impressed by their work, the couple assembled the same team – along with contractor Q Build – to create their new holiday house.
AL FRESCO DINING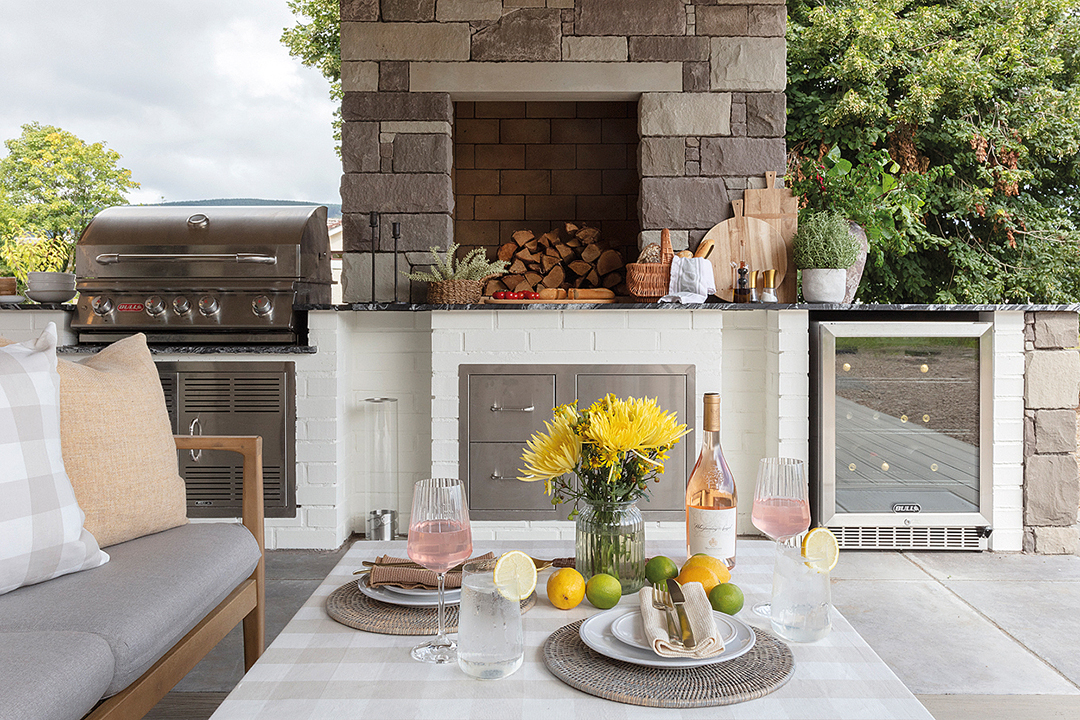 "It was our first time working with a completely blank canvas, which was really exciting because we could design it to our exact needs," says Sarah.
The property had to be spacious and modern while deferring to the surrounding landscape. Spacesix architect George Skinner (who has since retired) drew up plans for a clean-lined, five-bedroom house with open-plan living at its heart and an assortment of thoughtful outdoor spaces across its two floors. Louise Bramhill, creative director and founder of Studio LBI, and Nicole Stewart Brunton, the firm's associate creative director, collaborated on some of the architectural aesthetics too.
"We like to get involved in the external finishes so they reflect what's going on internally, and the architect was fantastic in taking on board our suggestions," says Louise Bramhill.
"We added character with some Crittall-style windows, chose outdoor decking for the ground floor that flowed seamlessly to the wooden flooring inside, and selected the colours of the external stonework, cladding and zinc roof. We were mindful of picking a muted palette that would harmonise with the tones of Arran so that from the waterside, the building wouldn't jump out or jar."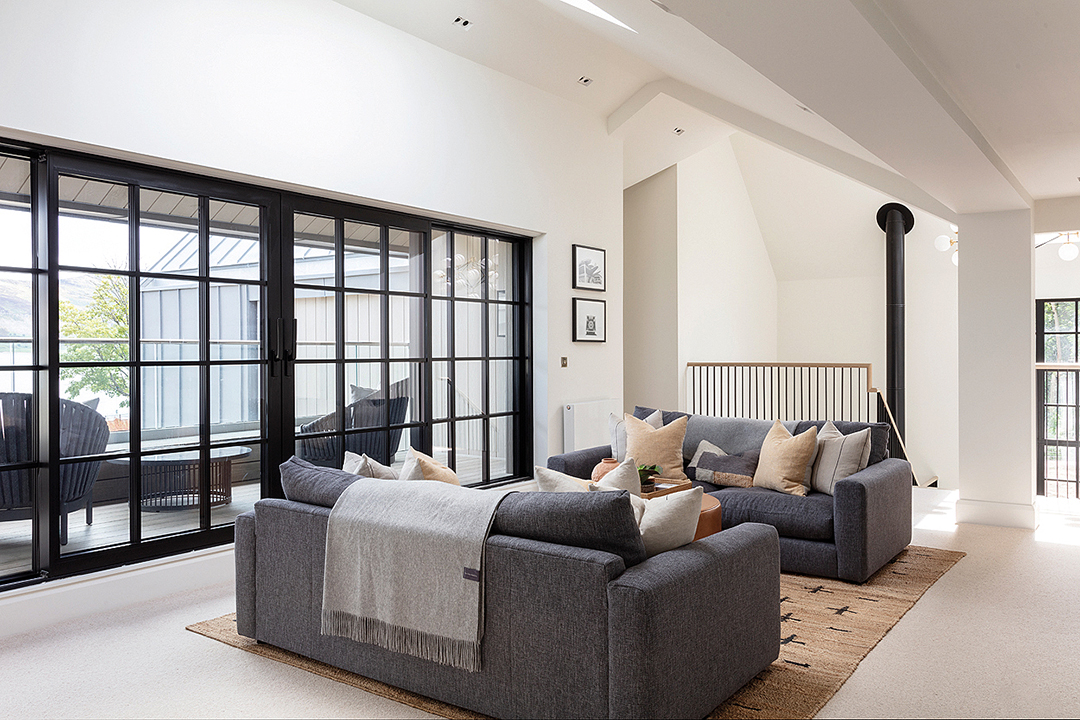 BEACH-INSPIRED INTERIORS
This was something of a dream project for the team at Studio LBI, who gravitate towards natural colours and a laid-back, Californian aesthetic. They regularly fly Stateside to visit interior design expos such as High Point Market in North Carolina, the largest industry trade show in the world, and plan to sell lighting and accessories by their favourite brands in their soon-to-open online store.
"We are always inspired by America. Everything over there is more intricately crafted; you see a lot of rattan, rope details and woven leather," says Bramhill. "They also have fantastic, bulletproof fabrics by brands like Perennials, which you can pour red wine on and they don't stain!"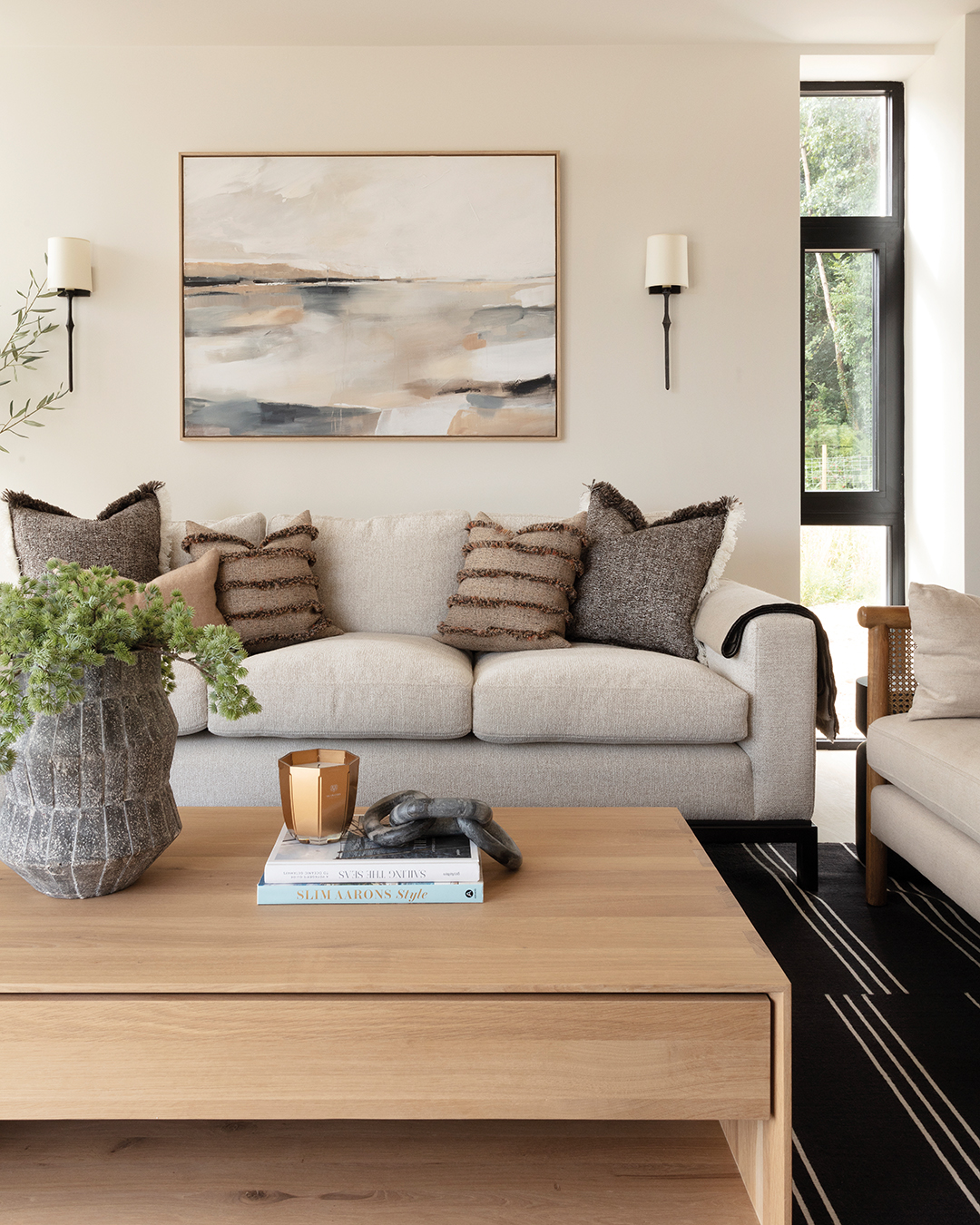 Such practicalities are important considerations when designing a holiday home for an active, sociable family who have two energetic cockapoos. The Dalziels had no desire for a pristine showhome they'd have to tiptoe around for fear of making a mess.
"We wanted it to feel like a cosy, comfortable home we could relax in and enjoy," says the homeowner. "The furniture had to be durable and hardwearing, so Louise and her team picked fabrics that could be wiped clean."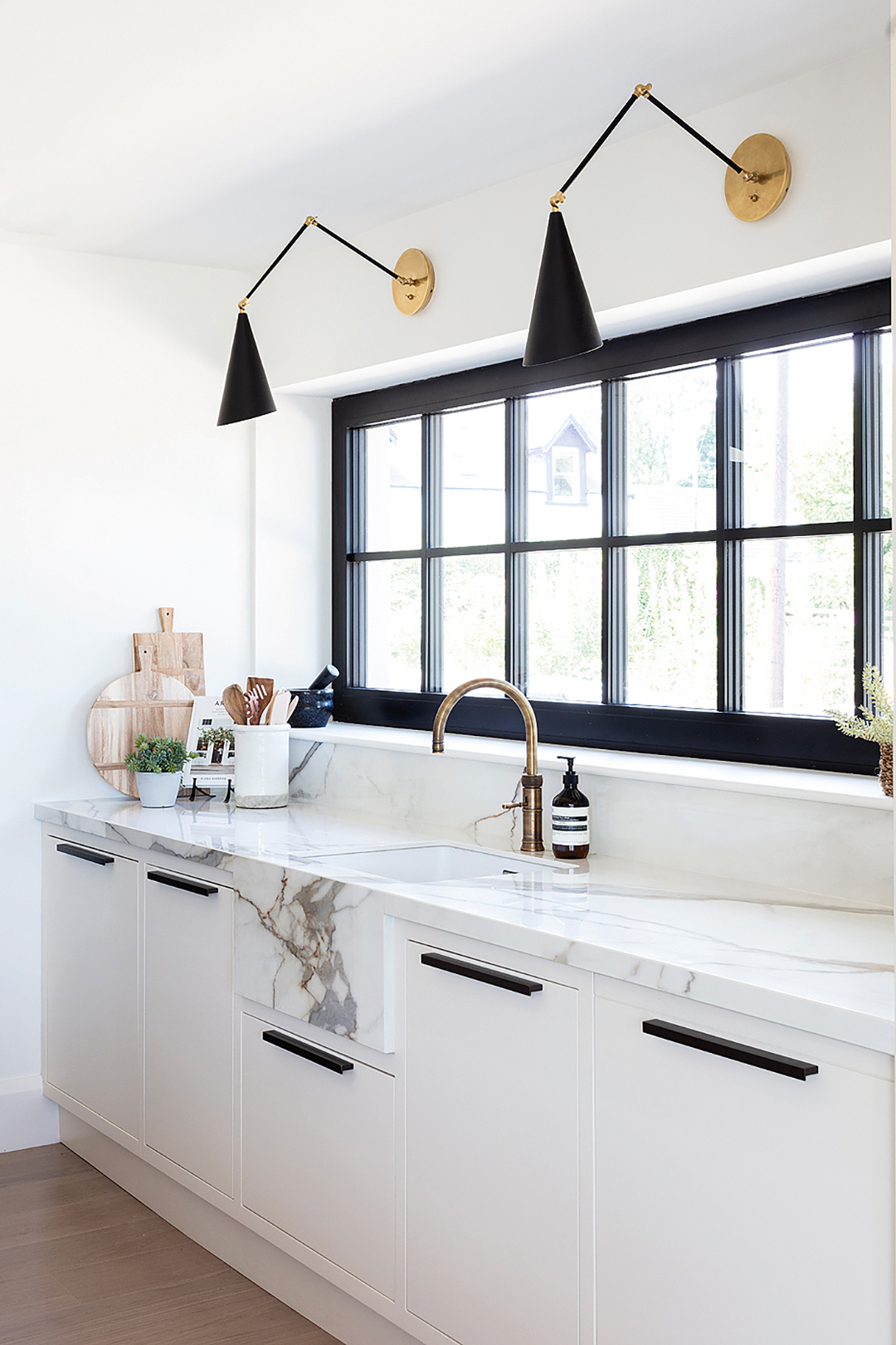 BESPOKE KITCHEN DESIGN
Not that you'd know from looking at it: the house feels luxe and beachy thanks to its sumptuous mix of fresh, sun-bleached neutrals and organic materials. You enter into an L-shaped, open-plan kitchen, dining and living space with oatmeal walls and views through the Crittall-style glass doors to the water and the Holy Isle beyond.
On the left is a bespoke kitchen (designed and crafted by Studio LBI) with white-painted oak cabinetry and polished marble-effect porcelain surfaces. An oval oak dining table, also by Bramhill's team, sits in the centre and is encircled by woven cane chairs with taupe linen seats.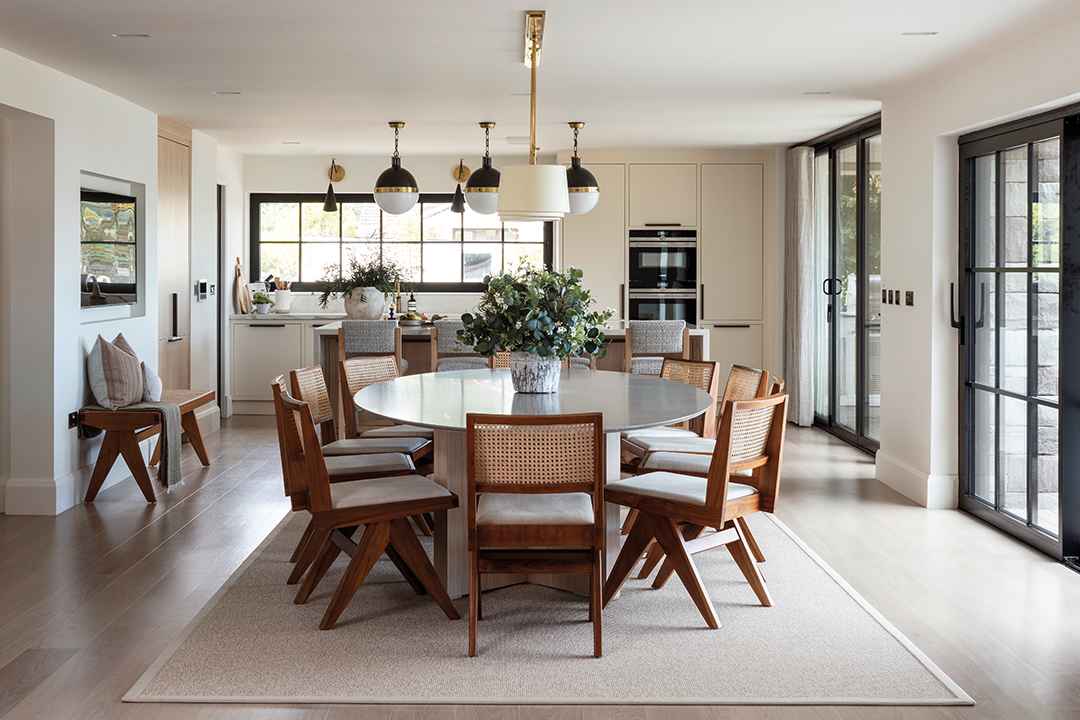 "We kept the dining chairs low and the ceiling light high so as not to disrupt the view," says the designer, who applied the same rule to the (easy-to-clean, thanks to a performance fabric) cream sofa in the lounge, as well as the seating around the woodburner in the informal living area. Both of these sections sit to the right of the room and are swathed in soft, pebble-toned throws and cushions.
Blurring the boundaries between indoors and out, the glass doors open on to a sheltered decking area for languorous alfresco gatherings. It's the stuff of fantasy, comprising an outdoor kitchen with a built-in barbecue ("And granite worktops to withstand the Scottish island weather," laughs Bramhill), a place to sit and dine, a sunken hot tub and two big sun loungers.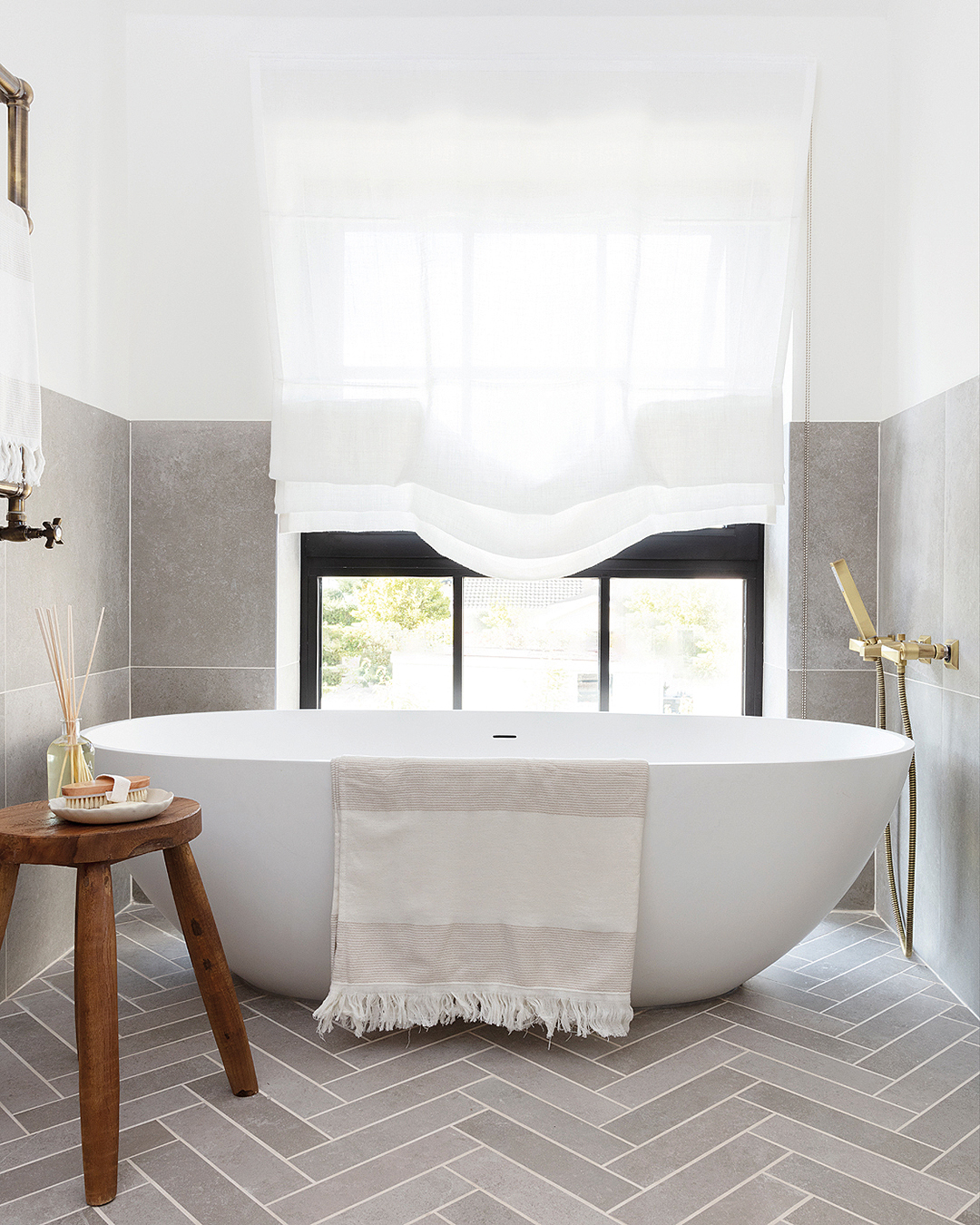 FREE-STANDING BATHTUB
"We often have friends and family staying with us, and this space is especially lovely for barbecues in summer," says Sarah. "It doesn't matter if the weather isn't great because it's covered by an awning, and we have heaters too."
Directly above is a balcony which adjoins the kids' lounge upstairs, the latter being the central social space around which the bedrooms are organised. It gives the children a place to hang out in and play board games, although these days you're more likely to find them outside doing water sports, or sailing on the family boat. A boot room downstairs at the front of the house is the first stop after a seafaring adventure; it has its own entrance so if they've been paddleboarding they can hang up the wetsuits and shower off without having to traipse through the house.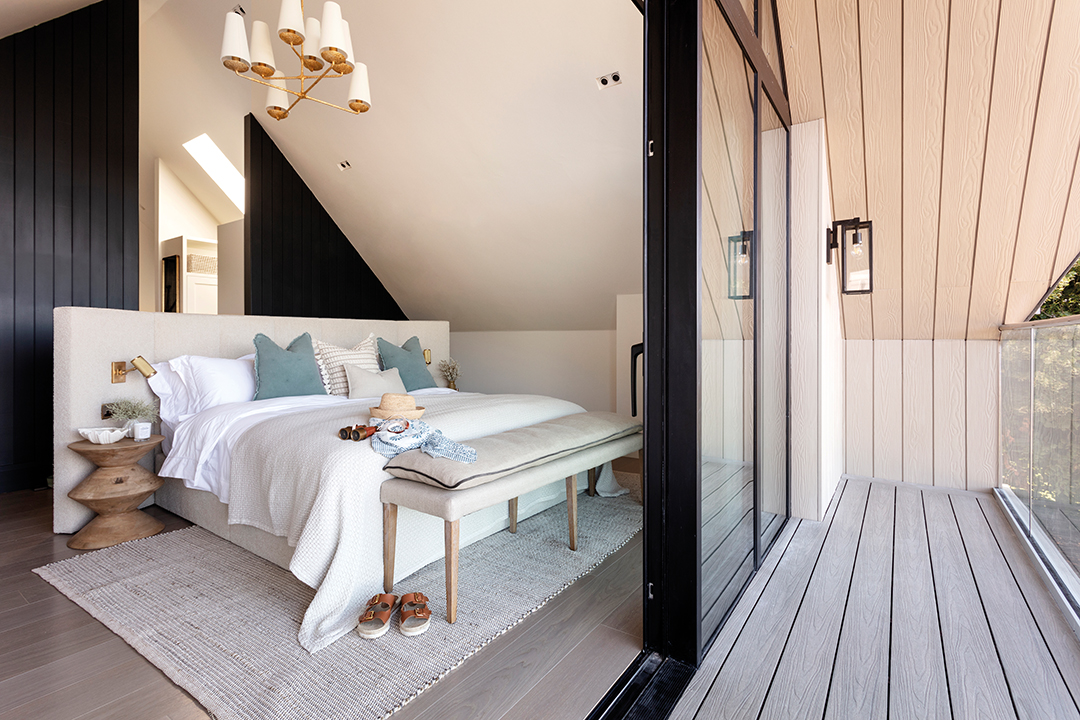 NAUTICAL THEMED 
Fittingly, a subtle nautical thread runs through the bedrooms: shiplap panelling, sailor-striped textiles and a restful wash of marine blues. The home's handsome pitched roof made designing the interconnected master bedroom and dressing room something of a challenge, but Studio LBI got around this by placing a freestanding bed in the centre of the room ("So they could wake up and look straight out to the amazing sea views, which they can also soak up from their own private balcony," says Bramhill) and creating in-frame cabinetry to sit flush with the sloped ceiling.
In the youngest's room, meanwhile, the angled ceiling becomes a key feature, dressed in a wallpaper that resembles a starry night sky. Beneath it is a navy bunkbed which, like all of Studio LBI's custom furnishings, was made in Scotland and designed to stand the test of time.
It's a good job it has been built to last, because the Dalziels don't see themselves ever selling this house. The summer of 2022 was their first spent here, and Sarah foresees it being a source of happy memories for many decades to come. There are still a few additions to be made, including a new driveway and a softly landscaped wild garden, but there is nothing they would change about their one-of-a-kind abode.
"Being able to properly relax in a place you love is the best feeling," she smiles. "Our hope for the future is for the house to be passed down to our children. It's part of our family forever."