The kitchen is the heart of your home – give it the love it deserves with help from our experts
words | Louise Ramsay
From sizzling scarlet interiors to panelled islands, take a look at some of our experts top tips if you want to give your kitchen a new look.
GO BOLD WITH COLOUR 
Pad Thai, butternut squash soup, aloo palak, tomato crostini… We're encouraged to eat the rainbow to keep our immune system happy. Why not similarly explore the rainbow when kitting out your kitchen?
A cool red is effective if you have lots of light, and pairs well with natural wood. Helen Parker, creative director for deVOL, says, "We are seeing much wider use of colour these days after quite a long spell of kitchens being dominated by darker tones. For us at deVOL especially, it's a joy to watch our beautiful Scullery Yellow appear in so many kitchens."
"I think green kitchens mirror the passion people have for greenery in their homes, with windowsills full of exotic plants and cacti, or just some simple spider plants in a woven pot hanger. A green kitchen is definitely going to be a top choice for people who love a more nature-focused and slightly '70s vibe."
"If you can't face the care required to look after plants, you can still feel the positive vibes of such a fresh and vibrant colour which reminds us so much of the great outdoors."
CREATE INTEREST WITH TILES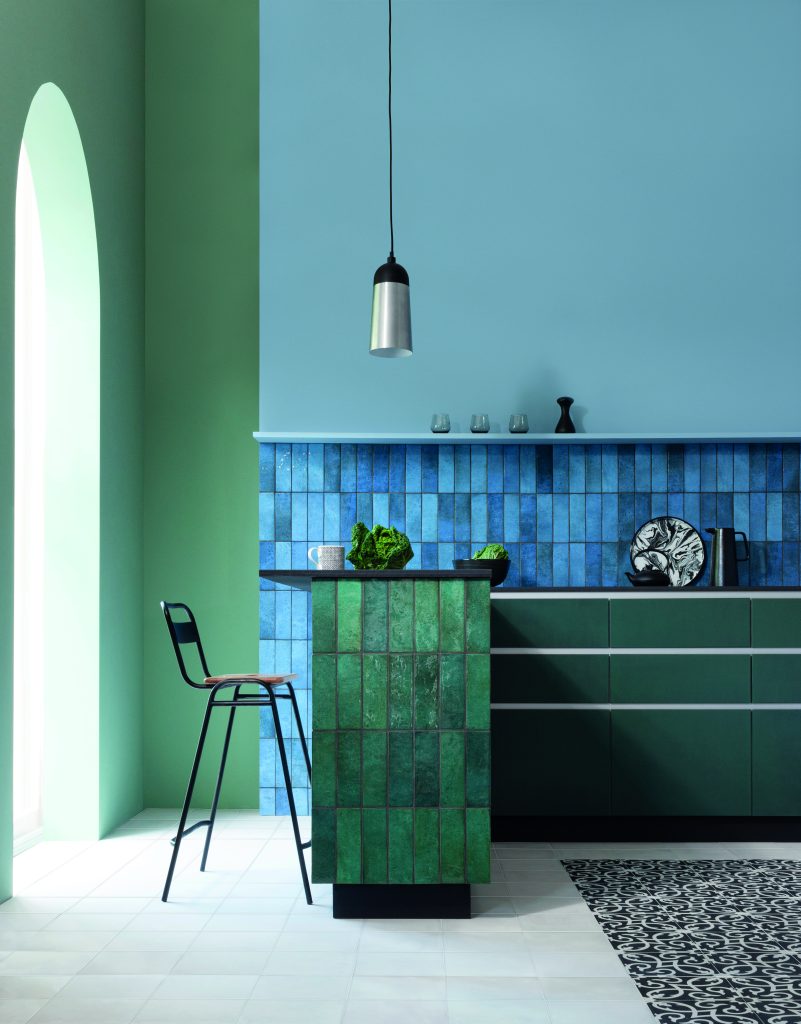 A newly tiled splashback can be a quick and effective kitchen refresh, especially if you play around with the tile layout.
Herringbone, chequerboard, basket wave, pinwheel – there's more to it than straightforward bond/brickwork. The vertical arrangement here looks strong and contemporary, and the tiling the end of an island or unit can tie the look together.
If you're not going down the DIY route (and we'd recommend getting in the pros for the big jobs), it might cost a little more to do a complex layout, though. Match your tiles to your paint for modish, colour-block scheme.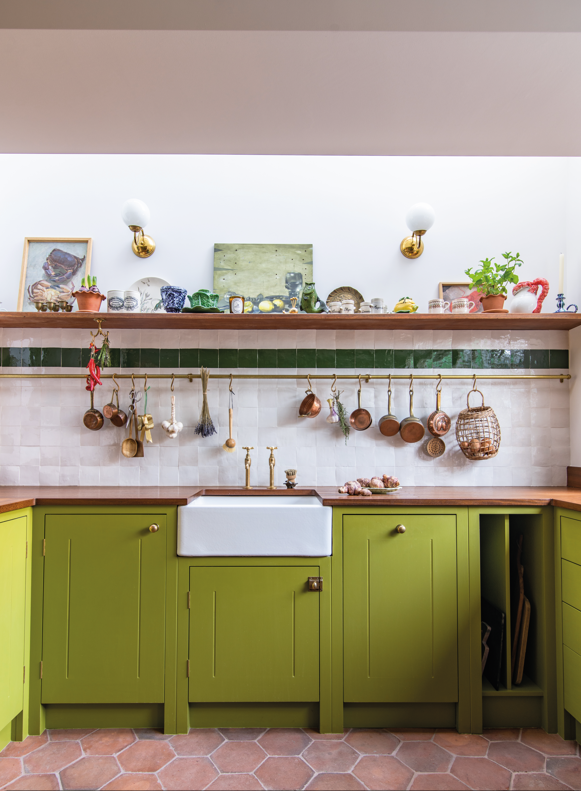 For a subtler statement, incorporate an accent border one tile wide for the splashback, like above.
This bridges the gap between modern and traditional and brings in complementary colours without overwhelming the space.
The cabinet colour? Passionate Olive, from £21 per litre, YesColours – and we couldn't rate it more.
BE SMARTER WITH SMALL SPACES
"Lighter wood finishes and paint colours work well to expand the perceived space of a small kitchen. If you opt for floor-to-ceiling cabinets, these should be fitted with glass doors. This will open up the space in a way that opaque cabinetry will not," advises Tom Howley, design director at Tom Howley Kitchens.
"Built-under drawer fridges and dishwashers work brilliantly, as do ovens with doors that slip back underneath the oven itself. Built-under wine temperature regulators look incredibly sleek too. Another innovative way is to do away with industrial-style extractor units. Hobs with integrated extraction leave pace above for extra storage, a beautiful splashback or a piece of art."
"As a general rule, don't sacrifice worktop space for an American-style fridge-freezer or tall pantry – the work surface is more useful. And you can always cover your sink with a temporary piece of worktop or a fitted chopping board when it's not in use."
GET SMART WITH STORAGE
"Accessible storage is the key. Ergonomic design is a vital part of good storage so you can reach things easily and comfortably and make use of all the space you have," says Darren Watts, showroom development and design director at Wren Kitchens.
"At Wren, we recommend deep drawer units because you can reach into every corner and it's easier to lift out large or heavy objects such as serving platters or big pans. We have Apollo Space management system with lots of different ways to fit out units and organise a kitchen.
RE-THINK THE KITCHEN LAYOUT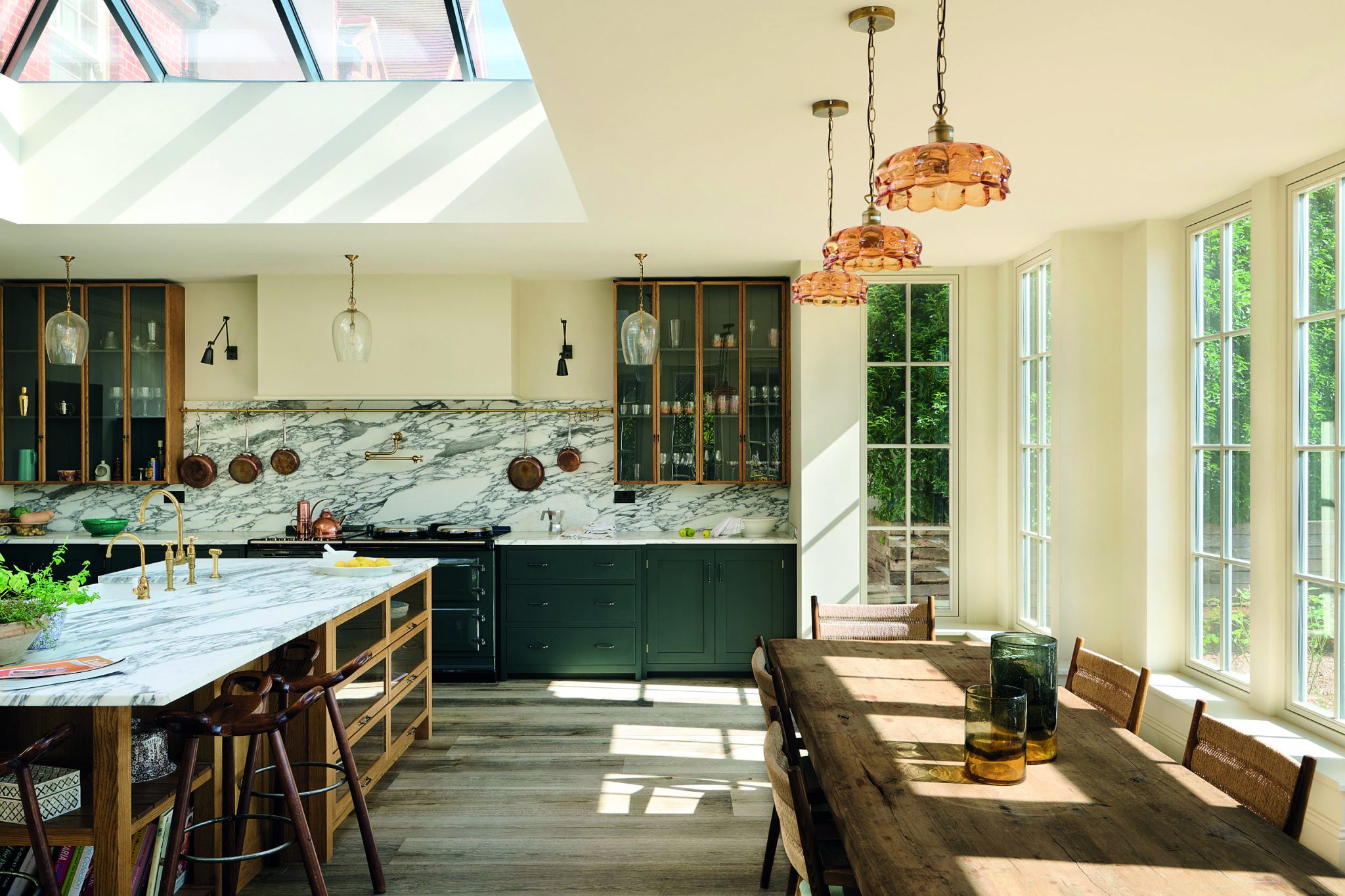 "The way a kitchen is arranged can affect your mood – positively or negatively.
If it's done right, one of the first things a client will mention after their installation is completed is how much they are enjoying the space," says Angus Macintosh, senior sales designer for Kitchens International.
"Another factor in feel-good kitchens is the lighting."
"Go for cooler task lighting and warmer tones for ambient lighting. This means the scheme can mimic the natural day and evening light, which is subconsciously pleasing for the user."
CONSIDER A SPACE-SAVING PANTRY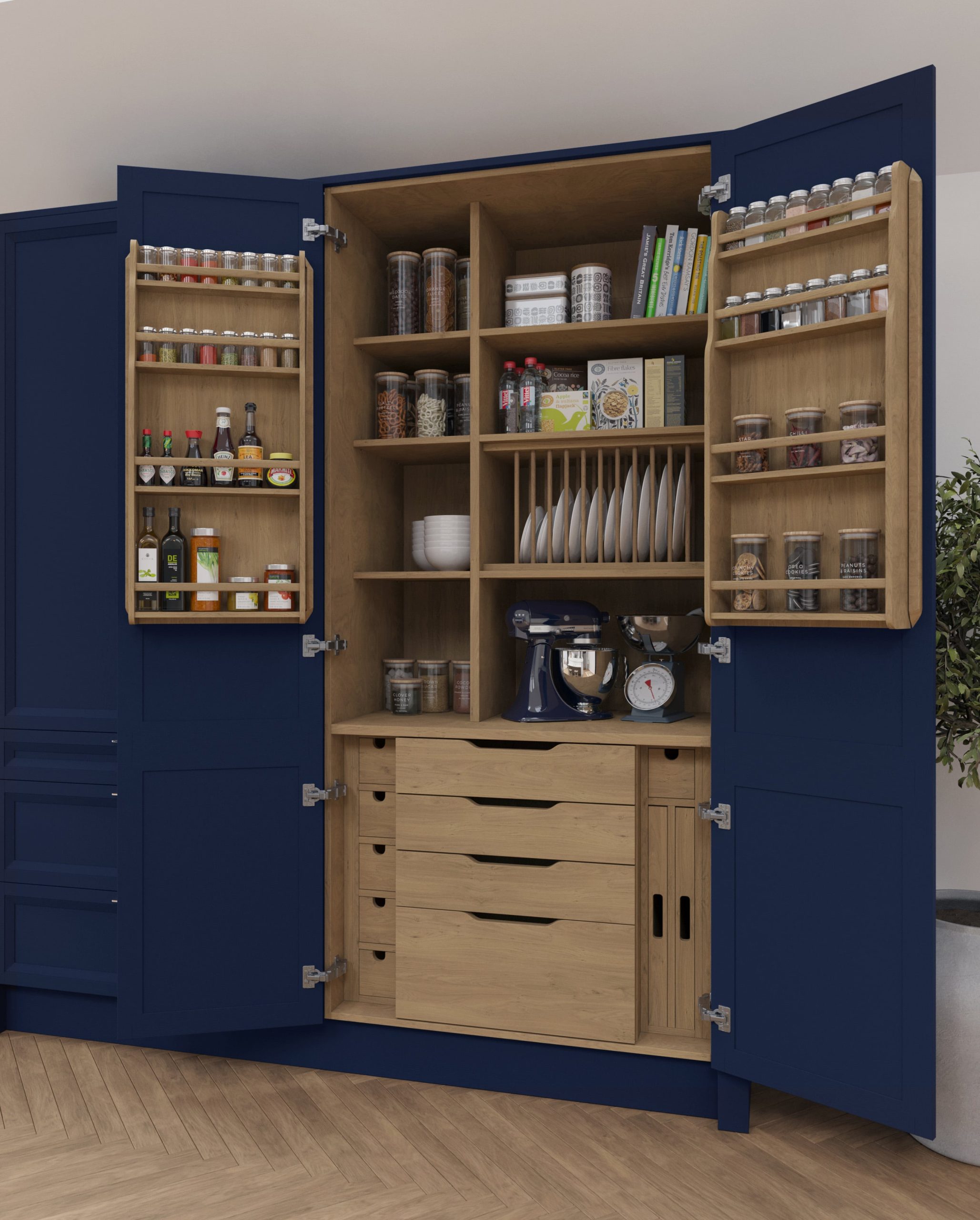 If you're looking for extra storage space and an organised space to keep your kitchen essentials, then a pantry could be the answer. Adding a pantry to your kitchen is a great way to improve the functionality of your space.
Tom McCarthy, commercial director at Crown Imperial, agrees. "Pantries are a trend that's here to stay this year and into next. They offer customisable zones to organise all your kitchen essentials and small appliances for a clutter-free feel."
"It's the kitchen upgrade on a customer's wish list; Instagram highlights the trend with over 750,000 pantry image hashtags dedicated to the must-have interior kitchen storage!"