Homes and Interiors Scotland caught up with John Dawson, one of the contenders for Scotland's Home of the Year, to learn more about his Edwardian restoration project
This is it folks, the final stretch. It's the penultimate episode of Scotland's Home of the Year and everything is still to play for.
The judges, Anna Campbell-Jones, Michael Angus and Banjo Beale, are taking their last search to the West. They start with Kirklee Mansion, an Edwardian renovation in Glasgow's West End, home to Jason, John and their Dalmatian, Mitzi Belle.
They then visit Lorna, Andrew and their two sons in Bright Bungalow, a colourful home with upcycling at the heart of its interior transformation. Finally, the judges check out Elmhurst, a converted, Victorian villa in Greenock, home to Robert, Lynn and their pug, Queenie.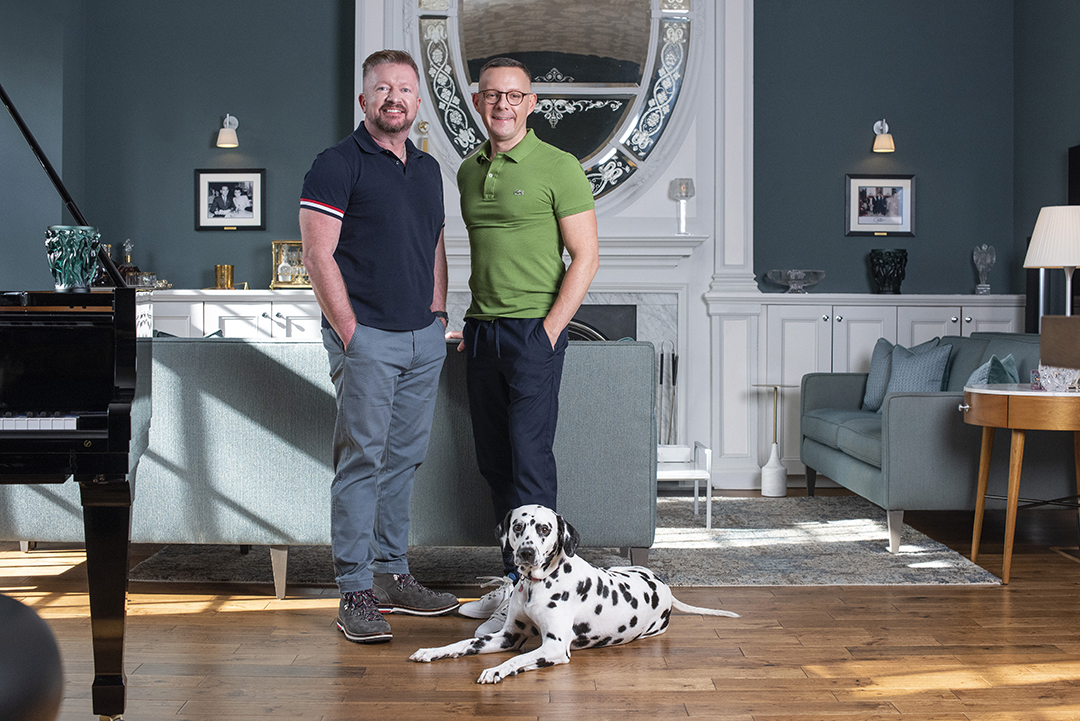 Homes and Interiors Scotland caught up with John and his partner Jason to learn more about their Edwardian restoration at Kirklee Manson, Glasgow.
"If there's one thing that will compel you to get some interior tasks finished, it's having SHOTY come to visit," laughs John. "It's a bit nerve wracking really and you always wonder what other people will think of it and if they will like it or not.
"For us, the difference may be how our home is set up. We wanted a very social home and it's designed around that – some people may look for a home that's more comfort-focused.
"It's more nerve-wracking as you don't even meet the judges! You have to go away and you leave the house with them, so it can make you anxious."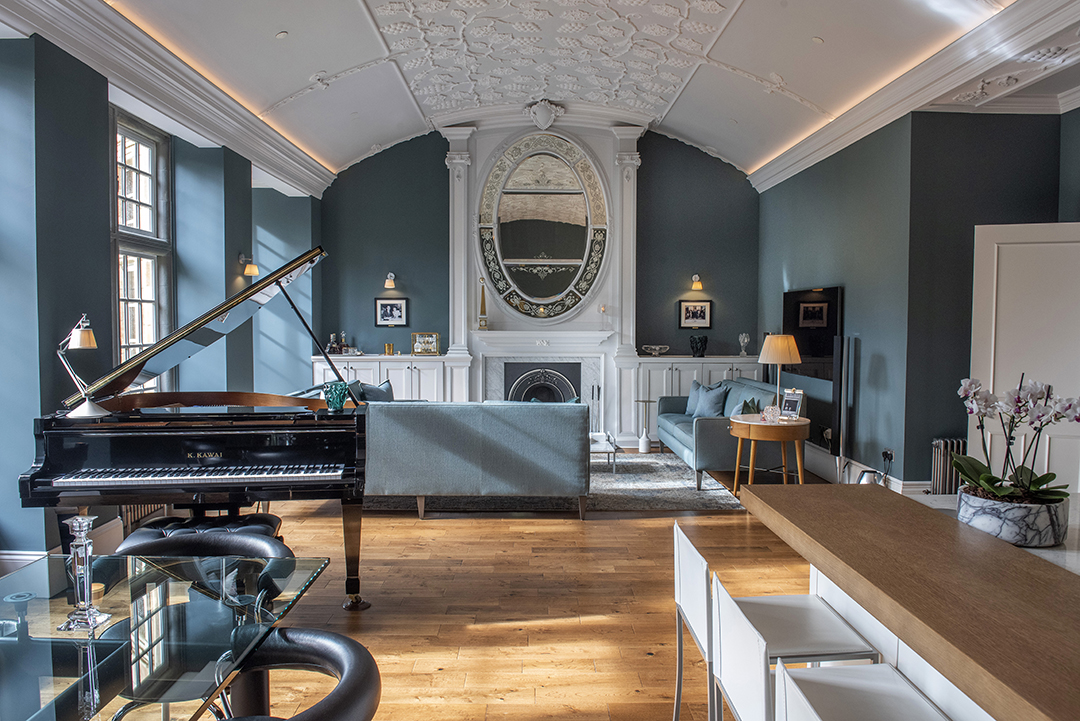 But if they were to meet any of the judges, John and Jason both have a clear winner.
"It would have to be Michael, yeah. There is so much in this building in relation to architecture and how it's changed and how we've cared so much about restoration, focusing on how to try to bring it back to how it was before. I can see us having a long conversation and knocking back a few glasses," says John.
"To be quite honest," Jason cuts in with a laugh. "I think all three of them would have a fun night and we could all enjoy a good cocktail."
Kirklee Mansion has been a labour of love to restore it to its Edwardian glory.
"One of our favourite rooms is our guest bedroom, and it was one of the last we finished before SHOTY came round. It's an octagonal suite and restoring that took a lot of work – we chose to make the room truer to the period by sourcing antique furniture. Some of the furniture we secured, we decided to add some fabric work," says John.
"We reached out to a company called Guild Antiques & Restoration and they were fantastic to do the work we needed done.
"Another thing we did was remove some of the lighting and switch over to LED fittings to be more climate and energy conscious.
We were moving at a pace of working with our contractors and doing bits by ourselves where we can. After only six years, we feel like we've made our home.
We've done everything we have wanted to do."
While many may have an urge to fill their homes as soon as they move in, John and Jason went for the road less travelled.
"Once we had acquired items and done things around the house, your ideas can change," says John. "You move in and can appreciate the breathing space a bit better and be less tempted to run out and buy anything.
"Whether it's something we've picked up on our travels somewhere or come across it in Glasgow, when you find something that truly fits in, you'll know."
Kirklee Mansion hasn't always looked so glamorous and inviting, however.
"When we first looked at the house, it was a mess. There were no windows, and it was boarded up; the fireplace was crumbling away and unusable, some of the floor was missing. So, it was less of a restoration and more of a rescue mission," says John.
"We didn't plan on doing a restoration project – we came across the project and the next day, came down to see it. And then we discovered the developer of the project wasn't looking to restore it fully and they were more focused on a return on their investment.
"We thought that was a shame, as this home has so many beautiful features about it so we said, 'do you mind if we actually do this work ourselves and bring in our own contractors, take it beyond what you're planning to do?' We wanted to take the extra time and effort to do it."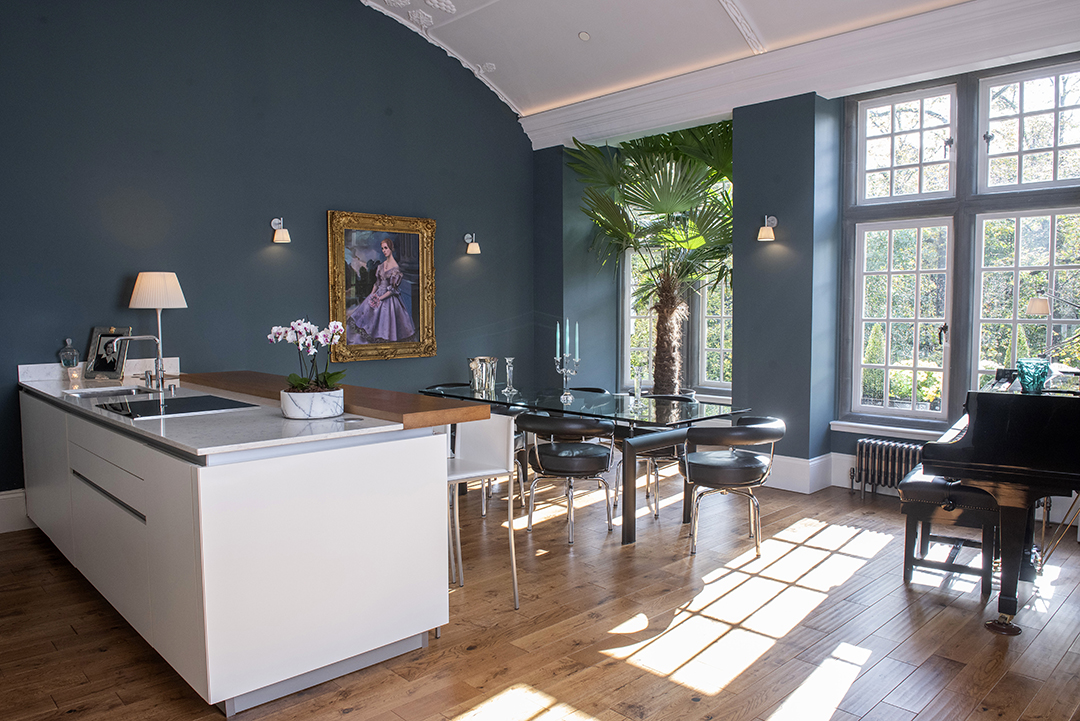 Around the home is an eclectic array of items, bursting with stories.
"Our bedroom is a lot more modern than the rest of the house – some might even say it's a little bit like a hotel – as we've taken texture and artwork from our different travels in America where I was born and raised," says Jason. "It was important for us to incorporate it and bring a bit of California sunshine to Glasgow."
"We've had the home done with a specific colour theme of dark oak, marble, the dark green and teal palette," adds John.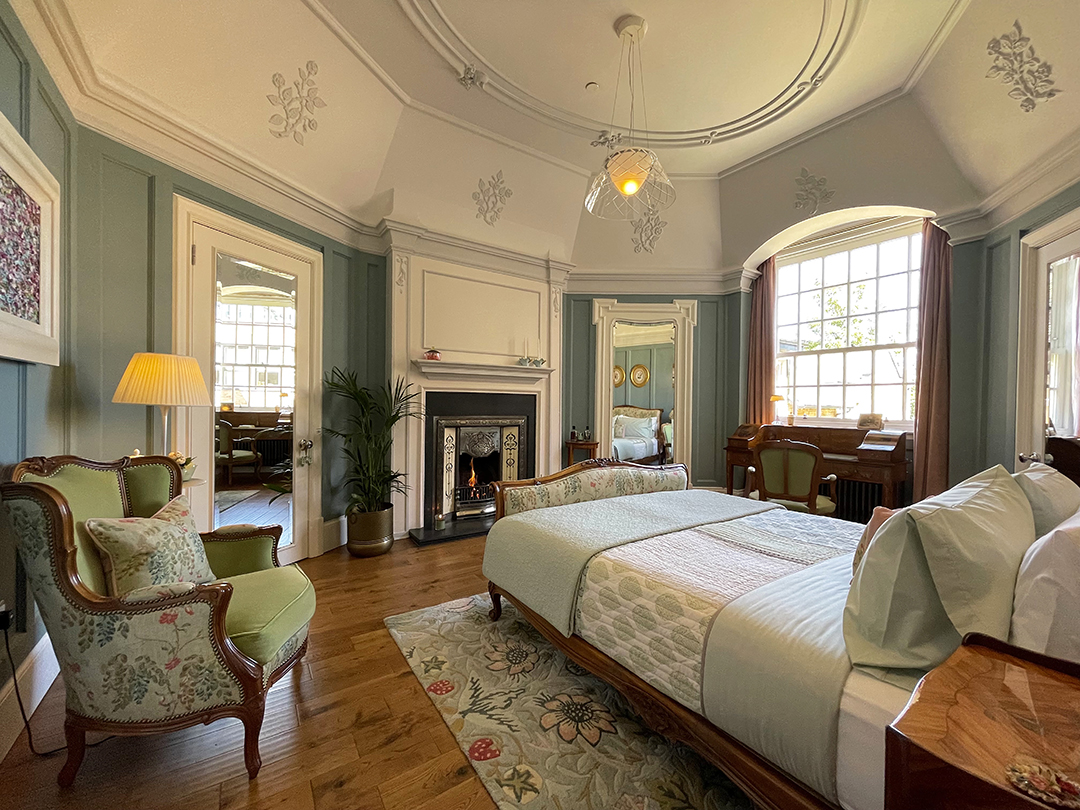 Savvy thriller lovers may spot a special character in one of the paintings in their open living space.
"We'll confess now – it's not the original Carlotta from Vertigo," laughs John. "It's a strange thing as the original painting was actually stolen from the set and no one could ever find it.
But, while we were over in Portland, Oregon, we started chatting away to a guy at a bar hotel. It turns out he was an artist who had been commissioned by Disney to help recreate the artwork, as they were remastering Vertigo.
"It's one of our favourite movies so we asked him, 'do you have the painting?' and he said 'oh yes, it's just sitting in my living room', if you can believe it. We were lucky enough that he sold it to us and it was pure luck bumping into him.
And the fact it relates to things in America too, as it was set in San Francisco, is wonderful."
We can't wait to see tonight's ep! Tune into Scotland's Home of the Year on BBC One Scotland at 8.30pm for episode 6/7: West.
Let us know what your favourite home was on social media!
Follow us on Instagram and Facebook to join in with the conversation.