This thoughtfully-revived home on Shelter Island, New York, has all the hallmarks of a family retreat to be relished for generations to come
words Judy Diamond  | photography Björn Wallander
To a lot of New Yorkers, the Hamptons represent more than just an escape from the city. Yes, there are lobster shacks, big skies, scenic hamlets and Atlantic rollers breaking on miles of sand dunes – a breath of fresh salty air just 100 miles from Manhattan.
But the east end of Long Island is also prime Gatsby country. It has always attracted a wealthy crowd – first the Rockefellers, Vanderbilts, Hiltons and Hearsts, and more recently the likes of Martha Stewart, the Clintons, Donna Karan and Beyoncé.
Think of those iconic Ralph Lauren Polo ads – beautiful people in nautical stripes and preppy chinos larking about on yachts and sandy coves. It's the very embodiment of a gilded life of privilege and fun.
Alfredo Paredes knows the delights and the drawbacks of this part of the world well. For 30-odd years, most of them as chief creative officer at Ralph Lauren, he has split his time between Manhattan and the Hamptons.
Towards the end of the 1990s he bought a small house in East Hampton, and took his time doing it up at weekends, enjoying the carefree, boho-chic lifestyle that was still possible back then.
But disillusionment set in. "It used to be possible to rent a little ramshackle cottage there," he says.
"Now those houses are going for five million dollars. It's just so overcrowded – it's getting ridiculous. You can't even go to a restaurant unless you've made a reservation two months in advance."
In 2013, in an effort to recapture a sense of the laidback tranquillity that had made him fall in love with the place, he decided to investigate Long Island's less glamorous northern edge, and particularly Shelter Island.
He'd been a few times for photoshoots and liked it. The fact you can only get there by ferry means it's a step too far for most weekenders.
When he heard there was a house for sale right on the harbour, he and his partner, Brad Goldfarb, went to check it out.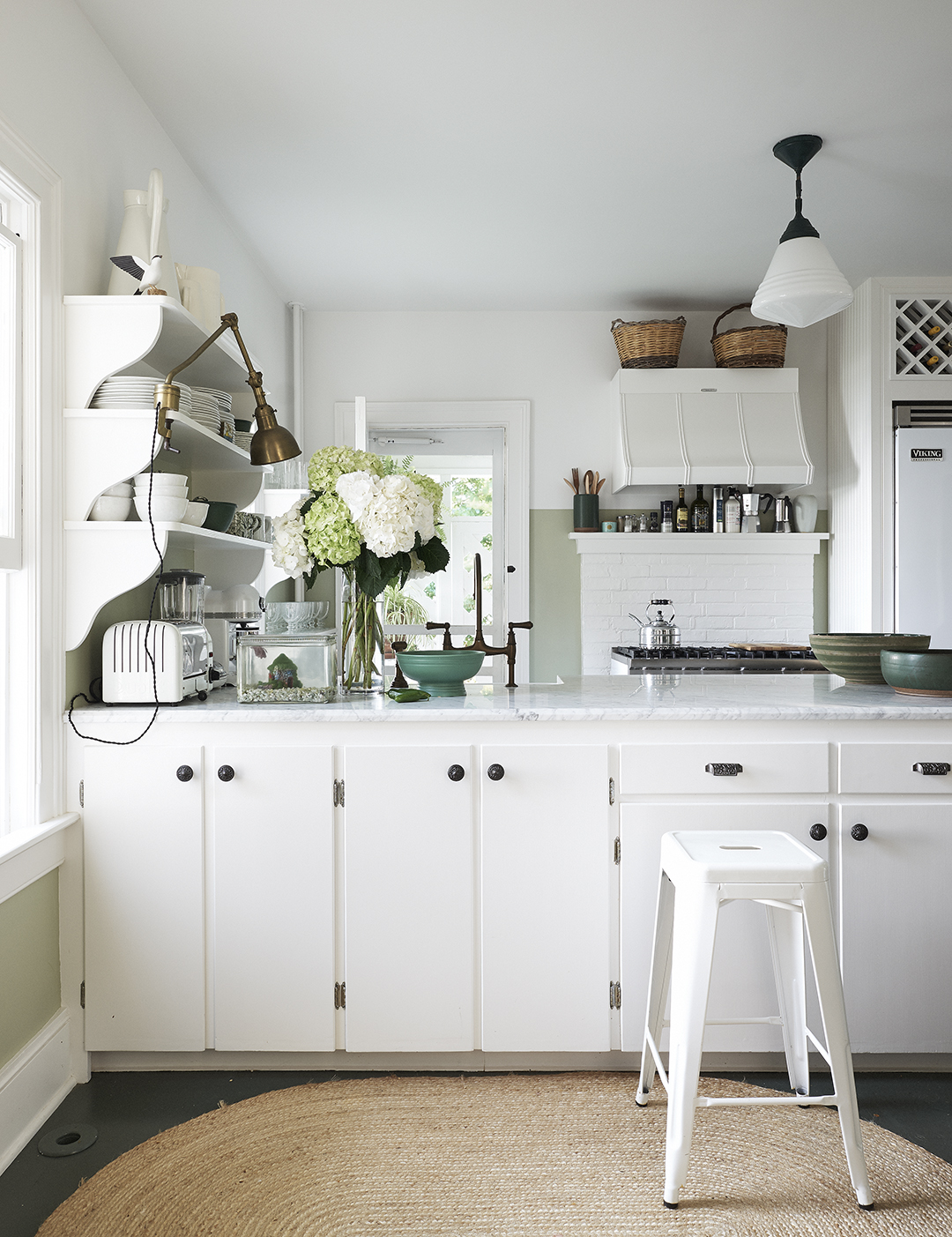 As first impressions go, this one could hardly have been worse. "It was ugly – really ugly! It was like a haunted house," he says with a laugh.
"It had this dark green trim and dark green shutters and the garden was so overgrown you couldn't see out of the ground-floor windows. It needed a lot of attention, I mean a lot."
Despite an "angelic setting" right on the water's edge, Alfredo wasn't convinced. Brad, though, was optimistic: "Think what you do at Ralph Lauren," he insisted.
"I know you can make this great." So they took the plunge and bought it. Brad's faith was not misplaced: as the creative force behind all the Ralph Lauren stores, restaurants and furniture collections, Alfredo had an unerring eye for combining antiques and flea-market finds with high-end pieces to produce characterful interiors.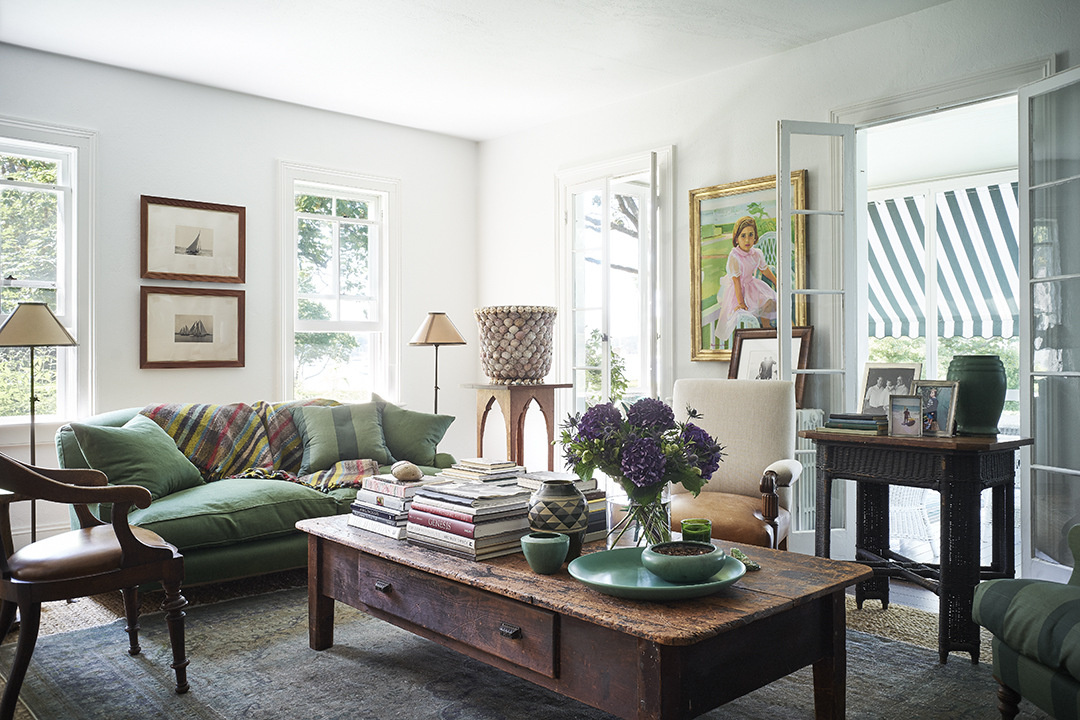 The house, they soon discovered, had had an eventful past. It began life as a two-bedroom cottage, part of a vast Victorian hotel that twice went up in flames.
By the first decades of the 20th century, the hotel was no more and the cottage had been sold off. Its subsequent owners added various bits and pieces to it, and it eventually emerged in its current form as a substantial five-bedroom house.
The layout is "a mishmash", as Alfredo puts it. "The floor plan meanders a little weirdly around the oldest part. It's quirky. Some rooms have two doors – walls must have been taken down at some point but the doorways were left."
Even though a complete renovation was justifiable, he was not tempted to start from scratch.
"A lot of people rip the soul out of these old houses," he says. "I've seen it happen: everything inside is new and it has been stripped of its patina, and it ends up feeling more like a copy of an old house."
Nevertheless, some refurbishment was essential to get the place habitable, to fix the boiler and the bathrooms.
And, once they'd gotten rid of the broken shutters and cut back the rampant bushes, "a sort of Edward Hopper house" was revealed.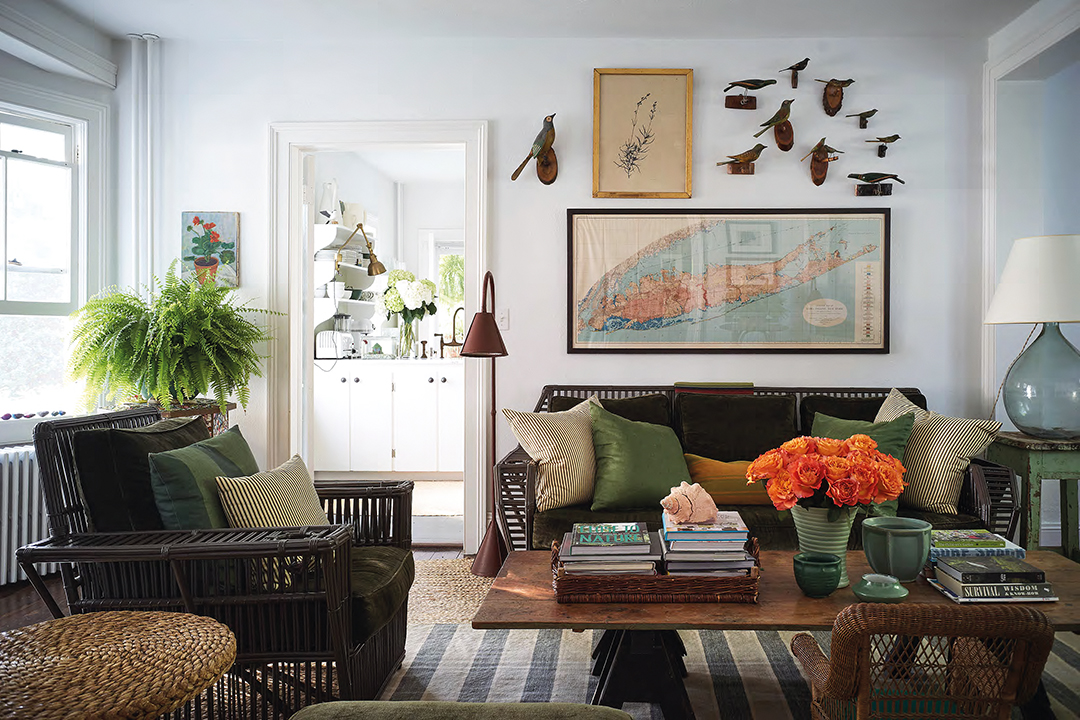 In the years since, the interiors have undergone a gradual, gentle upgrading without any of that precious heritage being lost.
There was only really one major intervention: the front porch was missing ("It was like a face without a nose!"). This was reinstated, and the balcony above it was added.
They were also able to save and restore the original wraparound screened porch so it could be used all year.
Many of the quirks have been retained, such as the old original glass in the windows: it refracts the evening light in away that perfectly smooth modern glass never could, casting beautiful patterns on the walls and ceilings.
Painting everything white has had a transformative effect. Not only has it unified the interior and made it feel bigger, but the pale walls have subtly taken on the green tones of the surrounding garden, blurring the boundary between inside and out.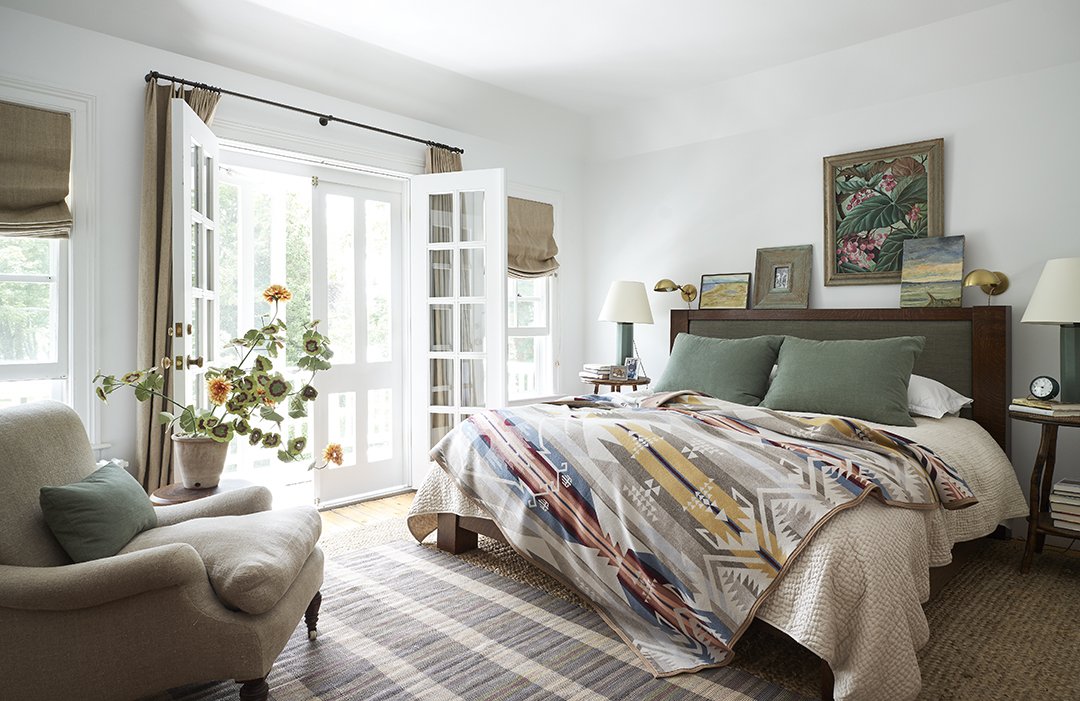 The kitchen was partially overhauled, as Alfredo explains: "I had all sorts of plans to expand it and change it and then one day I decided just to live with it. I didn't have the stomach to rip it all out. I'm still not crazy about the island but it's better now that we've replaced the top with marble – it was ugly red Formica before. Some things you can live with, others you just can't. It was better than gutting the whole place."
The couple brought the furniture from their East Hampton cottage, but the Shelter Island house is much larger, so there were gaps to fill.
That was no problem for Alfredo. Part of his job at Ralph Lauren was sourcing furniture and props for all the brand's stores, so he has decades of experience as well as an enviable list of contacts.
"I treat it as a sort of a treasure hunt," he says. "If I don't have a particular piece, I know I'll find it."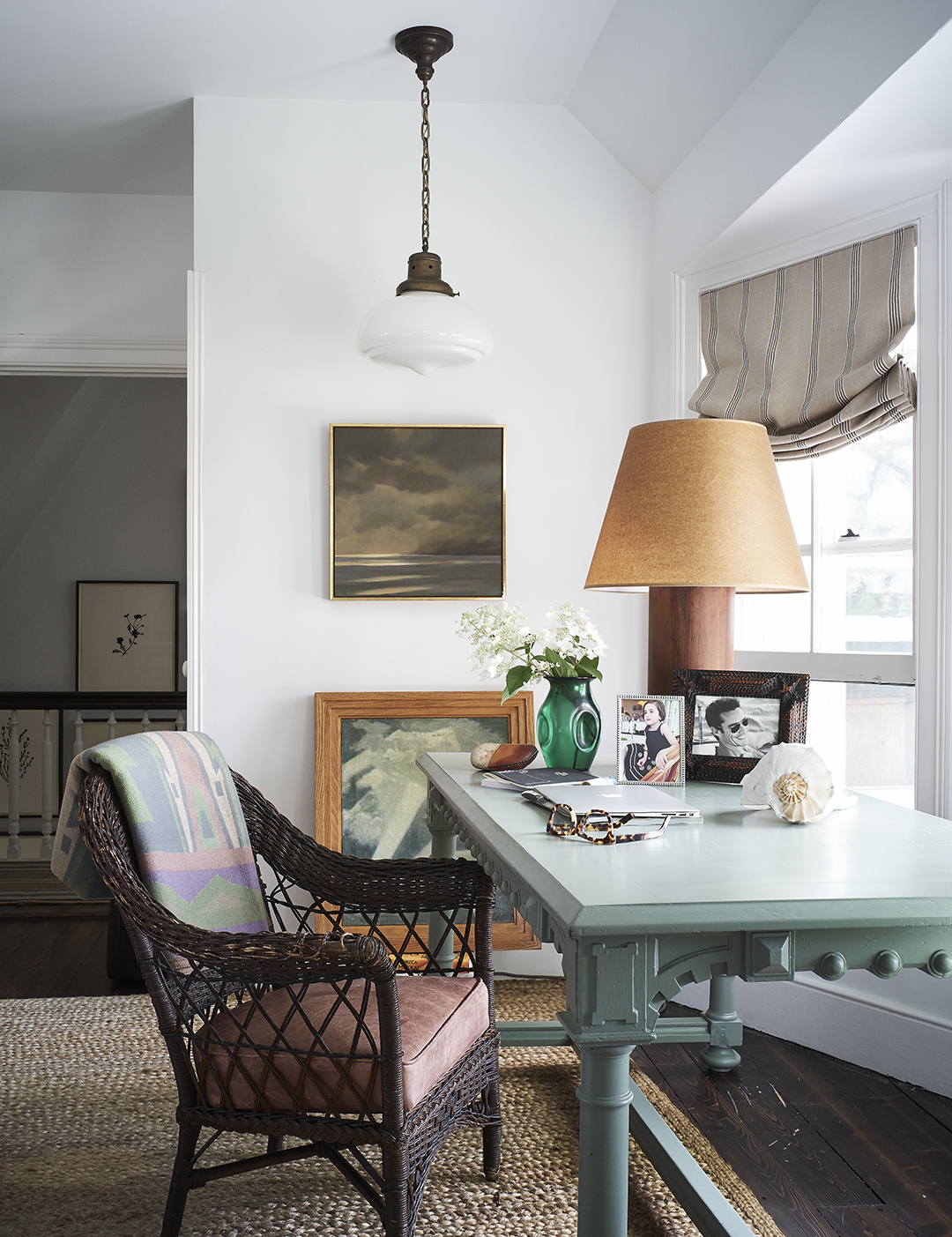 Everything here speaks of comfort and quality. There are soft linens, generous sofas, vintage chairs and a sprinkling of well chosen antiques.
The muted palette of sage, cream, blue and tan is sophisticated yet practical. The couple have two young children as well as frequent guests, so the house has to withstand a certain amount of wear and tear while also being a peaceful retreat.
There are none of the obvious staples of beach house decor but there's no doubting the seaside mood: subtle navy stripes, jute rugs and brass touches all hint at the ocean's proximity.
Everywhere are exquisite little vignettes – a sepia-toned photo, a vase of peonies and a hurricane lamp, say, or a verdant maidenhair fern sitting on a worn tabletop next to a gleaming gilt lamp: Alfredo is incredibly skilled at combining elements to create a particular ambience.
It's a talent honed by years of designing display windows and 'set-dressing' store interiors.
The walls are hung with calm seascapes and moody paintings but it's the family photos – dotted across the walls, propped up on the mantelpiece, on console tables – that make the place feel like home.
And everywhere are flowers. Some, like the white hydrangeas, were cut from the garden, but many of the others are paper artworks, made by Livia Cetti of The Green Vase.
When the pandemic struck, the family retreated to Shelter Island, where they spent most of lockdown.
Having been used to summer holidays here, they now got to experience it in all four seasons. "Even in horrible rainy weather, it's still so dramatic and beautiful – we'd light a fire, get cosy, wrap up in blankets."
It was around this time that Alfredo left Ralph Lauren and launched his own creative studio, specialising in interiors and furniture design.
Now back in Manhattan once again, he still loves leaving the city for his weekend home: "It feels like time stands still when you're here. You don't worry. Your blood pressure goes down. The birds are chirping, the grass is green and we just feel so lucky."