If there's one thing that will jazz up your favourite tipple, it's a stylish cocktail glass. Here are a few Team H&I are loving right now
Coupe glasses
They're the most recommended cocktail glasses for a reason (especially for those who like to don the hat of mixologist at home). Coupe glasses have a wider rim than more traditional cocktail glasses which means you can garnish away, as well as being able to sip your champagne without losing any bubbles. What more could you need?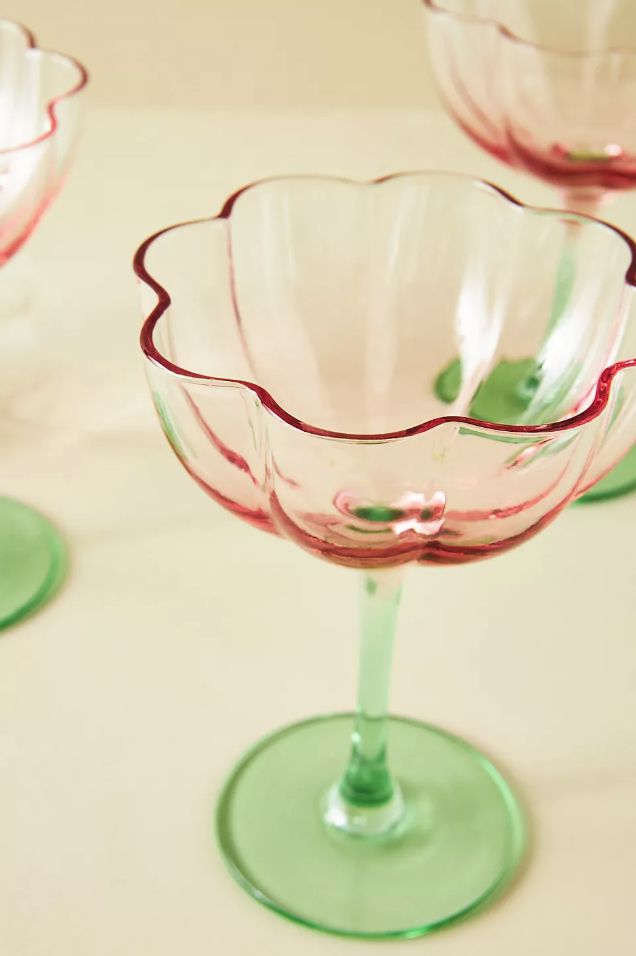 Morro Coupe Glasses, £12, Anthropologie
A fun play on the traditional coupe glass, these handcrafted and hand painted glasses are bound to take centre stage at any soiree. We feel sparkling rose may look the best poured in, but who are we to tell you how to celebrate?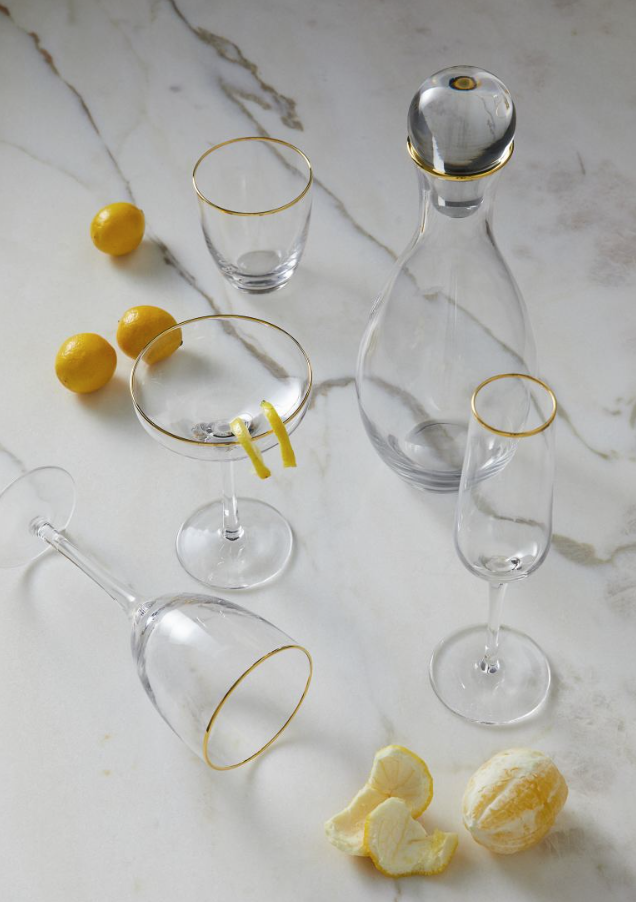 Champagne Couple Glass, £8.99, H&M Home
Ideal for those on the hunt for coupe glasses that won't break the bank, let us introduce you to this H&M Home number. Reviewers have raved about the quality for such a low price, but they aren't particularly large coupe glasses, so top-ups of fizz may be needed.
Set of 2 Mint Twirl Champagne Coupes, £34, Rose & Grey
Funky glass lovers, have no fear: we have you covered. The mixture of the green swirly stems and decorative glass means these will look as good on the shelf as they do filled with champers. 
Martini glasses
We reckon the martini glass is making a comeback. In fact, we predict three-ingredient cocktails (like the martini) will become a go-to this summer simply because they're so easy to put together, freeing up time to spend in the sun. But before we get ahead of ourselves, let's get into the glasses on the market.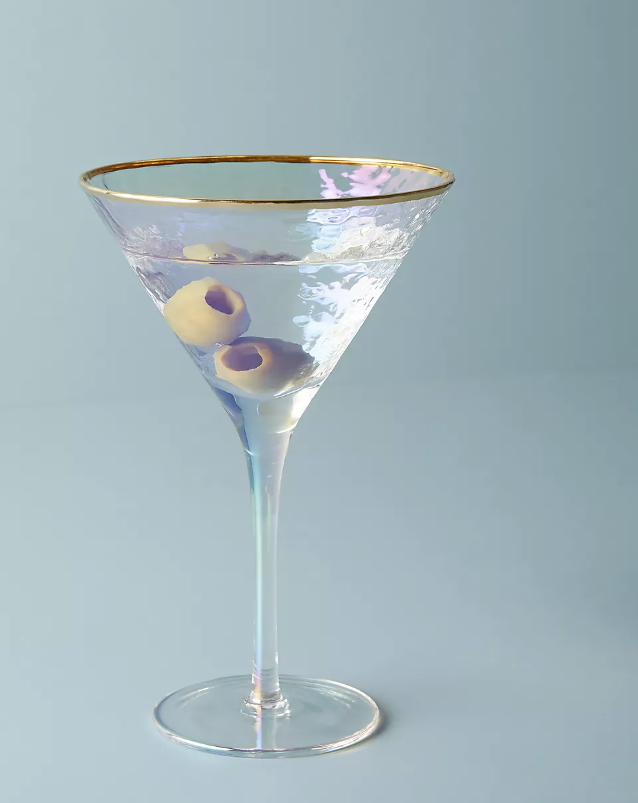 Lustered Martini Glass, £12, Oliver Bonas
There is something about shimmery, iridescent glass that attracts us like a magpie every time. This hand painted martini glass has a real gold rim, but that doesn't mean it feels so luxurious it verges on unusable – quite the opposite.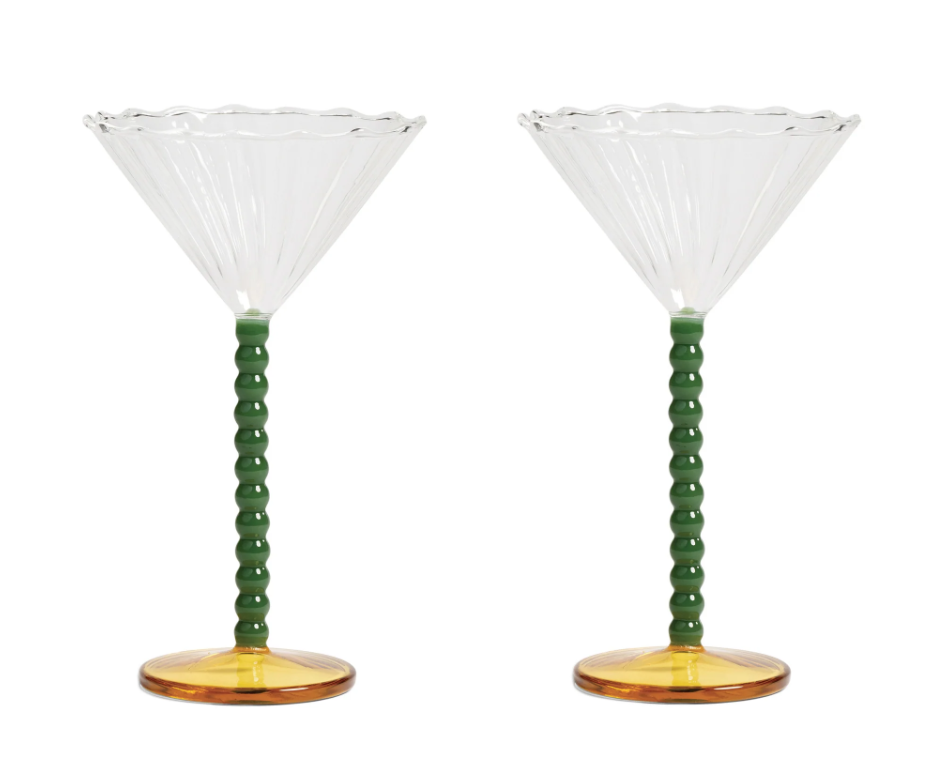 Green, Orange & Clear Perle Coupe Glasses, £45, &Klevering at La Gent
These glasses (they come as a set of two) are a unique twist on the typical martini glass, with its frilly rim and subtle bobbin-style stem. What's more, you can convert them from stunning martini glasses into ice cream or dessert cups. Pudding has never looked more chic.
Margarita glasses
If there's one cocktail that we're going to indulge in during the hot summer months, it's the margarita. Bonus points if it's spicy or frozen.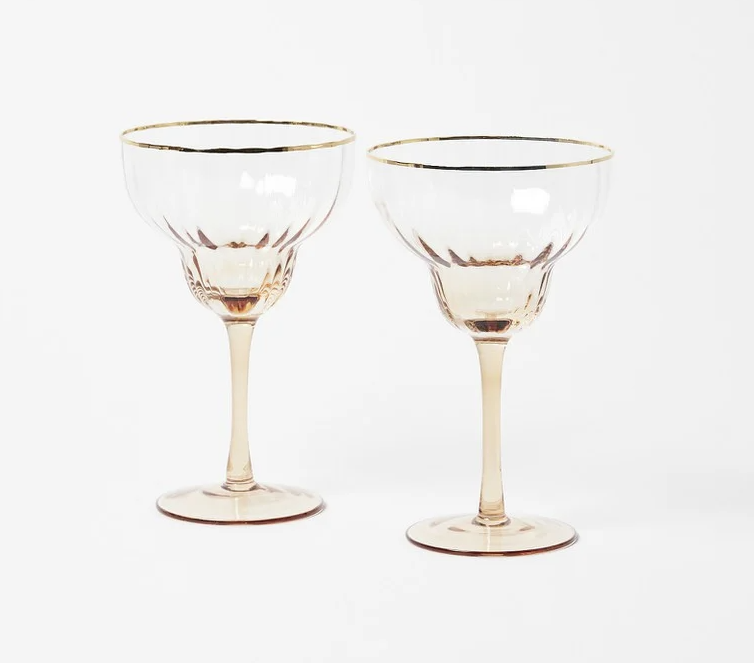 Claro Orange Margarita Glasses, Set of Two, £24.50, Oliver Bonas
With gold foil edging and a ribbed finish, these glasses will add wow to your margarita mix. The amber hue sparks to mind summer evenings, while the shape ensures you can garnish aplenty. Bring on the sea salt.
Wine glasses
Okay, okay, while this isn't exactly a cocktail glass, we had to include a good wine glass. Not only are they great for spritzes (hello Aperol, our old friend), but there is something about crisp white wine on a warm day that hits the spot.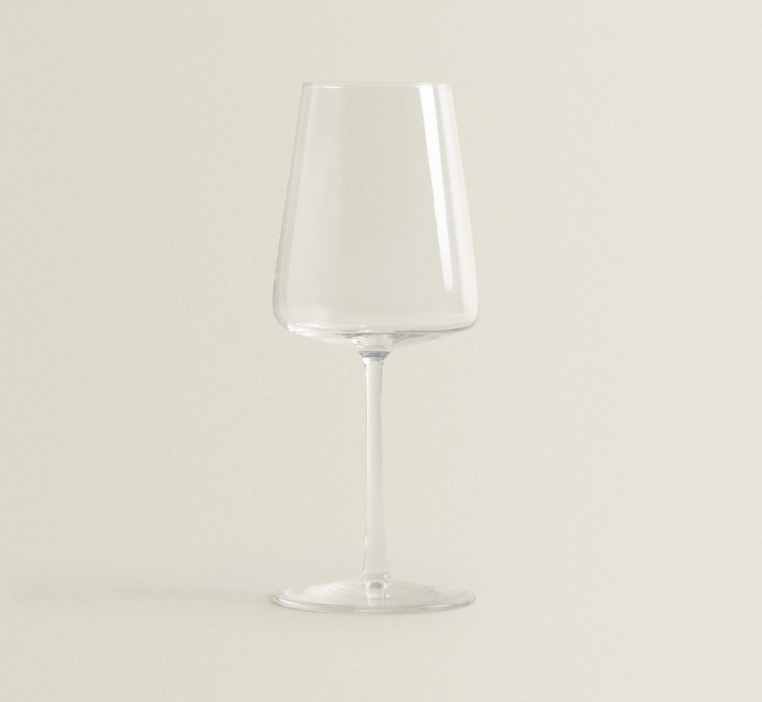 Conical Crystalline Wine Glass, £7.99, Zara Home
This little Zara Home number will always be a winner. The shape is elegant and generous, so you can pile up your spritz in style, or keep your wine cool with a few ice cubes. While it may look mega in design, the glasses are surprisingly lightweight.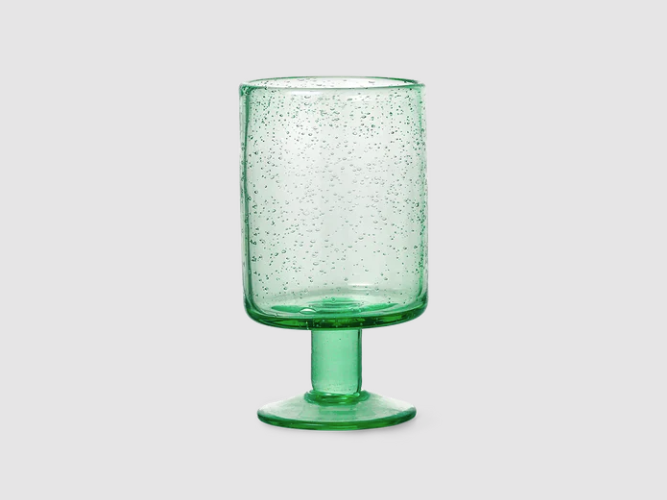 Oil Wine Glass, £19, Oli Glassware at Ferm Living 
Made from recycled glass, these wine glasses have personality thanks to their distinct style and colouring, bringing to mind mid-afternoon alfresco dining. The tiny bubbles in the glassware have been created by deliberate pockets of air left between the layers of glass. What's more, they are dishwasher safe, so cleaning up at the end of the night will be a breeze.
Need more inspo? Stylish and straight up delicious, we asked Scottish bars and restaurants for their favourite cocktails, ideal for the summer months.