A dazzling piece of modernist architecture makes a great holiday home amid the Victorian grandeur of Tighnabruaich's seafront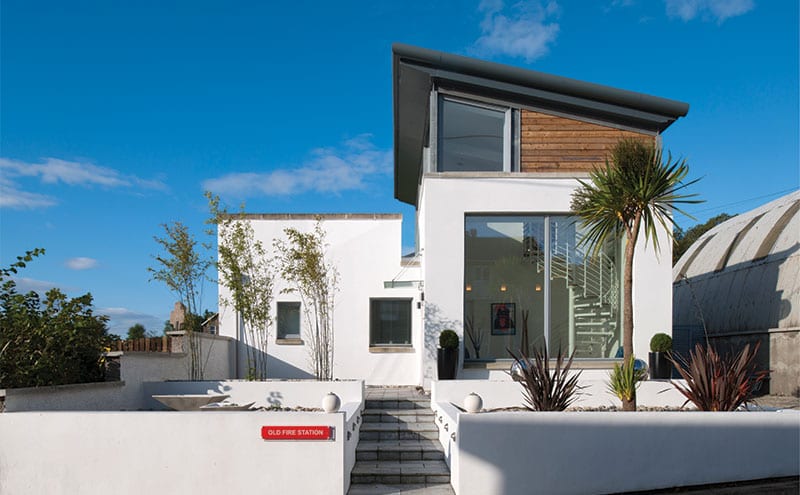 Apologies if you've already discovered its delights (and want to keep them to yourself) but I am  about to divulge some specifics of Argyll's Secret Coast – the back story to the Old Fire Station's reincarnation as a modern holiday home is just too good not to share. Having never set foot in this part of the world before, I found myself heading to Tighnabruaich for the second time in a matter of weeks (taking a mere two hours, rather than four, because we took the turning we should have and drove down the correct side of Loch Fyne from Glasgow). I can now see the allure of the place even more.
The village is kind of tucked away, down a steep wynd, revealing itself from a distant road. The vast panorama of the Isle of Bute hits you, just beyond the lush and colourful front lawns of the villas that line the shore.
Tighnabruaich grew up in the 19th century, boasting four piers at the height of its fame as a seaside resort. It was a playground for wealthy Glasgow merchants whose wives and children would be dispatched to the grand Victorian houses for the summer. They would then catch the steamer on a Friday evening to join their families in this quaint nook on the west coast.
Fast-forward to 1964, when the fire station was built, operated by local volunteers. When a new £1m station was completed in nearby Kames in 2009, the old one was put up for sale, getting one Glasgow-based interior designer thinking. Having had a holiday home here for years and knowing the area well, Mark Brunjes, of CM Design Consultants, acted quickly and noted interest – as did 50 other potential buyers. This piece of prime property was clearly going to sell for well beyond the asking price.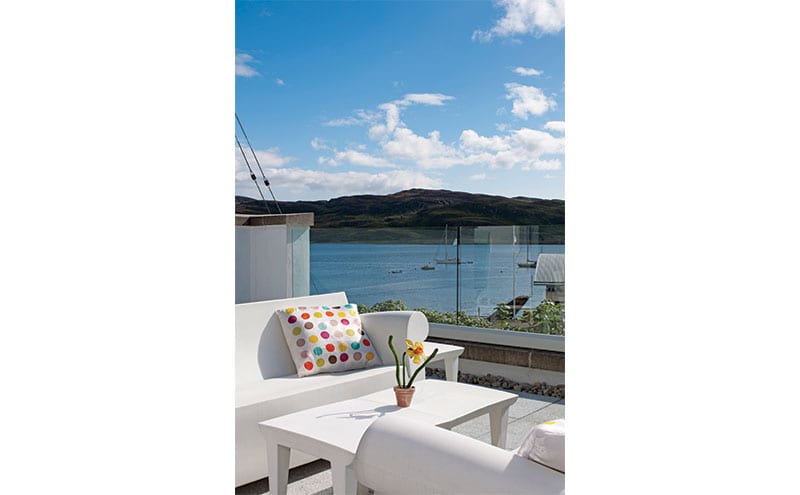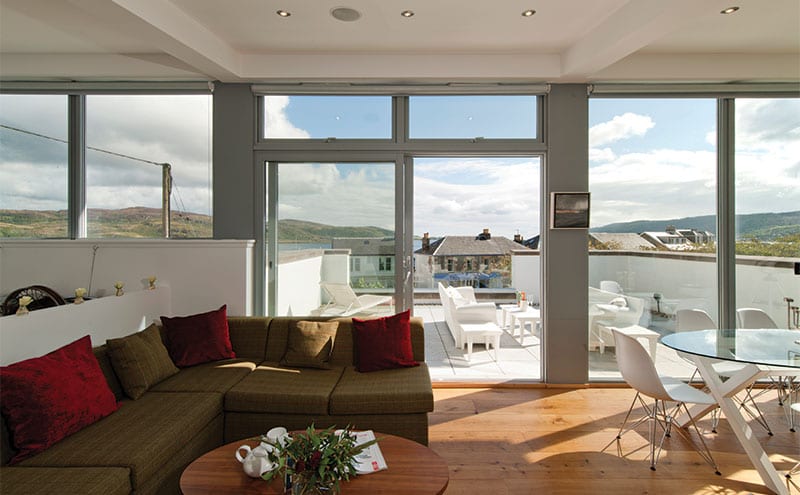 But Mark turned out to be the lucky one, and within a year he had obtained planning permission, achieved without a single objection, to renovate it. The Glasgow School of Art graduate has a longstanding passion for architecture and interiors. He could see the massive potential offered by the building, and as soon as the plans were in his hands he sketched out his ideas and built a basic 3D model. His good friend, architect David Hanley, put these into practice, solving any technical issues with structural engineer Jim Boyle.
Not all of the build was smooth sailing. A temporary tarpaulin roof was installed to protect the interior from the wild winter weather. It was just 6ºC and too cold for the concrete pads supporting the steel frame to set. A telegraph pole on the road outside meant crane access was not possible, and it was a stressful day when the window frames arrived from Norway. The driver wasn't prepared to lift the glass off the lorry because it was sitting on a slope, so Mark had to sign a waiver saying he would take responsibility for any damage.
The ground floor accommodates all the sleeping spaces and bathrooms (including a wet room): cool and minimal, these are kitted out in high-end contemporary fittings such as Porcelanosa and Pavilion Rattan. Up a spiral staircase (built by artist and blacksmith Andy McDonald) is the open-plan sitting area and kitchen, fully equipped and comfortably accommodating our party of four adults and a child. Strong design permeates, with Siemens, Dualit and six Eames Eiffel chairs. There are hand-waxed oak planks underfoot and the room's full-height glass sliding doors open to a 400sq ft deck-cum-sun trap for a heavy dose of vitamin D and views of the Kyles of Bute.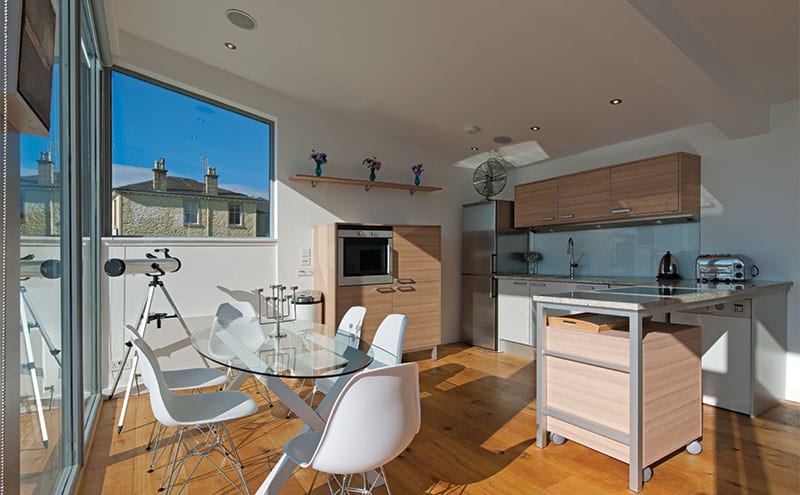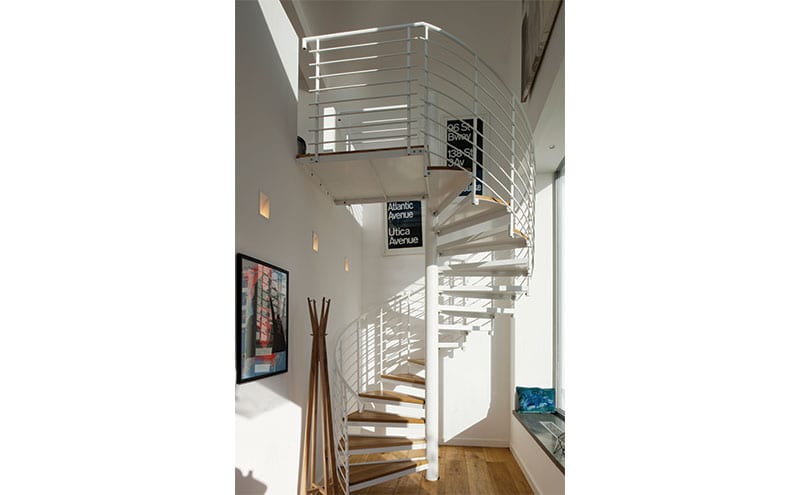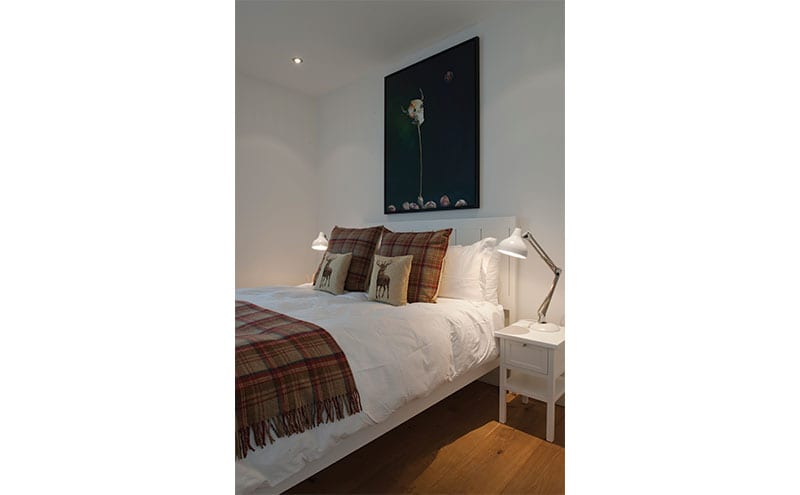 Completely wired for sound, a Sonos system allows different songs to be played in each room. All you have to do is download the Sonos app then connect to Spotify – easy on the second attempt. Sky TV is in the lounge, master bedroom and the bathroom. If that's not enough tech, rest assured that Mark has made the building futureproof by rewiring the whole place. All lighting is remote-controlled  – which is a bit confusing at first, in the dark, with a tired child; we soon worked it out, however.
The Old Fire Station's simple white contemporary structure stands out from the period drama of its neighbours, and its pared-back garden, designed by Beyond Four Walls, has intriguing sculptures by George Wyllie, including an important work called Cradle in stainless steel and stone. But the building's sharp edges and acute angles have not been frowned upon at any point. If anything, the house stands out for all the right reasons and reflects the diverse community who have come to live and mix in this part of Scotland – artists, craftmakers and entrepreneurs both young and old.
To book the Old Fire Station: www.cottages-and-castles.co.uk
DETAILS
Photography Paul Zanre
Words Gillian Welsh