The Glasgow florist's eye for colour is put to good use in both her west-end home and her sculptural bouquets and arrangements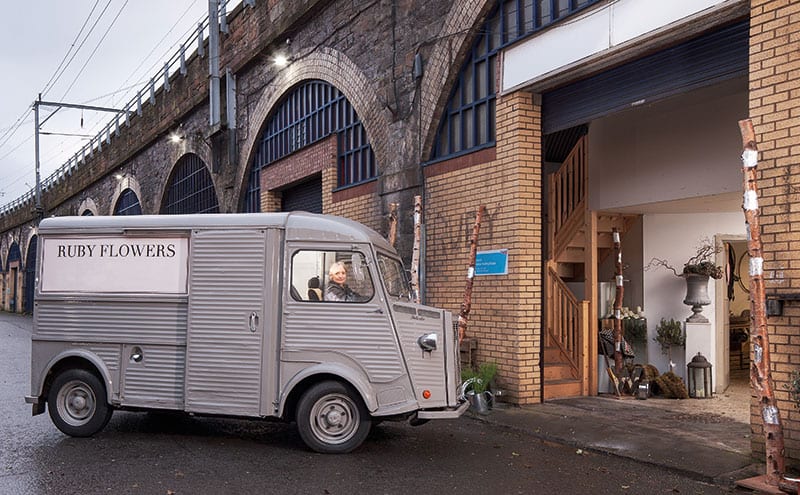 In between styling local bars such as the Finnieston and the Kelvingrove Café, hosting masterclasses at Jo Malone in Princes Square, talking through wedding flowers with prospective brides, and creating floral arrangements for hotels, private homes and businesses, Ruby Grimes tries to grab five minutes to slow down and take stock. The Glasgow-based florist made the decision to give up the lease on her shop in Hyndland five years ago, opting for a studio and workshop space instead, and investing in a classic little French van so her business, Ruby Flowers, could become mobile. "I wanted to give myself freedom and not be tied to a shop," she smiles.
"Besides, the supermarkets had gotten really good at flowers, the recession had hit, my perspective had changed and I knew I wanted to be able to spend more time with my husband and children as well as my extended family, which I wasn't really able to do when I had the shop."
Although her schedule is just as hectic, Ruby's new routine allows her the space to pursue more varied projects and to fit in more down time with the people closest to her. As the youngest of four, she has a large extended family, mostly Glasgow-based but with a nomadic and entrepreneurial spirit. The maternal side of the family owned their own business, CW Cameron Ltd, while her father was an engineer. Her siblings all went off travelling as teenagers, and when her turn came, Ruby announced that she was off to London.
"I started out as a hairdresser and went down south to work at Vidal Sassoon," she recalls. "Whenever they needed flowers, I always seemed to be the one who'd put them together." She'd go to Jane Packer, a pioneering florist with a A-list clientele. "I'd never thought of floris­try as a career but I ended up helping out in their flower shop on a Saturday."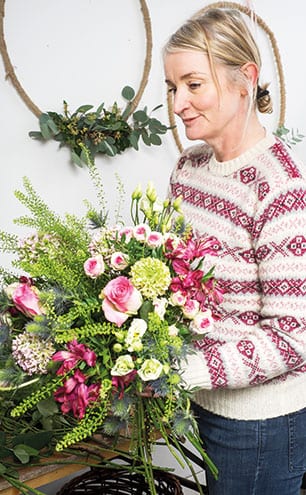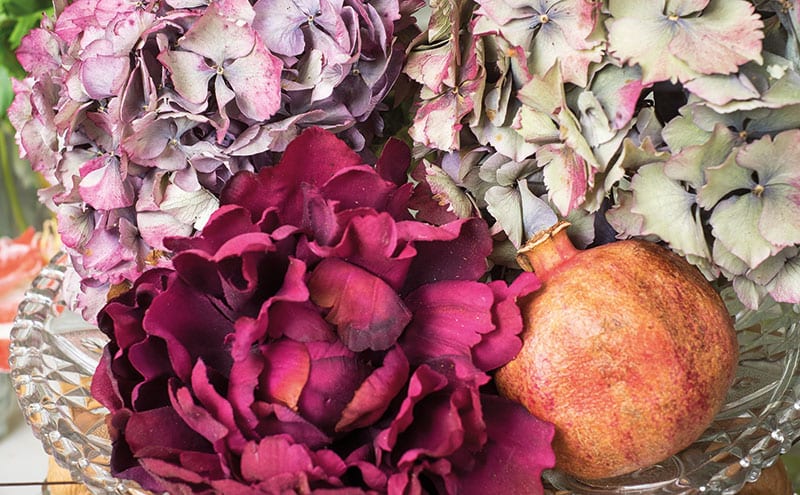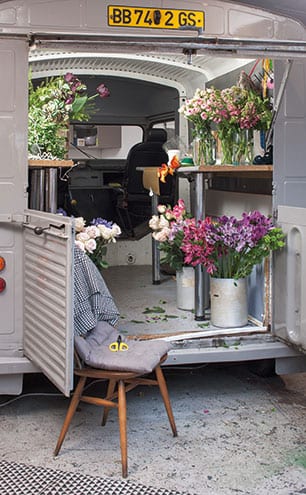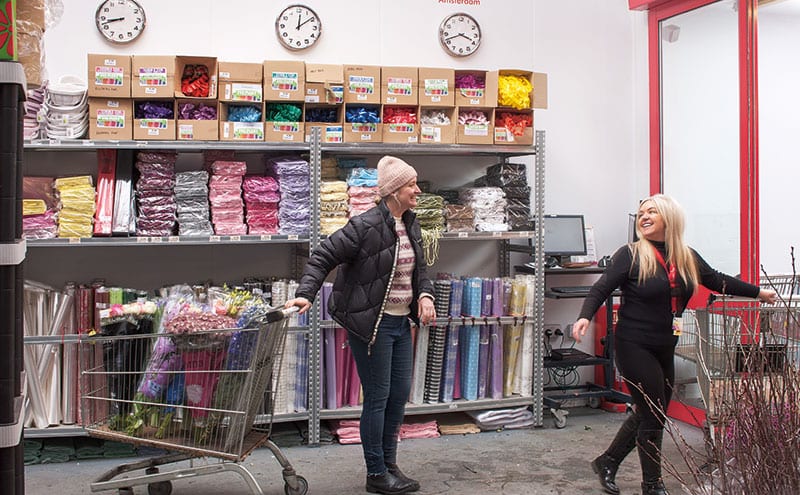 There might have been no florists in the family, but Ruby's parents adored their garden. They spent all their time in it or in the greenhouse. Indeed, some of her earliest memories are of the garden – "A riot of colour, where all the flowers were planted together – marigolds, sweetpeas, everything."
After a spell in Australia, she came back to London, before eventually heading home to Glasgow. There, she worked at the iconic clothes shop Ichi Ni San and developed a love for styling and window dressing. This led her to take on a flower stand in Princes Square, where she expanded her client list, secured recurring contracts and worked with developers and business people such as Ken and Ron McCulloch. During all of this she con­tinued to develop her own style as a self-taught florist.
These days, she is reluctant to restrict herself to any kind of signature look, preferring to work with what's in season rather than being known for creating a specific style of floral arrangement. "Unfettered, deconstructed, wild – I like a seasonal, natural look," she muses. "But I'm fickle. I don't have a favourite flower. I love roses and ranunculus but, come spring, I can't wait for the paperwhites and hyacinths to arrive."
Inspiration comes in many forms for Ruby; while she had her flower shop in Hyndland, she would enrol in courses at London florists such as Wild at Heart and McQueens, eager to keep up with new techniques and trends. "When I used to go to the flower market, I would learn all the Latin names of the flowers and plants – I felt I had to, because I wasn't formally trained," she laughs. She made it her policy to take on staff who didn't come from a floristry background, opting instead for people who had studied creative, artistic subjects such as silversmithing or sculpture and who could offer customers something different.
Ruby loves the research part of her job and can find inspiration almost everywhere. Her home is filled with books on the subject – texts like Ngoc Minh Ngo's Bringing Nature Home – but she also loves the immediacy of Instagram and the way social media opens a window on to endless creativity. Blogs and boards from all over the world can be viewed, brides-to-be can post their Pinterest pages, and snapshots of what other florists and stylists are doing can be seen at any time. Brooklyn's celebrated Saipua is a favourite, as is the American lifestyle magazine Lonny, but Ruby is also very aware that Glasgow is full of talented florists, and she is a big supporter of British growers.
"Architecture is really important too" she says. "Wherever I go, I have to take into consideration where I'm dressing. An unstructured style might not work within a clean, contemporary interior, for example."
The home she shares with husband Neil and their teenagers Rory and Grace is typical of Ruby's relaxed and unpretentious style. The apartment, on a crescent in the heart of the west end, was a bit of a find. The family had been living in a Victorian villa on the outskirts of town, but when property developer Neil came across this one they both knew it could be transformed into a really spectacular home. The building had been converted into offices four decades before, so the task of returning it to residential use was a sizeable one. But thanks to his development company, Park Living, Neil has a team of reputable joiners, builders and tradesmen who helped strip out the two floors, preserving all the original features and reinstating some of the details that had been lost, such as the architraves and deep skirtings.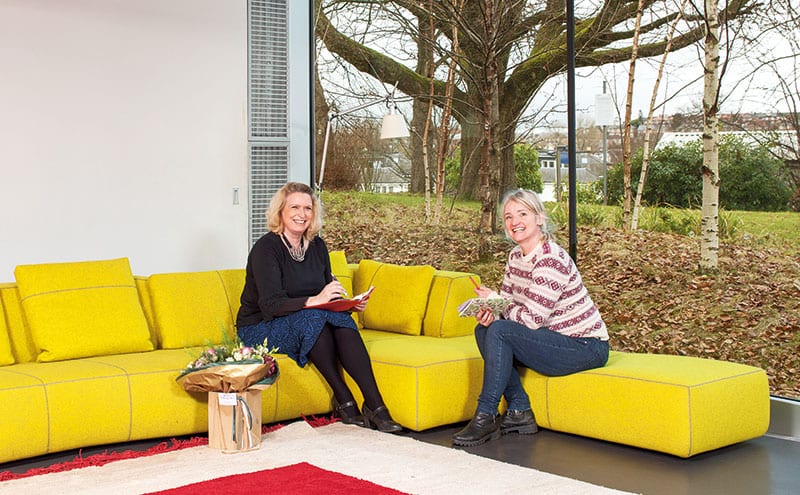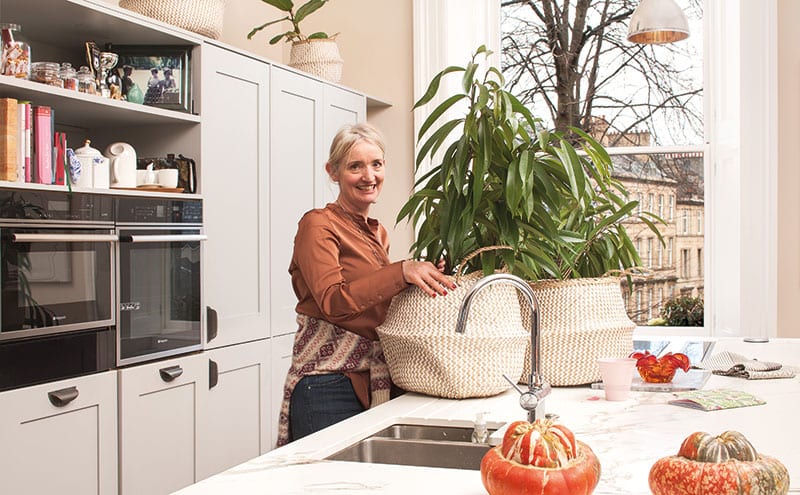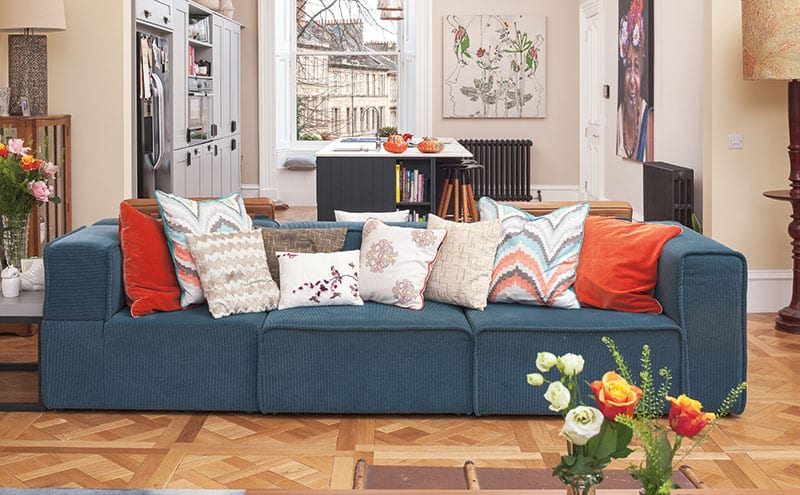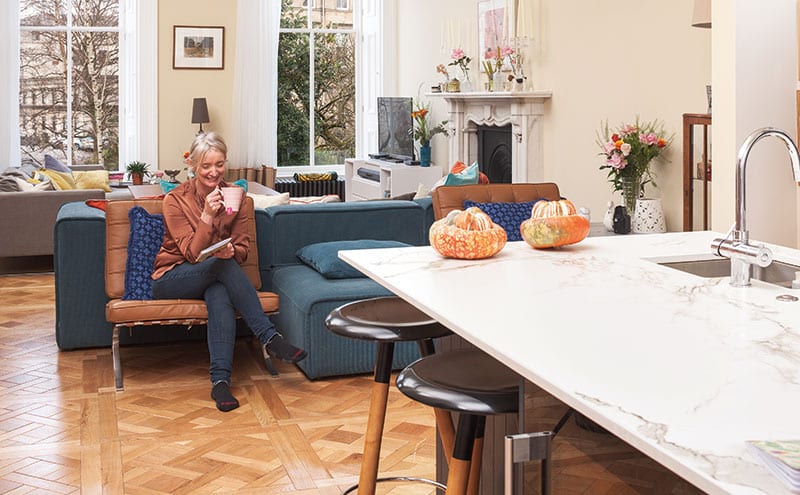 "Marble fireplaces were uncovered," says Ruby, "and the mirror that hangs over the dining table was discovered on another wall; I think it had been there since the 1800s."
They upgraded the heating system, installed Victorian-style radiators and parquet flooring to give the place back its original charm, and met halfway on the kitchen design: "I wanted banquette seating and Neil wanted an island, so we had to find a compromise!" The results are impressive; it's in keeping with the grand proportions, but restrained enough to suit the family's understated way of life. The kitchen (by TMS Direct in East Kilbride) references the simplicity of the Shaker style and is painted in a neutral putty tone. The room's full-height shuttered windows and Corinthian pilasters made additional decoration seem unnecessary, so Ruby has stuck to treasured family heirlooms and beautifully simple flowers as a way to dress the apartment. "Single stems in decanters can be a really easy, less daunting way of using flowers in your home," she explains. "And they just bring that wee bit of joy to your day."
This was her thinking when she began working with Maggie's, the charity that provides emotional and practical support to people living with cancer through its architect-designed centres throughout the UK and beyond. "One of my regular customers is Kirsty Wark, who works very closely with the charity. I've done the floral arrangements for the Maggie's annual fundraising ball, and at the end of the night the flowers are always auctioned off, with the money going to the charity."
Aware there is always a certain amount of wastage at the flower market, Ruby thought that any surplus that couldn't be sold could be used to run workshops for people using the Maggie's Centre at Gartnavel in Glasgow. The florist is also in the initial stages of creating a signature Maggie's bouquet that, it is hoped, will be avail­able through selected florists, with a proportion of the cost being donated directly to the charity. "Anything that can redirect your focus, even for a wee while, is worth doing," she remarks. "It might only be temporary, but things like flower classes might lighten the mood."
In the little time that she has spare, Ruby has taken up sculpture classes, keen to make containers for her flowers. It connects nicely with her day job but it also hints at her love of art and of making, and her appreciation of creativity. All over her home are gentle, artful works. "Around 25 years ago, my dear old Nana gifted all her grand­children some money. She was very generous – there are 13 of us!" says Ruby. It was the first year of the Glasgow Art Fair, in George Square, and she saw a painting that she had to have. "It was by Fraser Taylor, who is also a good friend, and I bought it on an impulse. I still love it to this day. When I told my Nana what I'd done with the money she just smiled and never said a word – although she was probably thinking I could have done something a bit more sensible with it."
Preparing for a holiday to New Zealand, where her husband's family are from, organising the next walking trip with a group of her best friends, the Lady Walkers, and planning a visit to see her eldest son, 21-year-old Luke, who is on a soccer scholarship in America, are occupying her thoughts right now, as the busy Christmas period comes to a close and Ruby prepares to embark on the new season.
WHAT RUBY LOVES
Favourite book I love reading and always have a few on the go. A Prayer for Owen Meany is one of my favourites. For a funny, charming read I love I Feel Bad About My Neck by Nora Ephron.
Favourite market When I visit my friend David in London, we like a stroll around Borough Market – the food is so great.
Favourite place to unwind Our friends' home in Sicily. It's a little slice of heaven.
Somewhere for the child in you Cycling around Millport.
Best place to feel creative In my studio, on my visits to the market, or out walking with my friends.
Favourite feelgood film Zoolander – it still makes me laugh. And I love It's Complicated with Meryl Streep, Alec Baldwin and Steve Martin.
Signature cocktail French Martini.
Favourite comfort food Pappardelle with chicken, sage butter and parmesan, followed by cheesecake.
Top cooking tip Buy frozen chopped onions, take your time, have a glass of wine and enjoy yourself.
Morning coffee shop Seb & Mili, Argyle Street, Finnieston.
After-dinner drinks Kelvingrove Café.
Favourite piece of furniture My bed.
Dream destination New Orleans.
Favourite designer Marc Newson.
Biggest indulgence What more could I ask for – time out with my family.
DETAILS
Photography Neale Smith
Art direction Gillian Welsh
Words Catherine Coyle