The fresh connection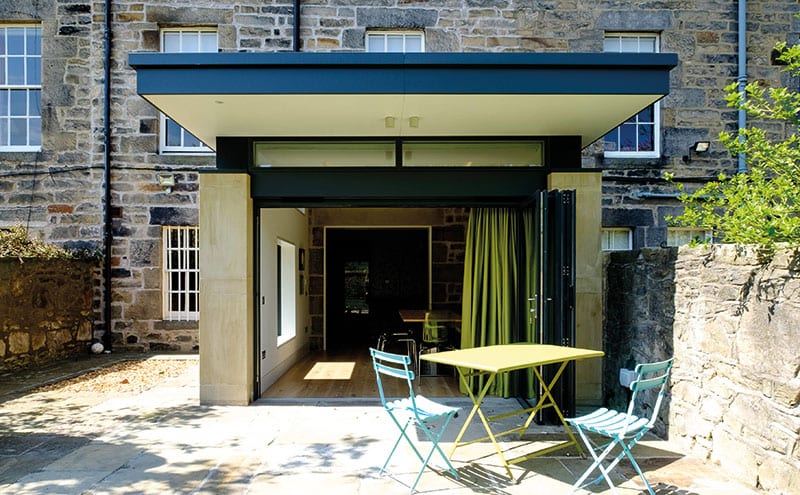 Linking the garden to the house and opening up the interior to bring in more light and air has transformed life in this Edinburgh townhouse
Edinburgh's Georgian architec­ture is among the finest in Britain. It still surprises me, as a thirty­something Scot, every time I hop through from my native Glasgow and take to the cobbled streets to find the city-centre townhouses, stacked above like stern elder statesmen keeping a watchful eye on the neighbours. The front doors alone, with their fanlights above and classical pillars on either side, are worthy of their own Facebook page.
So, it is perhaps understandable that anyone who approaches the council's planning department with proposals that might alter such beautiful and historically significant streets is met with a flat refusal – the city's architects are all too well aware of the challenges they face when clients ask them to adapt a Georgian property for 21st-century living. But some have been able to devise solutions that successfully preserve history and heritage while giving the owners homes that suit the modern world.
Nigel Somner is one who has mastered that art. He has been in the business for long enough to know what has a chance of being accepted by the planners and what won't even reach stage one. He also knows this particular Edinburgh townhouse inside out: he and his practice Somner Macdonald made alterations to it back in the early 2000s. Even within that brief 15-year gap, though, advances in technology have changed what is possible in building and design. Interior trends, too, have come and gone. What has remained, however, is the reality that people today do not live the same way their Georgian forebears did.
Most of Edinburgh's New Town follows a template: townhouses tend to be arranged over three or four floors, with the first floor being the prime position. This is where the formal drawing room would be, the furniture grander and the decor richer to go along with the higher ceilings and the taller windows. Servants would sleep in the attic and work in the basement, in both cases tucked away out of sight. And it's this basement level that causes most difficulties to today's owners, whether they're in a conversion or they have all four floors to themselves: there is very often a lack of natural light, a disconnection from the garden and a sense of being isolated from the rest of the house.
These were precisely the issues confronting the owner of this three-storey property, and it showed in the brief: "We were asked to remodel the basement level to create more spacious living areas, with more flow and better connectivity with the private south-facing back garden," recalls Nigel. He set about drawing up plans to show how the basement rooms could be opened up to create a large kitchen with a living and dining area, complete with an extension that leads out to the garden.
DETAILS
What A remodelled and extended Georgian townhouse
Where Edinburgh
Architect Somner Macdonald
Contractor Gloss Projects
Structural engineer Burnt Siena
Quantity surveyor Thomson Gray
Photography Sean Gaule
Words Catherine Coyle