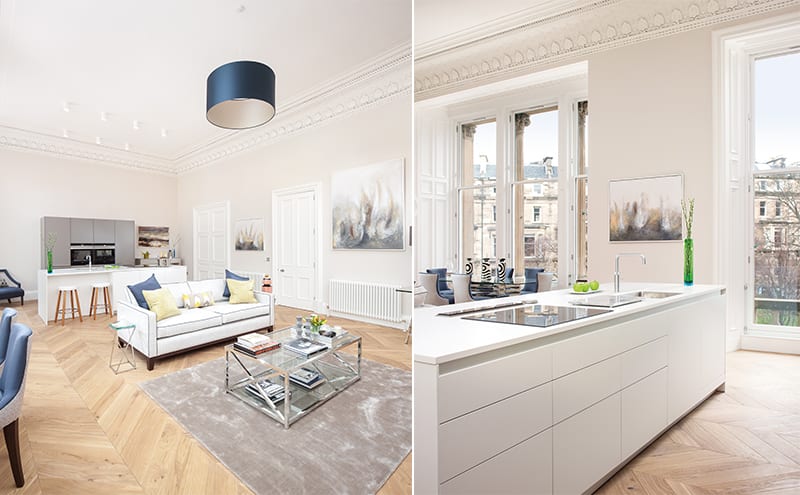 Five Victorian townhouses in the west end of Edinburgh have completed a 140-year journey from homes to offices and back again
Up until really quite recently, much of the west end of Edinburgh was living a double life. From nine to five, Monday to Friday, it thronged with taxis, couriers and busy workers. Venture here after dark, though, or at the weekend, and you'd have the place to yourself. Shuttered and silent, the glorious Victorian terraces that lined the empty streets were deserted outside of business hours.
Today, this is no longer the case. Just as is happening around the likes of Glasgow's Park Circus, many of these blond sandstone mansions are being reclaimed for residential use. A new development in one of the stand-out streets in the capital's west end, Drumsheugh Gardens, exemplifies the journey back to domestic life. Its five townhouses – built in 1878 and covering a colossal 35,000 square feet – have been reconfigured to create 20 flats.
It's not just the impressive location that appeals: no new-build, no matter how high-spec, could compete with the high ceilings, generous proportions and period details that lie behind the fine Italianate façade.
It's easy to see why businesses wanted to move into such prestigious buildings, but in truth, townhouses like these never made great offices: the rooms were too large for one person but not spacious enough for open-plan working; planning regulations wouldn't allow all the essentials for modern communications to be built; and they were hard to heat efficiently.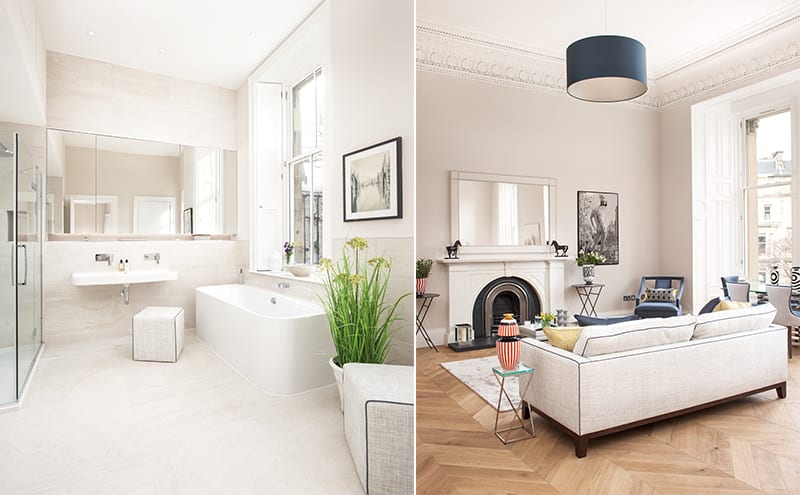 By the same token, they were no longer much good as homes either. They'd worked perfectly well when they had owners with large families and plenty of servants to accommodate; but this is not the way most of us live today. Dividing them into flats while retaining all the period features that make them so desirable is the obvious, if challenging, way forward. The award-winning Morgan McDonnell Architecture, together with Square & Crescent, an Edinburgh firm that spe­cialises in returning commercial premises to residential use, took on the Drumsheugh properties with the aim of restoring and enhancing the original interior and exterior architecture.
Before they could do so, of course, there had to be a massive clean-up. Out went the fluorescent lights, the miles of computer cabling and the carpet tiles. Partition walls and makeshift kitchens were stripped out.
"The interiors had not been updated since the 1980s," recalls architect Lisa Morgan. "We found office lighting that had been unceremoniously installed on top of decorative ceilings, rooms that had been carved up into smaller spaces, and finishes that were generally very dated and in a poor state of repair."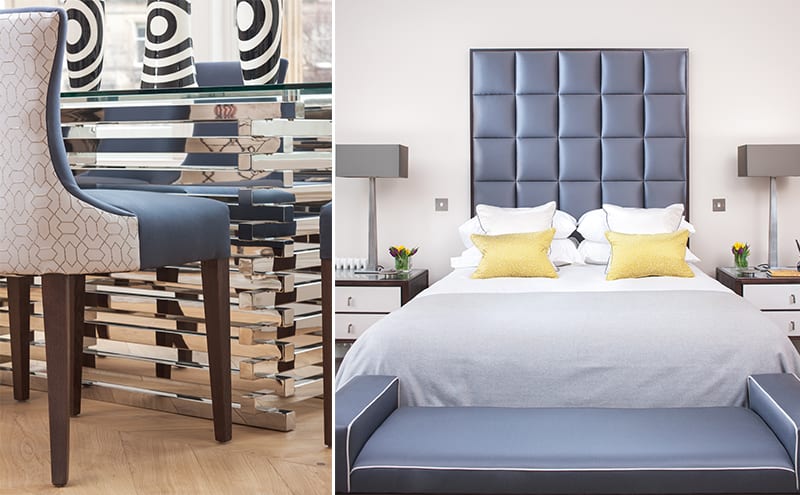 The 20 new apartments, which range in size from one bedroom up to four bedrooms, make the most of their Victorian surroundings. "The proportions are extremely generous, with ceiling heights of nearly 4m on the principal floors, and windows that stretch almost from floor to ceiling," says Lisa. "The large formal rooms to the front lend themselves to public areas such as open-plan kitchen-dining and living spaces, while the rooms to the back, with their quieter outlook, are perfect for bedrooms and en-suites. The terrace has an east-west aspect, so the flats have lovely light all day."
This is just a taster, you can browse the full article with more stunning photography on pages 234-242, issue 113.
DETAILS
What A one-bedroom townhouse conversion
Where Edinburgh
Developer Square & Crescent
Architect Morgan McDonnell Architecture
Art Direction: Gillian Welsh
Photography Neale Smith
Words Judy Diamond