Its walls came tumbling down, and its ceilings – now Elie's iconic seaside pub has opened up with a fresh new interior and a focus on good food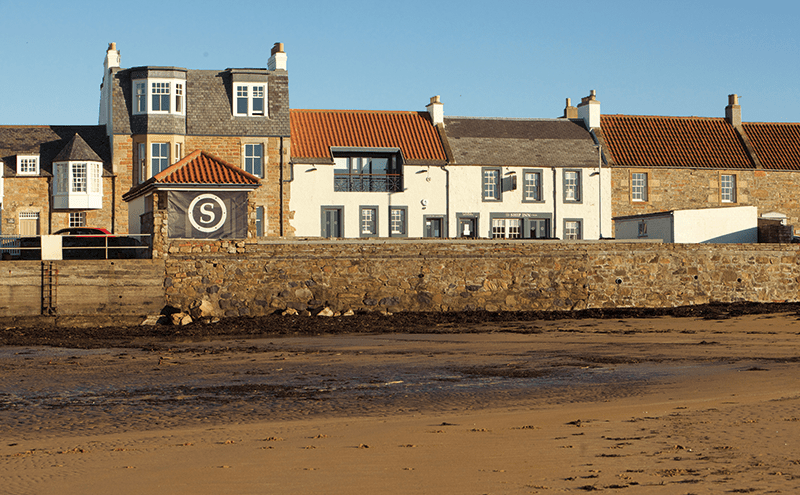 Words Gillian Welsh
They took the plunge and it paid off. For Rachel and Graham Bucknall, Elie was where they met and a place Rachel has known all her life, since her parents bought a house here in 1964. Having taken over the Bridge Inn in Ratho and breathed new life into it, the Bucknalls felt they could do the same for the Ship Inn, Elie's iconic pub. With a beach, water sports and that enviable East Neuk microclimate, the seaside town is a big pull for day-trippers and holiday-makers, especially in summer when numbers quadruple to 4,000.
The beach-fronted Ship Inn is a focal point all year round, for locals and visitors alike. Now, with its extended restaurant, with an emphasis on beautifully prepared Scot­tish ingredients, and six New England-styled en-suite bed­rooms, it is no longer just a pub, but an inn with rooms.
Reaching this point has taken a lot of hard graft. The alterations were radical, with every room in the 18th-century building changed in some way. Architect James Pask had a job on his hands, as nothing had been touched for over 20 years. The bar's walls were knocked down and its floor was dug down to about six feet so the foundations could be rebuilt (they'd been constructed on running sand). All the ceilings were pulled down and the rafters exposed. The upstairs restaurant, which now incorporates the former bedroom and sitting room of the old upstairs flat, has doubled in size.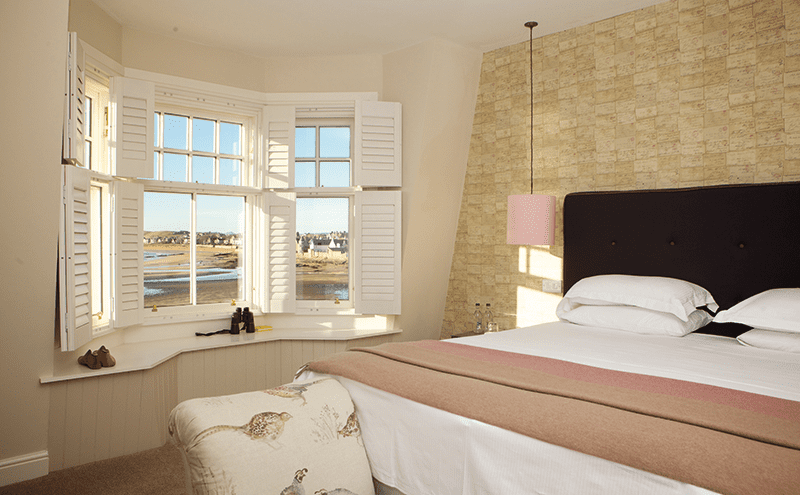 Down in the bar, the ancient stone wall has been exposed and repointed to make a striking feature. The beams here aren't original or structural, so an 1855 map of Elie has been blown up to cover the ceiling. Dogs are now allowed in. Sometimes there are more dogs than people. The open log fire was the one thing that customers begged the Bucknalls to keep. It's still here, but now it's bigger. You can eat in the bar, too, and the dining area, once dark and hardly used, is practically full every day.
This was not a job that could be done piecemeal: the business had to close for five months while renovations were underway. GAT builders from Edinburgh took on the first phase (renting a house in town for the duration, and becoming completely smitten by Elie). They reduced the building to a shell very quickly, leaving little more than the original outside walls (think four bare walls, a floor of sand, glimpses of blue sky through old timber joists and you get the picture). Access down a single-lane dead-end is a tricky at the best of times, and once spring arrived access became a nightmare. Parking in Elie is always at a premium, and having builders' vans and large skips taking up valuable kerb space didn't make the Bucknalls very popular. When the restaurant was finished but the bedroom build over-ran, they wisely decided to halt work for the summer, picking it up again late last year.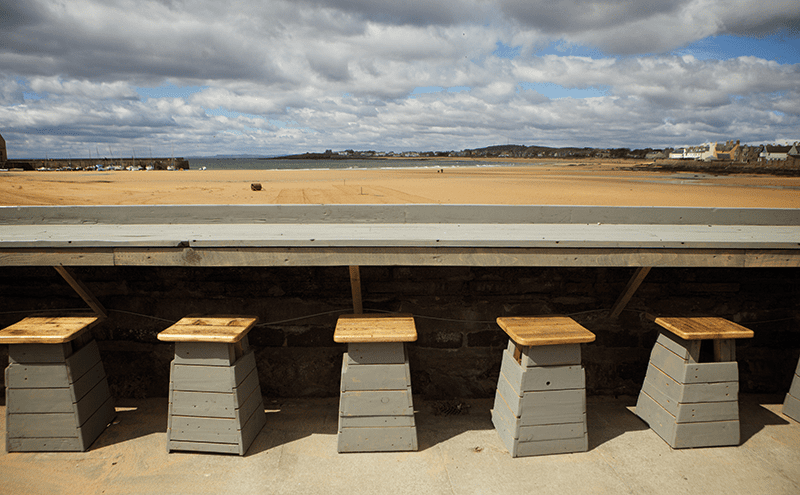 Fast-forward a bit and we're relishing an exquisite three-course meal prepared by head chef Marc Wohner: heritage beetroot salad, venison loin and passion-fruit soufflé. It's remarkable, including the wine recommended by Graham, who knows his plonk well. Lovely staff are happy to tend to the complex coffee order (mine), and in front of the fire we unwind even more.
Morning breaks, with shutters open: the view of the bay compels a run. But I didn't pack my trainers. Instead, soaking in the roll-top tub, with Siabann bath oil, in the Admiral Room's luxurious en-suite, we plan the morning: St Andrews first then a mini-road trip taking in some of the East Neuk's hot spots.