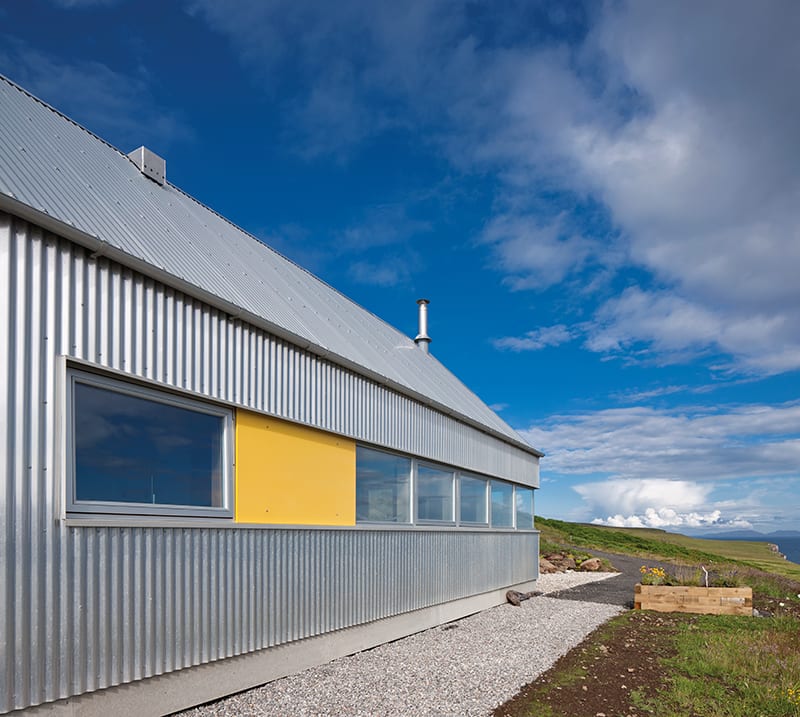 Tinhouse, a new Skye croft house that cleverly combines traditional Highland sheds with the futuristic spirit of 1960s US Airstream caravans, raises the stakes when it comes to the concept of 'a labour of love'.
Indeed, it has taken the best part of five years in all to design and build it, with architect Alan Dickson spending almost every weekend for three years working on the house.
Still, Alan, who designed Tinhouse together with his wife Gill Smith (both are principals of Skye-based Rural Design), admits that it's a labour of love that has been all about long-term gain rather than any real or imagined short-term pain.
"The architecture and building industry is vulnerable to the ups and downs of the economy," explains Alan, who lives with Gill and their family in a neighbouring self-built house on their croft on Skye's Duirinish peninsula.
"We thought that if we had a little place that we could also rent out as holiday accommodation, it would be a comfort. Getting there has been a long process, though – we weren't in any position to act on the idea during the recession.
Since then we were talking ourselves in and out of it. But once we established with the local planning department that we could actually build on what is a very steep site we decided finally to go ahead."
The couple were keen to embrace a back-to-basics approach with Tinhouse.
"At the point that we decided to go ahead with the project, we had just designed a few houses on Skye that were formally quite unusual," says Gill. "So we thought that it would be good to return to designing a simple, traditional long house with a pitched roof.
The Wooden House, our original new-build next door, is a contemporary take on this simple form (although it is one and a half storeys rather than a single storey) and we saw Tinhouse as a little sister building on our croft. We wanted them to speak to each other."
This is just a taster, you can browse the full article with more stunning photography on pages 124-132, issue 113.
Subscribe now
DETAILS
What A one-bedroom new-build
Where Skye
Architect Alan Dickson and Gill Smith, Rural Design
Photography David Barbour
Words Caroline Ednie