The Hebridean Baker Coinneach Macleod chats to us about his Christmas – what's on his list, what he's gifting, and, most importantly, what he's eating
interview Miriam Methuen-Jones | photography Susie Lowe
My Christmas traditions really start on the 21st of December. It's classified as the shortest day but we call it Oidhche nan Seachd Suipearan or 'The Night of Seven Suppers' – the night is so long that there's the opportunity for us to eat seven times before the sun rises again. That's the kick off for Christmas for me.
I'm a big preparer for Christmas, and I always make some of my gifts. There's two main things I like giving away as gifts.
HOW TO MAKE BRAMBLE WHISKY
One is bramble whisky; I love picking brambles (as long as I have good gloves!). There's lots of things I do with brambles but bramble whisky is one of my favourites for Christmas.
Fill half a bottle with brambles and then top it off with whisky. I like to include a little bit of lime zest and juice as well. I like the sharp taste that the brambles give, I think the lime adds to that.
All you do is shake this every day for three months. Then sieve out the brambles and it's ready! It doesn't taste like whisky or brambles, really, it has its own flavour. It's a gorgeous dark colour in the bottle.
It's perfect for Christmas and New Year. I always prepare some for the festive season, and it's my go-to gift for people around the village.
As well as the flavoured whisky, I love to gift Christmas cakes. I'm a bit obsessed with making Christmas cakes.
At Halloween, when everyone else is out trick-or-treating, I've got Mariah Carey on and I'm making so many Christmas cakes. You can see the one I'm making this year in my new book.
It's a chocolate cherry Christmas cake. Oh my goodness, it's spectacular.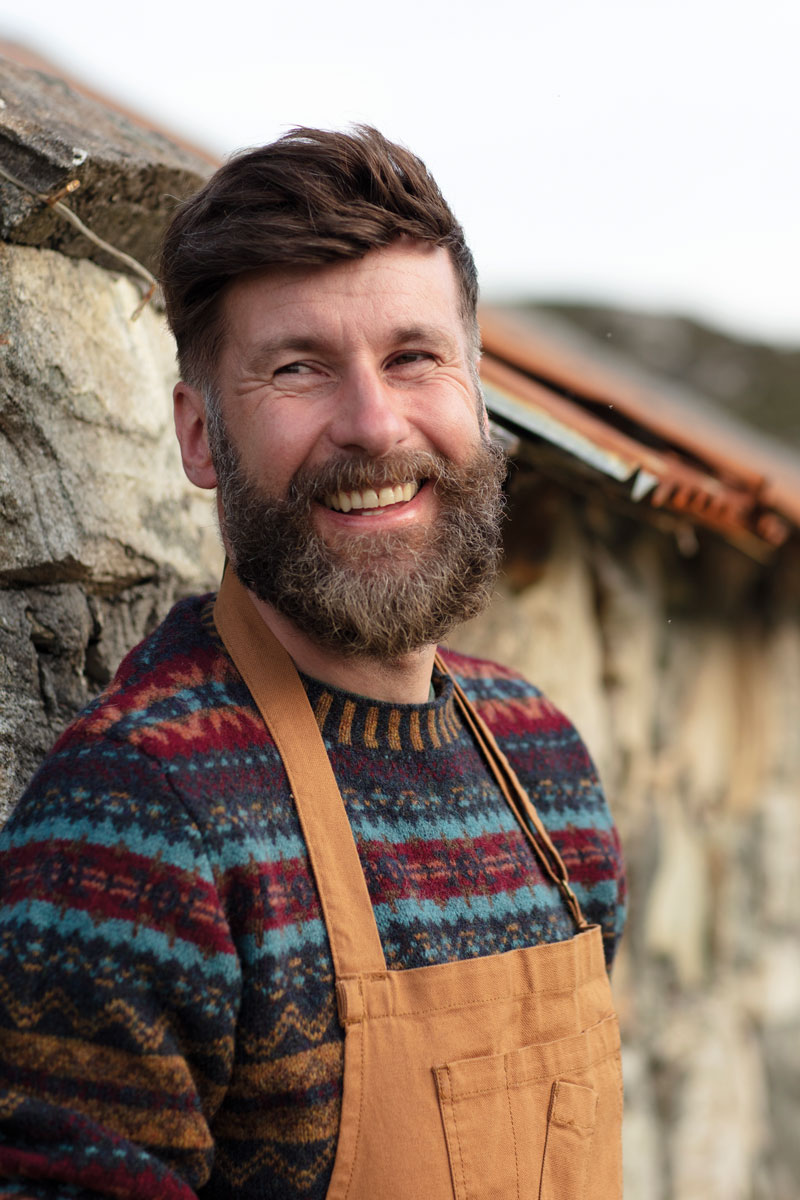 COINNEACH'S CHRISTMAS LIST
Up in the Isles we have a bit of a scare story about a man called Crom Dubh na Nollaig or 'The Dark Crooked One'. He comes to steal Christmas presents… If he doesn't appear, I've already got a couple of requests in for presents I'd like.
I'd love a new pair of wellies! They're an absolute priority. Unintentionally I've become well-known for wearing yellow wellies. They're fisherman's wellies that I usually source from the Fisherman's Co-operative in Stornaway. A new pair is on my list for sure.
Winter can be a tough time to live in the islands: the weather is bad, it's dark, cold, so we tend to look for the good wherever we can.
Apparently the skies over the Outer Hebrides have the distinction of being the darkest in the whole of the UK. So we're lucky to be able to go out and look at the stars and the Northern Lights.
My brother owns a croft that used to be my granny's house. The shell of her blackhouse, where she was born, is still there.
I love it, it's my favourite spot. I love to be there looking up at the stars.
It's pretty treacherous to get out there at night so the other thing on my Christmas list is a really good torch.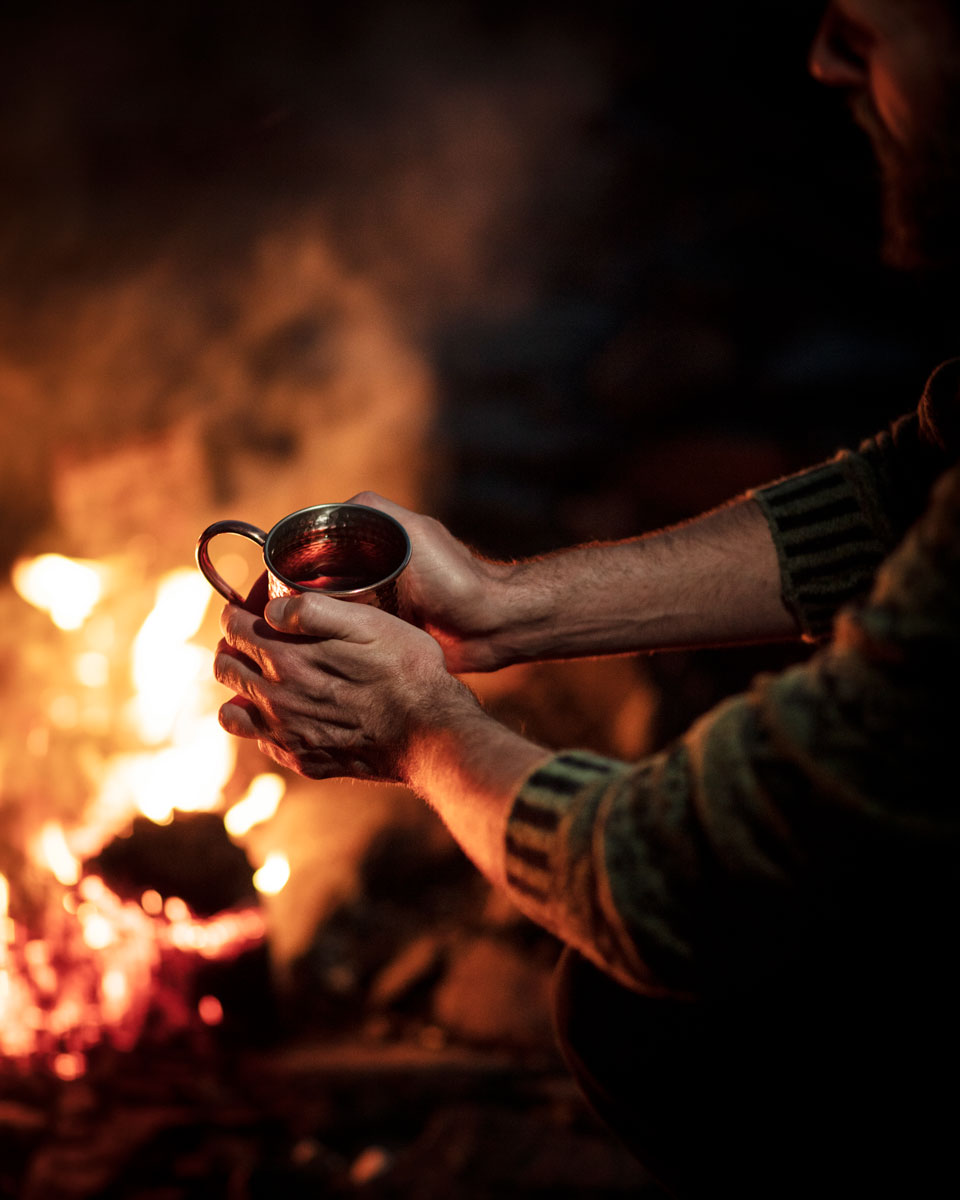 WHAT'S ON THE MENU?
On the big day, we always start with soup. I think Scottish people are great at making soup. We'll be starting with my partner Pàdruig's Scotch Broth (the recipe is also in the new book) with mutton from the island.
I love to make a salmon wellington for the main – it still feels hearty and like a treat but you don't feel as full as when you do the whole shebang.
For me, of course, it's all about the pudding. I have to have a minimum of four desserts on the table.
My showpiece this year is my mulled pear and pistachio pavlova. As well as my centrepiece we'll have clootie dumplings (we call it the duff) as always, and the Cailleach, which is what we call the Yule log.
The Cailleach is the old woman of winter; traditionally the father of the household would carve the face of an old lady into a log and then she'd be burned on the fire.
It was considered good luck, burning the bad spirits in readiness for the year ahead. It's been translated into a Yule log over the years.
The Cailleach would always come with her guardians, and the wee slice on the side is supposed to be left for her and her guardians to take away.
As well as these more traditional desserts, I'll be doing a twist on a lemon meringue pie.
For me, clementines are Christmas. When I see them in the supermarket, I know it's Christmas.
So, rather than using lemon as the base, I use clementine juice in my Christmas meringue pie. It's a total winner.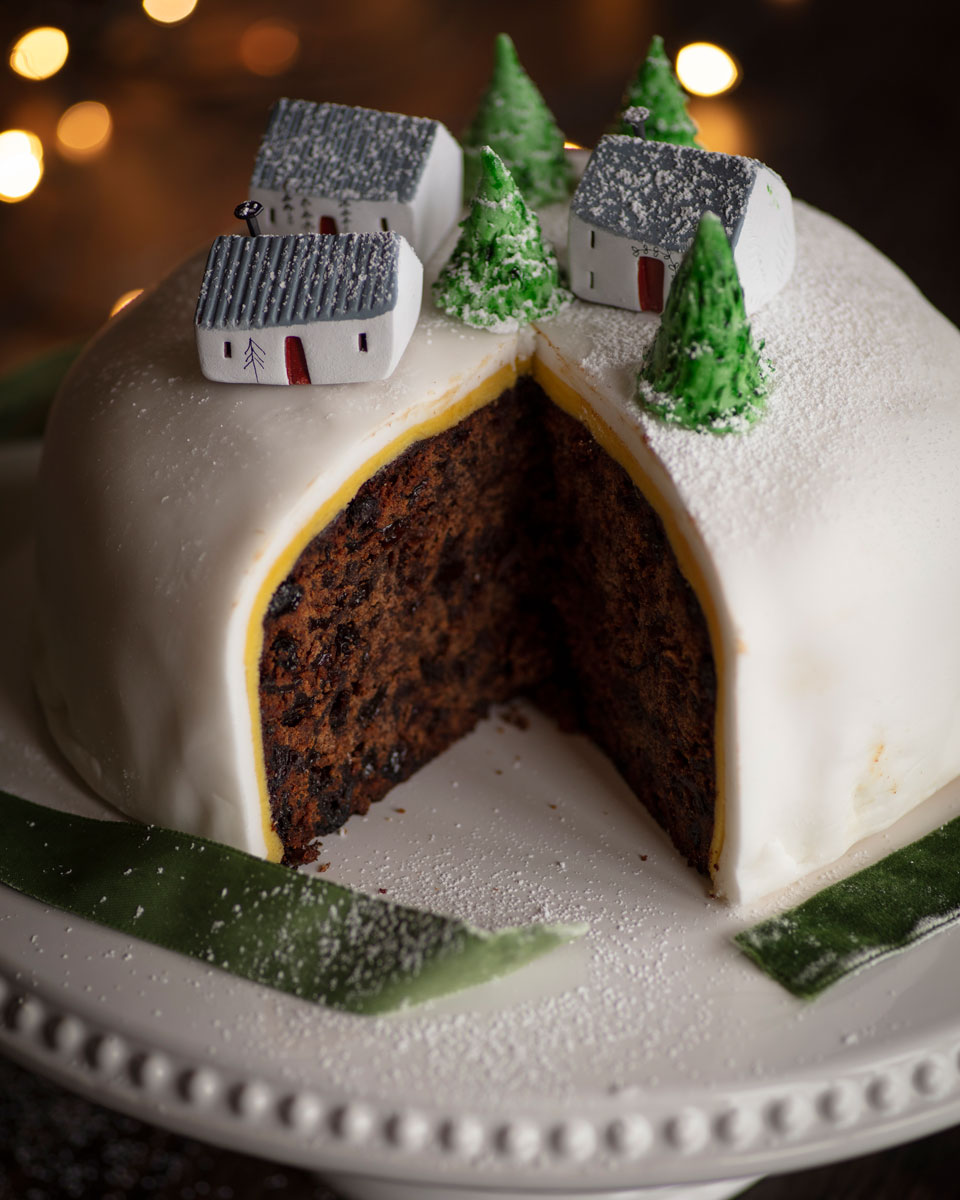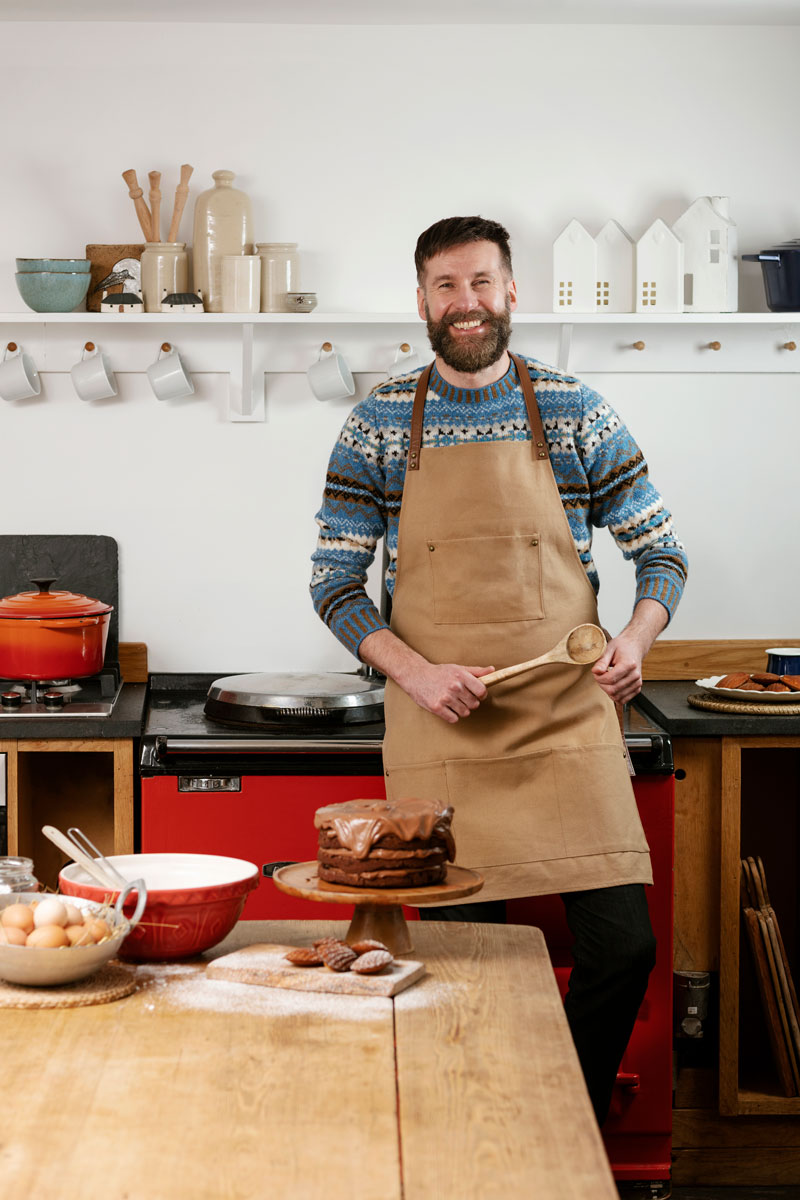 WHAT DOES CHRISMAS DAY LOOK LIKE?
First up is breakfast. I love porridge! I know for some people it doesn't sound like a treat, but I really love porridge.
On Christmas Day, I have my festive version: half pinhead oats, half rolled oats, soaked in oat milk or coconut milk, with chia seeds, flax seeds, golden syrup and cloves. I cook it in the morning and serve it with sultanas and grated apples. It's definitely a treat for me!
Then the absolute priority is our big walk with Seoras the Westie. I'm from a village called Cromore and there's a beautiful walk we love to do on Christmas Day.
It's fittingly called the Cromore Walk and it's about four and half miles through the hills. It's an annual tradition, and on years when the weather is good, you can see all the way to the Isle of Skye.
When we're home from our big walk, everyone gets out of the kitchen and I get on with my work. We're pretty traditional, we stick to eating after the King's Speech – around about five past three.
There's usually quite a few of us; it'll be my brother Murdo and our cousins who live next door. A big Macleod family affair! Someone always has a board game or a jigsaw on the go.
We have a traditional approach to our decorations. Getting a Christmas tree is quite a big deal for us – we don't have many trees in the Outer Hebrides.
We always try and have a real tree to decorate. I leave the decorating to Pàdruig, he's obsessed with buying decorations, and always the most bonkers ones.
All these things you wouldn't expect to be Christmas-related, he's managed to find on his travels.
We even have a Christmas octopus… My favourite decoration is the one my nephew Cameron made me. It's a pompom snowman that he made in Primary 2.
It'll be on my tree every year.
The Hebridean Baker at Home by Coinneach MacLeod is available to purchase now.
Want more from Coinneach? Check out his answers to our Slice of Life questions or his This Life feature