The beauty of this Edwardian home lies not just in its gorgeous surfaces, but in a full-scale retrofit that's made it as energy efficient as a new Passivhaus
words Malcolm Jack | photography Lorenzo Zandri and Christian Brailey
Anyone who doubts the viability of refur­bishing Britain's porous old housing stock to bring it up to climate­-friendly, energy­-efficient standards should visit the gorgeous Muswell Hill Passivhaus home of Ben Ridley.
The director of Architecture for London has reimagined his Edwardian end­-terrace to prove just how much can be achieved when it comes to stripping a traditional property back to the studs and rebuilding it not only following strict Passivhaus principles (airtight and super insulated) but in a way that also preserves and enhances its understated beauty.
"It's a sort of test case study for my practice: can you do a low­-energy house on a reasonable budget, in an ordinary London terrace?" says Ben. "So it's a good example of that, as well as just a really nice home."
When he bought the property in 2020 it was in a run­down state, which suited him just fine. "There's no point buying a place that's already nice and stripping it all out," he reasons.
"You need to really access the bones of the house to do a proper low­ energy retrofit." The planning stage was quick, with most of the work, including a small single­-storey rear extension, covered under permitted development.
The build by main contractor Construction Hub was interrupted by lockdowns, taking around 18 months in all, but Ben was able to move in at the start of 2022.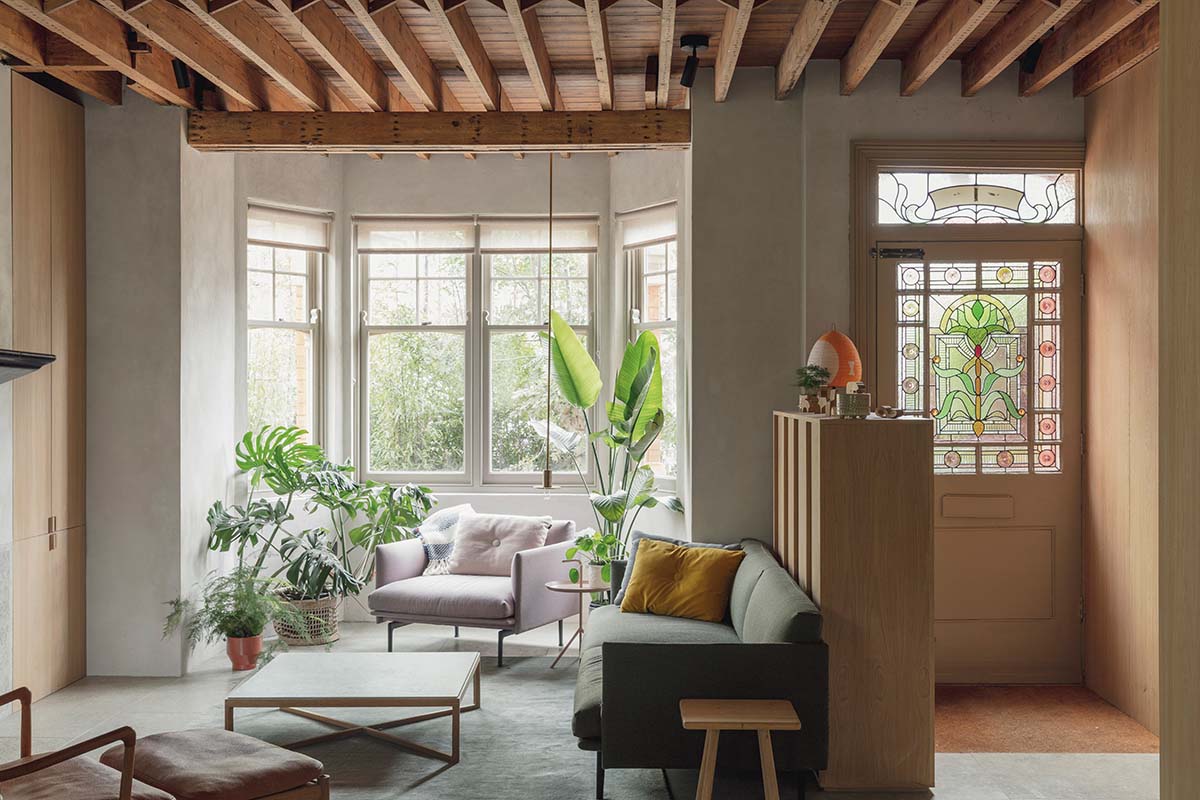 Walk up to the house, built of red brick with an attractive two­-storey bay window, and you could be approaching any other well­-kept period property on the street.
Step through the front door – its stained glass rebuilt by a local expert, to match the pattern of the original fan light above – and you're met by a space at once both familiar and surprising.
There's a narrow staircase ahead of you, right where you'd expect it to be, but it has been rebuilt in sharply geometric oak.
There are five bedrooms and two bathrooms across the upper floor and the converted loft (the latter also contains a TV room).
The ground floor has been opened up to form a single open­-plan space, with views from the living area through the kitchen towards a dining room with floor-­to-­ceiling windows overlooking a wild green garden.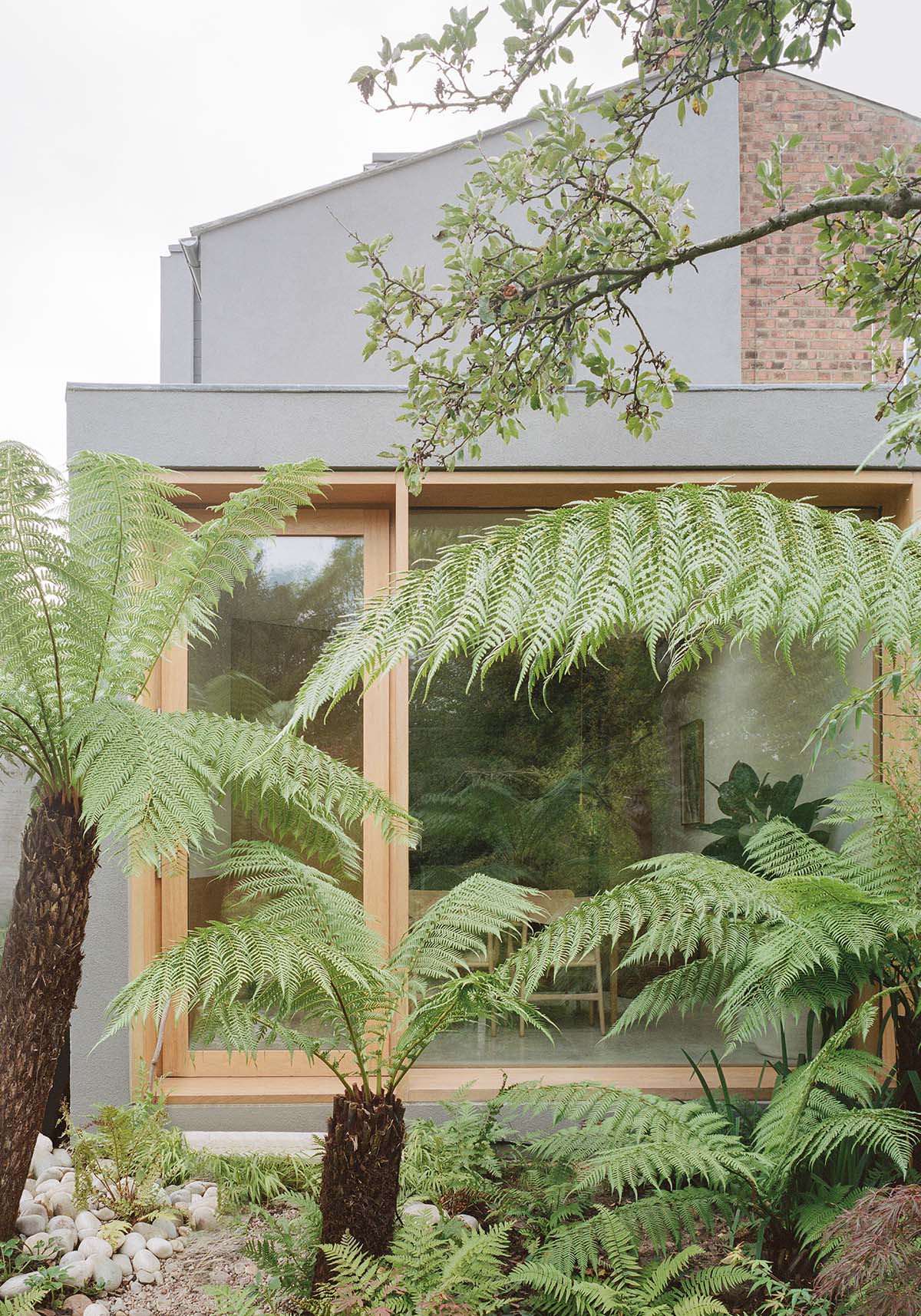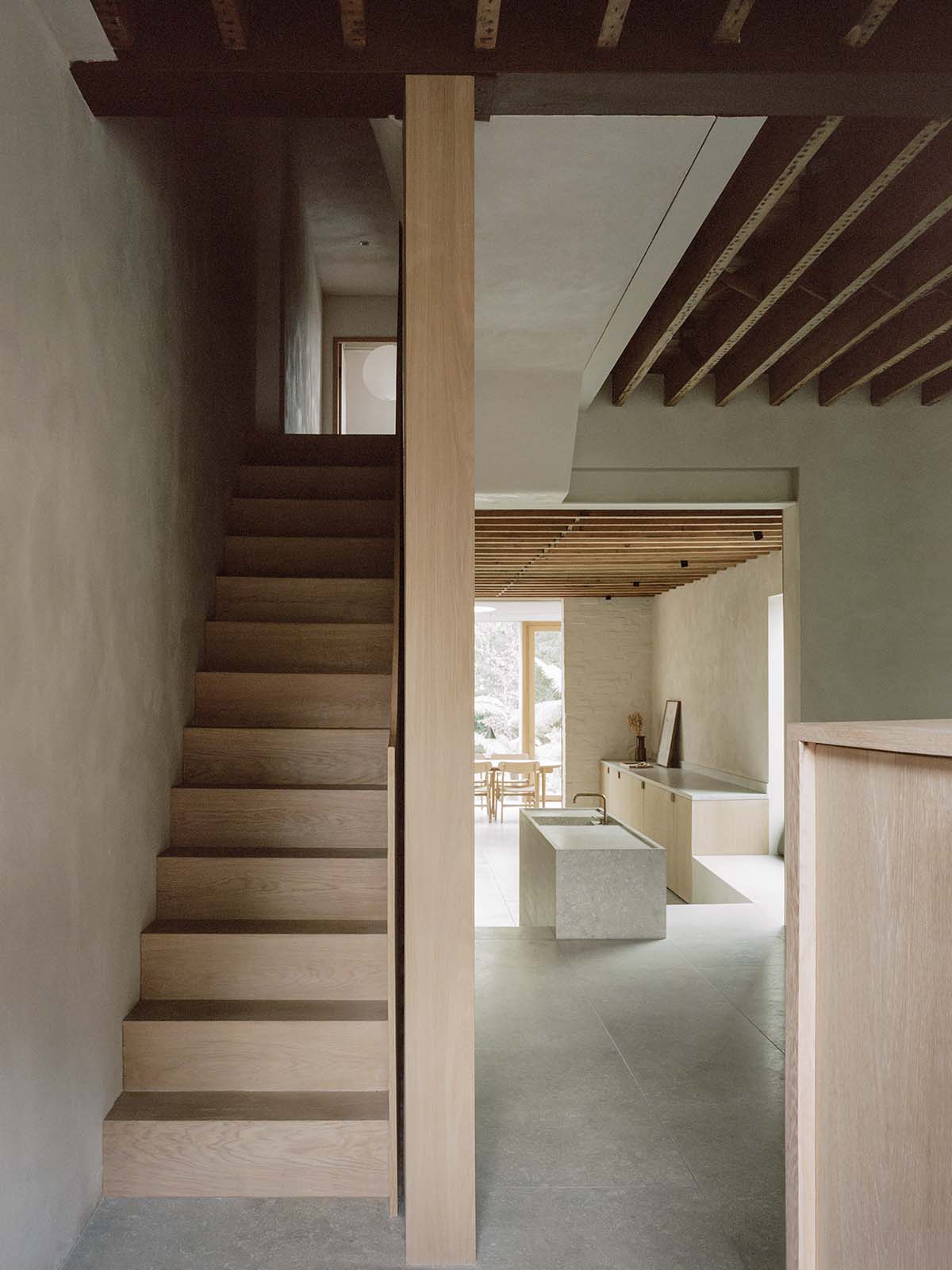 Mundane ceiling beams and joists, once hidden away behind plasterboard, have been exposed and rendered starkly beautiful through simple sanding and fireproofing treatment.
A kitchen island unit seems to rise out of the floor, which is formed of the same limestone. "It's really nice to be able to see all the 50­million­ year-old fossil fragments in it," says the architect. The worktops, and even a window seat cleverly shaped from a three-step drop-­off in the floor level, are made of the same limestone.
With both aesthetics and sustainability in mind, uniform natural materials were used as much as possible throughout the build. "If you can use the same type of materials everywhere," says Ben, "it means fewer deliveries, fewer trucks on the road – as well as saving on costs."
While insulation to the front has been done internally to pre­ serve the traditional brick façade, take a look at the house from the side and the rear, and the mechanics of Passivhaus design are more visible, with the walls tightly wrapped in a continuous envelope of Kingspan phenolic boards.
"If your house isn't airtight, it's a bit like having a warm jacket with the zipper undone," Ben explains.
There's no point having all the insulation if there's lots of gaps where warm air can flow out and cold breezes can get in. It's about closing all those gaps in leaky traditional houses."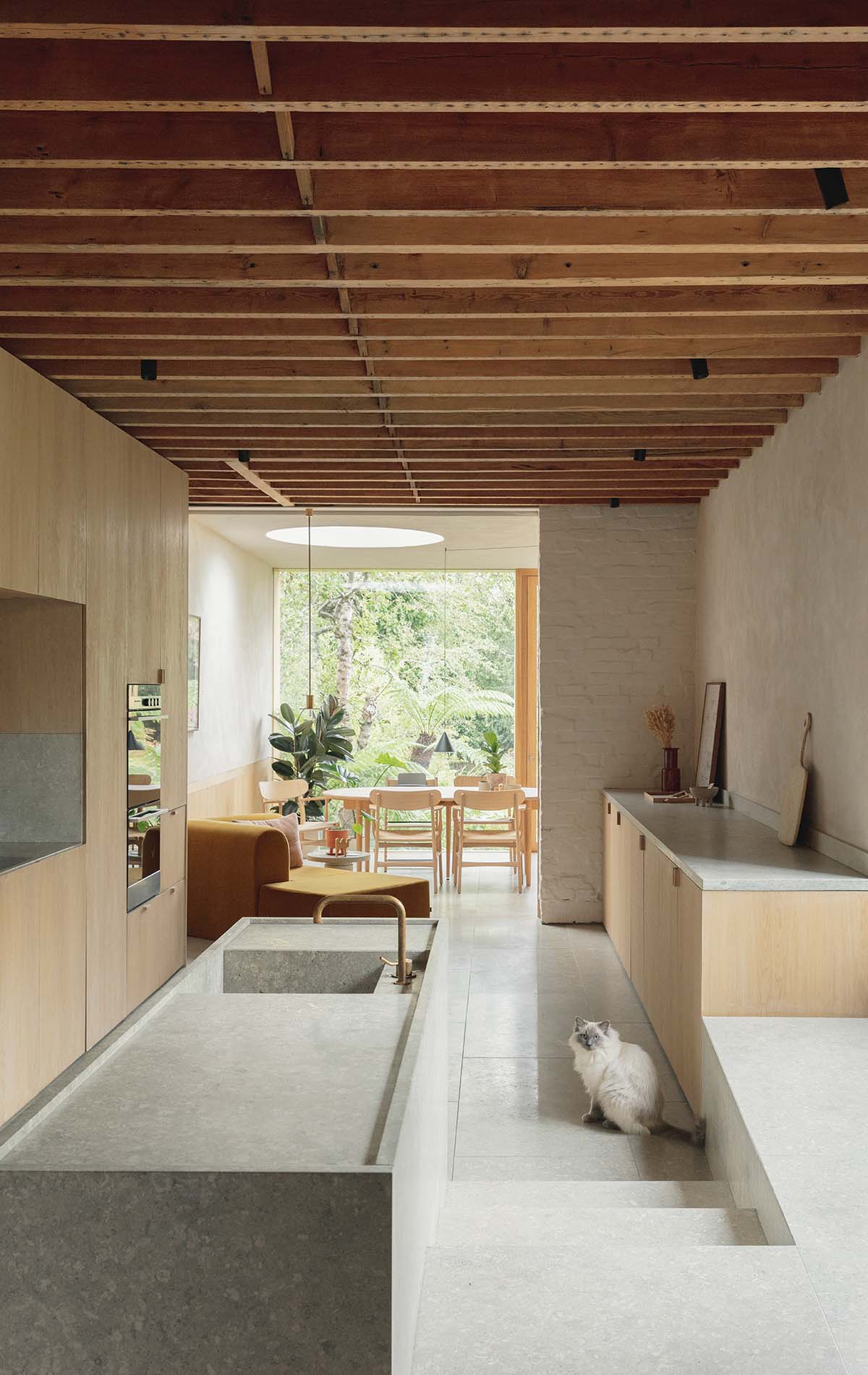 Everything from fireplaces to the junctions between joists and masonry, passages for plumbing and electrical cables and even the letterbox are sealed tight through an array of different materials and techniques (the magnetic airtight letterbox cost just £15).
The MVHR system does the rest, retaining the heat of the old stale air and using this to warm the incoming fresh air, filtering it to remove pollen and diesel particulates to create a healthy indoor environment.
Carbon dioxide emissions for the property are very low, and the indoor temperature is always an even 21 degrees everywhere.
"Normally in an old Edwardian house you'd expect to be cold by a window, but the temperatures throughout the house are constant and stable and very comfortable."
That's in summer as well as winter. "On a hot summer's day, insulation and air­tightness helps to slow down the heat transfer from outside to inside," he says, pointing out that it's important to shade south-­facing windows as much as possible.
"On our loft conversion, we've got a south­-facing Velux window and we have external shading on that."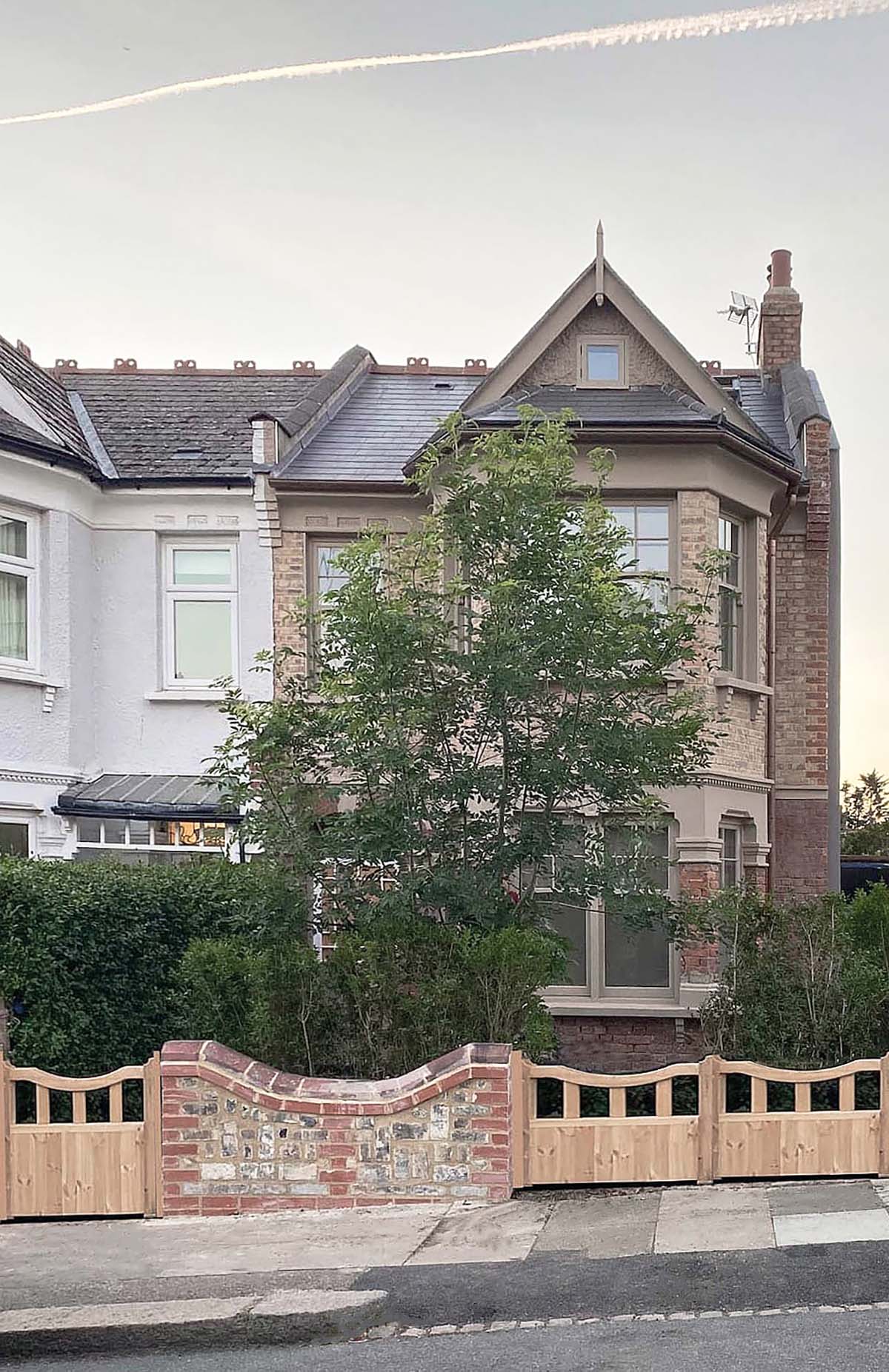 Nature plays its part too. Even though it obscures views from and of the house, a large deciduous tree has been left looming over the front window because it aids the house's energy efficiency.
"In winter you get the free solar gain from the sun, but in summer the leaves block a lot of that heat energy reaching the inside of the house."
The total cost of the refurbishment was around £300,000 – not exactly the kind of money everyone has lying around.
But Ben stresses that, had the loft conversion and the extension not been added, and had pricey aesthetic choices been taken out of the equation, it would have come in at a lot less.
"The low-­energy stuff was only about £30,000, so 10% of the cost," says the architect.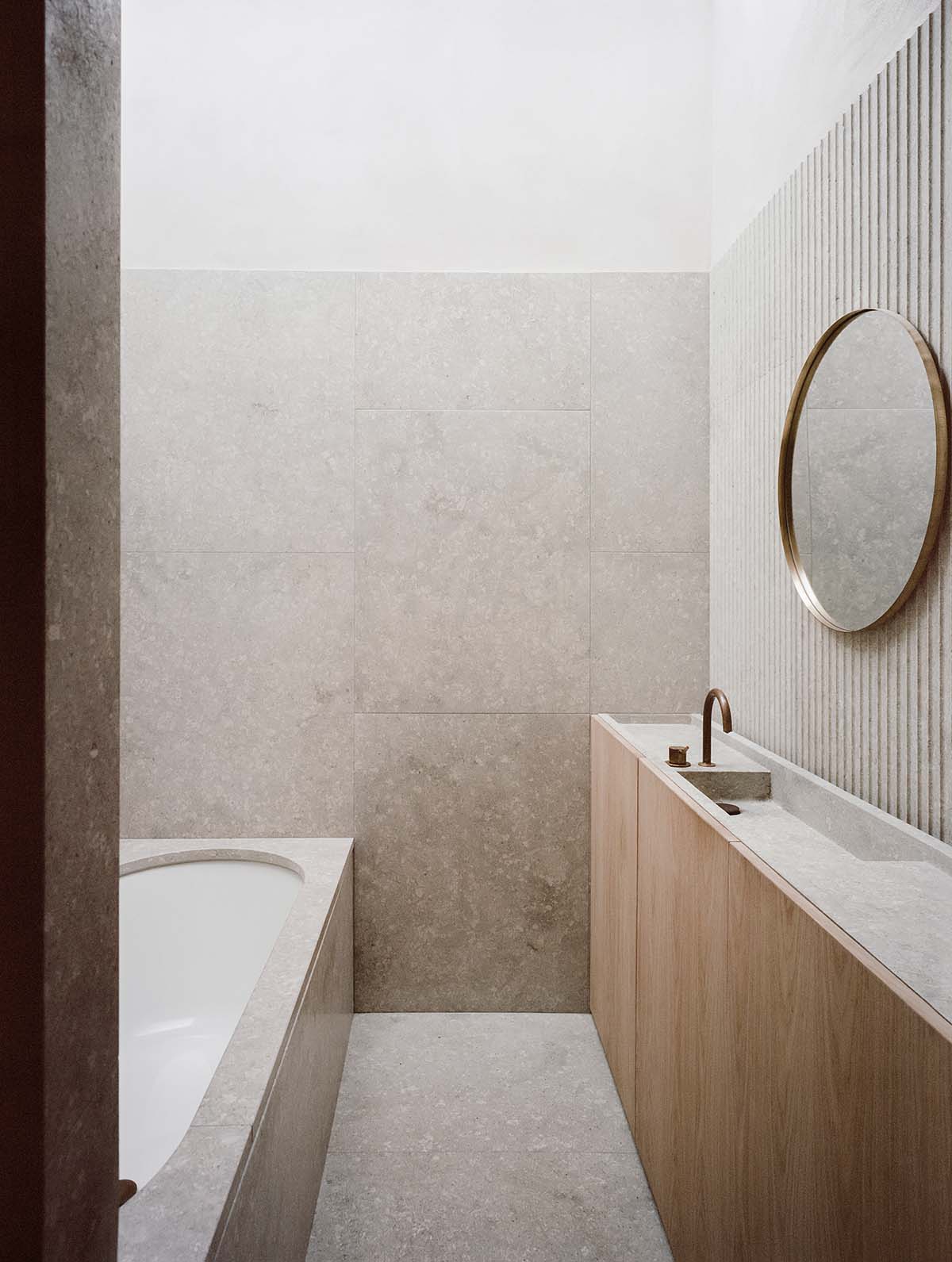 "Maybe £10,000 of that you could do as standalone things, like replacing windows and so on. That means you could get maybe 50% of the energy savings we have by spending ten grand. You'll recoup that in savings on energy bills in just a few years."
Ben hopes his 'test case' will inspire others to think more deeply about what's possible when it comes refurbishing with climate and sustainability in mind, whatever the budget and without making sacrifices in terms of how a house looks, feels and functions.
"I think, for me, the main thing is it's a really calming interior. It's great to come home to after a long day at work. We didn't drastically have to reconsider aesthetics or anything in order to make it warm and comfortable. It's just a really lovely home that happens to be a low­-energy house."