Marine Troon is a coastal gem that combines historic grandeur with contemporary, laidback luxe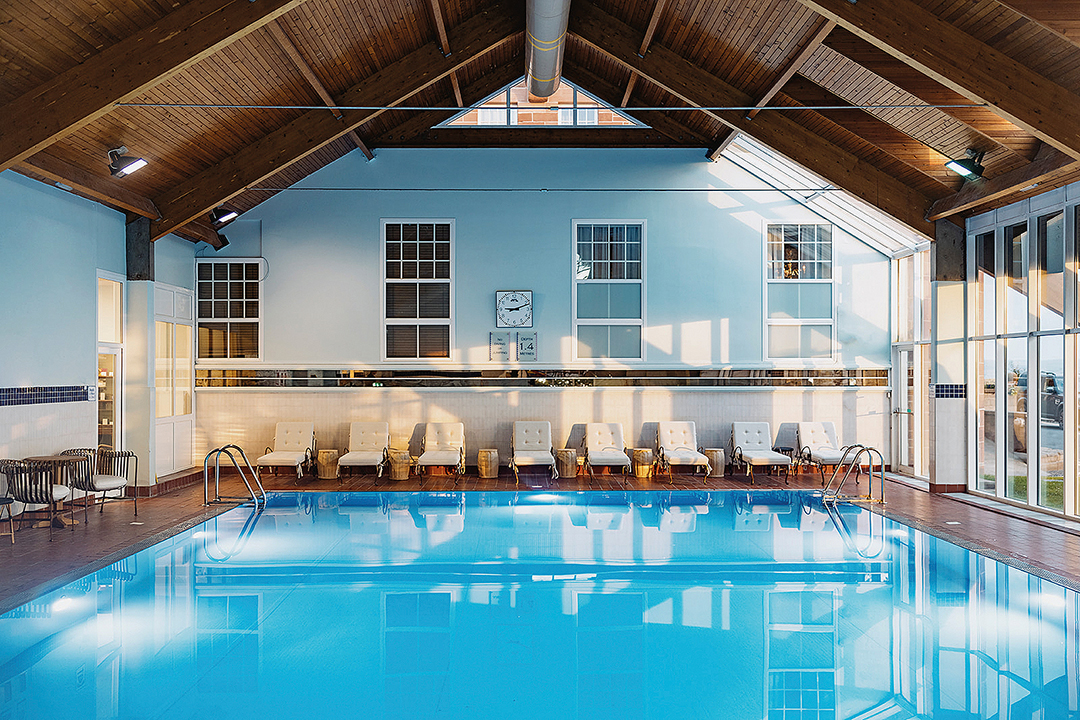 words Catherine Coyle | photography Alex Baxter 
There's something I neglected to mention when I gleefully accepted an invitation to visit Marine Troon, part of the burgeoning Marine & Lawn group of upmarket boutique hotels at various UK golf destinations.
Golf; it just ain't my bag. I've never fully grasped the rules, I don't get why it takes so long and, well, don't even get me started on the apparel. I needn't have worried. What I lack in enthusiasm for the game, I more than make up for when it comes to good food, a comfy bed and a tranquil wellness centre.
Turns out, I'm in luck. Marine Troon has all of those (as well as the golf stuff, of course, for those who are partial).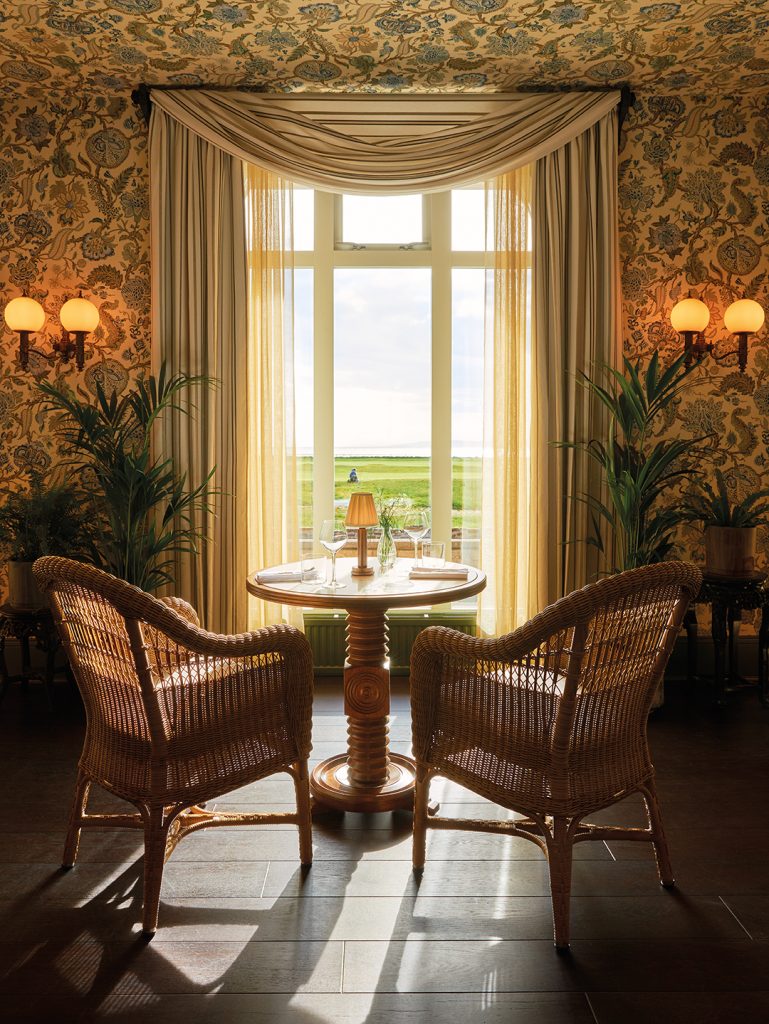 With a majestic location on the Ayrshire coast, the hotel has been welcoming guests since 1894. But a facelift and thorough refurbishment in 2020 has rejuvenated the place and given it a fresh appeal.
Zhuzhed-up bedrooms, a new bar and restaurant and, more recently, a wellness centre that would make Gwyneth Paltrow break meditation, have all been completed in a style that reflects the historic hotel's past but also firmly signposts it in the here and now.
There's no doubt this is a destination sought out by golfers from all over the world.
The Seal bar shares its name with the opening hole of Royal Troon's revered Old Course – there's a marvellous view of it from the windows. The hotel's own private putting green overlooks the Old Course too, and even the indoor swimming pool enjoys panoramas of lush green carpets of perfectly manicured lawn, dappled with sandy bunkers waiting to capture a wayward shot.
But don't be misled. The beauty of what Marine Troon has achieved here is that it appeals to far more than just the golfing clientele. It has created a resort ambience.
If Baby Houseman appeared carrying a watermelon, I doubt anyone would bat an eyelid.
And, while this might be a fancy five-star hotel, the staff (a mix of locals and international appointments, giving guests a 'best of both worlds' wisdom) are so welcoming that it feels akin to reacquainting yourself with a long-lost relative over a drink and a game of dominoes – warm, lingering and with a rematch on the cards.
The 89 bedrooms have their own personalities but are united by some subtle interior touches that give the place a laidback maximalist vibe. Each room, for example, has its own bespoke sketch by tastemaker Luke Edward Hall of Arthur Havers, who won golf's most prestigious trophy, the Claret Jug, at Royal Troon in 1923.
Similarly, striking a balance between past and present, Ukrainian artist Oleksandr Hrytsai carved the Royal Troon crest that is displayed in the lobby, as well as the mirrors in each guest room.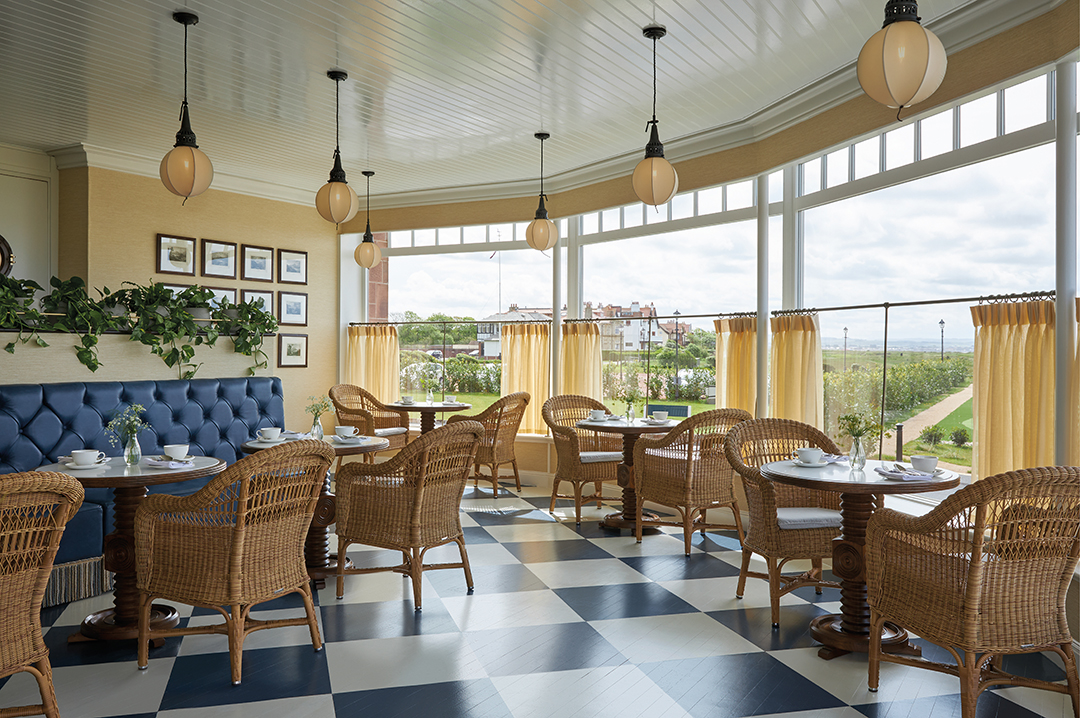 The Rabbit restaurant (named after the tricky 17th hole) is an enticing spot for dinner.
From the outside, the building has the kind of mid-century charm that drew holidaymakers to Kellerman's year-after-year (yes, I know Dirty Dancing is fiction but stay with me).
Windows are vast, pulling your gaze outside to focus on the seascape, but once night falls you feel cocooned in rich fabrics, giving the sensation of being completely removed from the real world.
If that doesn't make you feel at home, try executive chef Ryan Marshall's seasonal menus.
Given the location, it would be criminal not to sample the seafood on offer. A punchy bowl of mussels simmered in cider, jalapeno and garlic kicks things off; plaice with parsley, lemon and capers is accompanied by buttery mash and almond-flaked green beans.
I'm convinced I won't be able to manage dessert – until, that is, the first spoonful of sticky toffee pudding: it's gone before the ice-cream has had time to melt.
There's not a great deal that can be accomplished after such a satisfying meal, beyond gazing out to the terrace and the luminous twilight sky.
By morning, after a deep sleep, it's the sky again that sets the tone. This time it's a brilliant blue, best viewed from the breakfast room and then the glass-walled pool.
The Rabbit's breakfast offerings are just as indulgent as its dinner delights.
You can go light, with the continental menu, or for something warm and decidedly Scottish – porridge with berry compote and heather honey, a full fry-up or smoked salmon.
And stopping by the wellness centre is a must, where a gentle swim feels peaceful looking out to Arran – almost like you're taking a wild dip, though decidedly less chilly (and salty).
If all my encounters with golf play out like this, I think I could become a bona fide fan.
From £209 a night.
Visit the Marine Troon website | Follow Marine & Lawn on Facebook | Follow Marine & Lawn on Instagram