Homes and Interiors Scotland sat down with Lorna Dunn, one of the contenders for Scotland's Home of the Year, to discover how upcycling played a part in her home renovation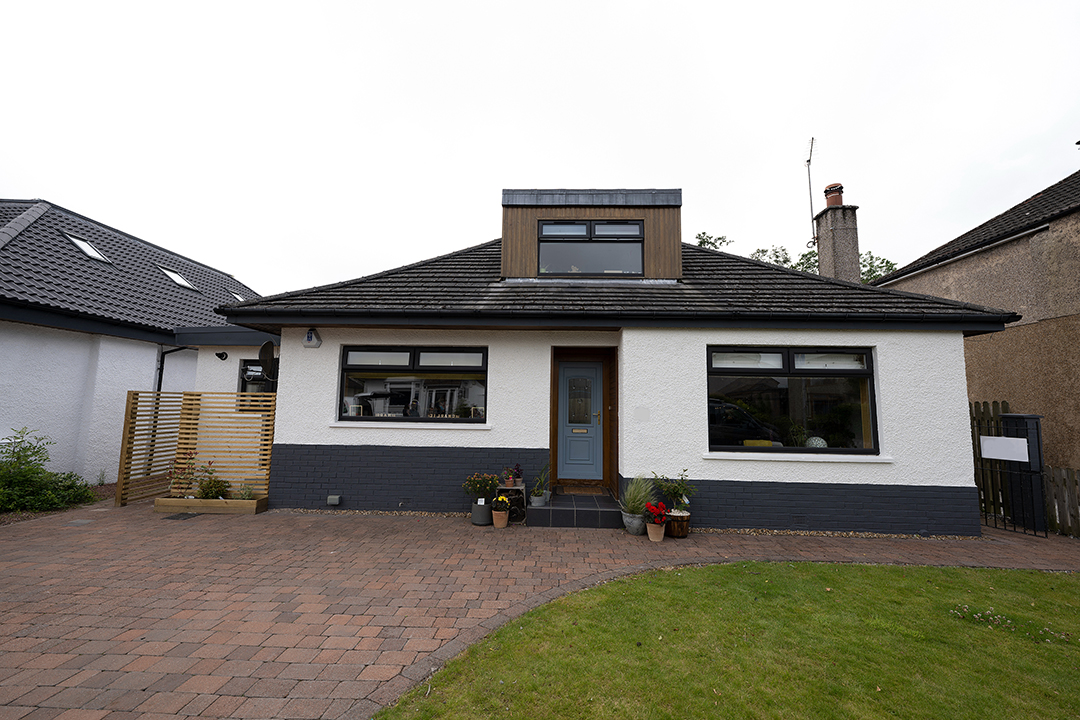 It's time for our final peek behind the curtain, Scotland's Home of the Year reaches its penultimate episode. While we're sad to see the season closing, it's still all to play for ahead of the final next week.
The current finalists are Old Train House in Edinburgh, Snowdrop House outside Aberdeenshire, The Old Manse in Auchterarder, Manor House in Peebles, and Lochbay on the Isle of Skye. But who will join them?
The judging trio, Anna Campbell-Jones, Michael Angus and Banjo Beale, are journeying to the West of Scotland to view the final three houses in the running to make it to that all-important final.
They begin in Glasgow with Kirklee Mansion, an Edwardian renovation home to Jason, John and their Dalmatian, Mitzi Belle.
The judges visit Lorna, Andrew and their two sons in Bright Bungalow, a colourful home with upcycling at the heart of its interior transformation. And finally, the judges check out Elmhurst, a converted, Victorian villa in Greenock, home to Robert, Lynn and their pug, Queenie.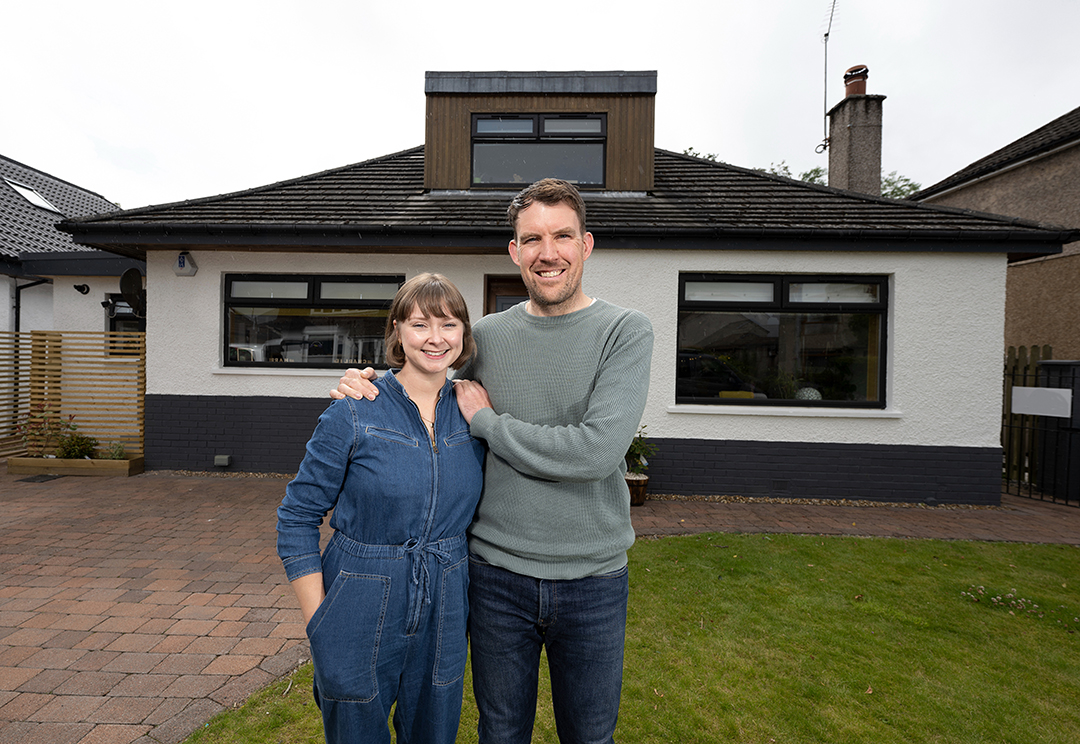 Homes and Interiors Scotland caught up with Lorna to find out how savvy upcycling projects and a love of colour revitalised her home into the Bright Bungalow.
"I have always watched the show and loved it as I have a love for interiors. It has crossed my mind before to apply, as I have designed and done things in our house, so I have wondered about it," says Lorna, who runs her own illustration business Jubbly Jock.
"But if it wasn't for my family and friends encouraging me, I don't think I would have plucked up the courage. I took some photos and sent it in on a whim one day not really thinking much of it – but here we are!"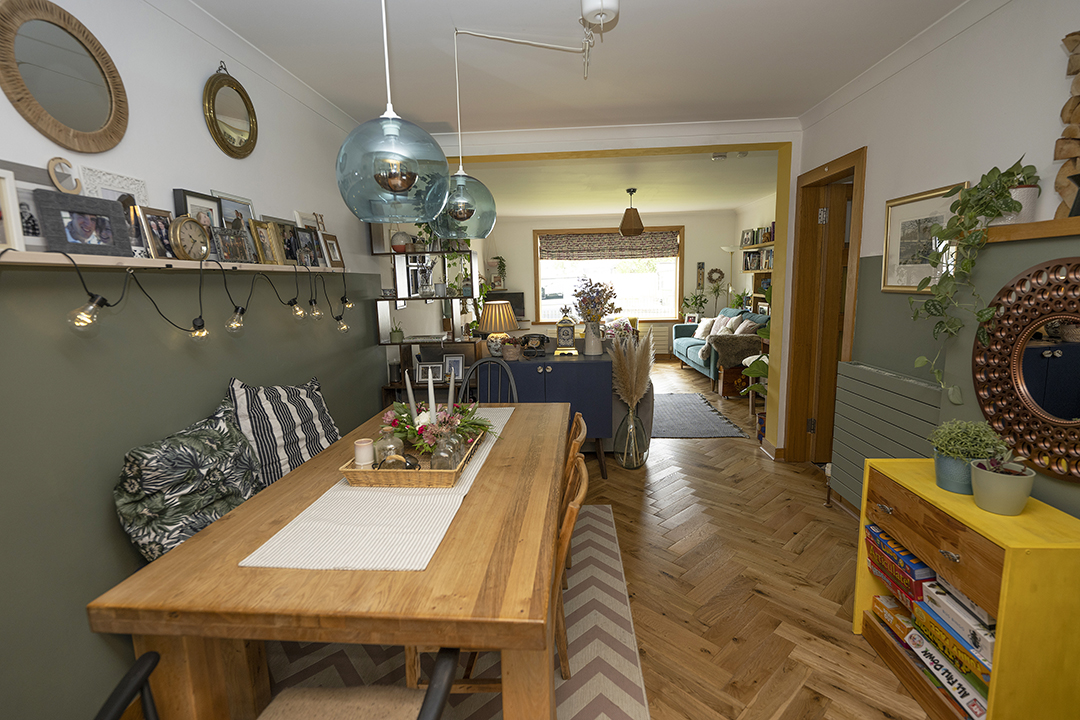 Bright Bungalow had already been extended before Lorna and her family purchased the property, but they decided to extend it once more at the side for some extra space – and what a difference that's made.
"It made sense to extend again as we needed more room and where we extended from, it was just dead space at the side of the house," says Lorna. "The main thing we wanted from the extension was a utility room, as we had one in our previous home, but this place sadly didn't. We're a busy family and the utility room adds a bit of functionality to the house.
"We were able to put an ensuite into the master bedroom, which sits downstairs. The space before wasn't ever used, whereas now it's given us the elements we were looking for in a home. We're really glad we took the leap and extended."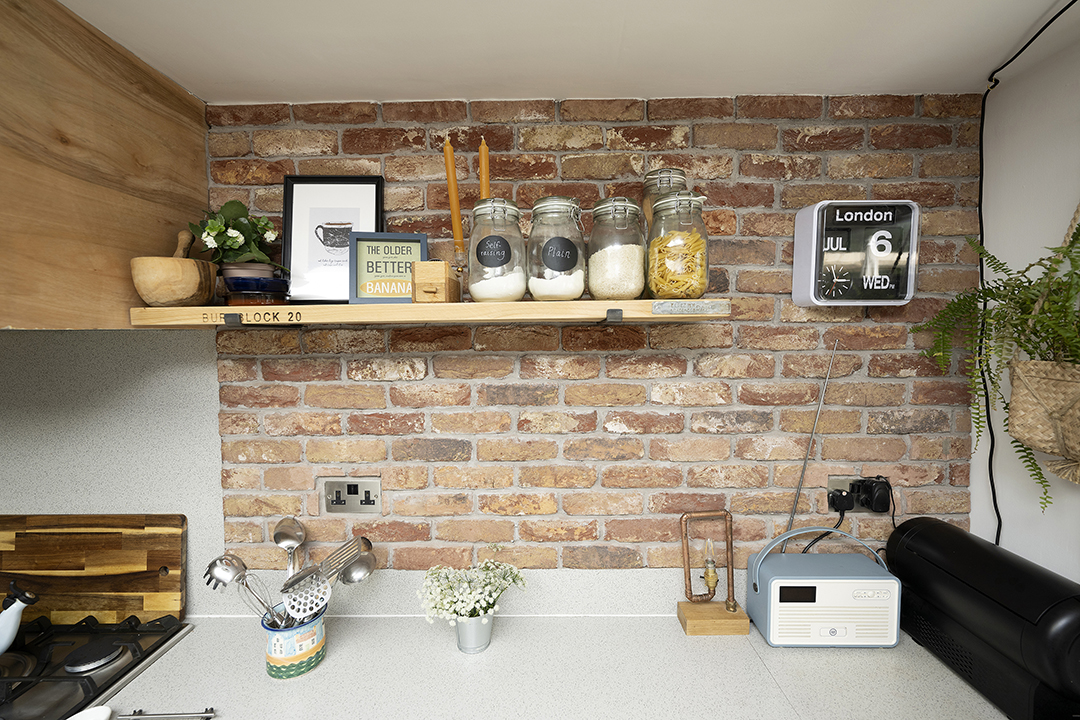 Other aspects were added to the house as they went, including a brand new skylight window in the kitchen to add extra light to the family space.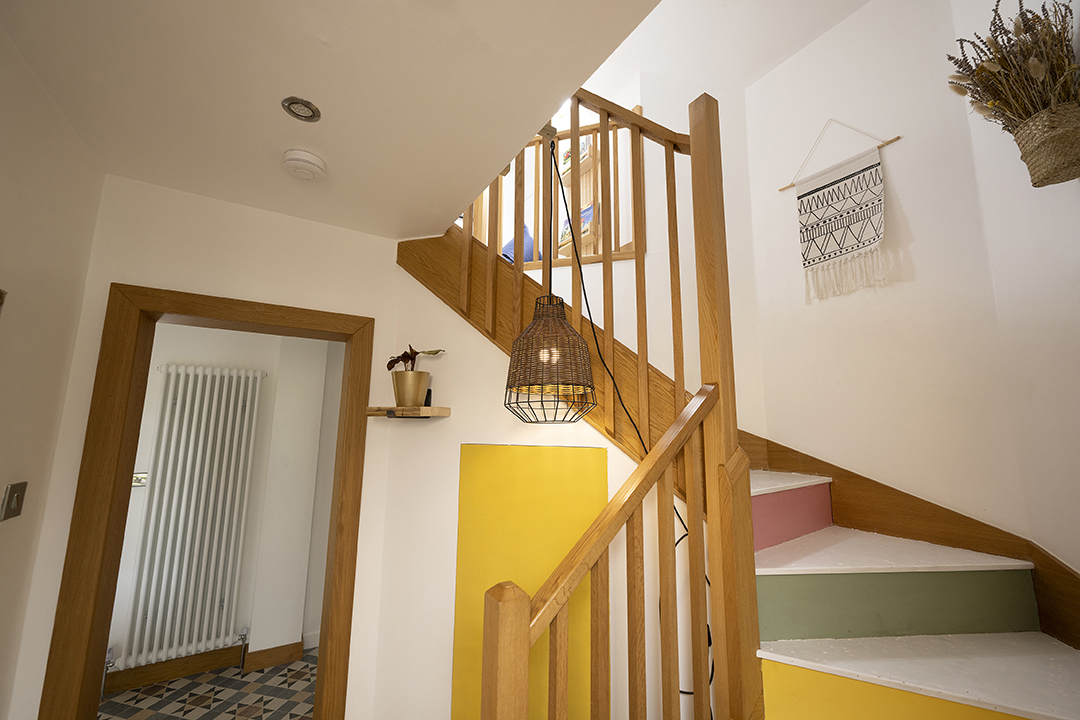 "I've always loved being creative and I'm quite interested in illustration and making things. When I lived at home when I was younger, I was forever changing the walls and moving my furniture around. So I've always had an interest and once you've got your own property, it opens up to designing the home you want.
"Inspiration is everywhere – from social media to TV, magazines or books, they can give you a list of inspirations," says Lorna. "I love starting a project and you have an idea in your head of what you want something to look like, then you can go ahead and turn whatever it may be into what you envisioned. It's such a great feeling of satisfaction and pride in something you've done."
"You can completely change your space by doing something small but different. My husband and kids can go out and come home to find that everything is a different colour or something has been moved," laughs Lorna. "It can be a bit addictive."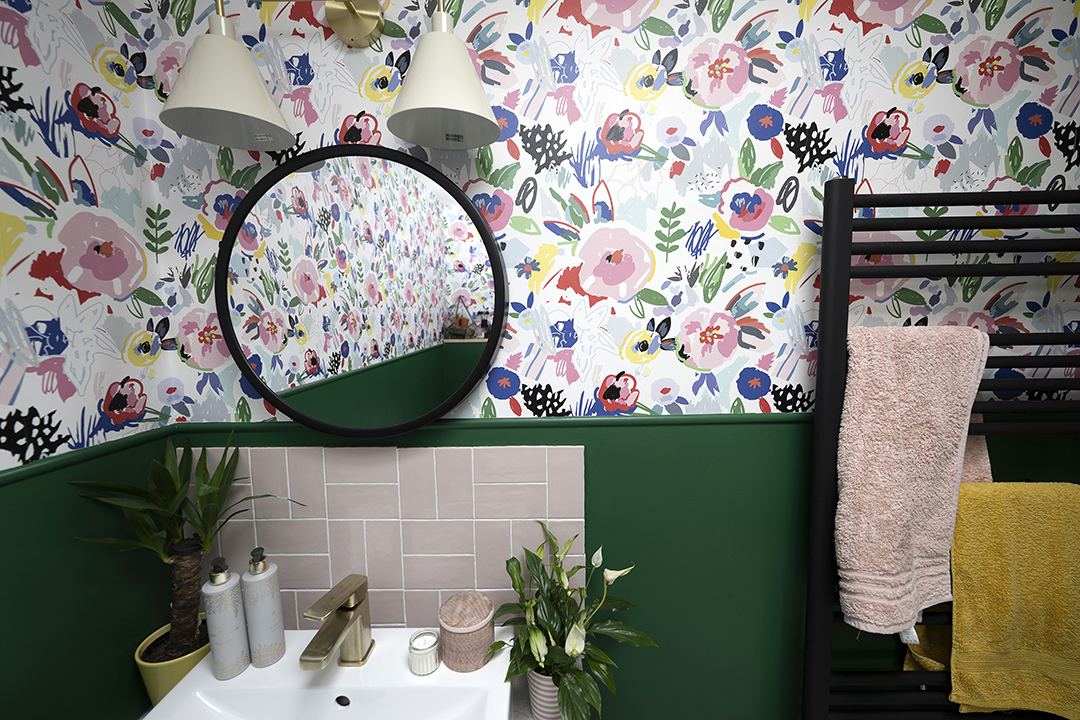 Bright Bungalow wears its namesake well – filled with bold, brightening, beautiful shades dotted around, the home feels as though you're safely cocooned in colour.
"When we saw the house advertised it had been decorated beautifully, but it was very dark and very neutral – not my style," laughs Lorna. "I use four of the same colours throughout the house, just in varying shades; blue, pink, green and yellow. You can find a dark green in the dining room while the kitchen is a brighter blue and the utility room is yellow. I really like those four colours together so it felt like a no-brainer to use them.
"I especially like bright mustard yellow, dark pink and moody blues. I lined the windows in black to add a bit of dimension and kept some walls neutral, so where the colours are they pop a bit more."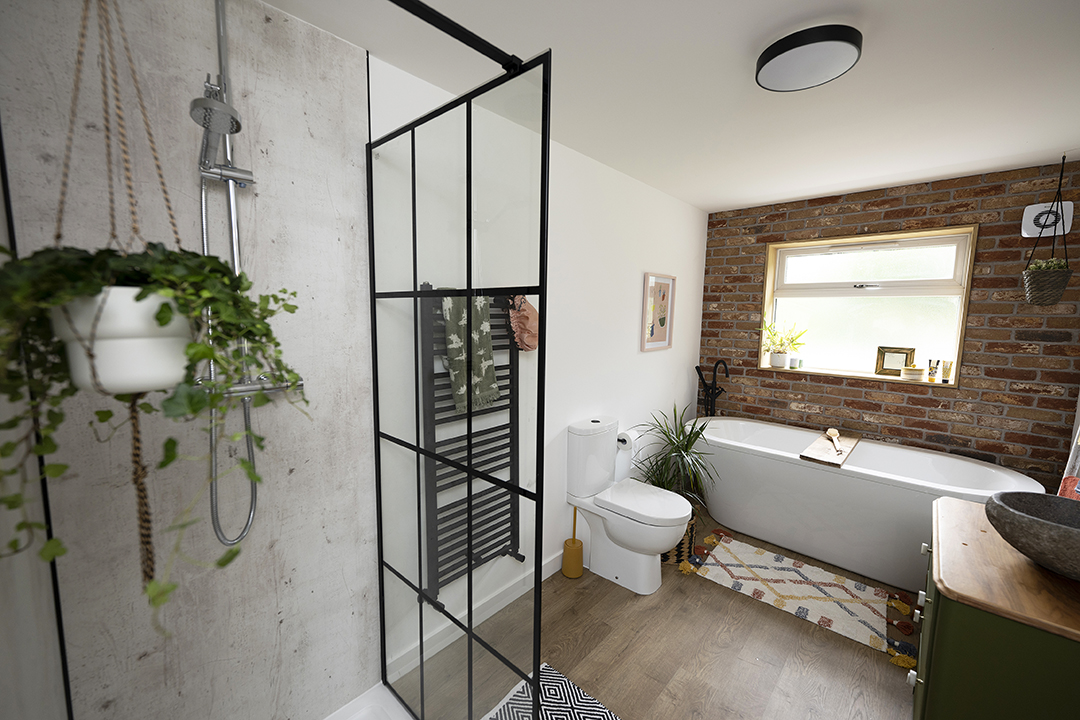 Upcycling was at the heart of this transformation, as Bright Bungalow shows that you don't need to spend a lot of cash to create a fantastic, cosy family home.
"We worked with a tight budget which we tried to keep to, so we tried to reuse or get as much second-hand as possible," says Lorna. "So for example, the bathroom there was an existing bathroom that we had to knock through to put the extension in, so we reused parts of that between the bathrooms. We took cabinets off the walls from the kitchen to use in the utility room.
"In the bathroom we re-used an old chest of drawers and turned that into a cabinet for the sink. Upcycling is all around the house and sustainability is something we really wanted to include where we could, as it makes a big difference."
We can't wait to see tonight's ep! Tune into Scotland's Home of the Year on BBC One Scotland at 8.30pm for episode 6/7: West.
Let us know what your favourite home was on social media!
Follow us on Instagram and Facebook to join in with the conversation.