Founder of Aurelia London, Claire Vero, and her husband are the newest generation to make this former vicarage their own, thanks to Salvesen Graham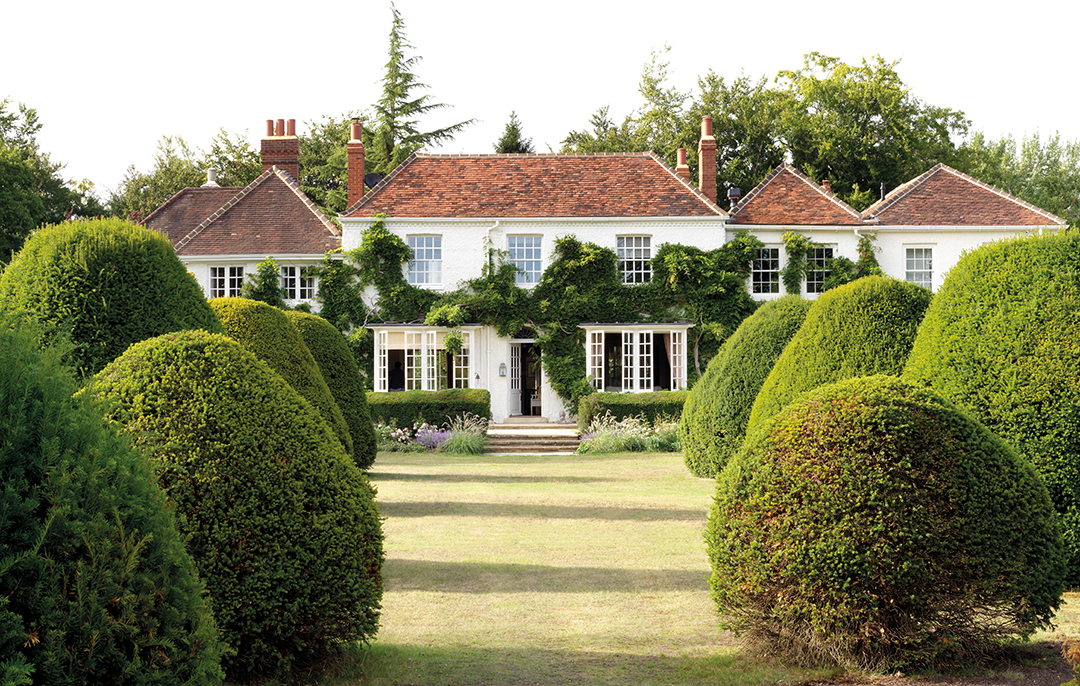 words Natasha Radmehr | photography Simon Brown
A basic bathroom was never going to cut it for Claire Vero. The founder of probiotic skincare brand Aurelia London, she perhaps understands more than most the importance of self-care. So when the time came to renovate her Georgian home in Surrey, she didn't hold back.
As part of the complete reimagination of the house, the interior design studio Salvesen Graham was tasked with transforming a series of rooms on the first floor – including a large billiards area – into a luxurious master suite containing a bedroom, two dressing rooms and a double-aspect bathroom with a roll-top bath, fireplace and heated marble floor.
"It's not every day you get to hang four pairs of curtains in a bathroom," laughs Nicole Salvesen, co-founder of the London design firm.
It's just one of the many ways in which the Old Vicarage has been designed for living: not just a beautiful life, but a comfortable one.
You may recognise Salvesen and fellow cofounder Mary Graham as designers who possess a masterful skill for layering art, colour and texture, and whose classical training with industry stalwarts such as Nina Campbell and Cindy Leveson nourished a knack for blending heritage style with modern flair.
GINGHAM FABRICS
You might even have spotted products they've designed – from playful gingham fabrics and striped wallpaper to an award-winning scalloped rug – in projects by other interior designers.
But beyond the aesthetics, it's their ability to translate how a client wants to live that underpins everything they do.
Sometimes it takes a while to understand exactly what you want from a new abode, but in this case, the client already knew the home intimately.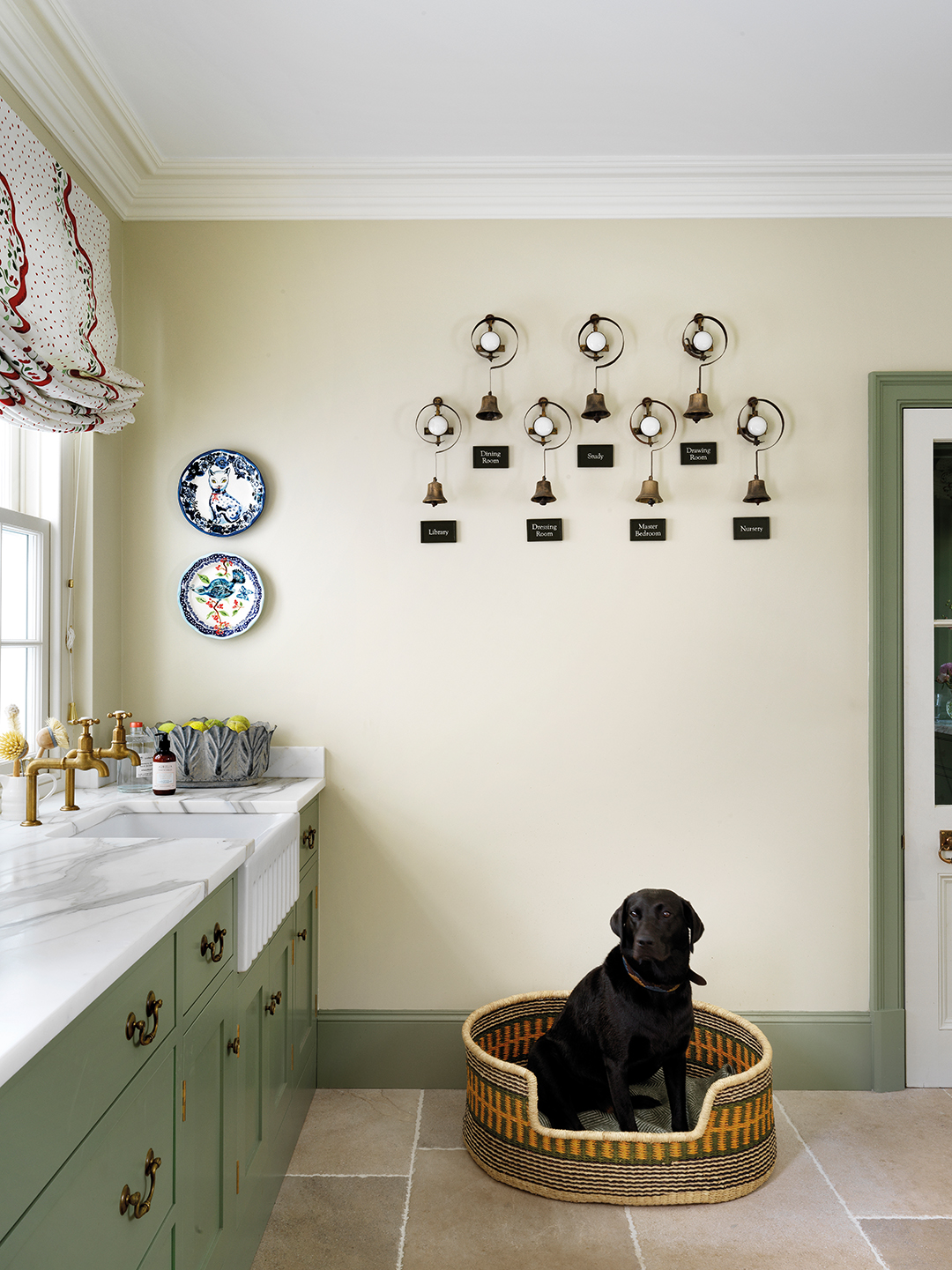 "My husband's family lived here previously, so we chose to bring our children up here too," explains Vero. "We wanted to make the house our own while retaining the lovely homely feel it has always had, and for it to have a traditional style, maximising all the original features, with plenty of pattern and colour alongside comfort."
Salvesen describes Vero and her family, who previously lived in a small Victorian house in Fulham, as "fun and youthful", so it was important that this be reflected in the refreshed design.
MODERN HERITAGE 
"They didn't want to feel they were changing their way of life by moving out of London to the country and wanted it to be a welcoming place for the children without any formal rooms they couldn't go into," she adds.
They were aided by the architecture of the house; although it was built in 1811 and has the panelling and fireplaces typical of the time, it isn't overly grand or showy. This meant the period features could live comfortably alongside modern additions, and the designers could sensitively reconfigure the layout to suit the needs of a young and active family.
The floorplan modifications were mostly confined to the decadent master suite and the kitchen directly below it.
Previously a cramped room, the latter is now a spacious kitchen and breakfast area, separated by glazed screens – the designers prefer using dividers to having a fully open space, as it creates extra nooks where furniture and artwork can congregate – and painted the colour of pale cream ballet slippers.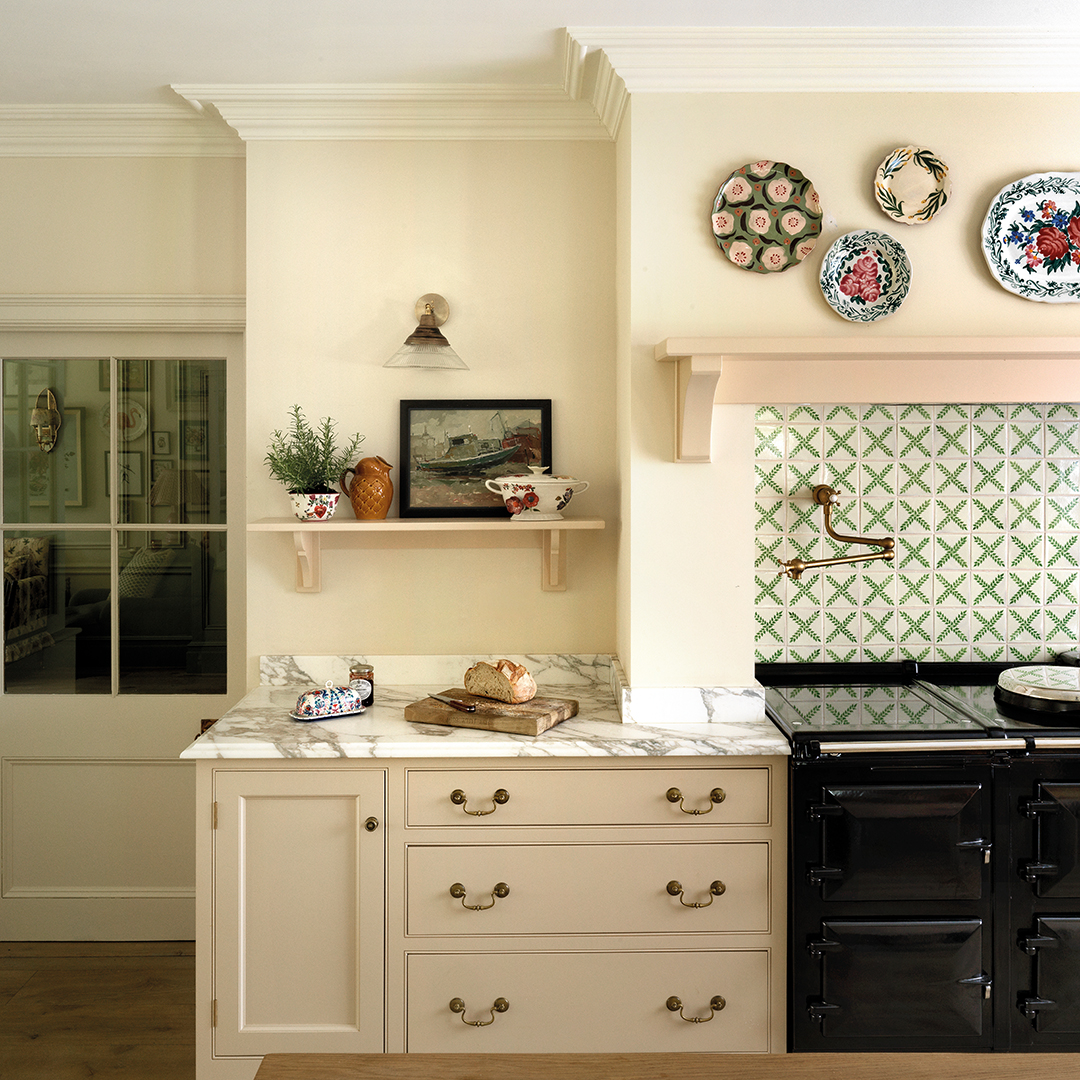 HIDDEN STORAGE
Decorative plates are arranged just so above the Aga stove ("A great way to incorporate art in bathrooms or kitchens, if you're nervous about moisture or grease," tips Mary Graham).
Light spills through the French doors in the breakfast area, which has a dining bench on one side and a sitting area on the other where everyone can plonk themselves down on the squashy striped sofa and rest their mugs of tea on the bamboo table.
If it all looks suspiciously neat, that's because the practical paraphernalia is hiding. Two cupboards by the dining table house the TV and a breakfast bar (the idea being that when they're old enough, the kids can slope downstairs in the morning and help themselves).
The dishwasher and fridge are in concealed cabinetry in the pantry next door.
"The family wanted the kitchen first and foremost to look nice and be a lovely space at the heart of the home," explains Graham.
"We're seeing more and more people bring in these ancillary rooms; because we spend more time in the kitchen now, we want it to be free of the mess of day-to-day life.
"An easy way to do that is make that stuff happen in another room that you can shut the door on."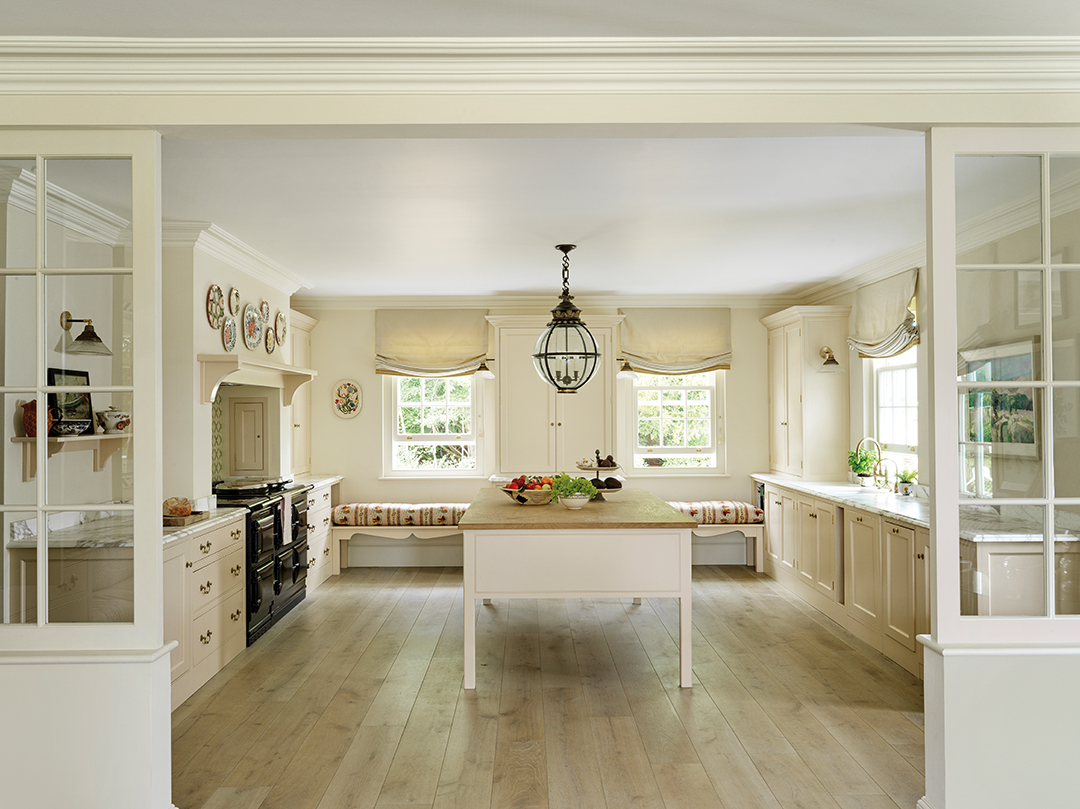 PLAYFUL PATTERNS
Not that you'd want to close off any of the rooms here. Each is warm and inviting with a healthy dollop of British eccentricity, helped along by a characterful kaleidoscope of antique finds, contemporary art and talking-point materials.
Poke your head into the sage-painted dining room and you'll see Vaughan's bead edged, mirrored Cobham wall lights; lamps capped by pink Rosi de Ruig pleated paper shades; and bespoke, frilly-skirted Salvesen Graham armchairs.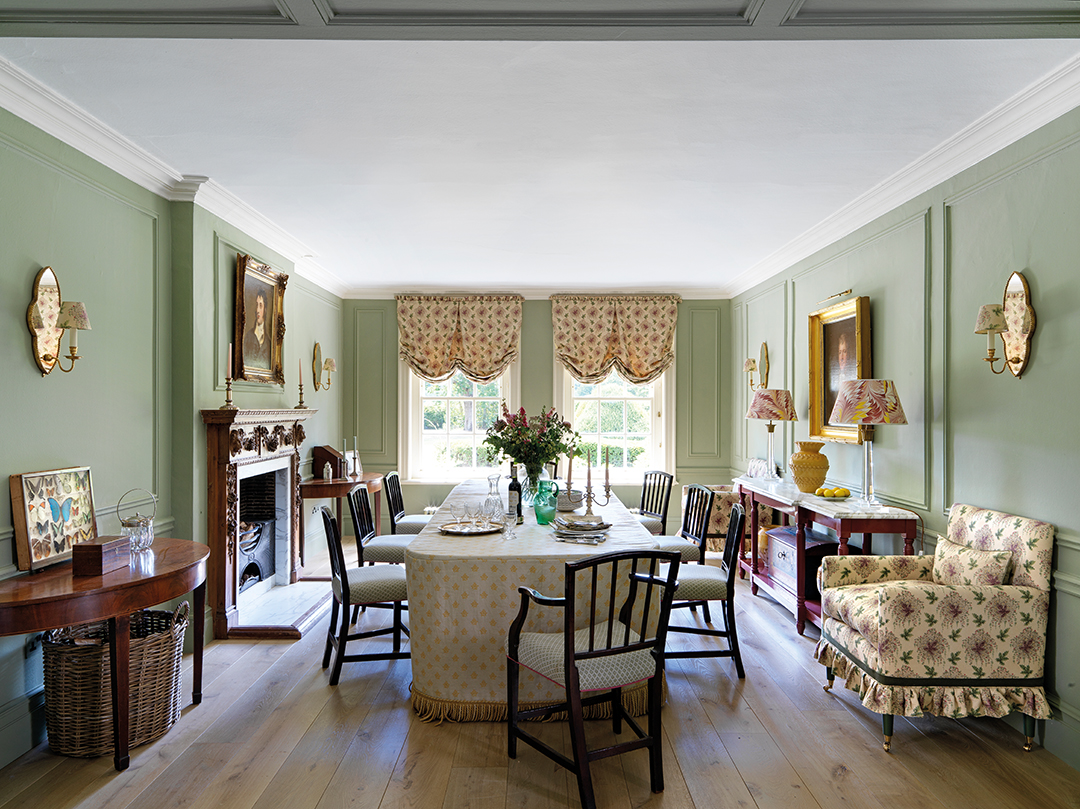 An old chest of drawers has been repurposed into a vanity in the downstairs loo, but your eye will be drawn first to Ottoline de Vries's slightly trippy Kandinsky-inspired wallpaper.
Fringed, velvet-piped and wavy-trimmed cushions jostle for attention on the plump sofa in the drawing room, their colours harmonising with an ikat-upholstered club fender and a verdant landscape painting.
BOLD INTERIOR DESIGN
"We were keen for the owners to consider the art; at the beginning, they didn't have much of a collection," says Salvesen.
A WhatsApp group was set up to swap ideas and, gradually, a diverse collection was built; formal oil paintings in gilded frames, bold prints, black-and-white sketches and painted ceramics.
"If you like something, buy it," adds Graham. "You don't need to worry about where it's going to go, because there's always a space for art."
This may seem a cavalier approach, but it works because the house is grounded by a consistent palette of soft, calm colours ("to open it up and make it feel lighter," explains Graham) punctuated by fizzy primary pops – bubblegum blue in the office, yellow and white checkerboard in the kids' bathroom – to satisfy Vero's bold sensibilities.
Every room has its own identity but fits with the broader narrative.
"We encourage people against that feeling of walking from one room to another and getting a shock," says Graham.
"So there's a consistent flow [throughout the house]. And lots of fun wallpaper as well!"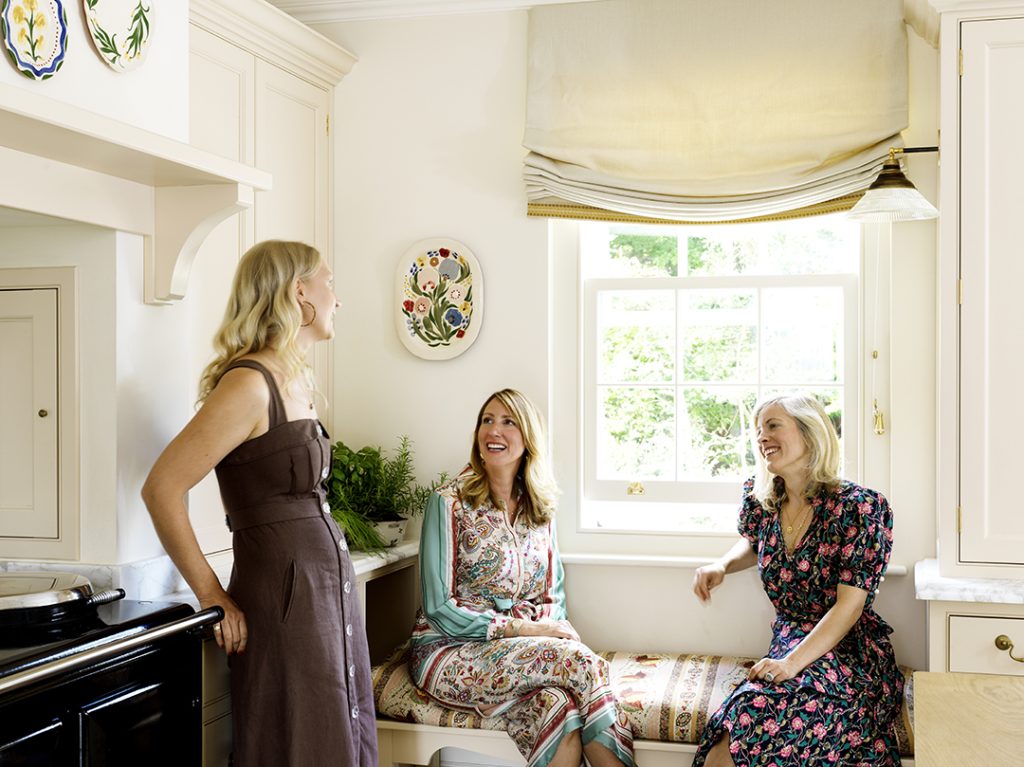 As a long-time friend of the owners, this was a particularly special project for Salvesen, who had been to the house for birthday parties and weddings in its former life and has now had a hand in shaping its future.
"It's lovely to have a client that we still know and are working with on other things, so you get to see the rest of the story – it doesn't just end when you leave," she smiles.
"You get to see them adding art, how they're enjoying it and how it's working for their family. That's really rewarding."