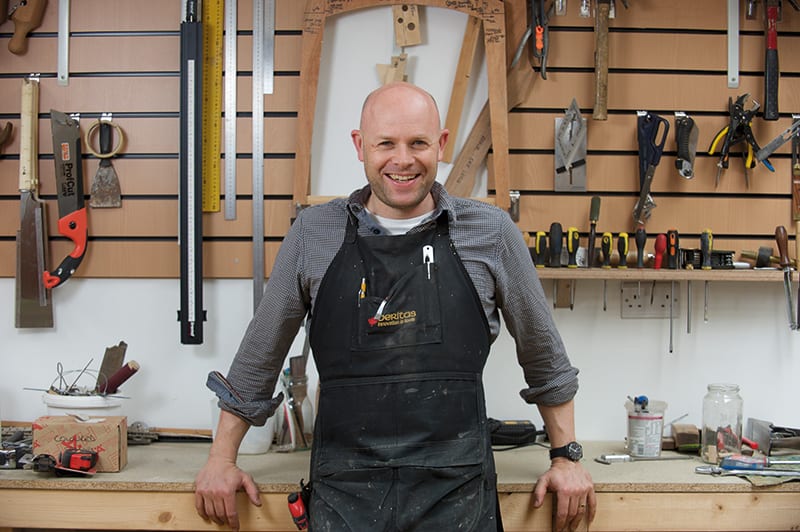 I grew up in East Lothian and returned to live there six years ago with my wife and family. I was always interested in design and aesthetics, but worked as an accountant until I was 40, at which point I decided to take up furniture-making, enrolling on a cabinetmaking course at the Chippendale School of Furniture in East Lothian. In the four years since, I have set up my own business, Ogilvies of Haddington, designing and making furniture and kitchens.
My biggest challenge was my first kitchen. It has a wall of 18 solid oak cabinets with library ladders, sliding glass doors, an island, secret compartments and an archway. I took on the job without the vaguest idea of how long it would take. After four months I realised I might never finish it on my own, and thankfully found a recent graduate from the school to help me out. It was a very steep learning curve, but it really helped with future designs and construction techniques.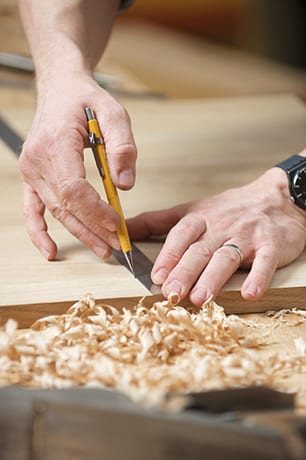 Making furniture the traditional way, with hand-cut dovetails and so on, is incredibly time-consuming and, while I really like the finished result, I don't want to get stuck in the past constructing things in inefficient ways. Recently I have found myself drawn to some of the higher-end bespoke Scandinavian furniture as a way to help bring the costs of my furniture and kitchens down to a more affordable level.
The designs of our Nordic cousins don't pretend to be something they're not – they're simple but good, made with high-quality materials and constructed using efficient workshop techniques and machinery. I'm working on a couple of commissions that incorporate some of these ideas and am really looking forward to seeing them finished.
I use Scottish timbers and suppliers whenever I can to cut down on the miles covered by such heavy raw materials. Otherwise, I try to make sure it comes directly from the huge, well-managed timber forests in France and other parts of Europe.
My most unusual commission was a set of three solid oak coffers for a client in London, designed as after-dinner entertainment. The first chest had 24 secret compartments inside a Chinese medicine cabinet that rises out of the chest on a system of pulleys, ropes and lead weights, where you have to move, turn, push or slide various components and drawers in order to find your way in. I hid one piece of a jigsaw inside each secret compartment so they'd know when they'd opened everything.
With four children and a dog, I have a fairly all-consuming family life when not at work. I like to cycle, run and hill walk, and I've also taken up yoga to improve my flexibility and reduce muscle injuries at work. It definitely works out cheaper than visits to the physio.
Like most woodworkers, I dreamt of being a Formula 1 driver!
I love being able to design something on paper, then in detail using computer modelling software, build it in my workshop and then see it in the flesh in full scale in someone's house. The feeling at the end is fantastic.
Buying something that has been made locally and by hand is expensive, but it should work out much cheaper over your lifetime. We have a Scottish kist in our hall dating from 1671. I would love to make something that was still sitting in someone's house in 2363.