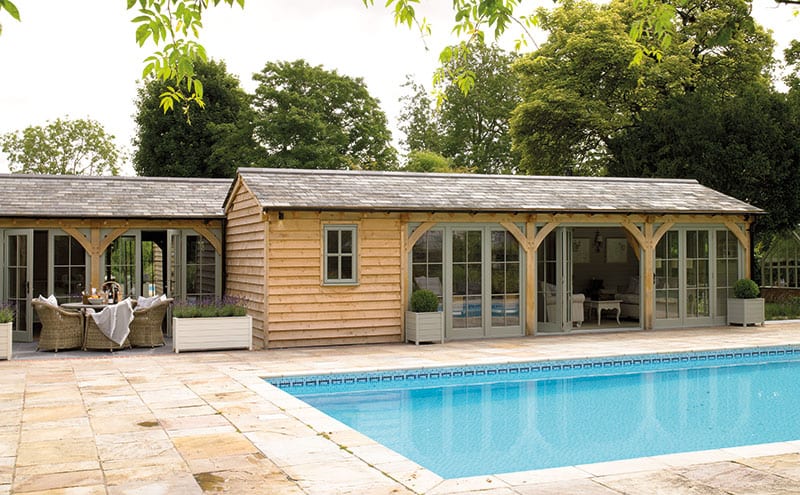 Brief To create a garden house that would operate as a multi-functioning space, separate from the main house. The clients wanted the designer to incorporate a garage large enough to accommodate three cars, a gym, shower, WC and changing room, as well as kitchenette, internal dining area, bike store and tool store for garden machinery.
Biggest challenge Making sure that the structure was big enough to accommodate all of the clients' requirements and achieving height that allowed for a substantial structure but that wouldn't interfere with the neighbours' space.
Designer Stephanie Dunning, stephaniedunninginteriordesign.com
When interior designer Stephanie Dunning was brought in to help her clients build a garden house, her job was made significantly easier on two fronts. Firstly, she had already completed the interior overhaul of the main house and so had a pre-existing relationship with the family and knew the style that they favoured. Secondly, bringing in bespoke joinery firm The English Joinery Company, owned and run by her husband Peter Everard, she was guaranteed the kind of top quality, unique craftsmanship required for this outdoor build.
Stephanie's task was a big one, nonetheless. Her clients had requested a garden house that would work hard for them, bringing this family a multi-functioning space that both connects with their main home but also provides respite away from the central residence.
"This was a complete new build," explains Stephanie, "that we designed, built and completed the interior for, including a garage for three cars, a gym, kitchenette, internal dining area for friends, loo, shower and changing room, as well as a bike store and tool store for garden machinery."
[sociallocker id="20183″]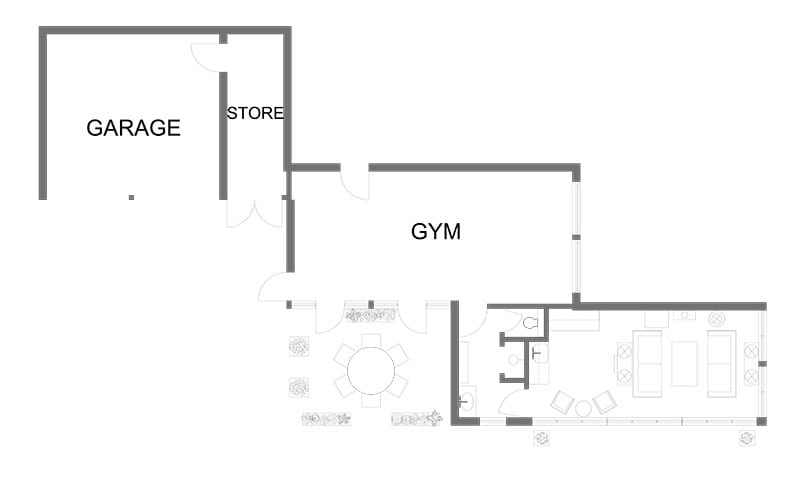 Stephanie got to work creating a garden house that would contain all of the elements in her clients' wishlist but that would also remain sympathetic to the main property – a Regency home that has a glass Victorian conservatory that connects the two wings. The sustainable European oak is slatted and warm with window and doorframes painted in Farrow & Ball's Pigeon 25 to add depth to the vast wooden structure. Each area inside has its own door access, with the largest area containing the kitchenette and sitting area. "The design was inspired by the main house which we had completed earlier," explains Stephanie, "the look in the garden room was a follow-on but more relaxed and casual.
"We always begin by interviewing our clients, getting all parties involved to pick out images that they love without consulting each other. This then forms the basis of our design. We first create floor plans, then elevations, looking at their images and picking furniture and fabrics that work for them; for example, if they have animals or children, the fabrics and furniture need to be robust enough to cope."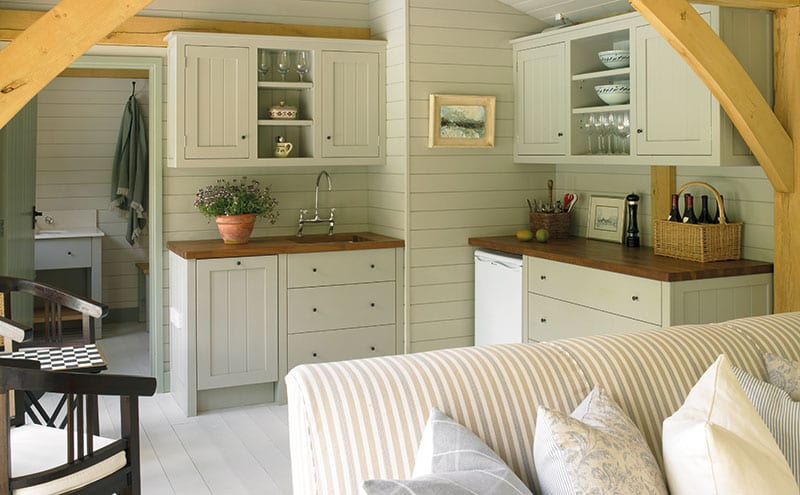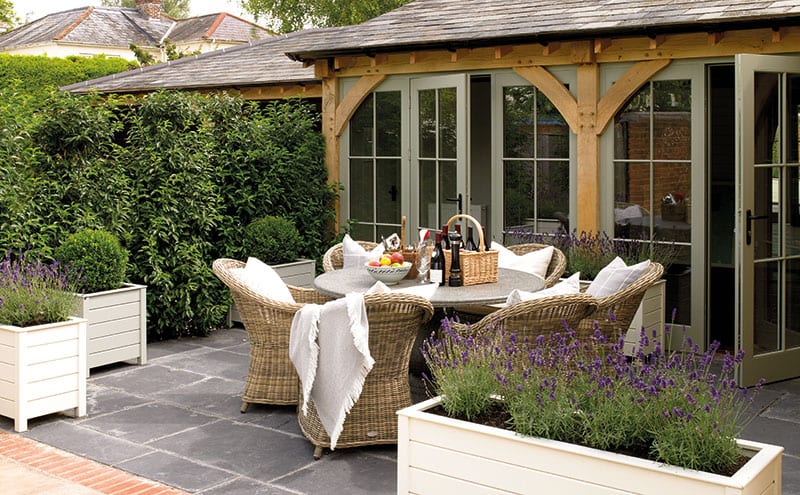 Designing and fitting out a gym with mirrors, matting and space for apparatus, Stephanie used the changing room to provide a link between the gym and the pool house portion of the garden house, so that the building could be used for a variety of purposes throughout the year. There she built in a separate WC, a shower, changing bench and heated towel rail.
In the 25sqm living area, there are two three-seater sofas upholstered in Ian Mankin's indigo Spencer Stripe 2, but Stephanie has also included a pull-out dining table that can seat six, a games table and coffee table to increase the number of people this space can entertain. This area works as a place where you can relax after a gym class or use if the weather changes in the summer.
By using a variety of different types of lighting, Stephanie has been able to alter the mood of the garden house; uplighters, for example, increase the roof height and draw attention to the beautiful oak timber frame's exposed beams in the ceiling. The interior palette of muted stripes and pale hues means that the wood becomes the central element of this structure. "Design is everything," admits Stephanie, "Having our sister joinery company enables us to understand and draw full working drawings for bespoke joinery."[/sociallocker]
PLANNING
Summer is the best time to start planning, that way you can work out the best places to sit, where your garden catches the sun and what you want to use your garden structure for, based on its orientation.
PRACTICALITIES
Having separate power and plumbing means that it will operate independently of the main house. Stephanie prefers to use a wood burner for heating to give her garden buildings the "smell of the fire and the crackle of the burning wood".
BUDGET
"The main part of the budget should be allocated to the build and getting the size and quality right," assures Stephanie. "All of the other internal finishes can come later but you can't change the size or design of your structure once it's built."
DETAILS
Photography Nick Smith
Words Catherine Coyle