Restoring and reupholstering furniture might be a new career for the two men behind this venture, but they have already won a legion of admirers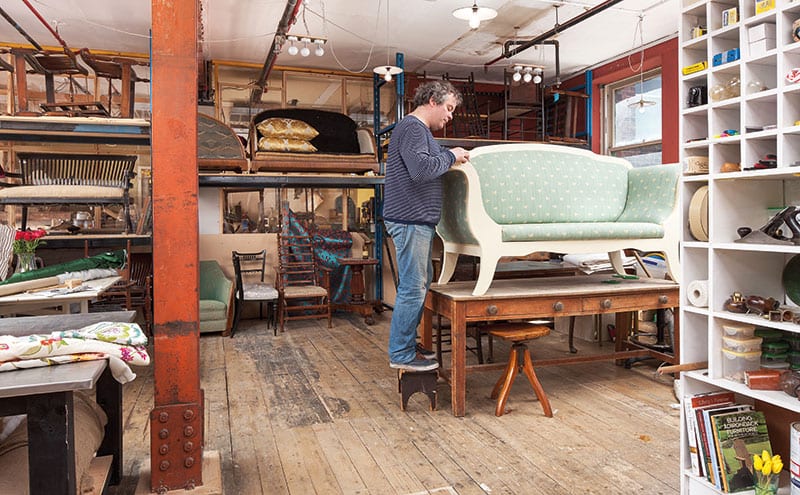 Jonathan Conkey and John Cowie are gearing up for Doors Open Day. The owners of furniture restoration, upholstery and polishing business the Glasgow Guild, they're also excited about the work they've been doing with the Austrian fabric company Backhausen. The 165-year-old Viennese institution has a huge archive of fabrics, among them pieces by Wiener Werkstätte designers Koloman Moser and Josef Hoffmann, whose fabrics the Glasgow Guild has used before. In fact, Jonathan and John share a real passion for the Viennese Secession art movement, revelling in its historic links to Glasgow.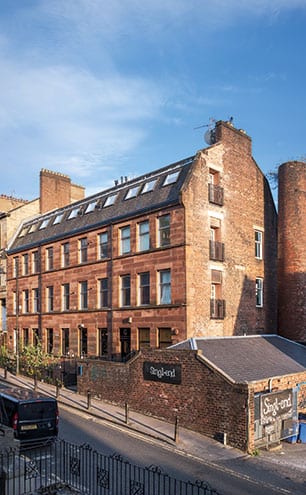 Their furniture business is still in its infancy – the Glasgow Guild shop on West Graham Street, near Cowcaddens, celebrates its fourth birthday this autumn, while the Garnethill workshop has only been operating for the last two years – but already there are plans for expansion.
The business marks a new career for both men, who met on a furniture restoration course.  Jonathan had been working with the National Trust in Ireland and was looking for a career change. "There were only a few places teaching fur­niture restoration at the time, so I had to make the move to Glasgow," he says.
John, meanwhile, was an engineer. He found himself working in the city's Blythswood Hotel one day during its refurbishment. "I thought to myself, 'I should be up there, looking at the beautiful marble hall, rather than down here, inspecting the boiler!'" he laughs.
The pair fell in love with the crafts they were learning at the class, so engrossed in their work that they frequently had to be kicked out of the building at locking-up time. "It's just that sense of transforming something," says John.
"There's no monotony to it," adds Jonathan. "There are so many different stages to every job – from the mechanics of the springs to the beautiful finishing fabrics." He motions to the springs, stuffing and textiles of the chaise longue he's working on – one of the twenty jobs the pair usually have on the go at any one time. "It's also rewarding, seeing each piece take shape."
[sociallocker id="20112″]The workshop in Renfrew Street, in what was once a print factory for the stationery firm Lyons, serves as the pair's studio for the 'dusty' work, as they put it. Here, they restore pieces they've bought at auctions and salerooms around the country and work on commissions from private clients, and also occasionally host events where specialists such as Dr. Louise Kiesling, creative director at Backhausen, can give talks and workshops to enthusiasts and collectors.
The Glasgow Guild team is small: Shahrzad is a part-timer who is also studying fashion and dressmaking; Tracy is trained in rattan and cane work; Pauline and Rachel deal with customers in the shop; and Pip the seamstress is based at the sewing room in West Graham Street. "Pip was languishing at the checkouts of a supermarket," says John. "She's wonderful – a very talented woman."
Pip is engulfed in fabrics; the Glasgow Guild fabric library covers a vast range of artistic and architectural periods. John recalls walking down Rue Bonaparte in Paris, luxuriating in the artisan textiles on offer in every shop window, when he made up his mind to replicate it in Glasgow. He regularly changes the window displays, sometimes showing off Irish linens by Fermoie, hand-woven silks and brocades by Gainsborough, or the early 20th-century graphic creations of Wiener Werkstätte. It's a great way to showcase the diversity of their work.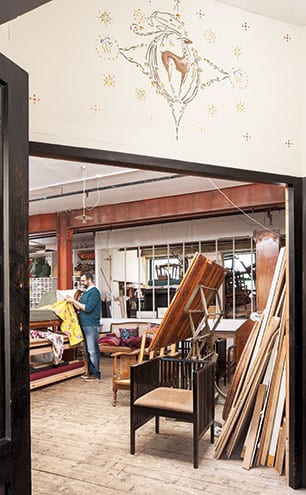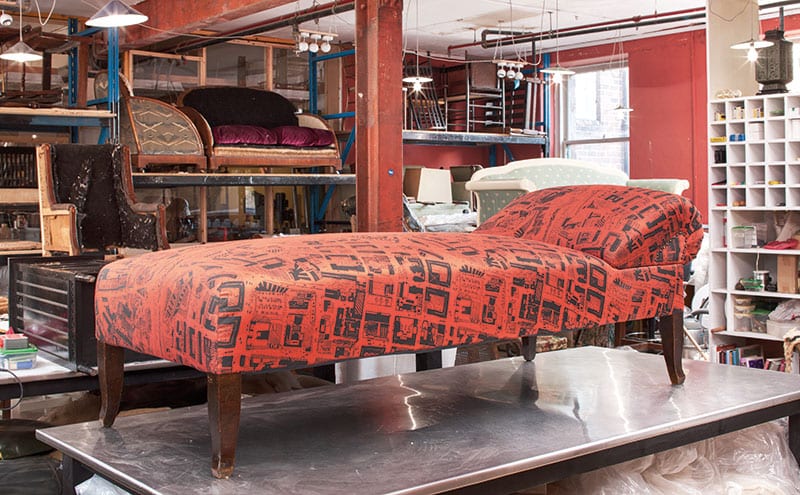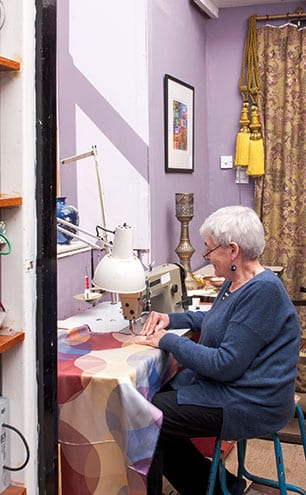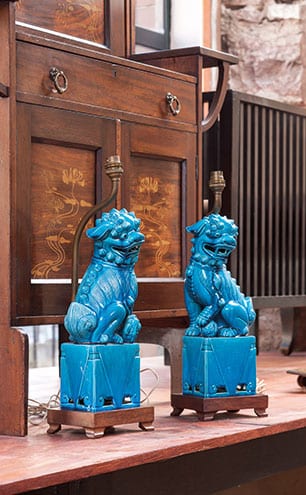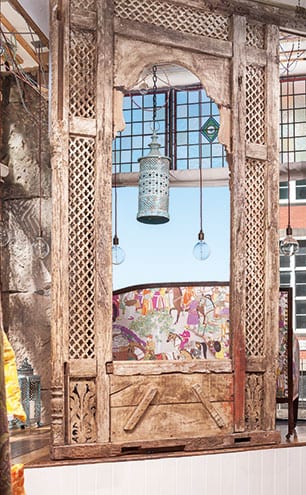 Back when they were getting started, commissions from the owners of several country houses brought John and Jonathan much-needed exposure. "Commissions from Greg and Ania Coffey on Jura, along with work for Carskiey House on the Mull of Kintyre allowed us to expand our business," says John. These sizeable projects (they renovated more than 200 pieces of period furniture for Jura House) got the Glasgow Guild name out, and the pair were soon fielding enquiries from interested customers. "Referrals are very important to our business," says Jonathan. "We do a lot of Arne Jacobsen Egg chairs, for example – we seem to be the only people who can do them properly!"
With a dedicated client base, largely drawn from Pollokshields and the suburban enclaves of the west end whose architecture is the perfect setting for the kind of early Arts and Crafts/Glasgow School furniture that the Glasgow Guild specialises in, John and Jonathan often begin with a request to reupholster a single chair and then find themselves dressing entire rooms.
"We have other exciting projects on the horizon, too," says John. "We're going to be showcasing new designs by Ailidh Lennon, a weaver at Mull's Ardalanish mill." The weaver (who used to play bass with Glasgow punk-folk band Sons and Daughters, and is the partner of Idlewild's Roddy Woomble) has been producing tweeds using shepherds' patterns uncovered from the local archives.
"We spend a lot of time researching pieces, finding out about the designers and the periods, and restoring them with sympathy and regard for the craft," smiles John. "Sleek, well-designed pieces that have comfort and beauty combined, traditionally restored in the most beautiful fabrics in the world is what we love to do."
[/sociallocker]
DETAILS
Photography Neale Smith
Art direction Gillian Welsh
Words Catherine Coyle