Welcome to the fantastical world of Timorous Beasties – filled with colour, pattern and creepy-crawlies that have spread from Glasgow's west end across the globe
words | Natasha Radmehr
All roads lead to Anniesland. Or at least, they do in the world of Timorous Beasties.
The luxurious textiles and wallpaper brand does a fine line in what co-founder Paul Simmons terms "savage beauty", where creatures rarely admired for their looks – eels, lizards, beetles – are upheld as marvels of evolutionary architecture, worthy of slithering and crawling across fringed velvet cushions and damask wallpaper.
Where else could these intricate designs germinate but in an old brick building up an alley in an unassuming part of Glasgow?
THE INCEPTION OF TIMOROUS BEASTIES
Though its wings have spread since its inception in 1990, Timorous Beasties has never flown the nest of the city that birthed it.
Paul met co-founder Alistair McAuley in the 1980s at the Glasgow School of Art.
They specialised in printed textiles and made full use of the facilities, printing on anything they could find: concrete slabs, wood, glass, cork.
"It was just about making stuff," says Alistair. "When we graduated, we wanted a studio so we could keep designing and making."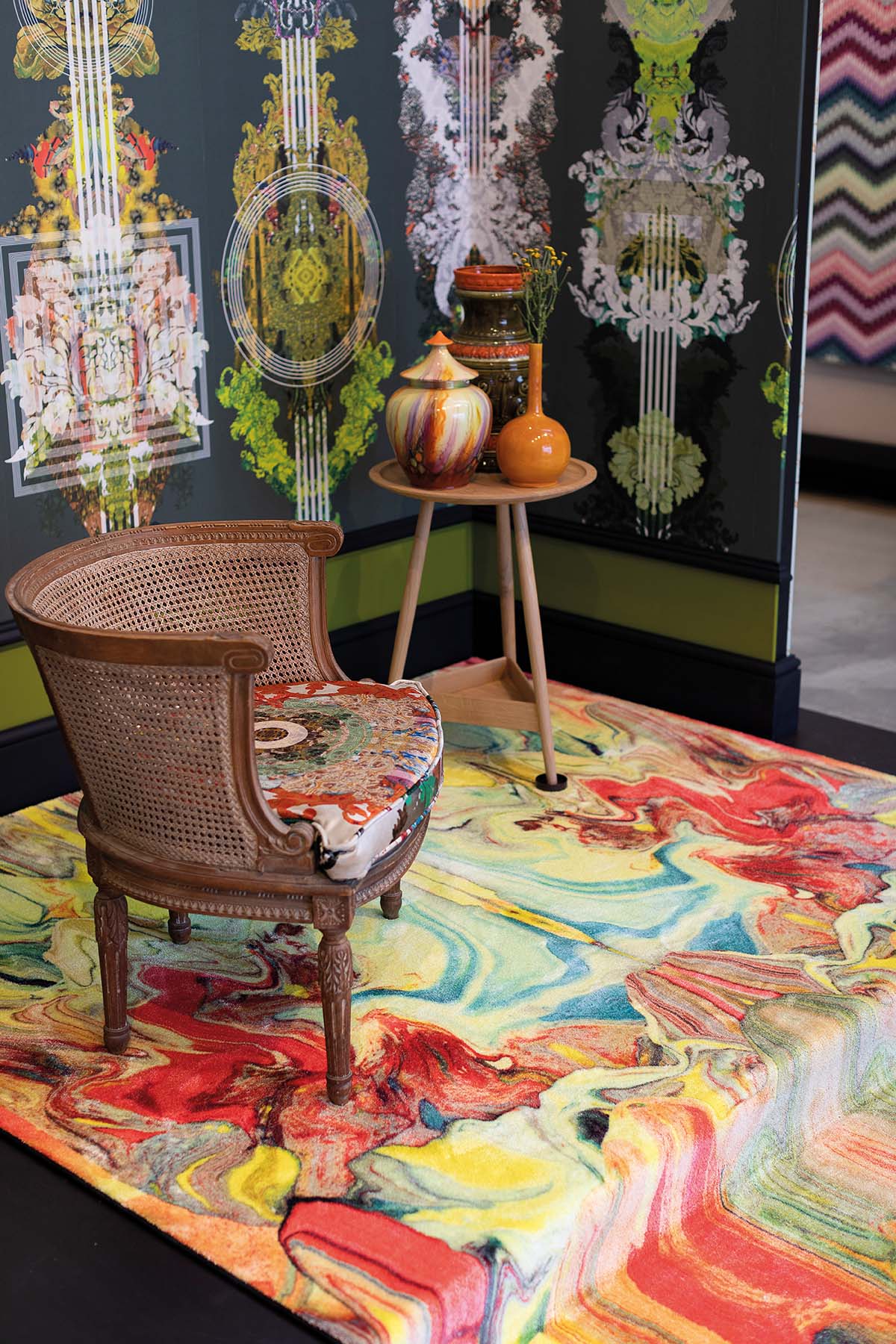 "At that age, you're full of yourself – you think you can take on the world. Or you're stupid. Same thing, really."
Their first studio was in a converted church in Maryhill, where they experimented with whatever they could afford to make.
In a pre-digital age, production was prohibitively expensive, so they had to be enterprising.
Paul had worked as a student in a wallpaper factory that would throw out huge bales of paper, so he and Alistair used that as a base, cutting between the bands and hand-printing their distinctive designs onto them.
"At the time, most wallpapers were either old archive or B&Q-type designs – nothing modern or fun," recalls Paul.
"Our papers took off very slowly at first, but eventually they caught the attention of some magazines. That's how it all started."
THE ROAD TO SUCCESS
The dizzying list of commissions, collaborations and customers they've had since then would fool anyone into thinking success came easily.
They've designed fabrics for Nike, tour programmes for Kate Bush and wallpapers for Claridge's.
The late Christine McVie shopped from them; their designs were called in for the new Barbie film (and you may have spotted their Golden Oriole wallpaper panels in Jurassic World: Fallen Kingdom).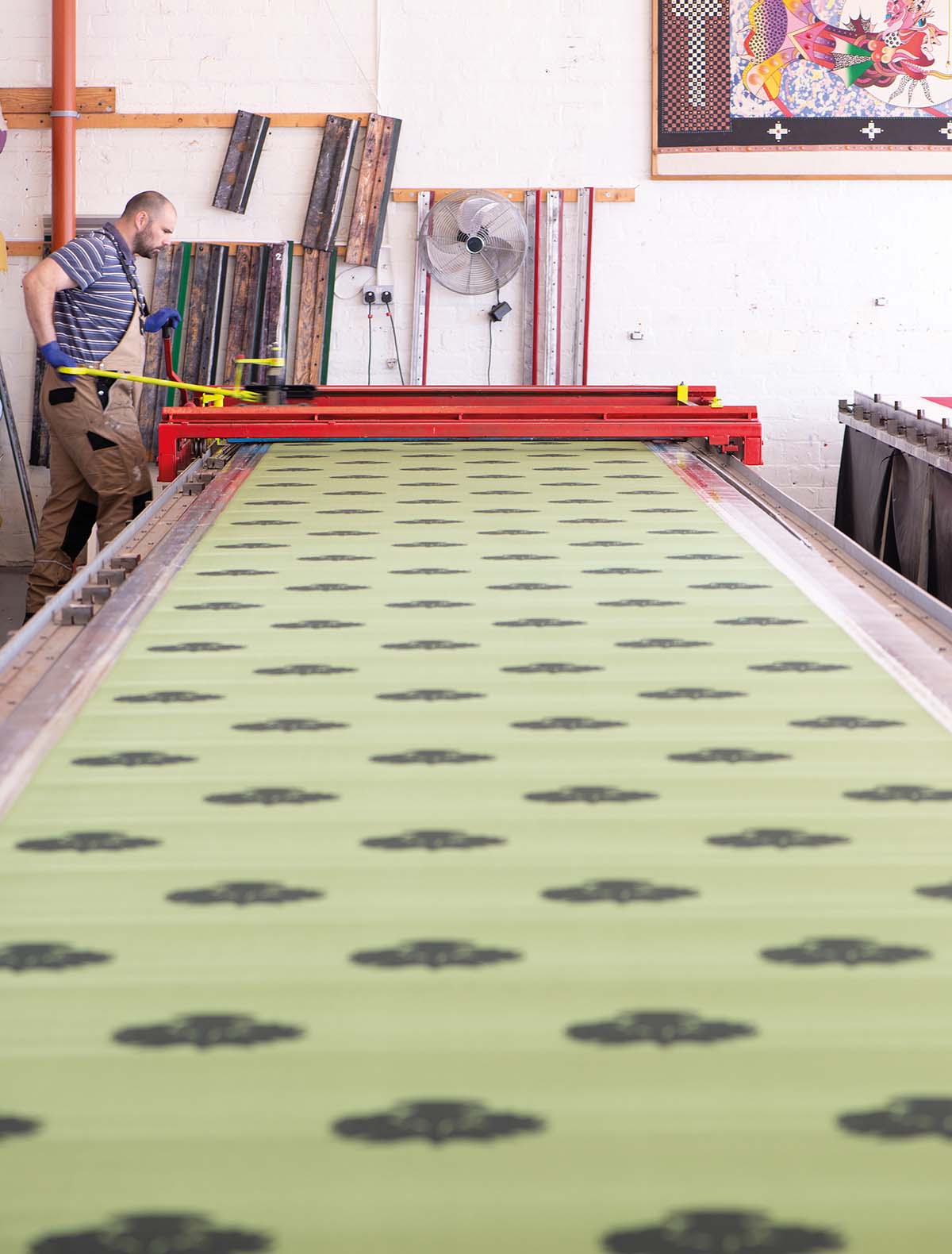 They are globally renowned, with stores in Glasgow, London and Berlin. But none of this happened overnight.
Though their surreal and colourful prints made them perfect fodder for editorial features in the early days, the money wasn't quite so forthcoming.
"Things were dreadful for the first 14 years; we just weren't getting the traction," says Alistair.
It wasn't until they were shortlisted for the Design Museum's Designer of the Year award in 2005 that the tide started to turn.
"We were asked to do the windows for the Wellcome Trust on Euston Road, then we were approached by Brintons to do our first carpet collection… People were beginning to view what we were doing as having some kind of merit."
The advent of digital printing was another game-changer.
"We didn't need to have loads of stock or machinery to make the papers," Paul explains.
"That was a real leveller."
CREATIVE PROCESS
Every Timorous Beasties design begins life as a drawing. Reams of sketches gather on the counter tops of the studio on the top floor of the Anniesland warehouse.
The gestation period of an idea can be anywhere between one week and two decades (no work is wasted; everything will eventually find a home).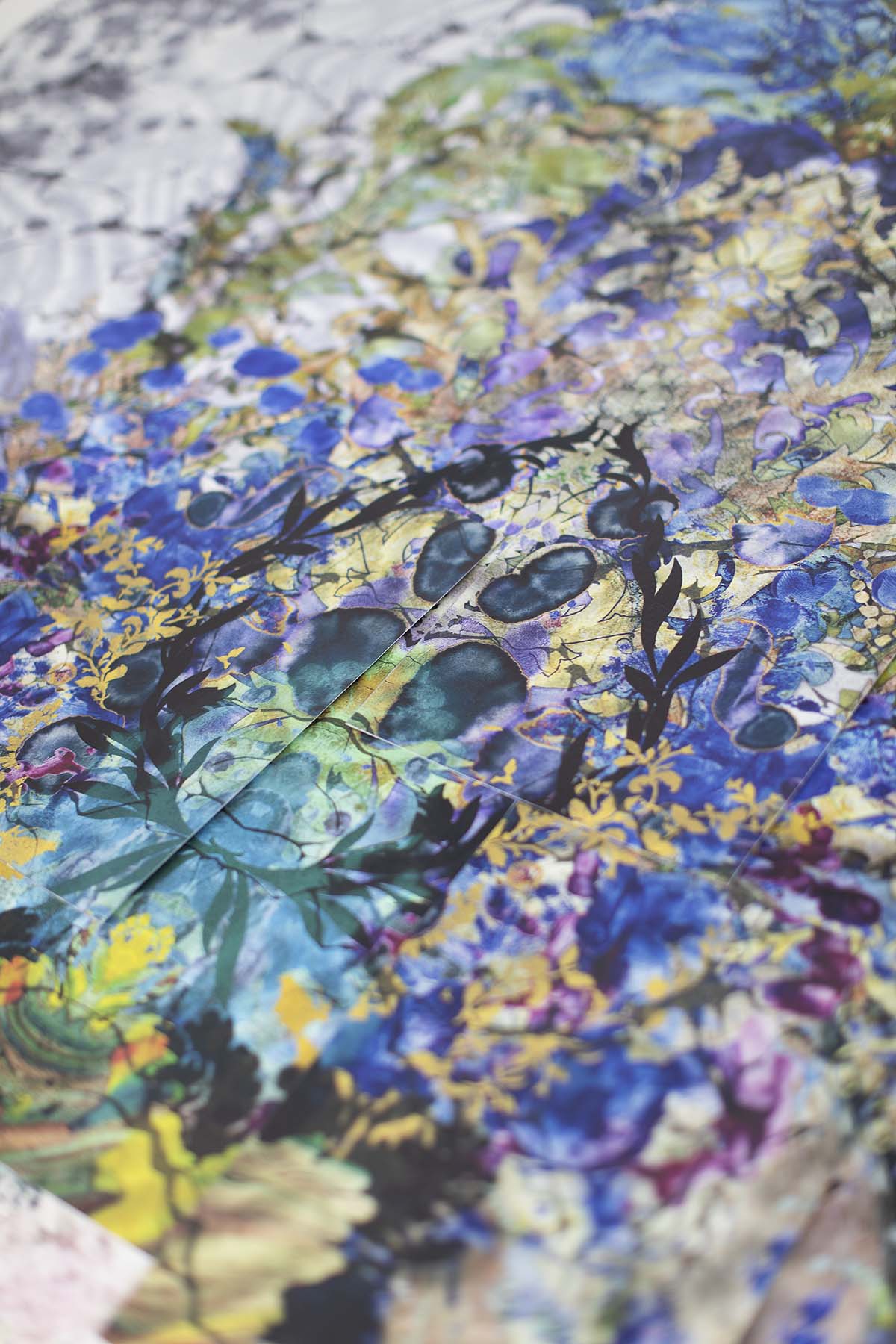 Some designs are digitally printed, others hand-printed in a room downstairs containing two print tables.
Paul likes to listen to hip-hop as he works: Quasimoto, Madlib, MF Doom. They are guided by instinct rather than commercial value.
"It's important not to second-guess anything," explains Paul. "It's a little like a musician making an album – the hits might not be the ones you'd predict."
He cites the Iguana and Glasgow Toile as unexpected favourites. The former depicts the reptile chewing on insects; the latter is a love letter to Glasgow featuring high-rise flats, Lidl and drug users hanging out at the Necropolis in the style of a decadent toile de Jouy.
Even after three decades, the designers are animated as they talk about upcoming developments.
There's the Intaglio collection with Panaz, a manufacturer of technical contract fabrics, in which richly detailed flowers intertwine with leaves on sheer materials and woven jacquards.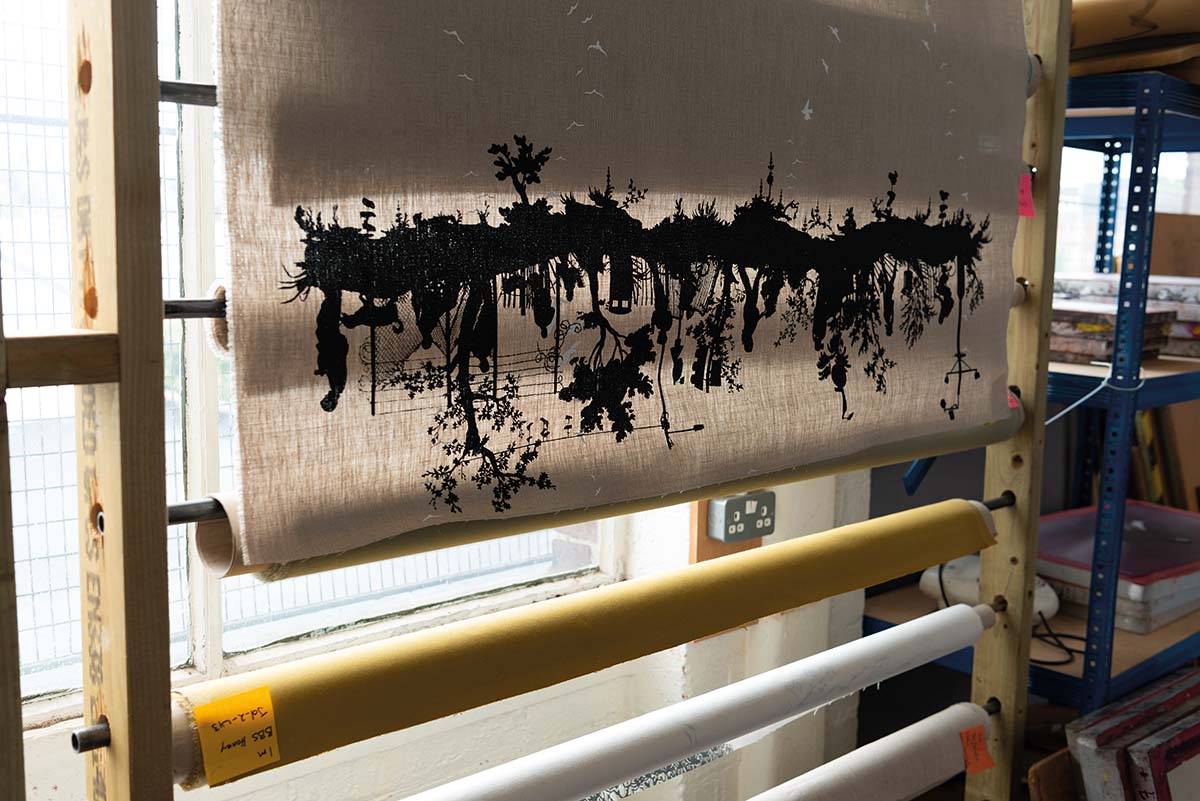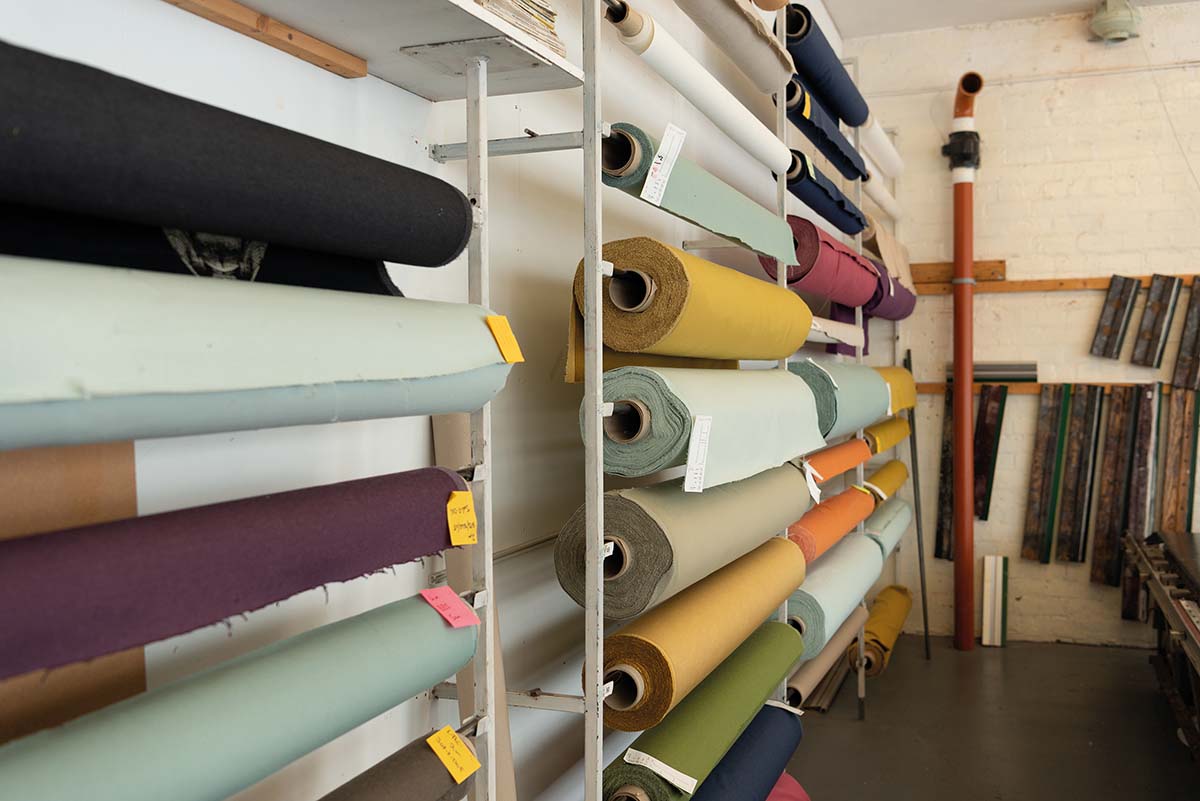 Next year they'll do more hand-prints, this time layering inks for a more freehand, one-off feel.
"We can be even more experimental now," says Alistair, his eyes lighting up, "because the processes we're evolving are very unique to us."
At a time when some would be winding down, the duo are hungry for more.
I don't know what they put in the water in Anniesland, but can somebody fetch me a glass?