Olivia Emery has revamped this period Borders property, transforming it into a colourful family home fit for modern living
Photography ZAC and ZAC
Words Catherine Coyle
For any designer, Eildon Hall in Roxburghshire epitomises the kind of dream project you only hope you can be a part of. Built in 1802, it has bones solid enough to allow for any manner of interior refresh.
Architectural features abound, courtesy of Scots Baronial pioneer William Burn: marble fireplaces, intricate architraves, sturdy window shutters, archways, elaborate cornicing and a pink-hued sandstone portico.
Good design lasts, so for interior designer Olivia Emery, the task became how to integrate a timeless property built more than two centuries ago with the young family that was moving in.
Historically for the use of the Earl of Dalkeith (the heir to the dukedom of Buccleuch), the Georgian country house lies just outside the village of Newtown St Boswells.
When Walter, the current Earl of Dalkeith, and his wife Elizabeth decided to take the plunge, pack up their London base and make the move north, Eildon Hall hadn't been decorated since the 1950s.
It needed remedial work and upgrading – the money-guzzling, unglamorous but necessary side of any renovation – such as a new roof, rewiring and new plumbing.
Much to Emery's delight, though, the interior was in a good state, if a little tired.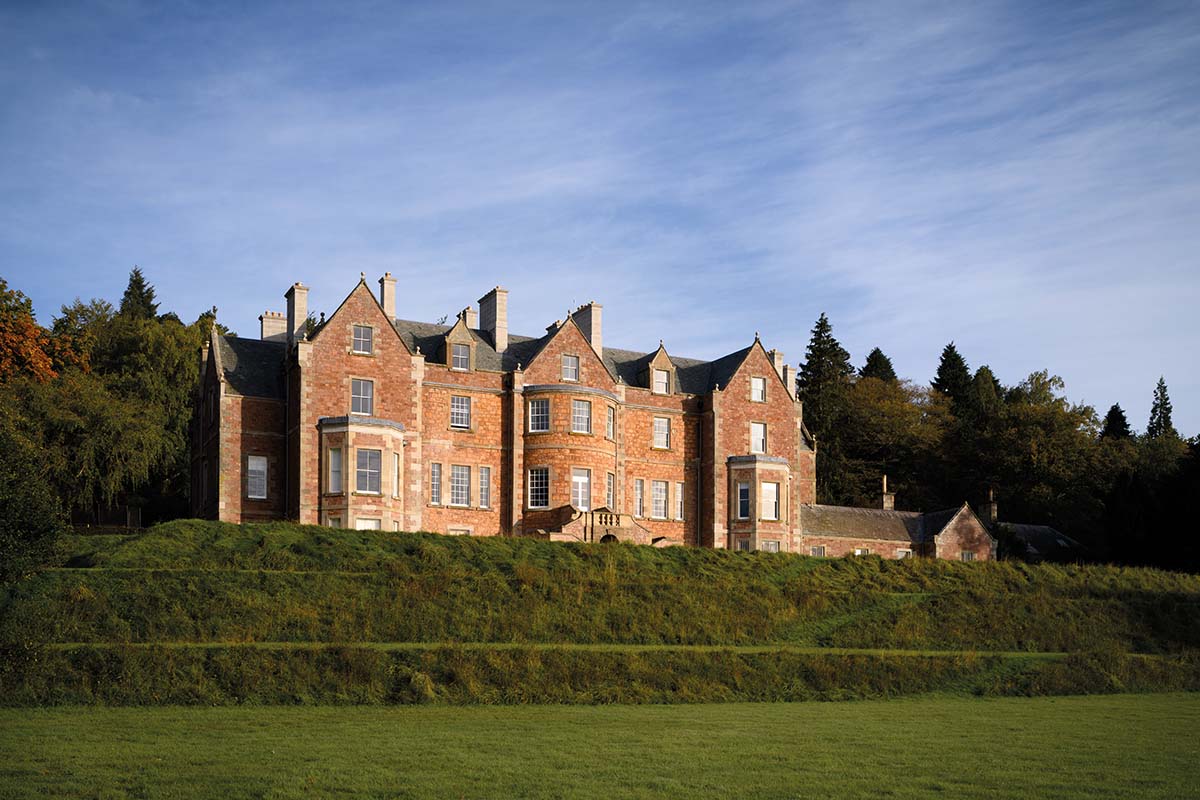 "I'd worked with Elizabeth and Walter on their London home around a decade before," remarks the designer, who trained under Broosk Saib in London before branching out on her own after the birth of her daughter.
"When they knew they'd be moving, they called me and asked if I fancied a non-London job. I was in tune with their style and knew what they liked, and they understood how I worked and were happy to ask me again, so it really was an easy decision."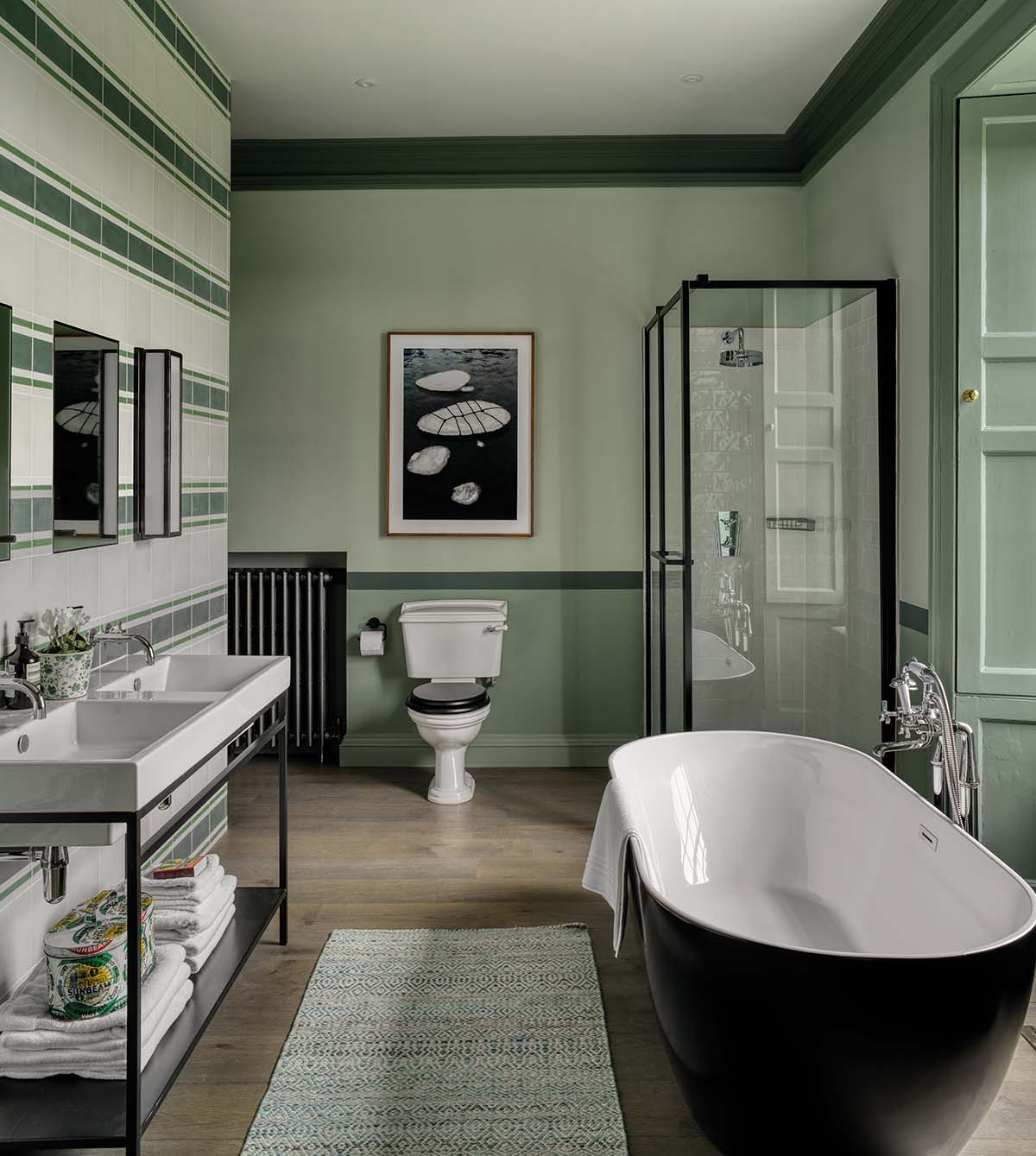 Since Eildon Hall forms part of the larger Buccleuch Estate, Raymond Shields and Callum Ramsay (the estate's own archi­tects) were brought in to oversee the amendments.
The house is Grade B-listed, so there were limits on what could be changed, and Emery had to work out how to make best use of the existing spaces rather than introducing unnecessary, grand alterations.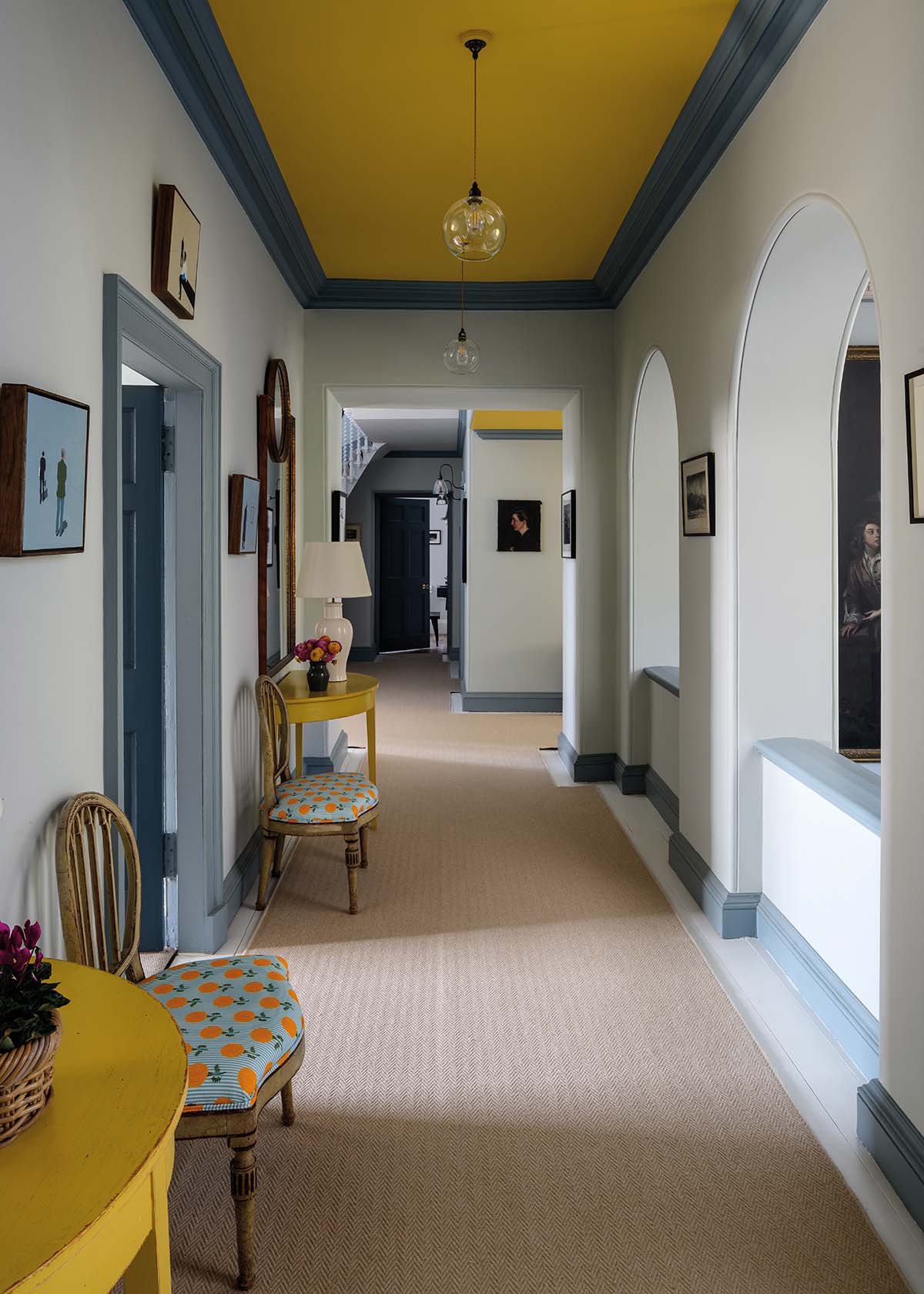 She took down a wall between two small rooms that were origi­nally staff quarters to create a bigger playroom for the children, revealing a quirky double fireplace in the process. She also con­verted a couple of bedrooms into bathrooms and created a boot room for this active family.
There are now eight bedrooms and six bathrooms, as well as a drawing room, library, dining room, kitchen, two studies, a games room and the playroom.
Adding an opening from the hallway to the drawing room helped the configuration of the house; fluidity, when it comes to families, is key.
"With a home like this, you have to be respectful of what's gone before, but I also had to take into account that a young family would be living here now," she says.
"I was lucky that there was a lot of family furniture and objets d'art in storage that I could use.
"I also knew that Elizabeth and Walter love colour so I sought out heritage hues and tried to find a balance between old and new.
In the first-floor hallway, for example, there was no natural light. I wanted to make it feel less like a hotel corridor, so I painted the ceiling and skirtings bold colours to lift it."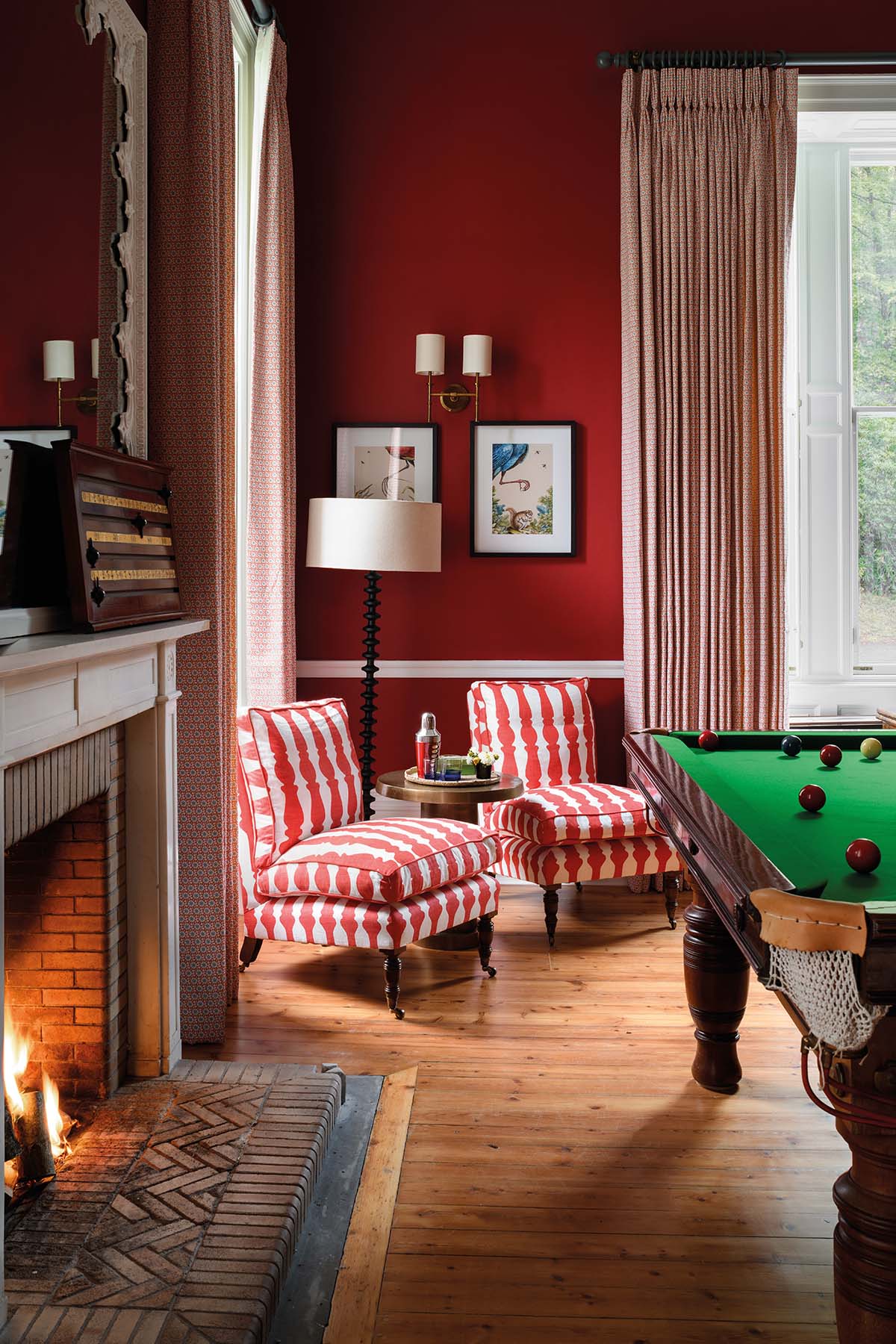 Hazy blues and greens are what tie this home together; tones are complementary, reflecting the moody Borders skies beyond the vast Georgian windows, but incorporated into schemes that feel playful – scalloped edges on headboards and rugs, herringbone patterns worked into tiling, flashes of texture in window treatments, asymmetric arrays of cushions.
It all offers depth that invites closer inspection. Layering mismatched fabrics gives a youthful exuberance in a home that no one wanted to feel stuffy or old-fashioned.
With the rooms' generous proportions allowing these design elements space to breathe, what Emery has created is her own version of timelessness, something that refuses to be pigeonholed as the past, present or future.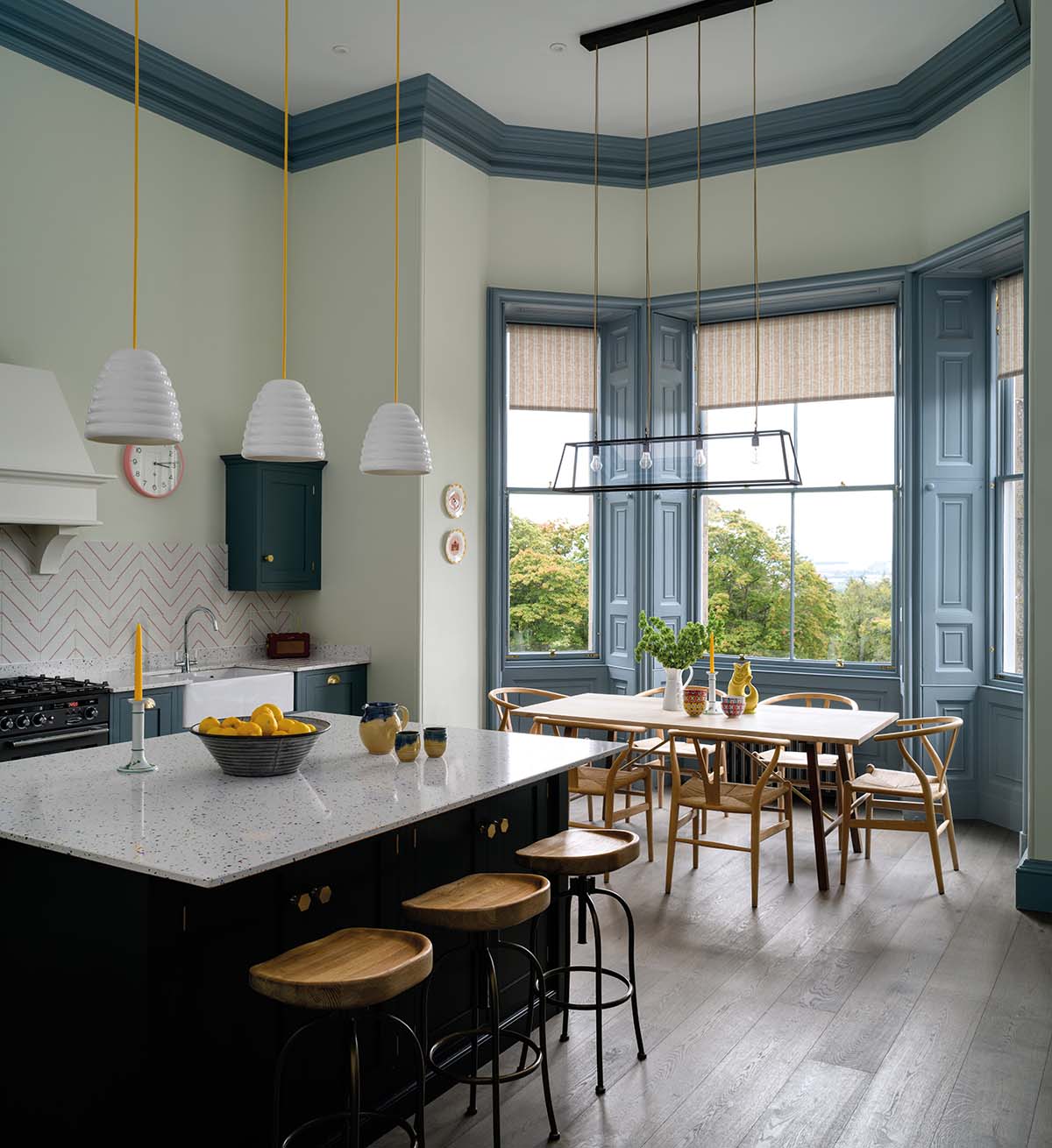 As befits such a well-preserved period property, she has gently reinvented Eildon Hall through the clever marriage of historical and contemporary, while factoring in modern-day practicality.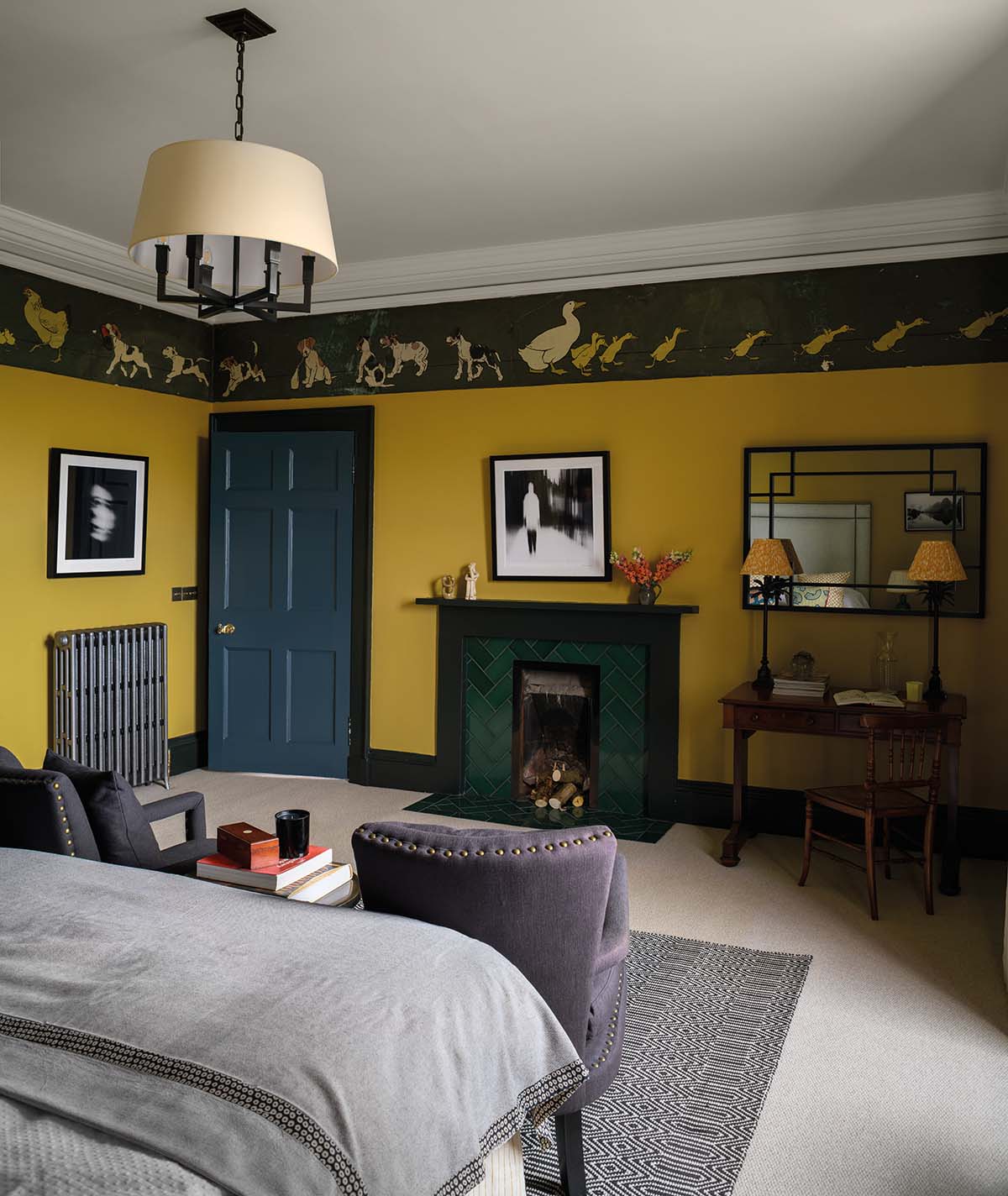 "With a project of this size, it was inevitable that there would be some hiccups and delays along the way," admits Elizabeth.
"But we're delighted with the outcome and couldn't be happier with Olivia's work. She has created a house that has a strong aesthetic but not at the cost of comfort or functionality."