Bringing together Nicola Harding's design ethos to a wider audience for the first time,
NiX
makes products that are built to last
Nicola Harding didn't set out to be an interior designer, but she has always been curious about how you create a sense of belonging in the home. Her successful London-based design studio has been going from strength to strength since 2007, with commercial and residential projects in the UK and abroad.
It's this vast experience that extends into Nicola's lifestyle brand, NiX, born out of Nicola's experience of what makes a home come together.
Looking at what really makes a house a home, NiX aims to produce products that answer our interior dilemmas, from the quest for the perfect floor lamp to the kitchen pendant that would work just so.
Stylish and timeless, the brand considers what makes a home come together – those finer details that make a room sing.
"We describe our pieces as beautifully useful," says Nicola. "Key ingredients of homemaking; the pieces that glue a home together. Our pieces are easy to use and lend themselves to layering, so that customers can create uniquely personal homes that serve and reflect them, and who they want to be."
The homeware is punctuated by Nicola's trademark touches of colour and pattern, embodying the studio's commitment to creating richly atmospheric spaces. Each piece is made in Europe by a network of skilled craftspeople using traditional techniques and responsibly sourced materials. Mass production is not the way of this British brand.
"I love colour," she says. "I believe it nurtures the soul. I'm always looking for ways that I can incorporate it into my projects and layer different colours together. For me, how you combine colours is part of the magic."
LIGHT UP A ROOM
Slow crafting is at the heart of the process, serving as a framework for everyday life. Designed to be well-used and well-loved for years to come, the collection launched with lights, lamps and shades. After all, exceptional lighting can transform a space in seconds.
"Playing with lighting is the most effective way to alter the feel of a place," Nicola explains. "It is also one of the easiest things to do, as it doesn't need to be invasive or expensive. It is just as doable in a rental as it is in a home that you own."
Each of the lamps are designed by the studio's in-house team to fulfil a specific role. Amongst Nicola's favourite pieces is a floor lamp called 'To The Point', which was inspired by a lamp she inherited from her grandfather. Having since struggled to find anything with better proportions, she created 'To The Point' as a modern interpretation of this classic, adjustable design.
"'To The Point' is the perfect height to nestle reassuringly close to a chair or a sofa," she says. "Its height can be adjusted, as can the angle of the shade, so that you can throw light exactly where you need it – to read or to admire your G&T."
As with many of the designs from the new NiX lighting collection, 'To The Point' is available with a metal shade or a choice of fabric diffusers. Options include polka dots and handmade parchment, which each offer a distinct mood and effect.
This month, fabrics and upholstered furniture, including sofas, armchairs and a slipper chair will join the mix.
Each of these will be available to be covered in her new range of fabrics, which can also be bought by the metre.
The patterned fabrics, all made in the UK, are 'the reliable basics': there's a ticking stripe, a check, and a range of plain block colours.
Dining room tables will join the collection this autumn.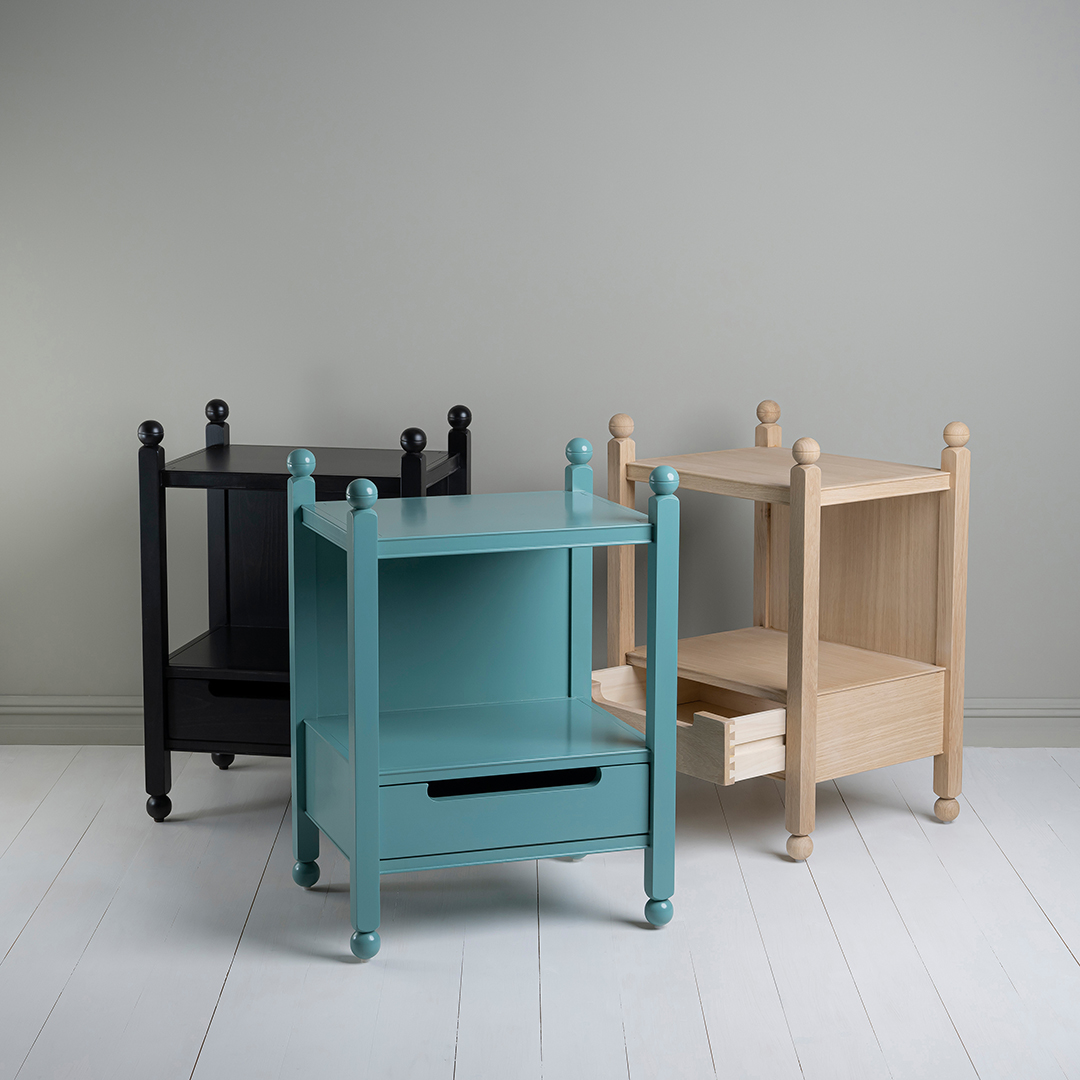 "Each piece that we've designed has been born out of a particular need; a bedside table that functions in a certain way; a side table of a specific scale that's got a shelf underneath for storing magazines; remote controls or a kid's story book; a table that's the perfect height for reading. In all instances, it's started with a gap in the market that I needed to fill," Nicola says.
"Before I was in interior design, since I was a child even, I've been fascinated by old things. I looked at how they were made, how they worked, their design details and the purpose they fulfilled. I love the craftsmanship, but I also love the stories that come with them. Over the years, I filed those things away in my mind," explains Nicola.
"Creating NiX has been such a wonderful experience, recalling those pieces and mashing them together in different ways to create these beautifully useful pieces."