Michael Olsen makes beautiful installations using 
a
rtificial butterflies and has sold over 250 works since launching his business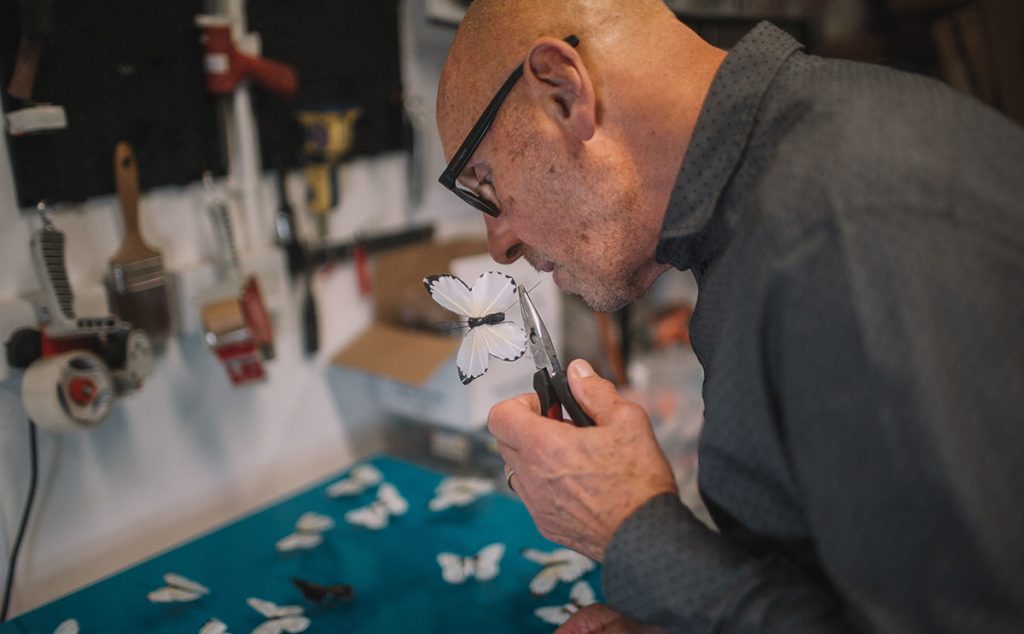 On a visit to an art gallery a few years ago, I saw some beautiful butterfly-based works by artists who had used real butterflies within frames or beneath glass domes. It occurred to me that I could create the same feeling of motion and freedom these insects bring into our world, without using the real thing. I set out to source credible but artificial butterflies and acrylic display boxes, and Butterfly Art was born.
When I saw one of my early works recently, I was shocked by how sparse the design was. Now the installations are fuller and much more vibrant. I also used random layouts and colours, whereas now my ideas tend to revolve around human (such as L'homme Bleu, below), animal and geometric shapes. I've sold many heart shaped installations and I am currently working on a butterfly shape filled with butterflies. I'm proud that my work is now accepted at a level I could have only dreamt of.
My interest in working with my hands began when I was ten I was gifted a balsa-wood aircraft kit. I adored it, and I still make models in the same way to this day. I was always good with my hands and frequently dismantled things to see how they fitted together – though I wasn't always able to reverse the process!
This natural ability led me to becoming a skilled handyman later in life, as I could almost always see what was causing a problem and how it could be repaired. Being able to problem-solve the construction issues of my art has massively benefited my work and its development.
I start the day with swimming, pilates and the gym. Exercise frees my mind from the day-to-day chatter and it's this that fertilises my creative side. My work is liked from both a social media perspective and commercially, as it has been purchased by around 250 people since its inception. That's the kind of acceptance and success I've looked for most of my life. I was also very proud when one of my works was part of a charity auction at the Savoy Hotel and raised £13,000 for a breast cancer charity.
To me, luxury is a warm home, comfortable surroundings, good food and being pampered – all tangible things that have been earned and enjoyed as a result of achievement. A really desirable car helps too! 
Images Stefan Hanegraaf Photography