Britain's seaside towns have one thing in common: a place in which you can shelter from the elements. Quirky, nostalgic and architecturally interesting, the best of them are now in a new book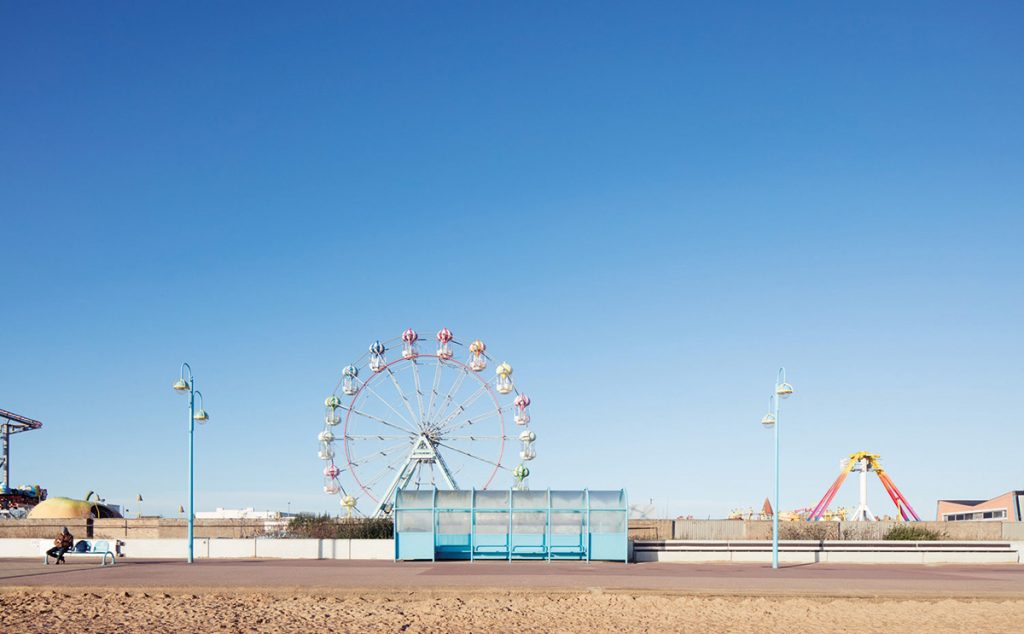 Photographs Will Scott
Words Catherine Coyle
Our most recent summer has been the exception. It's not very often in Scotland, let's face it, that you can go to the beach without eventually being driven into the shelter by the wind and rain, where you huddle together, towels wrapped around you like a blanket, fighting over who gets to hold the bag of hot chips. Sure, down south, the coastal climate is kinder, but that dog-eared postcard of cones and windbreakers and goose-pimpled flesh still rings true. As Victorian railway networks expanded, the seaside, whether Ramsgate or Girvan or East Lothian, suddenly became accessible to city-dwellers, and these shelters from the elements were a godsend. They were the unsung heroes of the British beachfront.
Photographer Will Scott grew up in North Berwick, which might go some way to explaining his fascination with seaside shelters – a fascination that has led him to publish a book about them. Although his work has always centred on the built environment, it wasn't until he stumbled across a few random images of these bygone structures online that he knew this might make interesting subject matter for a series of photographs. "I mapped out some locations and started shooting," recalls Scott, who now splits his time between London (where he moved after university to assist his uncle, also a photographer) and Edinburgh. "As soon as I had a handful, I knew I was onto something."
His book documents 50 shelters across the UK, showing them in all their stark, melancholic beauty, instantly evoking memories of childhood daytrips before the notion of boarding a plane for a foreign package holiday became mainstream.
Scott drew up a list of the shelters he wanted to take pictures of, and set out on a journey around the country, aiming to capture a sense of nostalgia that would reach across generations, from kids to grandparents. 
His selection is as much social history as it is photography, each shelter a snapshot of the potent architectural styles of a century. They encapsulate the British cultural idiosyncrasies that mark us out as islanders intent on capitalising on leisure time whatever the weather. Edwin Heathcote, the architect, designer and critic who wrote the foreword to Scott's book, describes them as 'nostalgia pods' and as works of 'micro-architecture'. 
"The central Europeans had their mountain resorts, forests and snowy peaks; the British had Blackpool and Brighton to escape from the polluted smog of the urban industrial miasma, into the fresh salty air," he writes. "This idea of exposure to the sea air is at the heart of this curious archetype. It is a shelter from the sun, the rain and the worst of the wind, but it is simultaneously in the open air."
Scott's images show how many of these structures have gradually decayed. Their once brightly painted, highly decorative wrought ironwork has been left to rust, their walls covered in graffiti, their interior space ransacked by bored teenagers. Yet their very public purpose is precisely what makes them still so special. In a similar vein to old bandstands, disused railway ticket offices, piers and promenades, these semi-derelict Victorian gems are being repaired and restored and, more importantly, used again, as a new audience discovers them.
"I love how unique they are – most are one-offs," says Scott. "And I love that they're often very ornate in some ways, but very basic in others. They appeal to me because they are for everyone to use and are one the few places anyone can go and spend time in without being asked to spend money."
His photographs are a celebration of the shelter's place in our childhoods and our towns and, in a sense, are a reclamation of the public architecture they were conceived as. Heathcote puts it simply: "[They're] democratic, open and free, with no barriers, doors or even real defined purpose. This is perhaps among the most generous and joyous architecture ever built." 
Seaside Shelters by Will Scott (£14.99, HENI Publishing)