Keep your home toasty as we step into autumn
The nights are fast closing in and soon it will be time for battening down the hatches and getting into hibernation mode. There's no better antidote to that chill in the air than a crackling fire to warm your hands by, plus it can add an impressive focal point for a living room whether lit or not.
If you're considering an open fire but worried about it working within a contemporary setting, Massimo Daruos of MCZ points out that trends come and go:
"Fireplaces never go out of style. Nothing can create visual interest and a cosy environment more than a crackling and dancing fire. Thanks to the mantel, that should be understood as a kind of 'tailor-made suit', the fireplace can be fully customised to work with virtually every kind of interiors."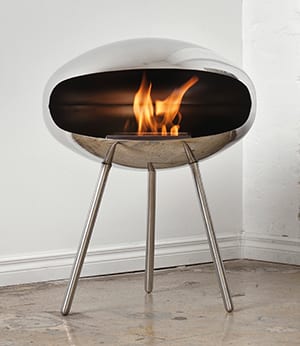 Surprisingly, newer open fires are also more energy efficient according to Daruos: "Modern closed fireplaces are also products with an unexpected technological content, which makes them not just an aesthetic choice, but an actual heating system.
The modern fireplace has a firebox closed with tempered glass and the heat produced inside it, rather than being dissipated in the flue, is recovered through special solutions and introduced again into the home environment through air vents.
"This way, the calorific value of wood is utilised in a more efficient and cost-effective way. This is why, on a like-to-like basis in terms of amount of wood used, modern fireplaces heat up more and pollute less than standard open-chamber fireplaces."
While an open fire can bring with it all the cosy charm of a country cottage, the latest stove designs on the market are equally as effective when it comes to heating your living room.
"Dutch company Leenders have created a new kind of refractory concrete called Pergamon for the stone cladding on their latest stove, the Disk," says Fergus Alexander from Bonk & Co. "Pergamon can store a lot of heat and does this for an especially long time. Within an hour, the cladding reaches temperature and remains so for up to 8 hours after you have added the last log."
He adds: "The Disk has an enormous capacity range; two to eight kWh. This means that the Disk burns well at low or high capacity, which is ideal for small or well insulated spaces."
Whether your priority is aesthetics or energy efficiency, modern or traditional design, there is a heating system to suit you. All that's left to do is choose the right one for your home and enjoy hunkering down in the warmth.