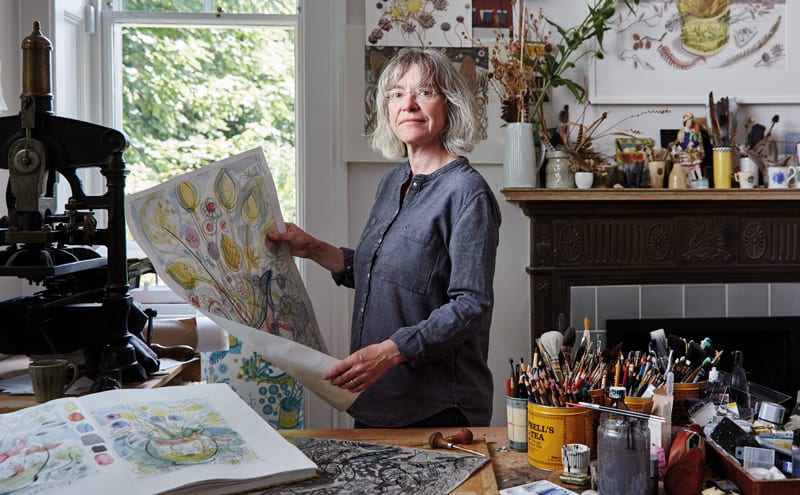 I try to spend time outdoors every day. That might mean a walk up Blackford hill in Edinburgh with our dog Baxter, or if we're at our studio on Speyside, I'll head into the Cairngorms or up to the Moray coast, which I've been drawing for several years. I enjoy returning to the same places over the years and in different seasons, getting a sense of how the climate affects plants and habitats.
I'm generally at my desk relatively early, checking emails and organising future exhibitions, but from mid-morning I'll aim to be in my studio, working through one of the projects I'm involved in. That might be creating a new linocut or wood engraving, or painting a watercolour, or perhaps working on a new fabric for St Jude's.
I try not to flit between too many projects within a day; it feels important to properly consider the job in hand. But I do enjoy the way that each aspect of what I do feeds into others: a linocut may inspire a fabric design, or a watercolour might evolve into a screenprint. I've always been inspired by artists such as Edward Bawden, Eric Ravilious, Graham Sutherland and Henry Moore. I love the way they moved between fine art and design.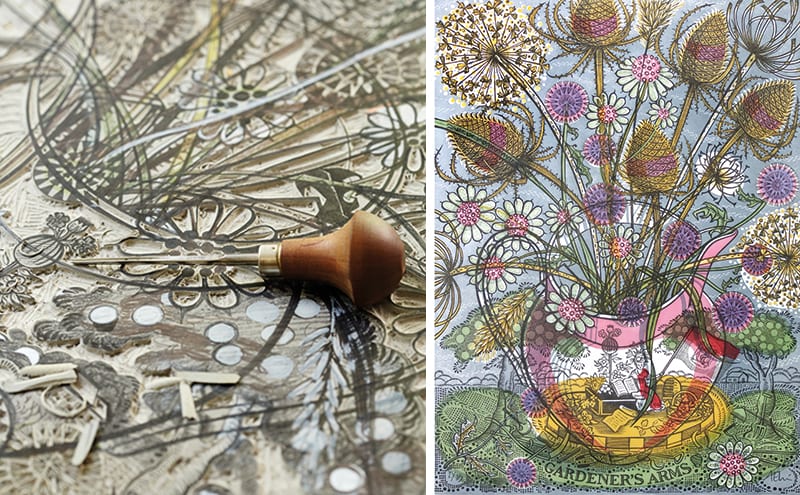 I grew up in the Cheshire countryside, on the edge of the Peak District, and I had the urge to draw from an early age. I spent much of my childhood out sketching with a friend. We'd spend hours exploring the fields and canal banks. My father and grand­father were blacksmiths in the village where I grew up and I've often wondered if there's a link between their craft and my first experiences of printmaking at college.
I'd gone to study sculpture at the Central School of Art and Design in London, but during our first year we were encouraged to spend time in the print­making studios. I was hooked as soon as I began experimenting with printmaking – within a few weeks of starting college, I'd switched to the printmaking degree course.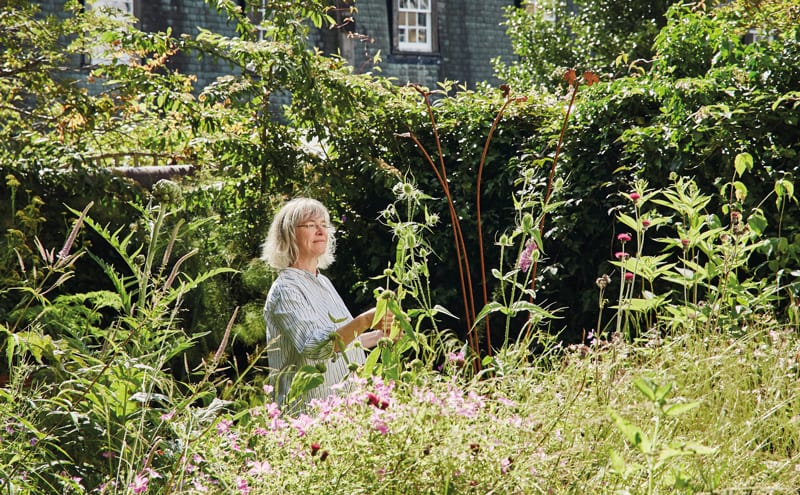 My husband Simon has a background in commercial print and design, and he and I founded St Jude's to produce a range of my screenprinted fabrics. We initially worked from our home in Norfolk but soon needed a proper base, so we opened a gallery nearby in the little market town of Aylsham. There, we showcased ceramics, mid-century furniture and our fabrics alongside the work of artists we were collaborating with, such as Mark Hearld, Emily Sutton and Jonny Hannah.
Since Simon and I moved to Edinburgh, St Jude's has been based in Norwich. The East Anglian landscape is still an influence on my work, as is my garden. I studied horticulture a few years ago, partly to find out more about the plants that I use in my work. In Norfolk, I had a meadow-style garden where the boundaries between wild and cultivated plants were blurred, but in Edinburgh I'm enjoying working on a slightly smaller scale while still trying to incorporate some of the plant species that I draw and paint in the wild.
DETAILS
Photography Alun Callender
Words Catherine Coyle