A graduate of Edinburgh College of Art, Sullivan's work can be found in many public and private collections, including the National Portrait Gallery. This painting, Breech!, won the 2017 BP Portrait Award, worth £30,000.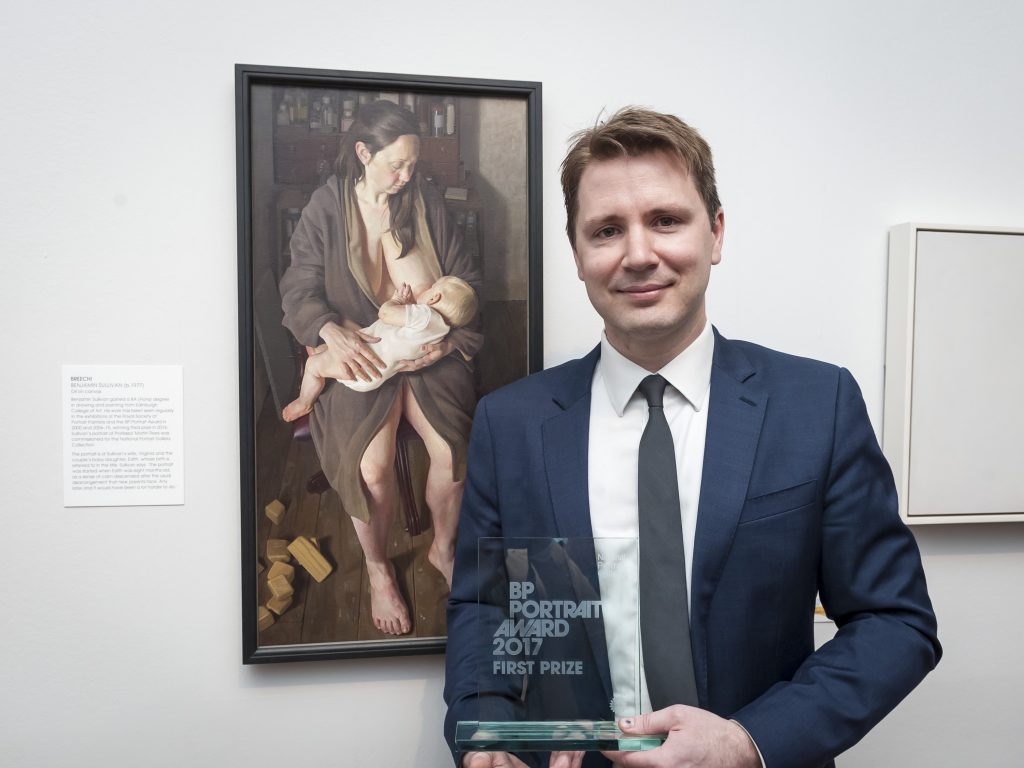 Completed throughout December 2016, this portrait depicts my wife, Virginia, together with our daughter, Edith. I have drawn and painted Virginia many times over the years, creating a body of work that celebrates our union and marks significant stages of her life. Given the importance attached to the birth of our first child, it seemed only natural to document this new occurrence and rejoice in the love that had come into our lives.
The painting shows the two of them, eight months after Edith's birth, in the studio at our home in Suffolk. The scene is rendered in muted earth tones to allow the flesh to 'sing'. A sense of calm has  descended after the usual period of disarrangement that new parents face. The intimacy of the sittings gave us time to reflect on the difficult birth, highlighted in the title, that Virginia faced.
Because of my daughter's age, I didn't  know if the work was going to be practicable. Would she be still enough? In the first instance, I made a drawing on paper. I think I was lucky to have caught her at an agreeable stage of development – any later and she would have been too interested in what was going on around her. The painting wasn't conceived with a breastfeeding theme, but this was used in Edith's more awake moments to soothe and relax her.
Of course, the Madonna and child is one of the most famous images in Western art. I put this out of my mind as I focused on the reality of 21st-century motherhood. The scene is faithfully recorded in an unsentimental manner with clear-eyed attention to reality. Overall, the painting seeks to celebrate the power of love and convey the depth of the maternal bond.