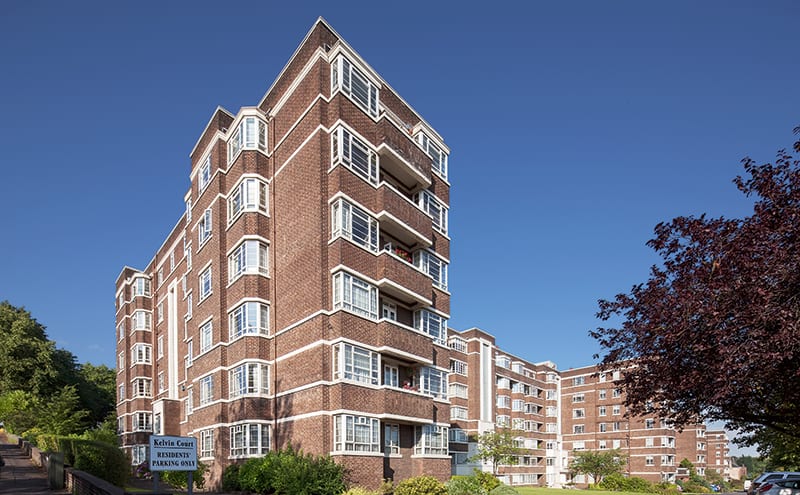 Built in the 1930s by J.N. Fatkin of Newcastle, Kelvin Court is a landmark, instantly recognisable thanks to its Art Deco styling and immaculate landscape garden. It consists of two H-plan blocks of flats, built of brick with concrete banding. It has pleasing curved balconies, metal-framed windows and curved glass-block entranceways. There is very little like it anywhere else in Glasgow.
In 1982, having sold my business, I found myself in the fortunate position of being able to relocate to anywhere in the world. After much consideration, I decided I was happy to stay in Scotland. But if it was going to be Scotland, it had to be Glasgow, and if it was Glasgow it had to be the west end – and if it was the west end it had to be Kelvin Court. It had to be on the top floor facing west and had to be in the middle of the complex. That narrowed it down to two apartments, and, as my parents were already living in one of them, I had actually narrowed it down to one particular apartment – which was not on the market.
I discovered its first owner had been Lord Bilsland, who, as head of the War effort in Glasgow, had requisitioned the drawing room of the flat next door for his office. He apparently watched the Clydebank Blitz from the balcony. The second owner never actually moved in, and, after much negotiation, agreed to sell it to me.
I've been here ever since. It has a wonderful light and calmness to it, and still has the original Art Deco cornicing and fireplaces. When some remodelling work was being done in the 1980s, a little old lady appeared at the door and asked if she could see what we were doing. Bewildered, I let her in. It turned out she had been Lord Bilsland's maid. She pointed to a phone and said, "Churchill called on that telephone." She also said it had been a very happy home, and, after 35 years here, I have to agree.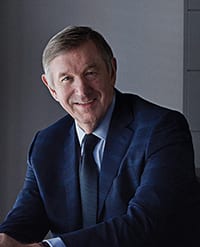 The celebrated hotelier, who founded the Malmaison and Dakota brands, has been a key figure in the Scottish hospitality scene for four decades.
He lives in Kelvin Court with his wife, interior designer Amanda Rosa, and their West Highland terrier, Bonnie.